The web hosting control panel is an often overlooked part of Virtual Private Server (VPS) solutions. Still, it can be the difference between clicking within a convenient GUI interface and a black screen where you just input commands.
You'd be surprised as to how many different platforms try to cover your web hosting management. This article will try to outline the most popular control panel solutions for VPS servers and their main benefits…
How do I Manage my VPS?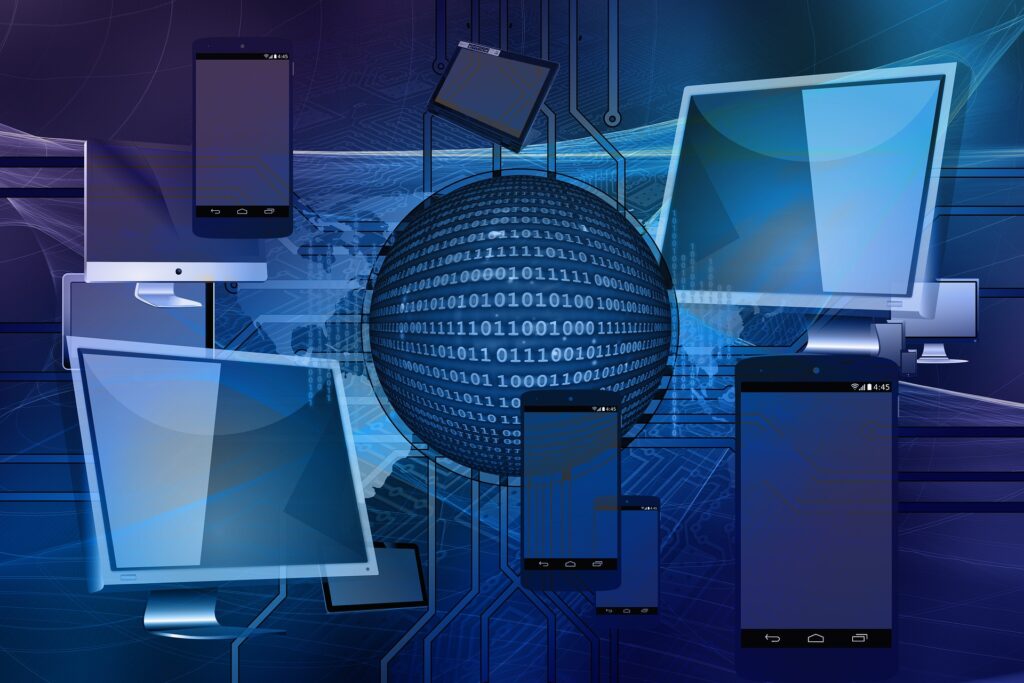 Opting for a VPS solution requires a bit more hands-on control from the client's side, especially compared to a shared hosting service.
Experienced users will find server management rather easy, even without a control panel. They often choose to operate the server via command prompt, which allows them to do most essential tasks through simple code commands.
This includes:
Start/Stop/Restart your VPS
Create new hosting accounts
Install software applications
Change login credentials
Monitor your server resources
Update or Reinstall the server
But what if this is your first time managing a VPS server?
In such cases, having a user-friendly control panel for operating hosting accounts is a must for any serious website owner.
What is a VPS Control Panel?
The web hosting control panel is basically a software application. It sits on an operating system and offers users Graphic User Interface (GUI) access to a variety of operations. These operations help make managing the server and applications much more accessible.
VPS server control panels come with varying features and pricing models. Their licensing fees can greatly differ, so it's important to look for a solution that best suits your particular needs.
Why You Need a VPS Control Panel?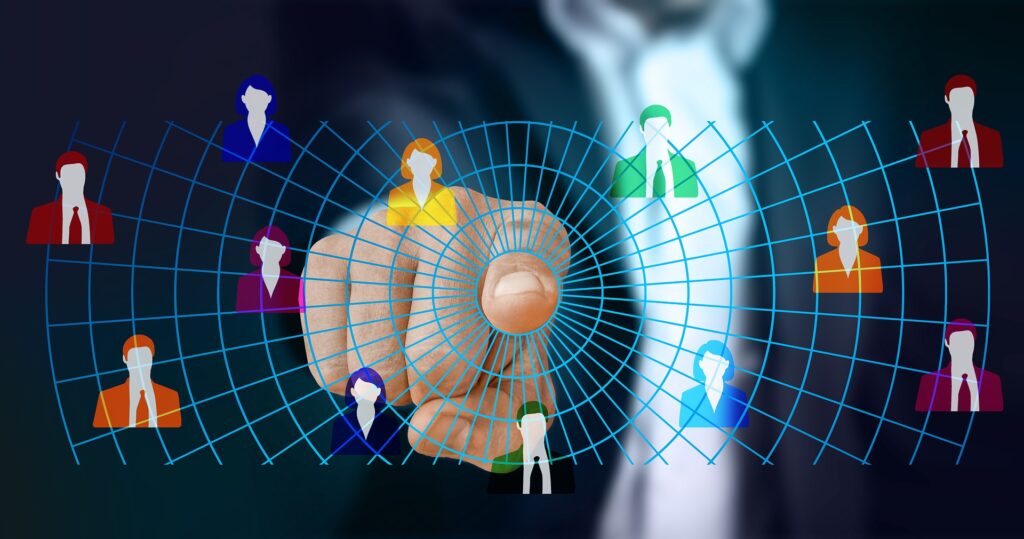 Technically speaking, you can manage VPS hosting without the use of a control panel. Still, such a platform introduces a dimension of user-friendliness that helps you save time and reduces the burden for novice users.
Users can opt for more manual control over their accounts, even if using a VPS hosting panel. More experienced developers often take advantage of that option.
By using a VPS control panel, clients have control over:
Domain names
Email accounts
Files
Applications
Databases
Cron jobs
…and many, many more.
A perfect solution for online businesses and heavy-traffic web apps and websites.
Best VPS Control Panel Options
Despite their functional similarities, not all VPS control panels are the same. They may differ in the features offered, pricing, and even the platforms they can run on. Here are some of the top options for virtual server control panels on the market:
cPanel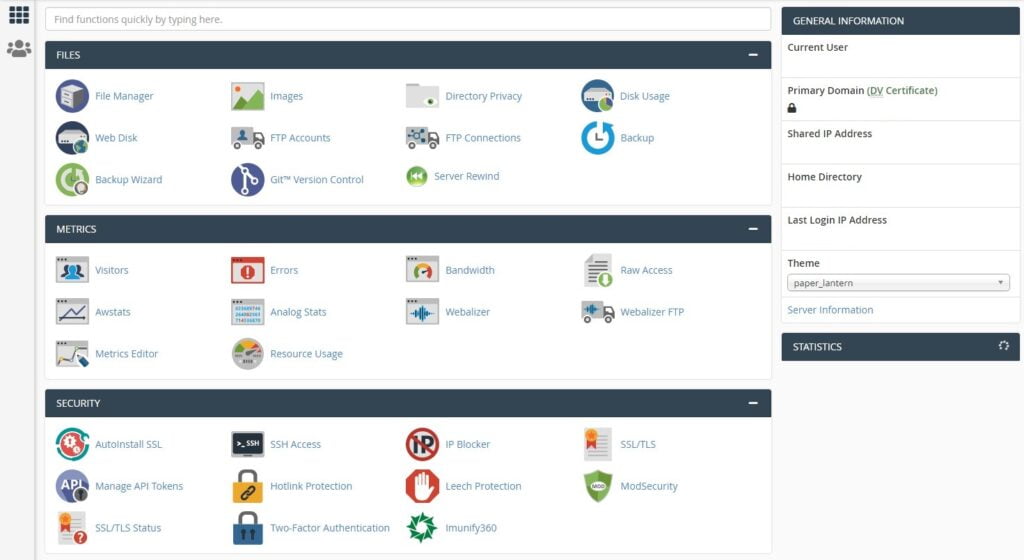 Top Features
Proven reliability & performance
Strong compatibility with browsers & add-ons
Excellent site maintenance options
cPanel is easily the most widely recognized name among web hosting control panels. Originally designed and released in 1996, the platform has undergone extensive changes over the years. The GUI offers quick access to a number of hosting management and automation tools.
CPanel offers one of the most user-friendly interface designs around. It allows users to handle web server management from a centralized point of control.
As a multi-platform solution with an extended market presence, cPanel is widely available. It has a near-monopolistic industry leadership position, with over 93% of the market share. This has unfortunately led to high spikes in licensing fees. Many users had little choice but to pay to keep their configuration running smoothly.
Price: $15/mo for a solo license, per-user fee decreases with volume
SPanel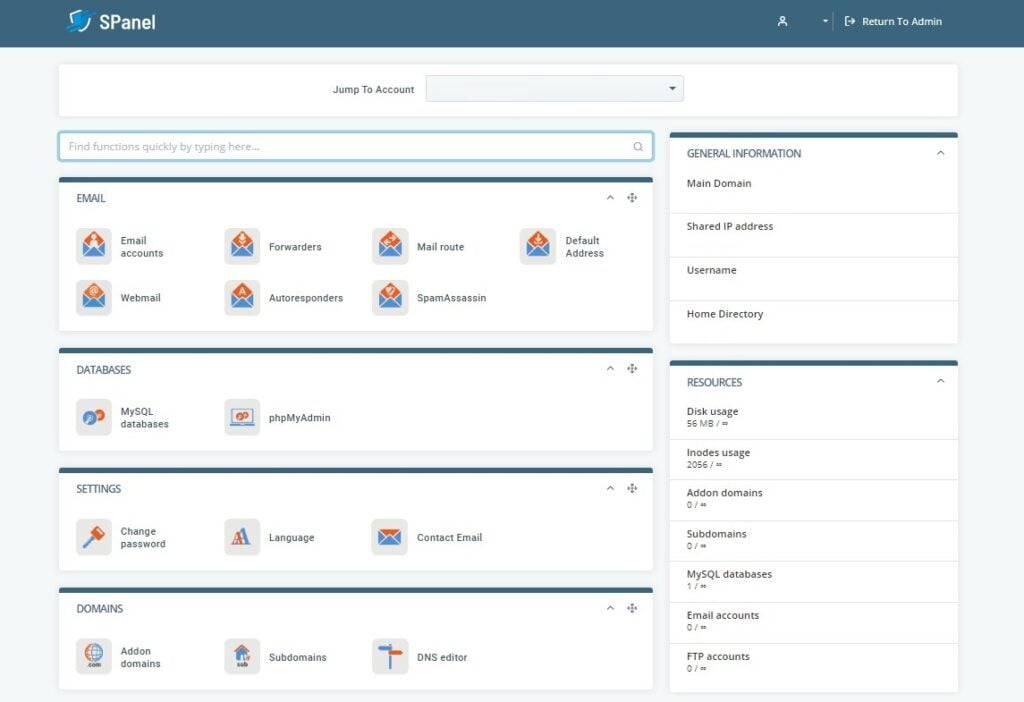 Top Features
Zero cost unlimited user license
High cPanel compatibility
Easy to use
Developed and introduced by ScalaHosting, SPanel gives cPanel users a viable alternative to cPanel. It is free to use and offers high cPanel compatibility for easy migration.
Aside from a robust suite of standard perks, SPanel incorporates several other features.
These include SShield and SWordPress Manager. SShield brings advanced cybersecurity features to the table with real-time protection noted to block over 99.998% of known server attacks.
Developed for all the WP lovers, SWordPress enables easy management of WordPress installations and a security lock feature for file protection.
Users who are concerned about increasing licensing fees should definitely consider SPanel.
Here is more useful information on managing a VPS with SPanel.
Price: SPanel is free of charge with ScalaHosting VPS accounts
Plesk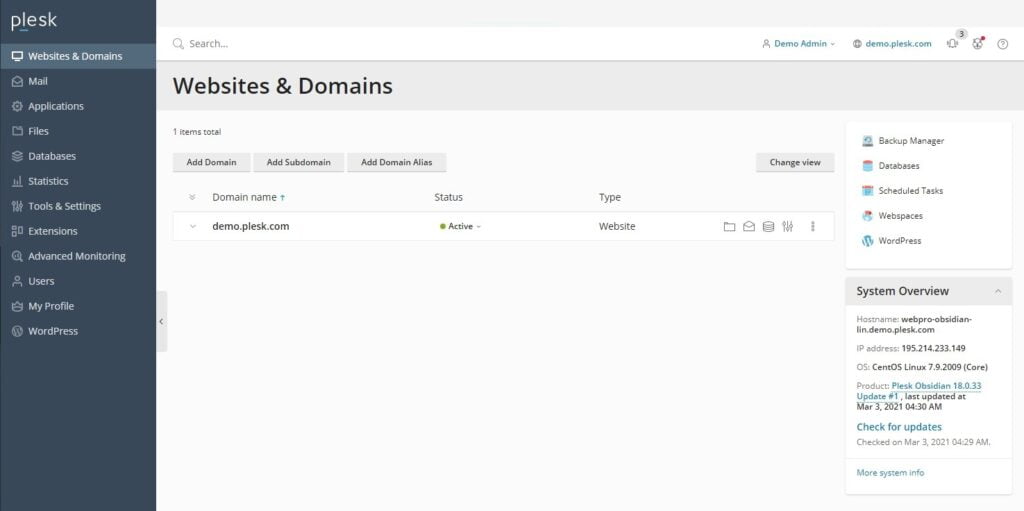 Top Features
SEO Toolkit
Repair Kit
WordPress Toolkit
Plesk is another well-known web hosting control panel. It was initially popular with users of Windows-based services. Today, the platform is available for Linux operating systems as well, offering comprehensive hosting management features.
The close affinity between Plesk and Windows makes the panel well-suited for those new to web hosting. The solution is highly customizable and offers various administrative tools that handle components such as Magento, Cloudflare, Let's Encrypt SSL certificates, and many more.
Plesk's acquisition in 2017 now sees it under the umbrella group that also owns cPanel, WHMCS, SolusVM, and XOVI. This has led to concerns about potential price hikes, similar to what we observed with other solutions on the list.
Price: from $10.08/mo
Webmin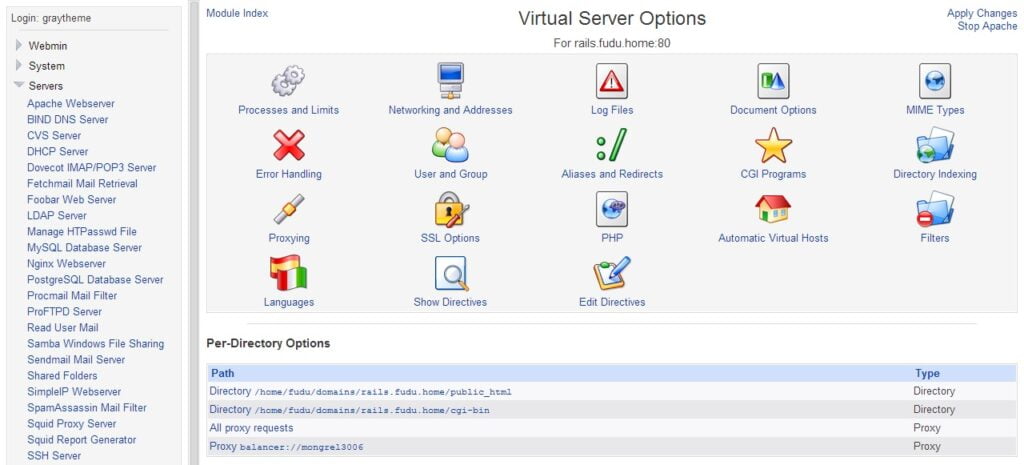 Top Features
Modular design
Free to use
Powerful server management features
First introduced almost three decades ago, Webmin is a configuration tool for Linux-based servers. It comes included as part of the official package for several server distributions, including Debian and Ubuntu.
Webmin is modular, which means that web hosts have the option to custom-build their environment. This architecture helps Webmin be extremely lightweight while not limiting its essential functionalities.
Unfortunately, usability isn't a strong point here, and new users may struggle to get accustomed to the Webmin user interface. This key drawback has somewhat limited the popularity of what is otherwise an excellent control panel choice.
Price: Free under BSD-style licensing
ISPConfig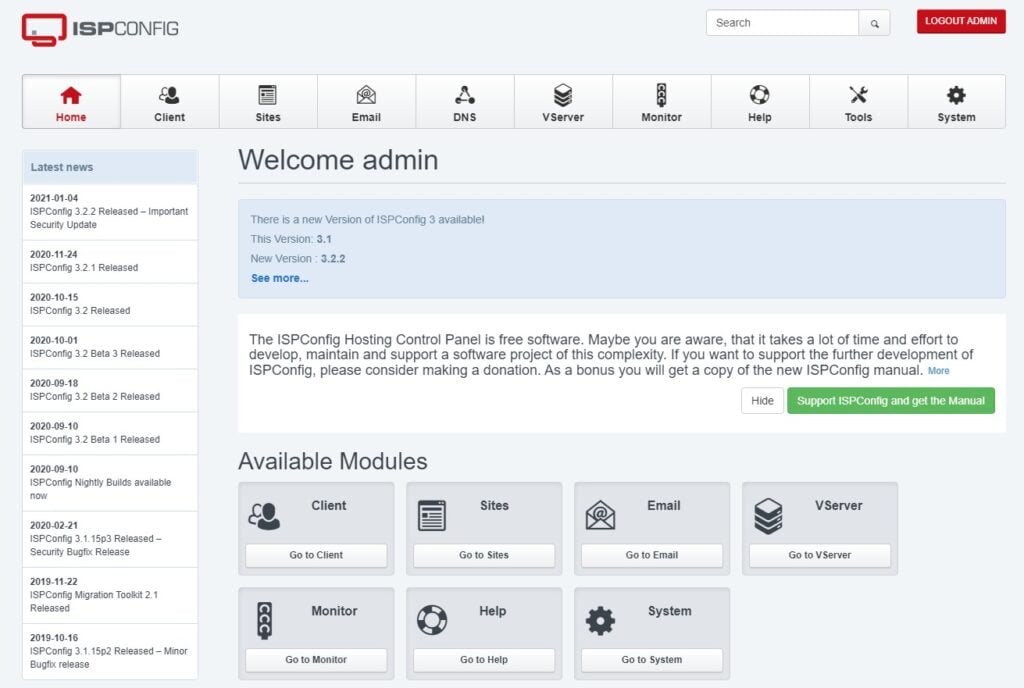 Top Features
Free and open-source
Stable and high-performance
Enterprise support
ISPConfig started its development in 2005, helping users manage files, email, databases, and more. It is only available for Linux-style systems, including CentOS, Fedora, and Ubuntu.
The power that ISPConfig offers makes it suitable for deployment in many scenarios. Since you can use it on almost any scale, the platform comes in very handy in an enterprise environment.
ISPConfig works on either physical or virtual servers.
This agile web hosting control panel is free to use and available in 20 languages. Although Webmin comes at no extra cost, some premium components might involve licensing fees, such as the billing module, malware scanner, and application monitor.
Price: Free
What To Consider When Looking for a VPS Control Panel?
Operating Environment
Not all control panels are multi-platform, and some may need a specific environment to run smoothly. One such example is ISPConfig which is only available on Linux OS servers and cannot support Win-based projects.
Licensing Fees
The price you have to pay for licensing varies depending on the number of users. While typically, the cost-per-user will decrease based on volume, the final bill can still be significant. Those needing large-scale deployment should closely scrutinize all costs before building their system.
User Friendliness
All web hosting control panels come with unique design and layouts, many can even be subject to further customizations. While these may seem lucrative, make sure they are easy enough for your level of knowledge. Look for a platform that is clear, straightforward, and intuitive enough to ensure seamless navigation. A reliable web hosting provider can be of great help in this aspect.
Capabilities
Most web hosting control panels come with an intuitive server management interface, which packs a lot of features. Beyond this, you need to pay attention to your unique needs and whether the chosen hosting package will support them.
Performance
While helpful, control panels are an optional extra that consume server resources. Take too many, and that may affect all your website operations. If your system resources are rather limited, a modular control panel may be more beneficial than a completely integrated system.
ScalaHosting Control Panel Options
ScalaHosting offers users a choice between cPanel and SPanel. The former is a good option for those who prefer a familiar product and don't mind the increasing licensing fees. However, if you're currently on cPanel and looking for a change – consider SPanel instead.
CPanel accounts can easily be migrated to SPanel, since the two platforms are highly compatible. Making the move can drastically reduce the operational cost of your web hosting solution.
As an illustration of this, let's compare cPanel vs SPanel prices for ScalaHosting Managed Cloud VPS.
At the lowest tier of our Managed Cloud VPS solutions, opting for SPanel will result in a monthly fee of less than $10 for annual subscriptions. The same plan with cPanel will see rates increasing by $16 per month just for a 5-account license – a hike of more than 260% for licensing alone.
Conclusion
"Which control panel should I use to manage my VPS account?" can sometimes be a tricky question. Easy to use and powerful platforms may come at a premium price, but only if you aren't aware of what's available in the market. We hope this article has helped you find more web hosting control panel options that fit within your allocated budget.
Frequently Asked Questions
Q: Do I need cPanel on a VPS?
A: Generally, you're not obliged to use any control panel options on a virtual server (same as on a dedicated server). Whether you decide to go for cPanel, SPanel, or Plesk is entirely up to you. You can even choose to manage your hosting accounts without a control panel, utilizing the command line prompt.
Q: What is the best VPS hosting service?
A: There is no single right answer to the question of who offers the best VPS hosting deal. Still, ScalaHosting has put years into developing innovative features, exceptional pricing, and an excellent customer support team for every virtual server client, regardless of their project.
Q: How do I choose a good VPS?
A: The best VPS solution should be one that provides the best fit for your needs. This flexible web hosting category often allows you to pay on a per-use basis for resources like CPU, memory, storage, and bandwidth. Make sure the support team is also up to your standards, as you would probably need technical assistance at some point, regardless of your expertise.
What is a VPS – Everything you need to know!
Was this article helpful?