Every website, be it a personal or a business one, is built upon tons of data. Losing it would be detrimental. And there are many scenarios that can lead to data loss – corruption, accidental deletion, or a hacker attack to name a few. Thankfully, there's a way to protect yourself from such issues – regular data backups.
Knowing the best backup and disaster recovery practices will give both you and your website visitors a peace of mind that all information is safe and secure.
Here's what you need to know about backups:
Importance of Backups and Disaster Recovery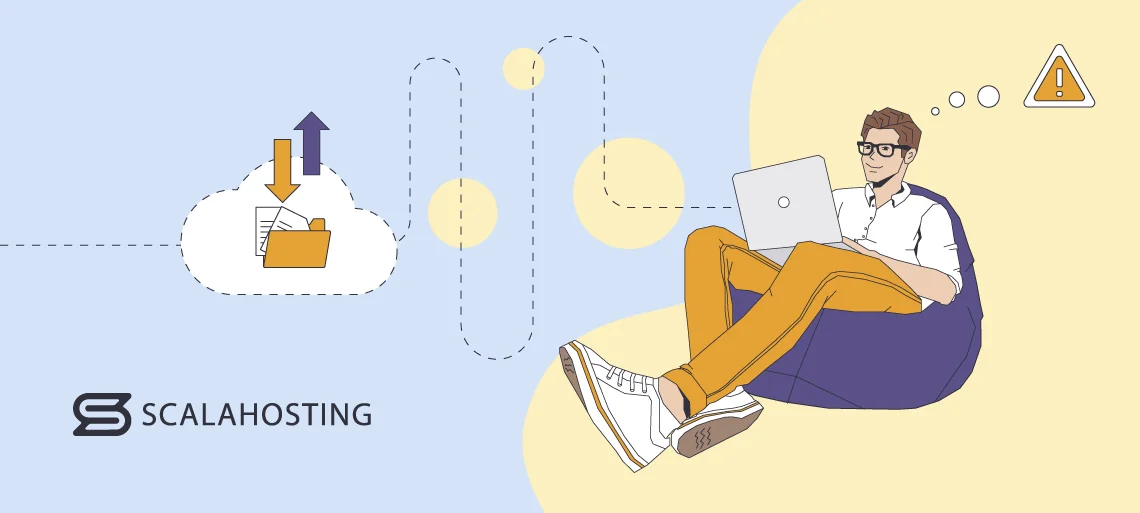 Websites are like a puzzle of images and videos, scripts, HTML files, email services, and many other components. And, as with any other piece of important information, you need to ensure it is always safe and secure.
Data loss is no joke. In fact, 72% of all web users have had to utilize a data backup at least once. 33% of those have done it more than once.
As we mentioned, there are too many scenarios that lead to data loss. Backups can be used to restore your system to a previous state.
But that's hardly the only benefit. Backups also make it easier to:
manage your data
win your customers' trust
maintain standards of compliance
Data Backup and Disaster Recovery Methods
There are various things to consider when building your strategy to avoid loss of information – the backup frequency, available solutions, ways of monitoring, etc. It might sound complicated, but it's really not that hard. Especially if you invest in a Managed Virtual Private Server (VPS) hosting.
With such a package, you get an isolated account on a shared server, with resources tailored to your needs. In addition, as it is a managed service, a team of professionals will be there to help you and perform backups.
That, however, doesn't mean you shouldn't be prepared.

Sp, today we'll take a look at all backups and disaster recovery strategies in Managed VPS hosting one by one.
Backup Automation and Scheduling
Here's the good news:
You can schedule and automate the backup process. In fact, having such an automated schedule is crucial, as it reduces the risk of human error. Set start times and completion times for your regular backups. Make sure they don't fall within your most active times.
IMPORTANT: Some files might need to be backed up immediately after they are modified, keep that in mind and manually archive your data accordingly.
With Managed VPS hosting plans, you'll have an expert team to advise you on a suitable schedule and what needs to be backed up. Of course, the easiest thing to do is archive your entire account, so you can have a copy of the files, databases, and emails if necessary.
When backing up your data, consider where you'll store the data, your available system resources, and if there are any costs involved.
Off-Site and Remote Backups
Most Managed VPS hosting plans offer remote offsite backups. For example, if you choose one of ScalaHosting's packages, copies of your data get automatically stored on a backup server in a different data center for maximum security. This occurs daily and you can always access your backups.
Some vendors even offer backup replication or synchronization mechanisms, which ensures an even higher level of data redundancy.
There isn't really much for you to do here. The support team will take care of your backups for you in a fully managed service. Just make sure to choose a hosting provider that offers this service.
Backup Testing and Verification
As a rule of thumb, you should regularly test your backup integrity and reliability to ensure you're not relying on a corrupted copy. In addition, always ensure the backup consistency and completeness.
Remember – backing up your documentation provides a clear roadmap for recovery. The main thing you have to verify is that all information is up to date and the restore works as expected.
Disaster Recovery Planning
When researching disaster recovery, you'll often stumble upon the terms Recovery Time Objectives (RTO) and Recovery Point Objectives (RPO). The former specifies how quickly systems need to be restored, while the latter – how much data loss is acceptable.
Apart from RTO and RPO, you'll need to point to the critical systems and data that will be prioritized during the recovery process. It's vital to outline what you really need and what you can do in advance so you can initiate the recovery process immediately after a disaster strikes.
Disaster Recovery Testing
Disaster recovery testing (DR testing) is basically examining whether your disaster recovery plan actually works and if it meets your RPO and RTO requirements.
Generally, there are three types of DR testing:
Plan review – going over your disaster recovery plan to check for inconsistencies and weak points;
Tabletop exercise – reviewing the plan step by step to see if everyone knows their role;
Simulation – simulating various system attacks to test the effectiveness of the recovery plan.
High-Availability Solutions
High-availability (HA) solutions provide continuous service availability, thanks to failover mechanisms and redundant infrastructure setups.
If your RTO and RPO time values are not in line with your needs to recover your critical data, you can use a high-availability replication alternative. Thanks to real-time, byte-level replication, it will maintain a copy of your server. When disaster strikes, said copy can act as a production system.
Monitoring and Alerting
Network monitoring is one way to protect the projects on your server and ensure they perform as intended. You can get a specialized tool that can check your server's connection, web and email services, and more.
A good example is ScalaHosting's very own SShield – it blocks 99.998% of attacks and alerts you immediately of any issues that require your attention. It also gathers information about the threat and provides you with a detailed report.
With Managed VPS hosting packages, you can also rely on the support team to monitor your server. They will take care of any malfunctions and alert you if any issues require your immediate attention.
Ways to Back Up Your Website With ScalaHosting
When you opt-in for a ScalaHosting Managed VPS plan, you get direct access to our all-in-one cloud management platform, SPanel.
The solution comes with two in-built backup options:
Manual backups
Daily cloud backups
If you want to do it all manually, you can choose a full account backup or just choose a category. You can save the data on a local device to save on storage space. However, if something happens, you won't be able to automatically restore it.
Every Managed VPS plan from ScalaHosting includes daily cloud backups as well. They can be used to restore databases, emails, and files for each individual account on the server. The data is stored on a separate server, which guarantees maximum security and redundancy.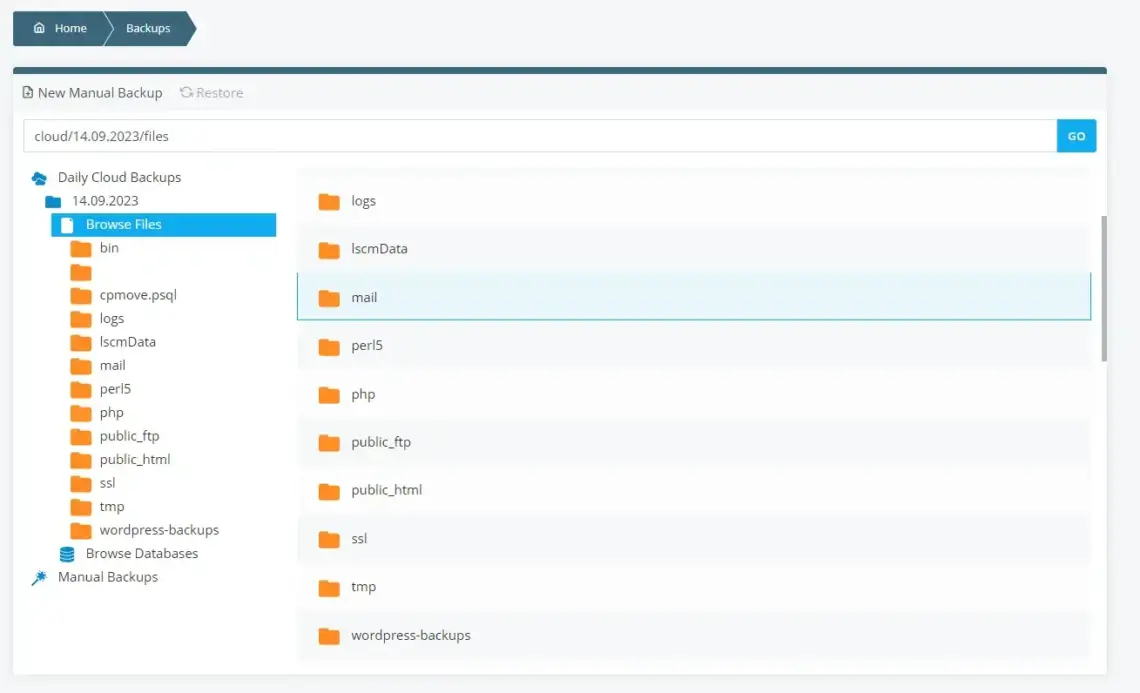 There is also another option – snapshots. Those are copies of the whole server but they are used only as a last resort.
Let's say you have 50 accounts on a server. If only one suffers an attack – this can affect all 50 and easily interrupt their services. In such cases, the support team can take advantage of a snapshot as it will restore all accounts to their previous active state.
The main difference between a snapshot and a regular backup is that the snapshot will restore all projects on the server. Backups allow you to choose exactly which data to save and restore.
In case you need a snapshot, you can contact our team 24/7 and they'll readily help you with any inquiries.
Wrap Up
Managed VPS hosting has several undeniable advantages – isolated accounts, tailored resources, and faster performance. The biggest of all, especially when it comes to data backups and general security is the team of experts that takes care of your server. They perform off-site backups, keep an eye out for hacker attacks, monitor your resource usage, and much more.
However, it is important that you, as a user, understand the mechanisms behind disaster recovery strategies and backup plans. That way, you'll be able to actively protect your website from the potentially devastating consequences of data loss and system downtime.
FAQ
Q: How do I back up my VPS Server?
A: The easiest way to backup your VPS account is to automate the data archiving process. You can set start and completion times and choose which part of your account you need backed up. Additionally, you should specify the archive's storage location (local, onsite, remote) and test if the copy is restored properly afterward.
With SPanel, you have easy options for manual and automatic backups, as well as a friendly support team to help you keep your information safe.
Q: What is fully managed VPS hosting?
A: In a fully managed VPS hosting plan, the vendor's support team will take care of your server and all associated maintenance tasks. They will configure the necessary software, handle updates, monitor the security, and assist with technical issues. That way, you get more time to focus on growing your audience.
Q: What is a backup management server?
A: Backup servers are specifically used to store copies of data, such as files, apps, databases, and more. Said data can be used to restore information in case of a hacker attack, an update gone wrong, or any other type of disaster.
Was this article helpful?