Online security and protection against cyberattacks should be a top priority for anyone that does business on the Internet, no matter if they have a personal blog or run a large enterprise.
Luckily, there are many things you can do to make your online existence more secure, and one of them is to improve the security of your VPS hosting, which will enable you to detect and stop attacks before they cause any significant damage.
So, in this article, we will cover the most effective tips you can implement on your site and VPS to make them safer and discuss what you need to look for when choosing a secure, quality provider. But before we dive in, let's first see what VPS hosting is in more detail.
What Is VPS Hosting?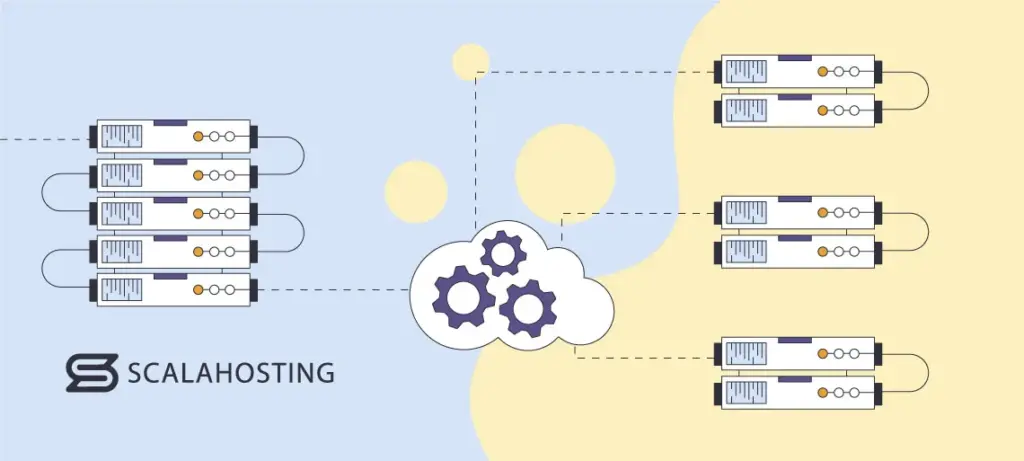 Virtual Private Server (VPS) hosting includes deploying your site or app on a virtual machine you purchase from a hosting provider. With this service, multiple websites are hosted on a single physical server, each with its own resources that are not shared with other users on the same server.
Using virtualization technology, each client on the physical server is isolated from the others. This creates a dedicated virtual environment for each project, giving users their separate space on the server at much lower costs compared to dedicated server hosting.
And while VPS plans are more expensive than shared hosting, they come with significantly more features and resources. This allows your site to enjoy better performance, faster loading speeds, and server customization options to grow your business as much as you want.
Moreover, VPS hosting allows you to easily upgrade and downgrade the resources you use, which helps you handle any traffic spikes seamlessly and without any service downtimes.
Tips on Making VPS Hosting More Secure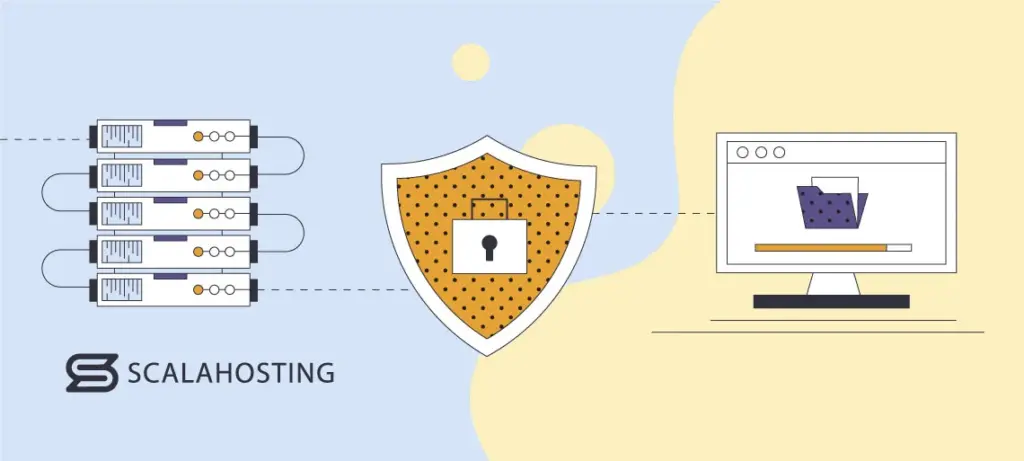 Although most VPS plans from top-quality providers include many excellent tools and features, that might still be insufficient to protect your site from cyberattacks, which have become more sophisticated over the years.
So, to safeguard your business against hackers, you should play your part as well. Here are some essential security tips you should definitely consider when operating with a VPS:
Strong Passwords

Many hackers have managed to gain access to sensitive data by simply guessing the passwords for personal and company accounts.
That's actually easier than it sounds when you consider that some of the most common passwords out there are:
password
123456
monkey
qwerty
111111
birth date
To prevent this from happening, make sure that you change your passwords often and do not use the same ones for multiple accounts.
Additionally, using long passwords with lower and upper case letters, numbers, and special characters will significantly slow down hackers even when they use brute-force tools. Never use easily accessible information about your identity or simple phrases in your passwords.
Change the SSH Port

Most hackers can access your VPS and perform brute-force attacks by scanning the port of your secure socket shell, which is open by default. To avoid this, you should use a different port for SSH or altogether disable SSH access for accounts that do not need it.
Use Firewalls

Firewalls are a great way to enhance your VPS security because they can help detect and stop brute-force login attempts, port scans, and other network-based attacks.
Additionally, firewalls allow you to filter your server traffic, which ensures that only authorized users can access your network. You can also modify your firewalls according to your needs and set any custom restrictions you can think of.
Regular Patches and Updates

Every reputable software solution regularly releases security patches that protect against new attacks and vulnerabilities. You must keep all of your apps and software up to date to remove any weak spots that hackers can exploit to gain access to your data.
This can quickly become complicated, especially for businesses that run many different applications and software without regular updates. Moreover, outdated apps and plugins can conflict with the other updated systems you use, causing them not to work properly.
Create a plan where you frequently check all core applications and their add-ons for new updates and releases. Some of them can even be scheduled for automatic update, saving you even more time.
Data Backups

In order to avoid data loss, you should have a disaster recovery plan in place to easily and quickly restore your information under any circumstance.
You can use the backup options from your provider or create your own schedule. Regardless of what you choose to do, the most important thing is that your data is regularly backed up and stored in multiple secure locations.
Implement a VPN

Using a VPN (Virtual Private Network) protects you from bad actors that want to intercept your traffic and steal your data. Namely, the VPN will route your traffic through encrypted tunnels and hide your real location, ensuring that your IP address cannot be traced back to you.
With a VPN, you can bypass any Internet restrictions that your country implements, enabling you to freely operate online and access all system resources.
Restricted User Access

Data leaks are highly likely to happen anywhere, especially if many users have access to your VPS hosting. So, it is crucial that you review all accounts that can enter your server and remove the ones that remove anyone that doesn't need immediate or regular access.
You can also set different levels of permissions for each user and allow them to access only the files and resources you allow.
Disable Root Logins

With root logins, the user has complete access to the entire VPS platform. And because the default user on each machine is called "root," hackers can target it in order to gain access to the account and the entire server.
To prevent this, you can create a new account under a different name for your root-level tasks and disable the original root account.
IMPORTANT: Make sure to double-check that the new account you create has all the necessary access permissions before you delete the root user.
24/7 Monitoring

To ensure your business safety, you should monitor your website 24/7 and keep track of all of its logs. This way, you will have real insight into the traffic you receive, the resources you use, and the possible errors.
This, in turn, will help you optimize your website resource usage and fix any mistakes before they cause any damage.
Additionally, it would be best to watch your server logs to determine how your server handles different situations with normal, high, or no website traffic. This will tell you whether you need to upgrade or downgrade your VPS plan and will help quickly locate errors and fix them accordingly.
SSL Certificates
Secure Socket Layer or SSL certificates allow you to establish a secure connection between your server and your site visitors. Namely, SSL certificates use public and private keys to encrypt the data that is shared between sites and customers, ensuring that malicious third parties cannot intercept and steal it.
Using an SSL certificate is especially important for all ecommerce businesses that handle sensitive customer information, like personal details, credit card info, and billing addresses.
DDoS Protection

One of the most common cyberattacks in today's day and age is DDoS or Distributed Denial-of-Service attacks. The way it works is that attackers flood the site with bad traffic so that the server cannot process all requests, causing it to shut down and make the website unavailable to customers.
So, to prevent bad actors from disrupting your operations, you should constantly monitor your site traffic to detect unusual spikes, get more bandwidth, and install firewalls.
Anti-Malware Software
Malware is everywhere around us and has become so sophisticated that most people do not realize they have installed it on their systems before it is too late. To protect your business from being infected with malware, you should use anti-malware software and regularly update it.
Anti-malware software solutions detect, isolate, and delete any malicious code they find in your network, preventing it from causing damage to your devices.
A Quick Overview: What to Look for In a Secure VPS Hosting Provider
| | |
| --- | --- |
| Free SSL Certificates | The top VPS providers include free SSL certificates across all plans. |
| 24/7 Customer Support | The provider you pick should offer 24/7 customer support via multiple channels so that you can get help with any issue regardless of the time of day. |
| Multiple Data Backup Options | The provider should offer automated backups on a daily, weekly, or bi-weekly basis and store your copies on offsite servers. |
| CDN Support | You should choose a provider that supports CDN integration, allowing you to distribute your traffic load across multiple servers. |
| Network Monitoring | Your provider should monitor your VPS, site, and network 24/7 so that any vulnerabilities or abnormalities can be detected on time. |
The ScalaHosting managed VPS service comes with automatic offsite backups, 24/7 customer support, and free SSL certificates across all plans. Additionally, it provides anti-spam protection and its own custom SShield, which blocks 99.97% of all web attacks.
Conclusion
Protecting your VPS hosting is an essential step in ensuring that you and your customers can safely work together and share data online. Luckily, there are plenty of ways you can make it more secure, including regular system updates, SSL certificates, firewalls, and data backups.
If you are looking for a provider that offers all of these features and more – check out the ScalaHosting managed VPS hosting and deploy your site in a secure, highly-optimized environment that will provide you with advanced security tools and 24/7 server monitoring.
FAQ
Q: What are the best practices for making my VPS hosting more secure?
A: Some of the best ways to make your VPS hosting more secure include the following:
Using stronger and longer passwords
Changing the default SSH port
Restricted access to your VPS
Filtering incoming and outgoing traffic
Using SSL certificates, firewalls, and anti-malware software
Monitoring your server and website logs 24/7
Q: What should I look for in a secure VPS hosting provider?
A: Your VPS provider should supply you with free SSL certificates, provide 24/7 customer support to help with any issue you might encounter, offer multiple automated backups on offsite servers, and give you SSH access to your VPS.
Q: Is VPS hosting more secure than shared hosting?
A: Yes, VPS hosting is more secure than shared hosting because, with shared hosting, you share space and resources with other users whose performance and vulnerabilities can affect your site.
Meanwhile, with VPS hosting, you are isolated from the other users on the same physical server via virtualization technology. This means they cannot influence your website performance or use up your resources.
Was this article helpful?