Online media consumption has been on the rise for years and this growth doesn't seem to slow down. Organizations and creators are facing more and more demand for video streaming platforms that deliver content at the highest quality.
Of course, a key element to all of this is web hosting. With that many options out there, choosing the right plan is hard. So, we'll tackle them one by one.
Today we're focusing on managed VPS hosting and whether it's a good option for media streaming and high-quality video and audio content.
The Demand for Video and Audio Streaming
Video streaming has taken the world by storm. The industry revenue is projected to hit the staggering $115 billion by 2026, That is hardly surprising, given that 78% of US citizens have subscribed to at least one streaming service. And there is an abundance of options – Netflix, Hulu, HBO Max, to name a few. While Netflix's subscription numbers have recently fallen, the competition is still strong. YouTube and TikTok are leading the charts when it comes to shorter video content.
But the demand for audio content is breaking records as well. According to streaming statistics, 616.2 million people have subscribed to at least one platform to listen to their favorite artists. In addition, in 2023, 464.7 million users listen to podcasts worldwide. Key players in this industry include Spotify, Apple Music, and SoundCloud.
The revenue numbers are forecasted to grow steadily, so streaming has turned into a lucrative niche. If you're an aspiring creator, looking to share content efficiently, you'll need to dive into the video hosting world.
But is managed VPS the best way to do that?
Introduction to Managed VPS Hosting for Media Streaming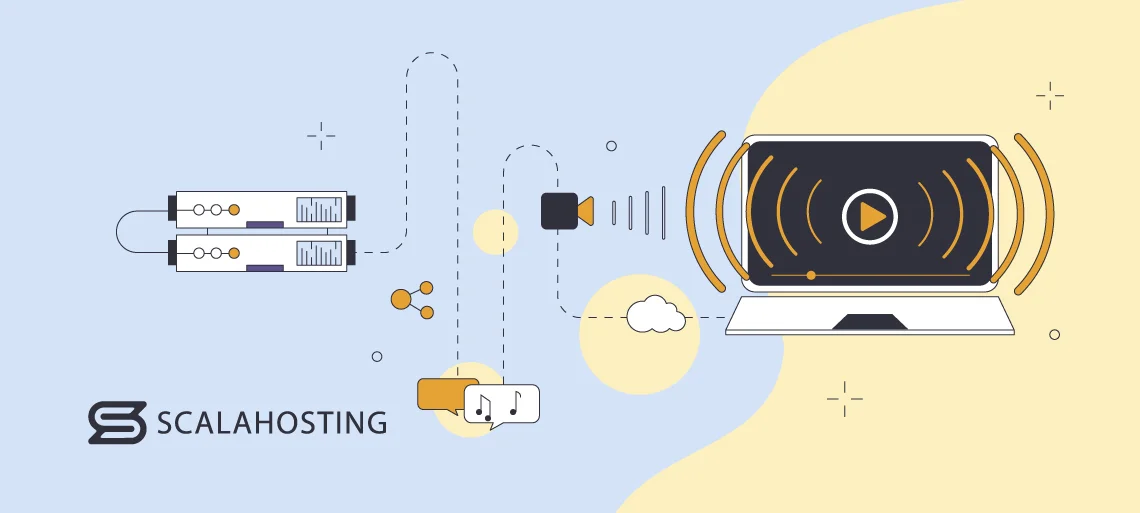 To simplify, video streaming enables users to enjoy content without downloading it. For that to happen, the media is compressed into manageable data packets. Those are hosted and distributed from a server. When a user wants to watch a video – their device sends a signal to the server, which in turn returns with the data packet.
So, when choosing your hosting provider, you'll need a flexible and resource-rich option. Many media agencies might automatically turn to dedicated servers, but there's actually a more affordable alternative – virtual private servers.
With a managed VPS, clients get a physical server, already configured with a default OS and control panel. The hosting support handles delicate operations such as software installations and updates, but the user still gets full control over the environment. This setup is perfect for those who are just starting out in the video streaming world or have a growing platform.
Benefits of Using Managed VPS Hosting for Media Streaming Platforms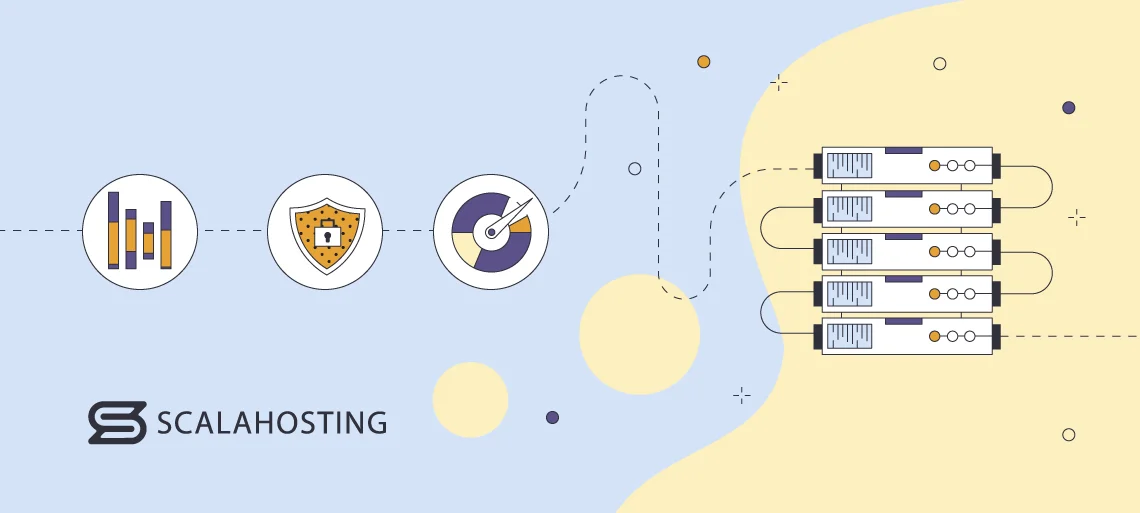 They might not be as resource-rich as a dedicated server, but VPS solutions are not to be underestimated. Here are three benefits that make them a great option for media streaming platforms:
Server Resources
Audio and video streaming requires a lot of server resources like CPU and RAM. This can cost quite a lot in the long run.
Thankfully, managed VPS plans are way more affordable than dedicated servers. You might not get the entire physical machine to yourself, but all accounts are isolated on their own virtual instances. That way, different users can't interfere with each others' resources.
Second, every reliable hosting vendor will provide at least 1 CPU core and a couple of GB of RAM. They will also supply storage space and monthly bandwidth dedicated to you and your needs. In simple terms, this means your streaming platform will be enjoying top speeds and consistent performance.
Scalability
Once your audio or video streaming service starts to grow, you'll need to be able to accommodate a bigger audience. Thankfully, VPS plans are usually highly scalable. You can add and remove resources freely and pay for what you actually used.
Managed VPS solutions often come with a load monitoring tool. It will show you exactly how much of the server resources you're using currently. That allows you to track when you're close to reaching the server's maximum capacity so you can take appropriate actions.
Enhanced Security
When you sign up for a managed VPS service, you get a server that is already configured for optimal performance. Among the things you'll enjoy are:
automatic updates
free SSL certificate
firewalls
"Managed" means that you get full assistance from the host's support team. You can turn to them every time you need some sort of web hosting support, have security questions, or need help with some configuration.
Key Considerations for Delivering High-Quality Video and Audio Content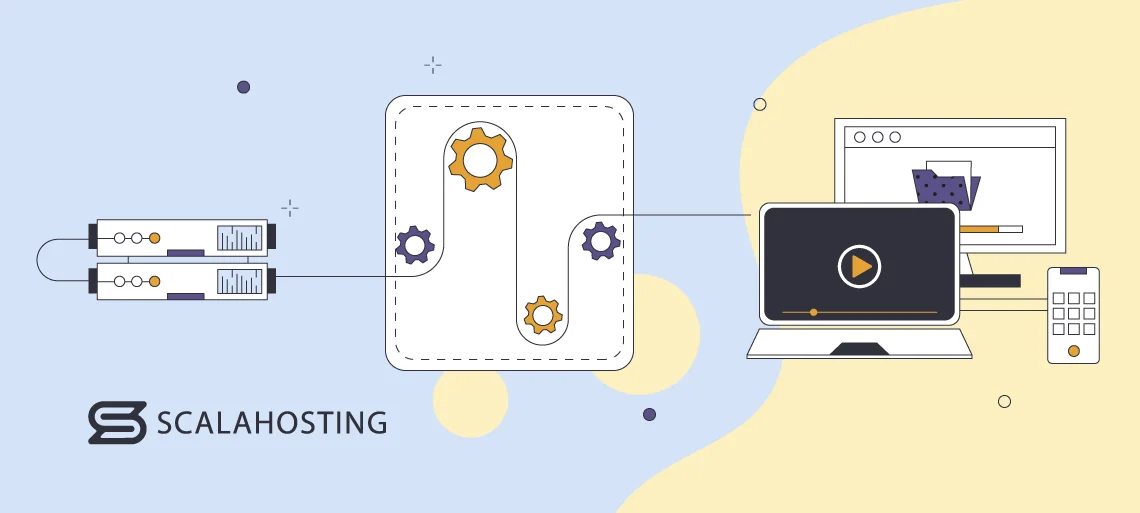 There are several things you need to consider when launching a streaming platform, besides web hosting. For example:
making your content compatible with different devices
achieving optimal speeds
protecting your content
Here are some ways to take care of those issues:
Video Encoding and Compression
Video compression is the process of reducing big, uncompressed video streams into smaller files. Redundant or identical frames are removed and only the necessary content remains. This lowers the transmission bandwidth needs and the storage demand.
However, this can damage the quality of the video file.
With encoding, you can reduce the file size, without sacrificing the quality. In addition, the content becomes compatible with most devices and platforms. It is definitely the better choice for your video streaming solution.
Adaptive Bitrate Streaming (ABR)
Video bitrate is the speed at which video data is transferred to a user's device. The unit of measurement is megabits per second (Mbps). A higher bitrate equals better quality, but if the Mbps exceeds the viewer's bandwidth, the content will most likely buffer.
Adaptive bitrate streaming is an algorithm that solves that issue. It enables a video player client to choose which bitrate segments to download. Thanks to that, you can provide your customers with a variety of streams at different bitrates, adapted to the device's processing power and internet connection fluctuations. That guarantees the highest possible quality given the circumstances.
Content Delivery Networks (CDNs)
A content delivery network is a group of interconnected servers that caches content close to end users. It's geographically distributed to deliver the best results thus helping with the rapid transfer of resources such as:
HTML pages
JavaScript files
stylesheets
images
videos
In short – everything required for the content to load.
CDN solutions are utilized by most streaming websites, including big industry players such as Netflix.
Transcoding and Transmuxing
Transmuxing is the process of changing a file's container format without altering its audio or video content. Said content is extracted from its original format and repacked into a different one. That way, users can stream it on a variety of protocols and devices.
Still, while transmuxing a file will save its quality, it won't change the resolution. If that's what you're aiming to do – you have to consider transcoding.
Transcoding enables you to stream content on devices with limited bandwidth. The process entails decoding the original audio or video, altering it as needed, and recodifying it into the new format. However, with transcoding, you might lose some of the quality of the content.
Content Protection and Digital Rights Management (DRM)
The biggest issue of digital content is piracy. It violates copyright rules and may have financial or legal repercussions. However, that rarely scares digital pirates, and the Web is brimming with illegal torrent sites.
There are ways to protect your work, though.
Digital Rights Management (DRM) is the use of technology to regulate and manage access to intellectual content. The goal is to prevent unauthorized copying, distribution, sale, and alteration of digital information and media assets.
With DRM, a creator gives computer programs authority over digital content instead of being the one to own it. That way, musicians, filmmakers, writers, etc. can regulate what users are doing with their creations.
While it cannot stop people from violating copyrights, the DRM software makes it more challenging for exploiters to steal and copy content.
Additionally, many of the most popular site-building solutions, like WordPress and Joomla, offer DRM plugins to help you secure your data.
Content Management and Metadata
Streaming systems are built on metadata. Think of it as descriptive information about your content. Let's take a TV show as an example. The metadata here will include:
genre
cast and crew
video formats
access controls
data sharing rules
And more.
When you're operating with bigger content volumes, management is key. Properly segmenting the metadata means you'll be able to show your users tailored recommendations, offer dynamic playlists, point them toward the right genre, and more.
There is a huge SEO effect as well. Search engine robots use meta titles and descriptions to quickly understand the content of a page so they can classify it properly.
Managed VPS with ScalaHosting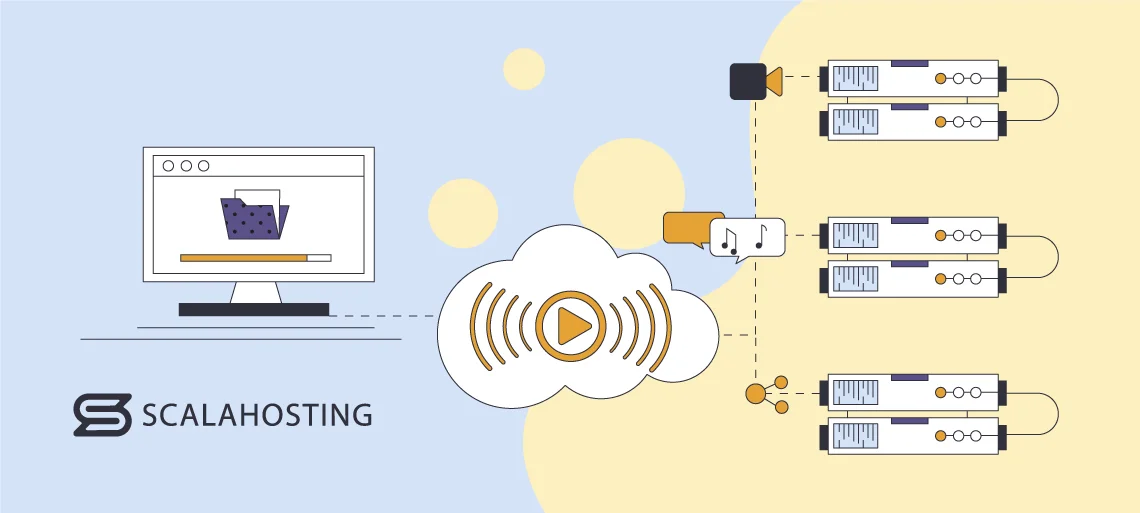 Managed VPS is great for video streaming and there are a lot of web hosting options on the market. Wondering how to find the best hosting option?
We're here to help.

ScalaHosting has more than 15 years of experience. Using that advantage, we have created the optimal Managed VPS hosting plans to fit not only the general public but also video streaming enthusiasts. In fact, you can build a custom VPS setup to cover any specifics of your multimedia project. Additionally, you can choose from a wide range of data center locations to ensure optimal connectivity for your target audience.
Here are the main benefits of the ScalaHosting plans:
24/7 Support – available via live chat, phone, and email
SPanel – an in-house developed web hosting control panel with enhanced security, integrated auto-installer, and more
Regular Backups – automatic and manual options
Scalability – grow your streaming service along with your audience
Security Tools – SShield, SPAM protection, IP address monitoring, free SSL certificates, and more
Powerful Caching – deliver content at the speed of light, thanks to OpenLiteSpeed
Contact ScalaHosting today and we'll be glad to help you with all your questions!
Wrap Up
To sum up, leveraging managed VPS hosting for a seamless media streaming experience can give you a competitive edge. Having a team of experts handling the software part and ensuring your server is delivering optimal results will leave you with more time to develop your video streaming platform. As it grows, you'll be able to track the demand and add resources to keep up with it.
Most importantly, compared to dedicated servers, VPS solutions are much more cost-effective, so you can build a successful multimedia project even on a tight budget.
FAQ
Q: What is a managed VPS?
A: VPS is a hosting service that enables you to share a server with several other users. All accounts are isolated on their own virtual machines so they don't interfere with each others' resources. "Managed" means you get a dedicated team that takes care of the server and its maintenance tasks.
Q: Should I choose managed or unmanaged VPS hosting?
A: Whether you should choose managed or unmanaged VPS hosting depends on your tech skills and how much time you have on your side. With the former, you'll have to take care of setting up the server and the software yourself. A managed service, on the other hand, means you have a team of experts to do it for you. Generally, it's a better choice, if you want to spend more time on developing your business.
Q: Are VPS really private?
A: Yes, a VPS really is private. The virtualization technology involved will ensure all users on the same server get a dedicate share of its system resources. Same goes for security – an unauthorized breach in a neighboring account would not affect your operations, like in shared hosting.
Was this article helpful?