The ecommerce industry is expected to generate more than $4 trillion in sales by the end of 2021, so it's no surprise there are currently over 12 million online shops and counting. The appeal comes not only from the potential profits but from the fact that building an ecommerce online store now is easier than ever.
WooCommerce and Squarespace are just two of the numerous web applications that let you launch your very own ecommerce business with ease. But what's the difference between the two? And which one is the best fit for your project?
The Benefits of Ecommerce Platforms
Both WooCommerce and Squarespace can help you build an online shop, but you need to know some insights to get the most out of them.
WooCommerce is an open-source WordPress plugin that lets you turn a standard WP installation into a fully-featured online store. It's been around since 2011 and is one of the most popular platforms of its kind.
To use it, you need to have a web hosting account with WordPress already installed on it. After you set up WooCommerce, you can add products to your online shop, change its appearance with the help of themes, and use third-party plugins to modify and extend the website functionality.
Squarespace was launched as a blog hosting service in 2004, but it gradually morphed into a fully-featured website builder over the years. Nowadays, Squarespace offers a wide range of extras and features, including domain name registration, dedicated ecommerce tools, numerous website templates, and a drag-and-drop editor that helps you customize the design.
The builder uses the Software as a Service (SaaS) model, meaning you don't need a separate web hosting account to host the website.
The downside of this platform is that if you're not happy with the service, you can't just take your existing website and move to a different provider. You'll have to start from scratch.
The main appeal of the two platforms is that with them, you can launch your very own ecommerce website without writing a single line of code.
Let's see how they stack up against each other.
WooCommerce: Pros & Cons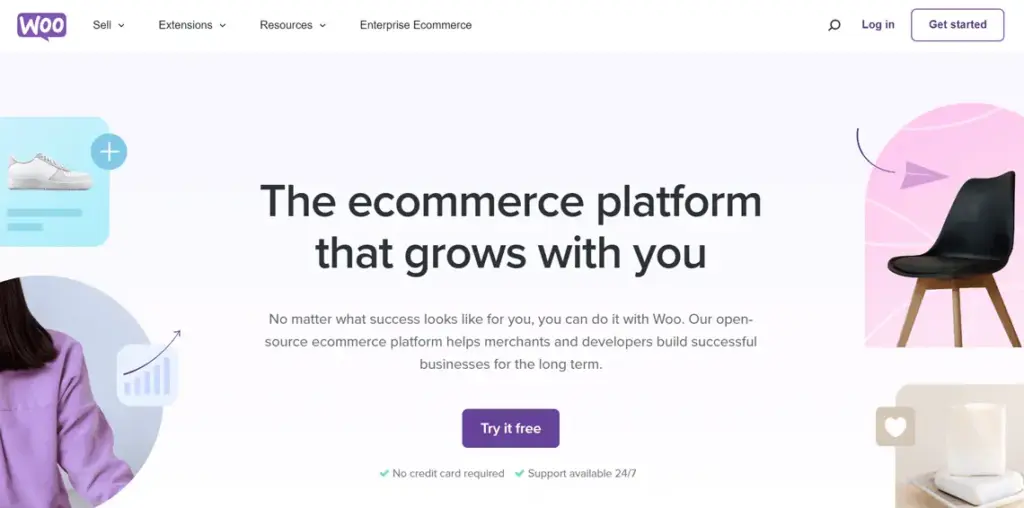 Pros:
Free – Both WordPress and WooCommerce are free and open-source.
Flexible – WooCommerce is one of the world's most popular ecommerce platforms. It's supported by an enormous global community that develops extensions and plugins, making it suitable for just about any project.
Customizable – You can choose from thousands of free and premium themes, all coming with enough customization options to tailor the design to your exact specifications.
Scalable – You can add as many products as you want, and because the store is based on WordPress, you can be sure it will handle the traffic when its popularity grows.
Widely used – Because so many people use WooCommerce, finding guides, tutorials, and other helpful resources is never a challenge.
Easy to install – WooCommerce is a part of WordPress's official plugin repository, which means that you can install it with a couple of clicks from the WP dashboard.
Cons:
The learning curve – Mastering the plugin could be a bit of a challenge for less experienced users.
Maintenance – Because WooCommerce is a self-hosted platform, you have the responsibility to protect your website with an SSL certificate, install all necessary updates, and optimize the store's performance.
No readily available support – WooCommerce is a free plugin, and as a result, it can't offer you a dedicated team of support agents who can help you with your inquiries.
Squarespace: Pros & Cons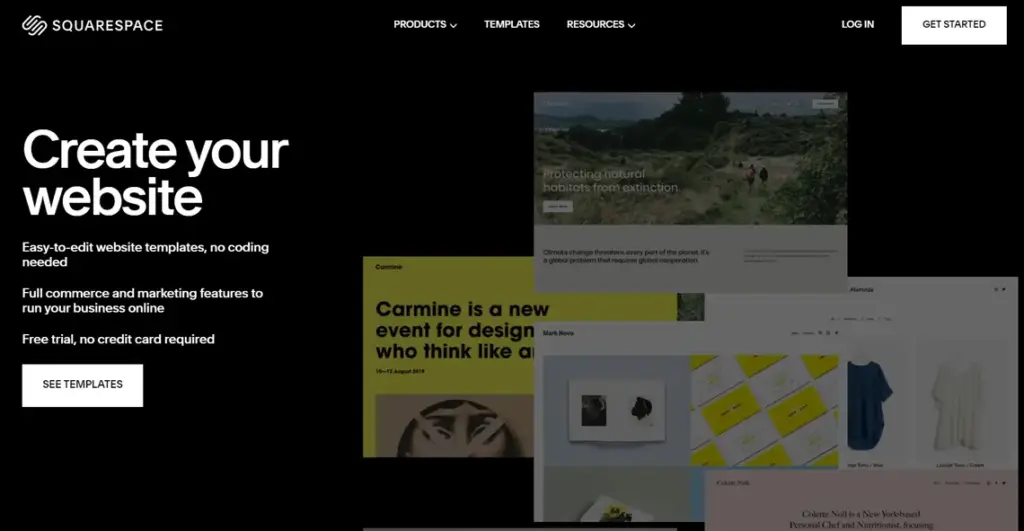 Pros:
Easy to set up – With Squarespace, you can start work on your website immediately. You get access to the application as soon as you create an account. After you choose a template, you can begin customizing it immediately.
Easy to customize – The built-in Squarespace template editor has a drag-and-drop interface, which makes customization a breeze.
Free domain – If you choose a yearly billing cycle, you can take up Squarespace's offer for a free domain name.
A free trial – You can take advantage of a 14-day trial to see for yourself whether the builder suits your needs.
A list of useful features – Squarespace gives you plenty of site-building tools and other features built inside the platform.
A gallery of extensions – You get a selection of third-party extensions that can expand your online store's functionality.
Cons:
The cheapest plan is not suitable for ecommerce sites – Squarespace's plans start at $12 per month, but the ecommerce tools are available only in the more expensive packages. As a result, the monthly bill ends up between $18 and $40.
A limited choice of templates – Only seven of the templates in Squarespace's official repository are optimized for ecommerce projects.
Transaction fees on the cheapest plans – In addition to the limited range of features, the most affordable package suitable for an ecommerce website also introduces a 3% transaction fee on every sale you make through the website.
WooCommerce vs Squarespace: A Head-to-Head Comparison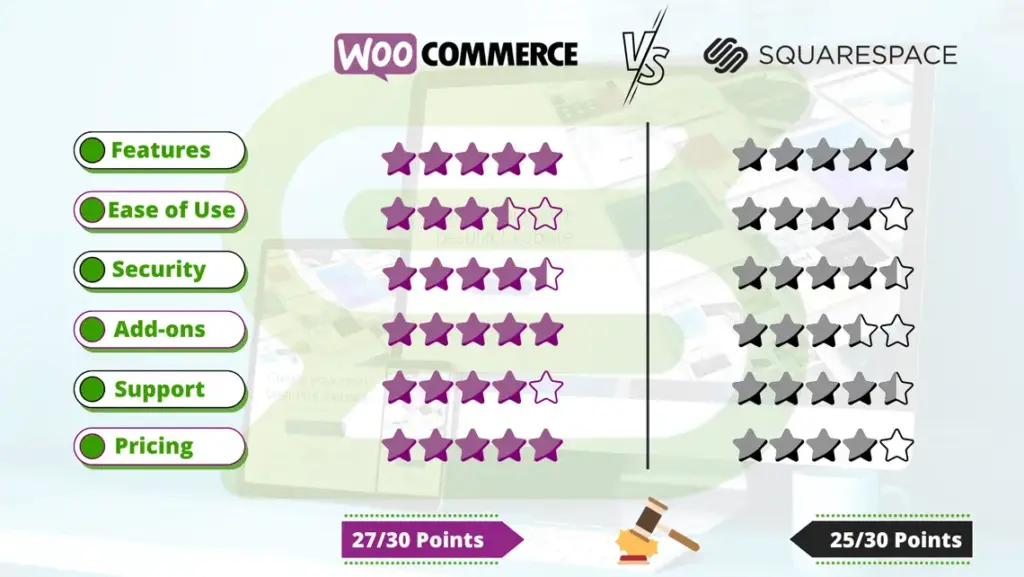 The lists of pros and cons can give you an idea of what the two platforms are about, but you can always use more detailed analysis to decide which one fits your needs the best.
Features
Compared to other applications of its kind, Squarespace is pretty well-equipped out of the box. The wide range of site building tools helps you create a truly interactive, professional-looking online store.
That said, WooCommerce doesn't fall behind on that front. It's one of the most comprehensive ecommerce solutions on the market, and even though some features might be missing in the plugin's default setup – they can be enabled with the help of an addon.
Ease of use
Squarespace's usability is evident right from the first launch.
All you need to do to get going is pick a template and create an account to activate your free trial. Squarespace then redirects you to the intuitive editor, where you start customizing the online store's appearance. The interface is drag-and-drop, and you have quite a few tutorials and guides at your disposal.
WooCommerce may not be as user-friendly as Squarespace, but setting it up is hardly rocket science. Indeed, before you even start, you should secure a hosting account with WordPress already installed on it. This may sound like a setback, but at ScalaHosting, all this could be ready within minutes thanks to the one-click WordPress installer or the helpful support, well-versed with the CMS.
After WooCommerce is properly configured, you'll control your online shop through the WP dashboard. The interface is not as intuitive as Squarespace's, but getting used to it shouldn't be a problem.
Security
As a hosted platform, Squarespace gives you little control over your site's security. By default, you get an SSL-protected shop, and security-conscious online store owners will be happy to find a two-factor authentication option inside the settings. The rest of the precautions are handled by Squarespace.
With WooCommerce, a lot more responsibilities lie on your shoulders. You have to install an SSL, set up a strict backup policy (if your hosting provider doesn't have one), and keep the WordPress core and plugins up-to-date at all times.
Additional security precautions can easily be added with the help of WP extensions.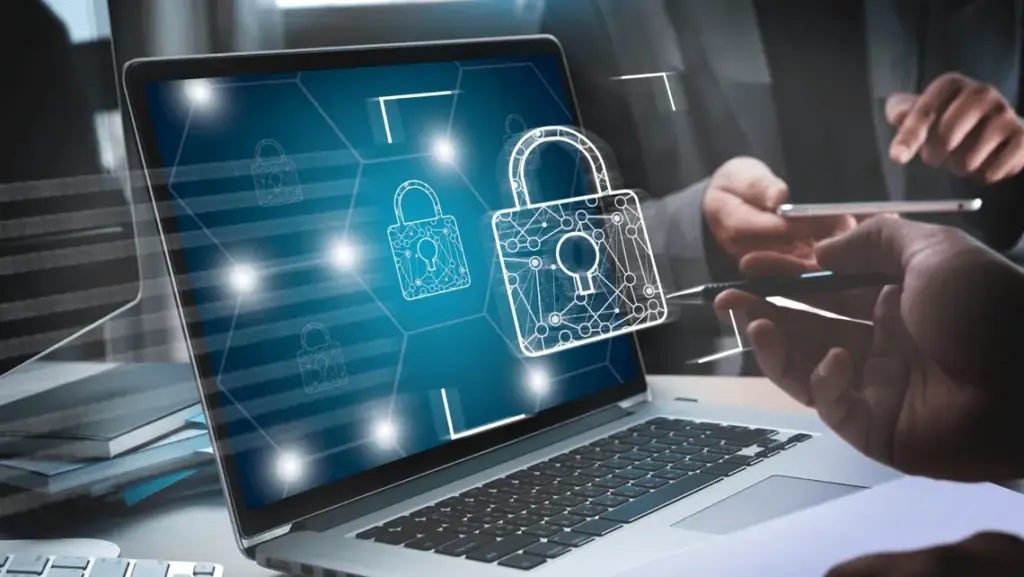 Add-ons
Squarespace manages to find a pretty good balance between features and ease-of-use. On the one hand, the application is extremely user-friendly, even for absolute beginners. On the other – it is packed with enough utilities to help you build a great-looking and functional website. The free and premium extensions available in Squarespace's official store can unlock yet more potential.
The platform still has a long way to go before it reaches WooCommerce's flexibility, though. The plugin is a part of the WordPress ecosystem, which means you have access to thousands of add-ons in tons of different categories. This environment makes WordPress by far the most widely used website building application in the world.
Support
Given how intuitive the interface is, you are unlikely to run into any technical difficulties while using Squarespace. Nevertheless, the company has ensured that any problems you encounter are quickly resolved.
In addition to a team of support specialists reachable over live chat and email, you get access to quite a few help guides directly through the company website. You can get to know the application better with the help of the available webinars, and there's also a forum where other users can help you with any inquiries.
With WooCommerce and WordPress, you don't have a dedicated support line to rely on. However, the platforms are used by thousands of people, and there are countless forums and chat rooms where you can ask for help. Additionally, as you need a web hosting provider anyway, you can always choose an experienced host that will give you additional support with the platform.
Pricing
If you want to build an ecommerce website, the available Squarespace pricing plans are:
Business – starting at $18/mo
Basic Commerce – starting at $26/mo
Advanced Commerce – starting at $40/mo
By contrast, WooCommerce is completely free.
Still, you need to consider the cost of hosting the application and any additional premium themes and third-party plugins you might want to add.
WooCommerce vs Squarespace: Which One to Choose?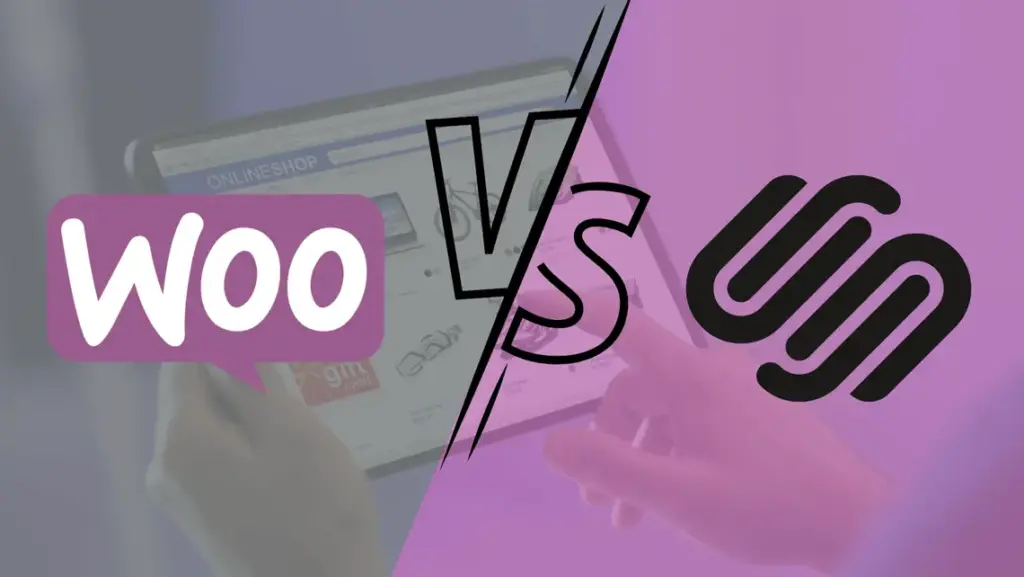 Both WooCommerce and Squarespace are very good, but neither is a one-size-fits-all solution. The truth is – they don't need to be.
Squarespace was designed with beginners in mind. Its role in the modern online world is not to be underestimated because it has helped thousands of inexperienced users to launch and run their own professional-looking websites without worrying about things like web hosting or security.
This very setup, however, poses certain limitations for people who have a few more specific ideas and are a bit more tech-savvy. They pick WooCommerce and know fully well that although it lags behind Squarespace in the ease-of-use department, it gives them much more control over the projects.
At the end of the day, both platforms have a pretty low learning curve, so it shouldn't take much time to master them.
ScalaHosting and Ecommerce Websites
You can accommodate just about any self-hosted ecommerce platform with ScalaHosting. We have plans specifically optimized for WooCommerce, Magento, and PrestaShop. Additionally, you can find dozens of other similar apps in the Softaculous auto-installer, which is now available even on our SPanel managed VPS plans.
Speaking of our SPanel packages, if you choose to host a WooCommerce site with us, you will be able to control the entire WordPress installation through SWordPress – our proprietary WordPress management tool.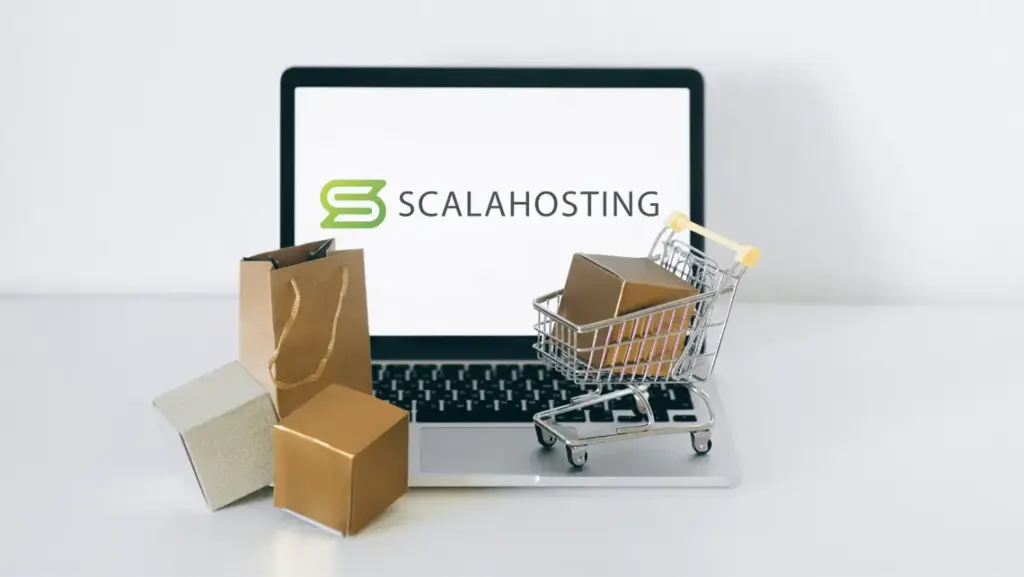 With it, you can install WordPress in seconds and start working on the new online shop almost as quickly as you would with Squarespace. SWordPress also lets you clone the WP installation, change the admin password, and manage auto-updates with a few simple clicks.
Every website hosted with us also gets a bundle of free features, like an SSL certificate, daily backups, and protection from SShield – our proprietary security system that uses AI to block malicious attacks.
Conclusion
Squarespace and WooCommerce both do a brilliant job of helping you launch your new online shop and manage the business once it's up and running.
Squarespace isn't quite as flexible as WooCommerce but makes up for this with a beginner-friendly interface. Meanwhile, Woo requires some getting used to, but the options are pretty much limitless as soon as you master it. It's also the more cost-effective solution, provided you don't stuff the installation full of premium add-ons.
At the end of the day, your choice of an ecommerce platform should be based on your project's specific requirements and on the amount of time, money, and effort you're willing to invest.
FAQ
Q: How do I choose the right ecommerce platform?
A: Your project's success depends to a large extent on the correct platform, so this is not a choice you should take lightly. Do some research, and try to find out as much information about the different options as possible. Consider your project's objectives, your budget, and your level of technical skills before you choose the ecommerce platform that fits your needs the best.
Q: Can I build my online store on my own with WooCommerce and Squarespace?
A: Yes, you can. Squarespace's goal is to let people with limited technical skills build their own websites. And even though, generally speaking, WooCommerce targets more tech-savvy users, getting used to the interface shouldn't be a problem for most people.
Q: What sort of support will I get with WooCommerce and Squarespace?
A: Squarespace has a team of support agents available 24/7 and ready to answer all your questions. WooCommerce can't offer this type of support, but because it's such a popular platform, there is a huge community of developers and fans who can help you out. You can easily find help guides, tutorials, and other useful resources. Picking up a host experienced with WordPress and Woo will secure some professional assistance as well.
What is a VPS – Everything you need to know!
Was this article helpful?