Content Management Systems (CMS) enabled many people with limited experience and technical skills to build and launch their own online businesses with ease. Being one of the most popular platforms of this type, Joomla has played a significant role in all of this.
It has to be said that none of its success would be possible if it weren't for Joomla's thousands of extensions that expand its functionality and reshape your website.
Today, we'll take a look at some of the best plugins and add-ons you can install to your Joomla website.
What is Joomla?
According to W3Techs, Joomla holds 3.5% of the CMS market and powers around 2% of all websites. BuiltWith estimates that over 1.6 million sites use the platform, with a further 565,000 domains redirecting to Joomla pages.
Not a bad track record, given the fact that the project was started in 2005 by a few programmers who weren't happy with the management of Mambo – another website-building tool that was popular at the time.
These programmers thought that Mambo's development was not entirely in line with the core open-source values, which is why they established Open Source Matters and released Joomla as a Mambo fork.
Written in PHP, Joomla can help you create all sorts of websites, including personal blogs, business, corporate, government websites, news outlets, online shops, and more. The setup is relatively easy, and the content is managed via an intuitive backend interface.
You can get additional Joomla help through detailed support documentation and a global community of developers and users who can help you if you get stuck.
The CMS is often praised for its SEO-friendly default setup, security features, and multilingual content support.
Pretty much anyone, regardless of their background or education, can create a website with Joomla. However, to explore the CMS's true potential, you'll need to utilize extensions that can infinitely expand its functionality.
What Do Joomla Extensions Do?
Joomla can act as a solid foundation for your new online project. Its architecture lets you build an interactive website without writing a single line of code, and with the right strategy, the in-built features can help your project grow organically.
As good as it is, Joomla on its own is unlikely to give you all the functionality you need. If you're going to turn your ideas into a reality, you'll need to install some extensions.
Different projects have different requirements, and the Joomla core can't possibly fulfill them all. Thankfully, its vast community of developers often create new extensions that expand your site functionality. With their help, you can customize your website to perfection.
Extensions can be an integral part of your project's success, but how do you know which ones you'll need? Let's see if we can help you answer this question.
The Best Joomla Extensions on the Market
Which extensions you might need depends largely on what you want to achieve.
We've put together a selection of some of the most popular Joomla add-ons. Some of them will probably be suitable for your particular project, while others might focus on general things that are not strictly related to your business. Whatever the case – these extensions will show you just how easy it is to transform an entire Joomla website.
JCE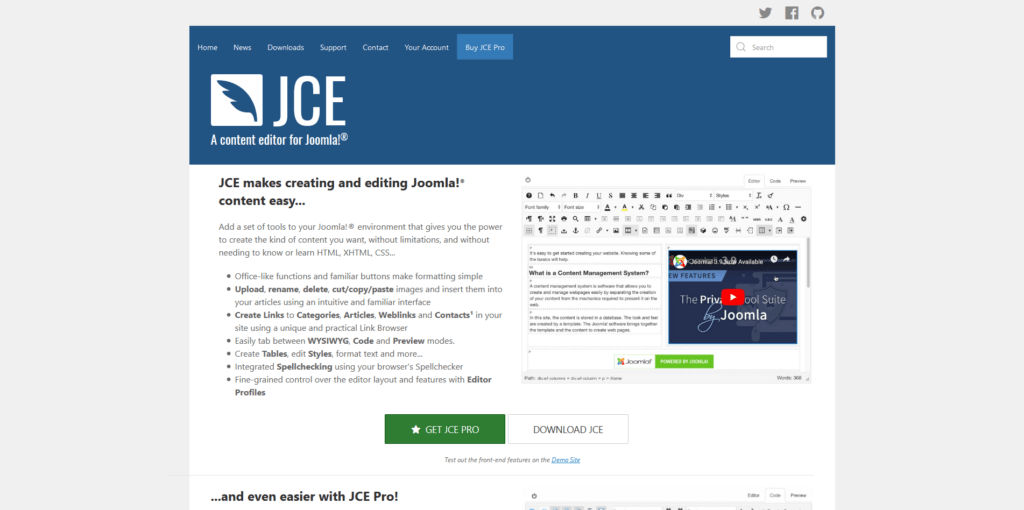 Being able to easily manage every single component of a web page is one of the main reasons for using a CMS in the first place. By default, Joomla employs a content editor called TinyMCE, and anyone who has ever had any experience with a word processing application should have no issues getting used to it.
An extension called JCE promises something even better, though.
JCE stands for Joomla Content Editor and is widely regarded as one of the best extensions in its niche. It replaces Joomla's default content editor with a new tool that is much more intuitive and feature-rich.
It comes with a WYSIWYG editor, similar to the one that WordPress has, which means you can create and edit pages and articles without knowing the first thing about programming languages.
Text formatting is crucial from an SEO perspective, and JCE gives you all the tools necessary to make this task as easy as possible. Enriching your content with multimedia is also a piece of cake.
JCE has a free and a premium option. The paid version gives you additional features like the ability to resize, crop, and rotate images during upload, an advanced media manager, and an IFrame editor.
Price: JCE Pro costs about $35 per year.
Akeeba Backup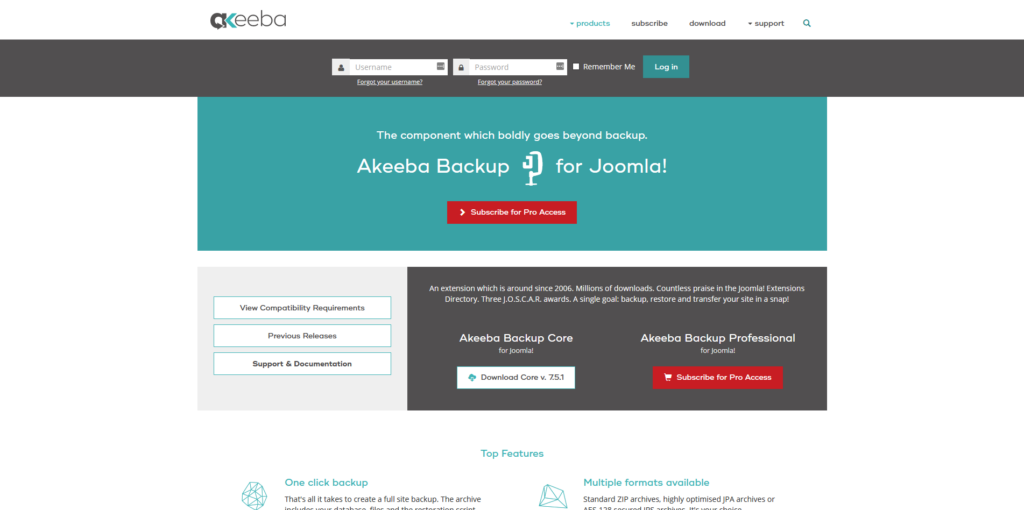 You should never underestimate the importance of backups. Unexpected failures and cyberattacks do happen, so it's always got to check with your hosting provider for your available options.
With ScalaHosting, for example, you have daily backups of your entire hosting account for the last seven days. Restoring the data is as easy as submitting a request to our tech support team.
But there are other solutions to consider.
The Akeeba Backup extension is a tool designed to work specifically with Joomla. It integrates into the CMS core and gives you a one-click backup generation utility. This is especially useful if you're frequently making updates to your website.
In addition to the files and databases, the extension will also save a restore script so that you can quickly get everything back to its working state in case something breaks.
Akeeba backups can be fully automated, and the extension even takes care of the backup management part for you. For example, if the plugin detects insufficient storage space, it will delete some of the older backups and ensure you always have enough storage for backups.
Best of all, this functionality is available in the extension's free version. If you choose the Professional edition, you'll get a few other features, including:
initiating and managing backups through CLI
support for storing backups with widely used cloud storage providers like Dropbox, Amazon, etc.
FTP/SFTP support
encrypted archives
site transfer wizard, and many more
Price: Akeeba Backup Professional costs about $60
RSForm!PRO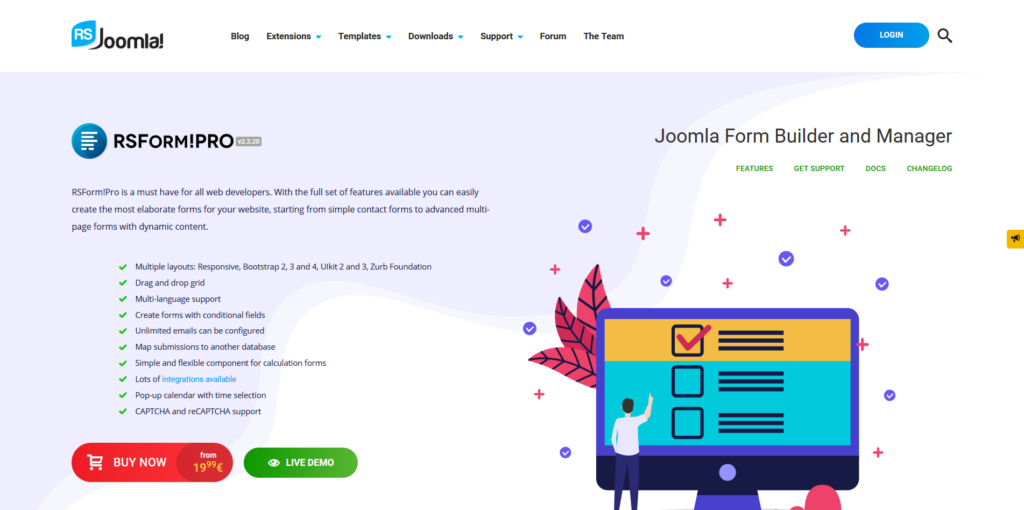 Forms are an essential part of any dynamic website.
For example, a well-structured and visible contact form is bound to make users feel more comfortable doing business with you. In other cases, you may need to have visitors sign up for a newsletter or an event you're having.
RSForm!PRO is one of the best Joomla extensions for creating forms. With its help, you can create anything from a simple contact us page to a complex, multi-step application document.
The extension gives you multiple frameworks to choose from and nearly endless customization options. There's an integrated wizard that helps you put together quick forms in minutes. The drag-and-drop editor eases the process even further. Created forms are endlessly configurable and extremely functional, with great extra options like a pop-up calendar and time selection.
Price: RSForm!PRO is a premium extension, and prices start at just under $24. This gets you a license to use the extension on a single website for a period of twelve months. There is a 30% discount on renewals.
Cache Cleaner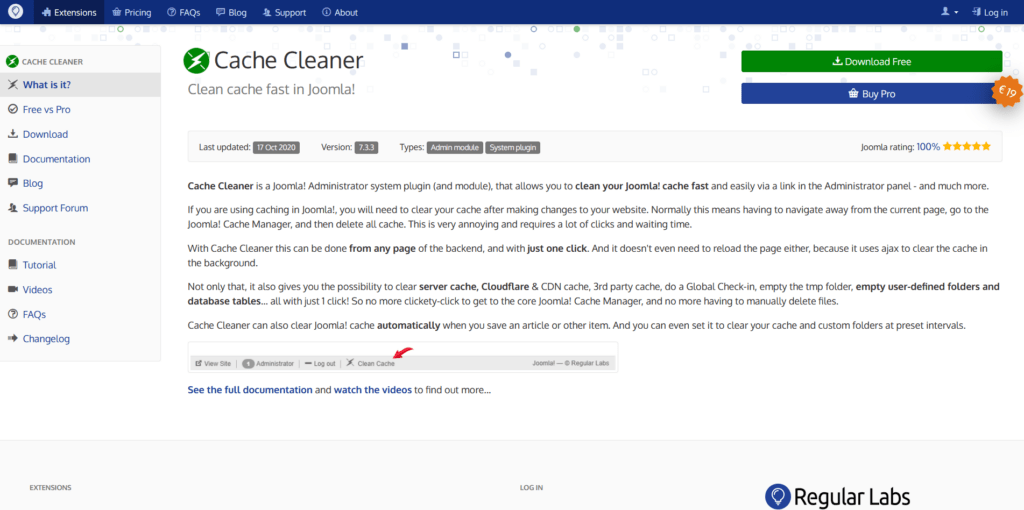 Generally speaking, CMS platforms like Joomla are very easy to use, yet some tasks are still fairly time-consuming. Take cache clearing as an example. The process used to require clicking on a number of menus and submenus in the admin dashboard.
With an extension such as Cache Cleaner, however, you can have a toolbar button that purges cache with a single click. You no longer need to wander around the cache manager and clear the cache manually – an amazing way of saving you time and improving your workflow.
Cache Cleaner can also remove the cached memory every time you save an article, and it can also empty the tmp folder regularly.
Price: Cache Cleaner Pro is just over $23. It includes user-defined directories, server purge, and CDN cache.
Advanced Module Manager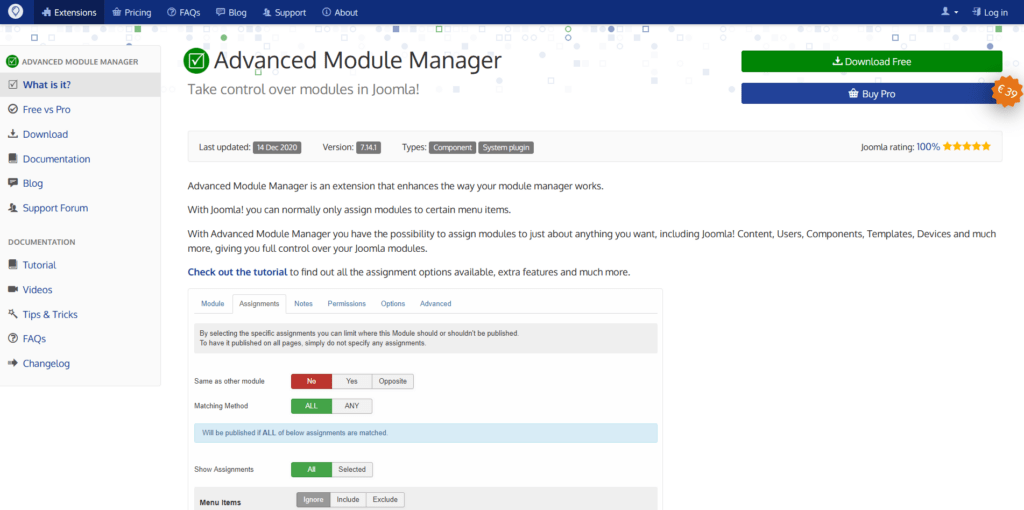 In addition to templates and extensions, Joomla has modules – another content management component. Some users tend to find module management a bit trickier than it should be, especially when there are more than a few widgets installed on the website.
The Advanced Module Manager was created with these users in mind.
It replaces the default module manager tool in Joomla's admin area and gives website owners more control over the site modules.
The plugin comes with an intuitive interface with extensive documentation for optimal use. In addition to more straightforward controls, Advanced Module Manager also gives you the ability to assign different modules to user groups, components, templates, browsers, and URLs.
Price: Around $47 for Advanced Module Manager Pro.
JCH Optimize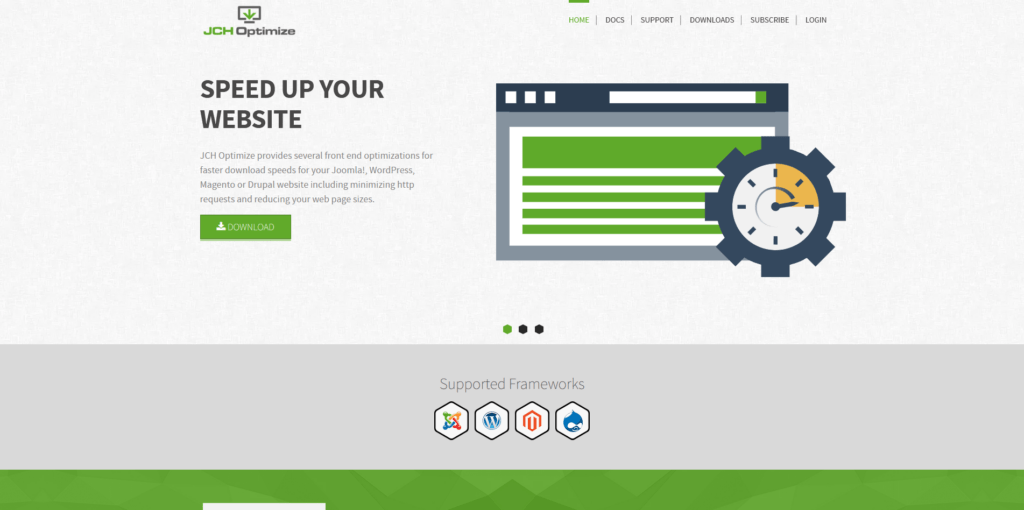 Website owners are on a neverending mission to reduce loading speeds. A faster website is also likely to have a higher search engine ranking in addition to the better user experience.
JCH Optimize can make multiple changes to improve your Joomla site performance.
For starters, the tool dramatically reduces the number of HTTP requests by combining multiple JavaScript and CSS files into one and collecting background images into CSS sprites.
The extension can remove unnecessary whitespaces and characters from CSS, JavaScript, and HTML files and uses GZIP compression to reduce their size further. Deferred JavaScript loading and improved CSS delivery further help with your loading speeds and boost the user experience of your pages.
Price: Pro version with premium support and image optimization feats. A six-month subscription comes at $29.
AcyMailing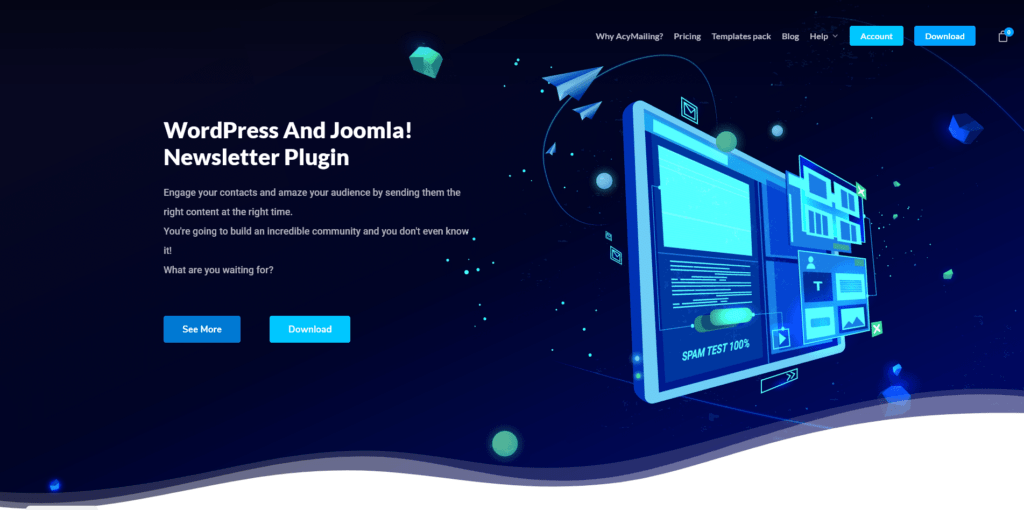 The email newsletter is still an integral part of modern-day marketing. It's a brilliant way of staying connected with your users and building loyalty with your brand.
AcyMailing makes sending out newsletters easier than ever.
Available as both a Joomla and WordPress plugin, it boasts 50,000+ active installations and handles more than 10 million emails every month. The free version lets you create and manually send newsletters, and the two premium plans come with a few extra features.
With the Essential package (which costs around $35 per year), you have a mechanism for sending out emails with a predefined schedule, vital stats on user-message engagement, and CAPTCHA protection.
The Enterprise plan is just over $108/year. You can enjoy a wealth of additional features, including bounce back handling, spam filter checks, list segmentation, and more.
If you want to use the Enterprise plan on up to twenty websites, you can have the Multi-site package for just under $390/year.
OSMap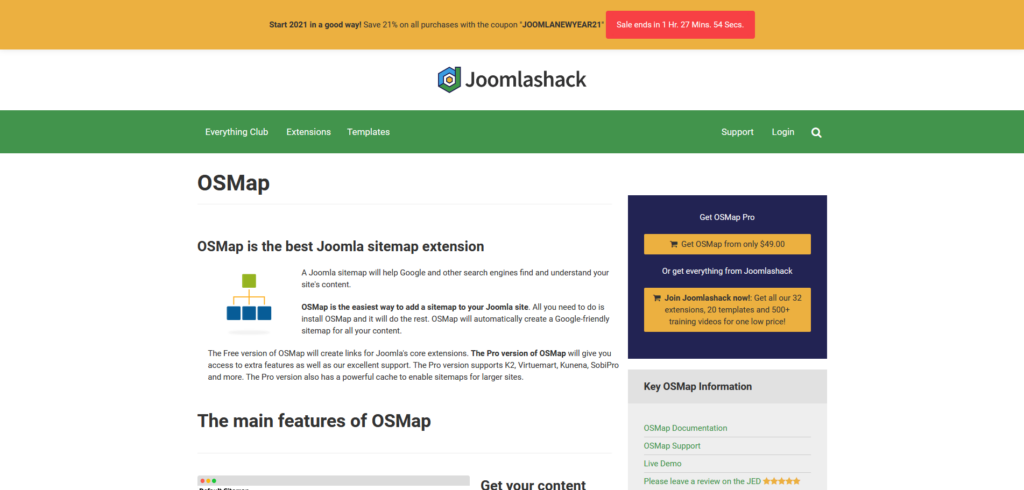 Decent SEO performance is crucial for any online project, and a search-engine-friendly sitemap often plays a vital role. If you still haven't created one, it may be time to consider installing an extension like OSMap.
The moment you set it up, it will create an XML sitemap, which you can send directly to Google's Search Console with a couple of clicks. You can then post an HTML sitemap on the frontend, giving users a much easier way of navigating through the different menus and submenus.
Through Joomla's admin area, you get to manage existing sitemaps, create new ones, and choose which sections of your website you want to map.
Price: OSMap Pro is available for $49. The premium version supports VirtueMart.
HikaShop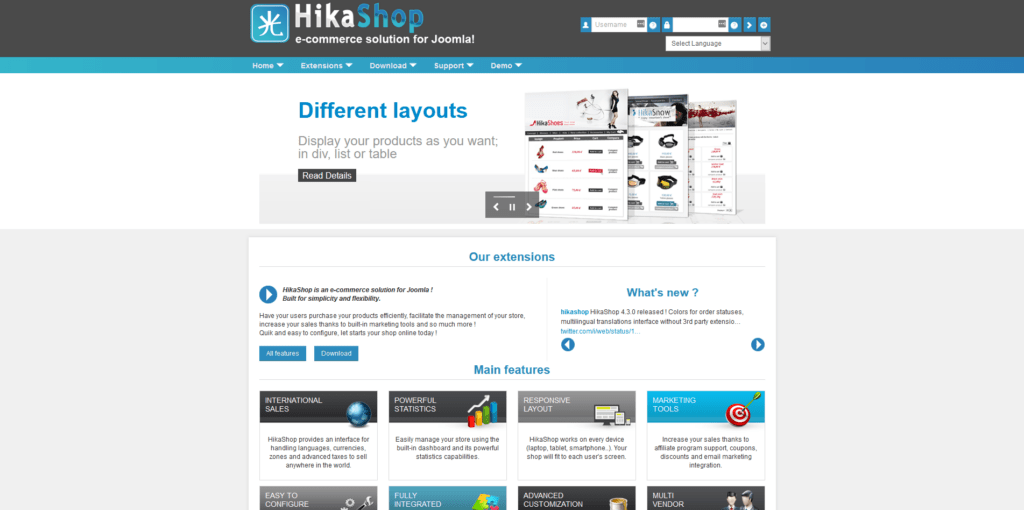 VirtueMart has always been considered the go-to solution for people who want to create Joomla-based ecommerce websites. As technology evolves, today VM is facing stiff competition from state-of-the-art solutions like HikaShop.
HikaShop gives you a ton of features out-of-the-box and promises to deliver them in a user-friendly environment.
In addition to a more intuitive interface, HikaShop has a few other selling points, including support for multiple currencies, easy integration with most payment processors, and detailed shop statistics.
Price: HikaShop Essential starts from around $60.
Watchful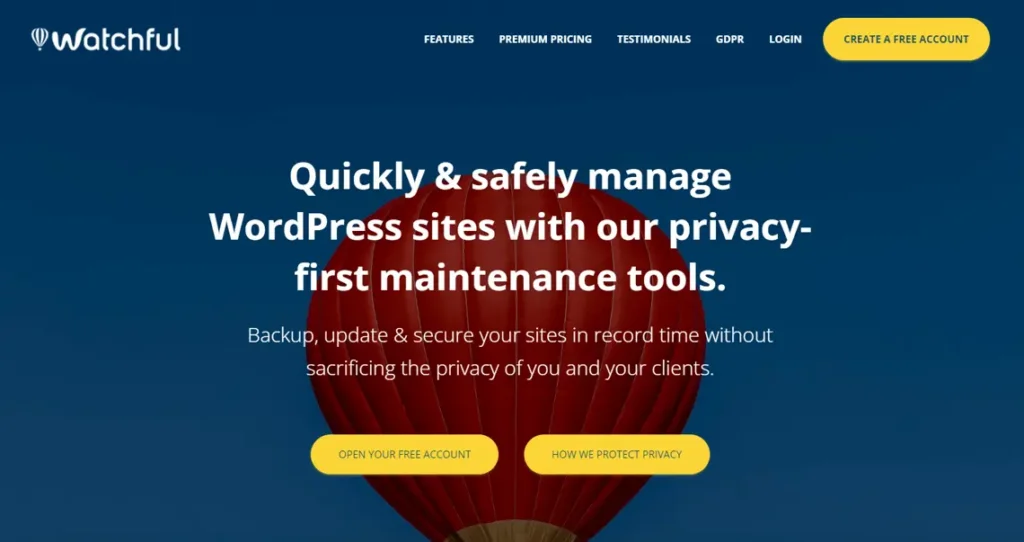 Watchful is a webmaster toolbox designed to streamline and simplify Joomla website management tasks. It helps you automate critical tasks like site backups, intrusion detection scans, and updates for trusted extensions. With just a few clicks, you can monitor your website's overall health and security, all from a single dashboard.
In addition to its management capabilities, Watchful provides robust security to protect your Joomla projects from potential threats. It offers system-wide vulnerability scans to detect intruders and identify security issues promptly.
You can also leverage Watchful's scanning feature to ensure your sites adhere to industry-standard safety measures. By automating these security checks, this plugin helps safeguard your Joomla pages and provides peace of mind.
Watchful offers flexible pricing plans to cater to different needs. The Free plan gives you a good set of features such as website activity logging, security scanning, and regular backups.
For enhanced functionalities, the Premium plan is available at just $1.83 per site/ month, coming with perks like extended security scan history, uptime monitoring, and white-label client reports.
OSMeta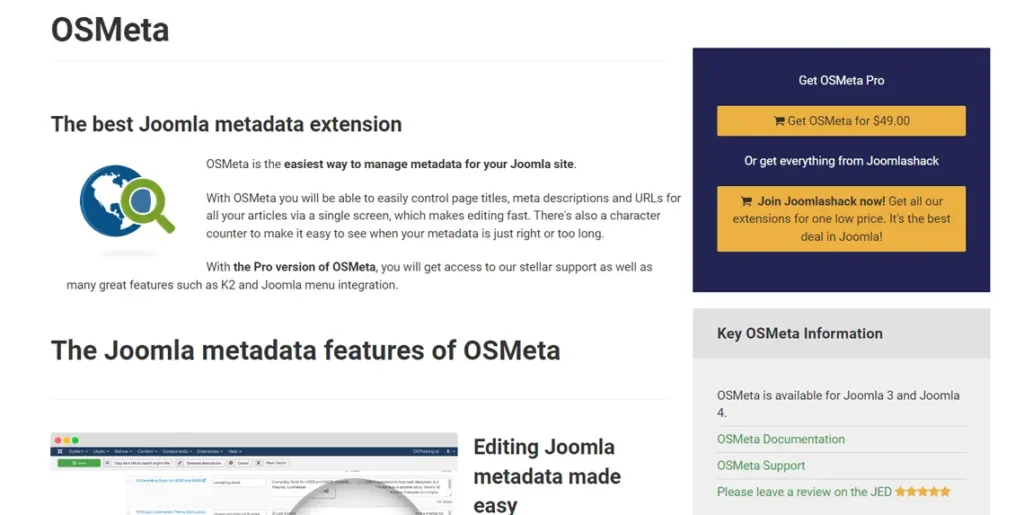 OSMeta revolutionizes metadata management for Joomla websites, offering a seamless and efficient solution. Thanks to this plugin, it's a breeze to control page titles, keywords, and URLs for articles, all because of the super user-friendly interface.
OSMeta provides a single screen for swift and hassle-free adjustments. It includes a character counter feature to ensure your metadata meets the length requirements for optimal search engine visibility.
For websites with a large volume of content that lack metadata, OSMeta offers a quick generation feature. You can create meta titles and descriptions for multiple items in just a few clicks, saving you time and efforts.
Price: OSMeta offers both a free version and a PRO version with advanced features, available for a purchase ranging from $36 to $49.
Potential Problems With Too Many Joomla Extensions
The fact that a particular extension made it to our list (or any other list of this kind, for that matter) doesn't necessarily mean it's a perfect fit for your website. While these extensions are very good at what they do, they serve specific purposes that may not necessarily align with your goals.
Installing random extensions is a bad idea for several different reasons.
First of all, plugins can put extra load on your server and consume more system resources, resulting in less-than-ideal website performance. What's more, when the time comes to update the Joomla core, some extensions might cause compatibility problems and even break your site's functionality.
In terms of security, every extension, especially those from untrusted sources, can create a potential vulnerability for hackers to exploit.
All in all, there are a lot of potential dangers with Joomla extensions, but an excellent hosting provider can bring the risks down to a minimum.
ScalaHosting and Joomla
In 2020, some of the leading figures in Joomla's development team got to test ScalaHosting's managed VPS hosting solutions. They were impressed with the hosting environment our virtual cloud servers offer, and in December 2020, we established an official partnership with Open Source Matters Inc.
ScalaHosting is now the approved VPS hosting environment for Joomla websites.
In addition to an isolated cloud environment with guaranteed hardware resources and a dedicated IP, our Joomla fans can enjoy free access to SPanel – our all-in-one management platform equipped with all the tools you need to control your hosting account.
SPanel also comes with a unique security system called SShield. It monitors your account in real-time and blocks almost all known web attacks. If it does sense a breach, it alerts you immediately so you can take the appropriate actions as soon as possible.
Best of all, the VPS packages come at a price very close to that of a shared plan.
Conclusion
There are over 6,000 extensions in Joomla's official extension directory and many more offered through third-party channels. They turn Joomla into an incredibly versatile platform and a great base for a wide range of projects.
Picking the right extensions may appear hard, but knowing your exact needs will simplify the task and help you shortlist top tools only.
Frequently Asked Questions
Q: How do Joomla extensions help me build my project?
A: Extensions expand Joomla's functionality and provide it with features vital for your project. As versatile as it is, Joomla's core can never fit all needs by default, and the thousands of extensions are what makes the platform flexible for so many different scenarios.
Q: How do extensions affect my website performance?
A: Extensions are complementary pieces of software that work alongside the Joomla core to provide additional functionality to your website. As such, they take up storage space, make queries, and run processes. Well-written add-ons shouldn't put too much pressure on the server, but you need to bear in mind that too many extensions can adversely affect your website performance.
Q: Is installing Joomla extensions difficult?
A: Joomla extensions are fairly easy to configure. If the extension is available in Joomla's Extensions Directory, you can install it directly from Joomla's admin area. Joomla will automatically place the necessary files in the correct folder and make the required adjustments. If the developer offers the extension from their own website only, you can install it from an archive, a folder, or a remote URL.
What is a VPS – Everything you need to know!
Was this article helpful?