Today we're going to showcase some of the best Magento extensions we encountered over the last few months and learn how they can boost the performance of your ecommerce store. Magento is one of the most popular ecommerce platforms out there, offering impressive functionalities out of the box. As it is an open-source system, the platform often makes use of extensions to expand your customization options…
As individual online store owners, we all have our own particular needs. What works for one ecommerce store does not necessarily benefit other projects. That's where Magento and its plethora of extensions come in.
What are Magento Extensions?
Magento extensions are add-ons that complement the core application. By default, most software solutions come with only the essential features included. They rely on a variety of extra tools to introduce more specific functions and optimization options.
Since Magento is an ecommerce platform, you'll find support for features like promotions, price handling, inventory management, deliveries, and more. That's great but might not be sufficient for any online store project. Magento extensions allow us to further customize our Magento stores and offer the perfect experience for various types of customers.
Using selected Magento plugins, we can craft the ideal sales funnel to make shopping on our Magento stores smoother and safer.
Magento extensions cover a wide range of functionality, which can include:
Payments handling
Tax management
SEO optimization
Content management
Performance optimization
And much more.
Let's now take a look at some of the best Magento extensions that rock the ecommerce market.
Best Magento Extensions 2023
Although there are numerous Magento extensions on the market, not all are created equal. For example, you can find plenty of plugins that add blog functionality to your store. While inherently serving the same purpose, they can deliver entirely different results in terms of design, navigation, and even site performance.
This list is a compilation of some of the top Magento extensions we've found to be most popular and efficient in 2023. We tried to include add-ons with various functionalities so every reader can find something they might like.
OneStepCheckout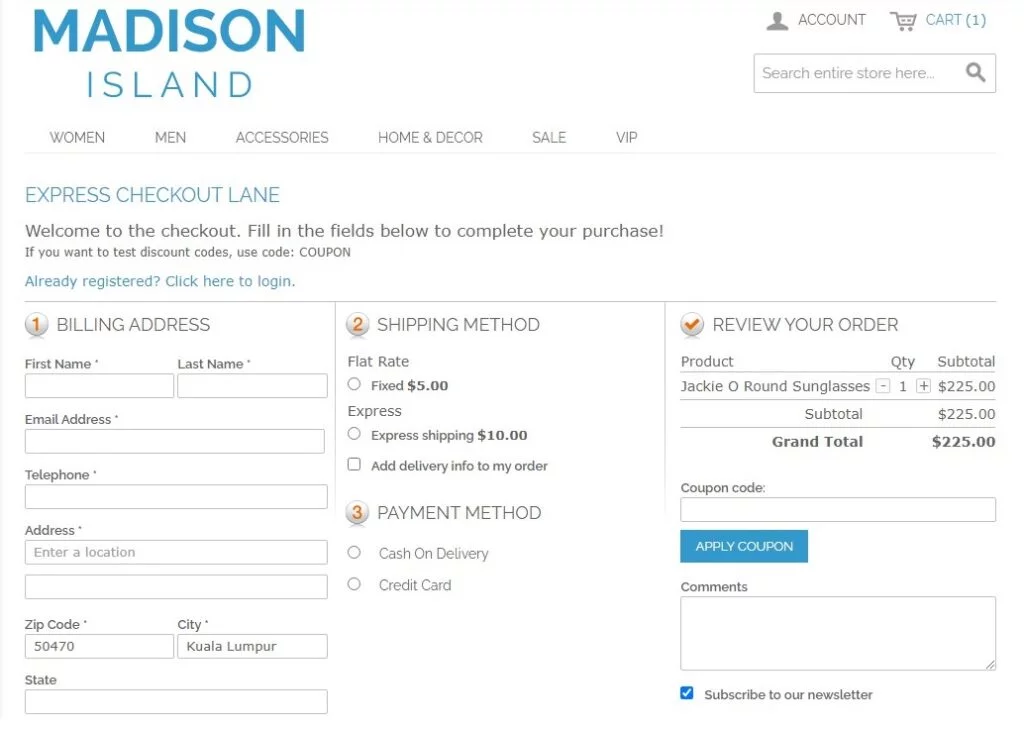 Top Features of OneStepCheckout
Dynamic order updates
Fast checkout page loading
Comprehensive field management
Shipping and payment handling
Customizable CSS
OneStepCheckout allows new customers to buy a product without being redirected to a separate section on your site. We've all been there – sometimes we just want to grab something off a store quickly. This is where OneStepCheckout comes in handy.
OSC makes the whole user experience faster, reducing shopping cart abandonment. By allowing new customers to fill in a few short details on the checkout page, they can register on-the-go and quickly complete their sale.
OneStepCheckout supports both Magento 1 and 2, so you will have no problems with compatibility. The extension comes in two main versions – Community and Enterprise.
Pricing is slightly different depending on whether you're running Magento 1 or 2. OneStepCheckout for Magento 2 is naturally the more expensive tool, coming at roughly double the price of the version for Magento 1.
Note that the basic extension price is only for a single domain name – rights for usage on additional domains are subject to extra fees.
Price: from $245
Blog Pro by Amasty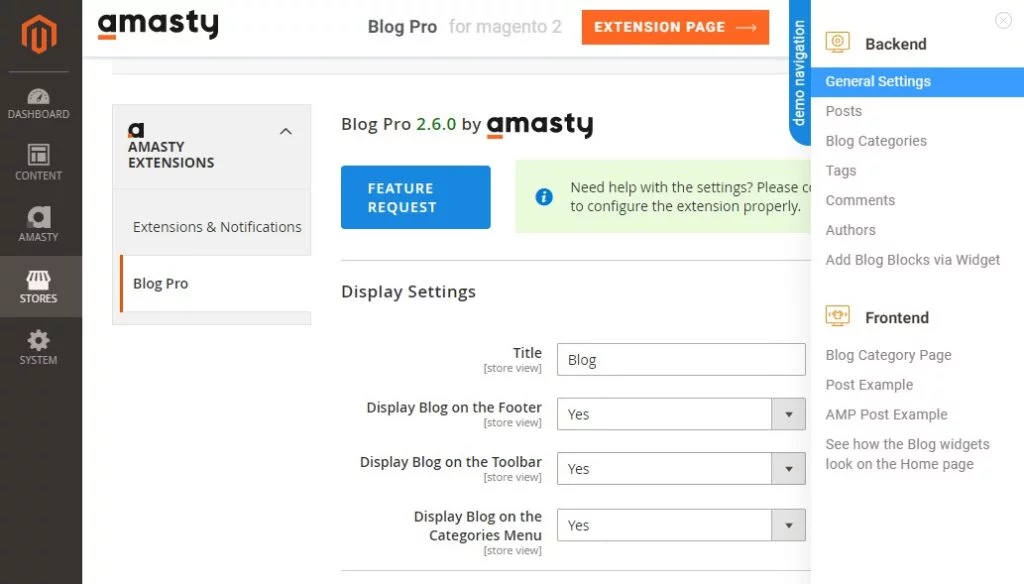 Top Features of Blog Pro
Responsive layouts
Multiple widgets available
Post display customizations
Admin and customer notification system
Data privacy compliance (GDPR)
Any ecommerce store owner knows well that content is one of the biggest factors when it comes to attracting visitors and converting them into happy customers. That's where a blog extension like Blog Pro by Amasty might come in handy.
The convenient text editor is very intuitive, flaunting a wide range of features. The extension is not only multi-level content capable but also compatible with AMP, making your posts look great on mobile devices as well.
Pricing for Blog Pro varies depending on which version of Magento you're running. Magento 1 store owners will find this extension significantly cheaper than those on Magento 2. If you're running the Enterprise edition of either version, you can expect extra licensing fees.
Support comes free for a three month period. After that, you can extend their assistance by either three or six months.
Price: from $129
Omnisend
Top Features of Omnisend
Branded emails
Template handling
Supports dynamic discount codes
Drag and drop automation
Pre-constructed workflow automation
Omnisend is a feature-rich email marketing extension for Magento. With so many online stores springing up, reaching out to customers has become more crucial than ever before. You can easily do it with Omnisend.
This extension offers benefits along four main avenues – automation, segmentation, channels, and reports.
The former will allow you to work smarter, while segmentation features help you craft the ideal experience to suit different customers.
Omnisend also helps you integrate multiple marketing channels, including email, SMS, Facebook, and many more. Last but not least, it gives you extensive reports full of valuable insights and data you can apply to your marketing campaigns.
Omnisend licensing includes monthly subscription fees. There is a free plan available, but that limits you only to email campaigns with a cap of 15,000 per month. Paid plans don't increase that number by default but instead include a wider variety of marketing channels to conquer.
Pricing: from $16/mo (Free tier available)
Google Analytics + by Fooman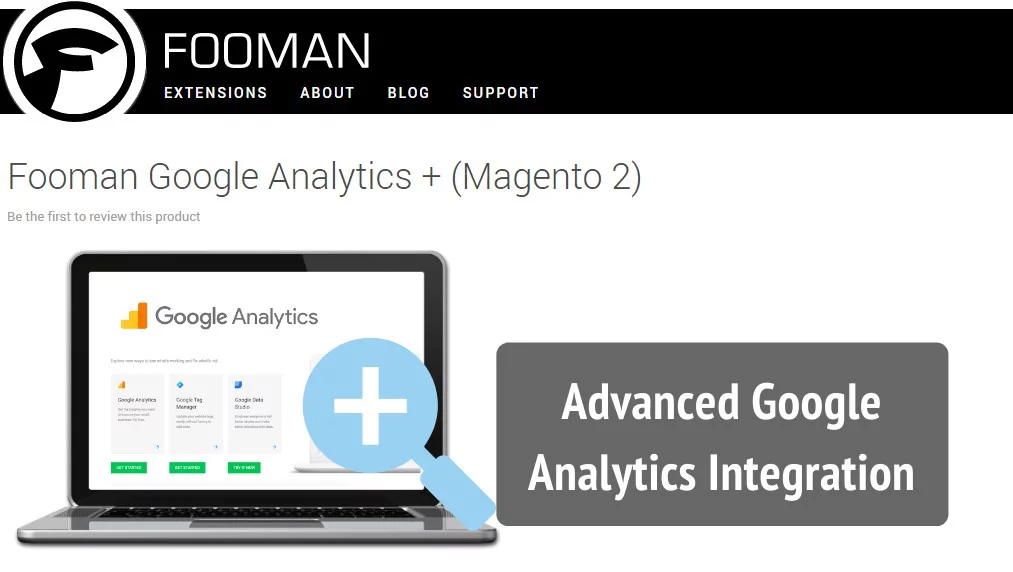 Top Features of Google Analytics Plus
Checkout process tracking

Google Ads

conversion tracking
Multi-store performance comparison
Page load speed tracking
Google remarketing script support
Knowledge is power, and thanks to Fooman, you'll get all the statistical data you need about your Magento site visitors. Although most of us are already familiar with Google Analytics, first-time users might find its integration rather cumbersome.
With this extension, you won't need to deal with code or file uploads any longer. It blends into your Magento installation backend perfectly. You simply need to fill in your Google Analytics ID and a few other details, and you'll be ready to roll.
Using Google Analytics Plus by Fooman can help you craft sales funnels more easily and keep track of each stage your customers go through. Utilizing the statistical data, you can identify customer drop-off spots and take action to reduce our bounce rate.
The extension is now compatible up to Magento version 2.4.5, but there are other options available for those needing backward support. Best of all, Google Analytics Plus by Fooman is completely free to use.
Price: Free
Metrilo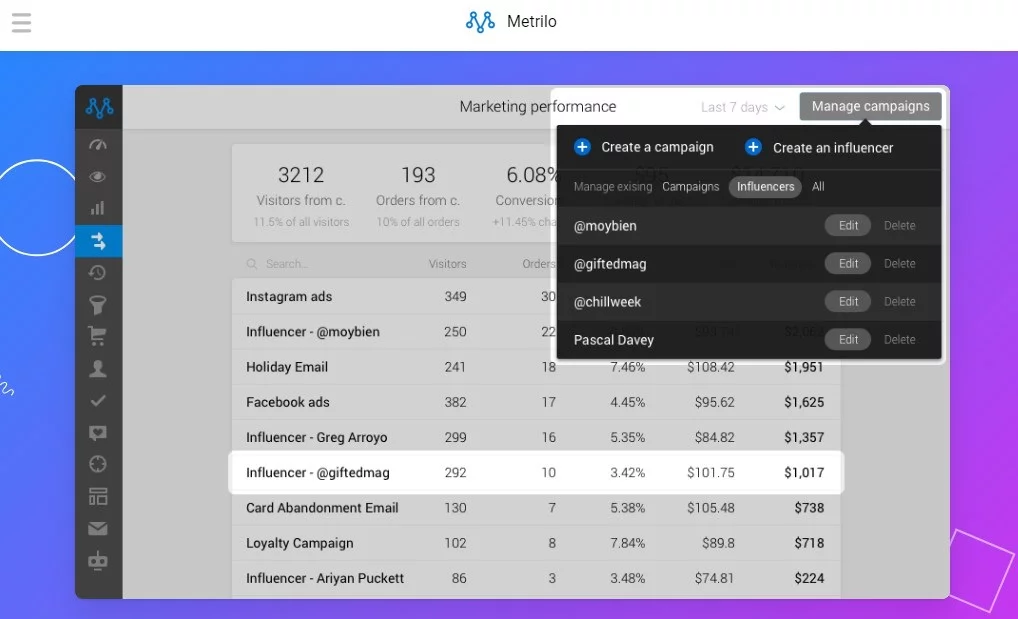 Top Features of Metrilo
Dashboard for real-time performance tracking
Marketing performance reports
Calculation of customer lifetime values
Personalized communications handling
Action-based filters for email marketing
All business owners know that information is key in any industry. With a Magento extension like Metrilo, you'll get heaps of valuable data. This all-in-one analytics platform has been in the market for more than eight years now and seems to be doing quite well.
Unlike other similar solutions that simply present you with data you need to sort out for yourself, Metrilo does this for you.
On a basic level, it does web traffic reporting – nothing too unique or impressive, right?
However, looking past that, Metrilo processes historical data, even allowing you to import data from other trackers. Retention analysis breakdowns can help you keep track of performance across campaigns to ensure you always get maximum efficiency from them. Finally, the conversion funnel can also be analyzed to see where efforts fell short, allowing you to further optimize the process.
Metrilo doesn't come cheap, though. Expect to pay at least $119/mo for this extensive analytics tool. Still, that gives you mostly the basics. If you expect CRM functionality, retention analysis, and other advanced features – prices start from about $200/mo.
Price: from $119/mo
TaxJar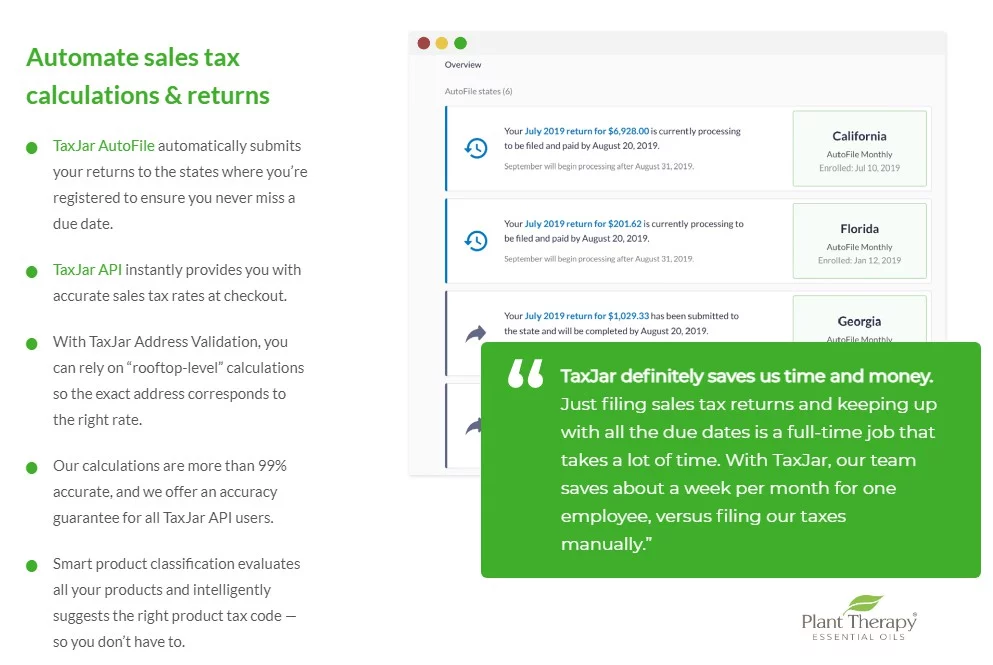 Top Features of TaxJar
Auto sales tax submissions
Accurate checkout tax calculations
Smart product classification system
Import of sales data
Multi-platform compatible
We all hate dealing with taxes, that's for sure. As painful as paying them may be, calculating them is another headache we would certainly like to avoid.
That's the perfect opportunity to take a look at TaxJar. This multi-platform sales tax extension makes calculating and submitting taxes a lot easier.
No matter the volume or jurisdiction of the digital sales you're making, TaxJar determines the due taxes on-the-go. This means you no longer have to deal with complex documents and learn to become an accountant – this Magento extension will handle it all for you.
How much you pay for TaxJar depends on your volume of sales. Smaller stores will be able to get by with a subscription of as low as $19 per month, but you'll need to discuss a custom plan with the app developers for high volume sites.
Plans also vary in capability, with the higher tiers offering phone support, frequent auto tax filing, and AI capabilities.
Price: from $19/mo
Simicart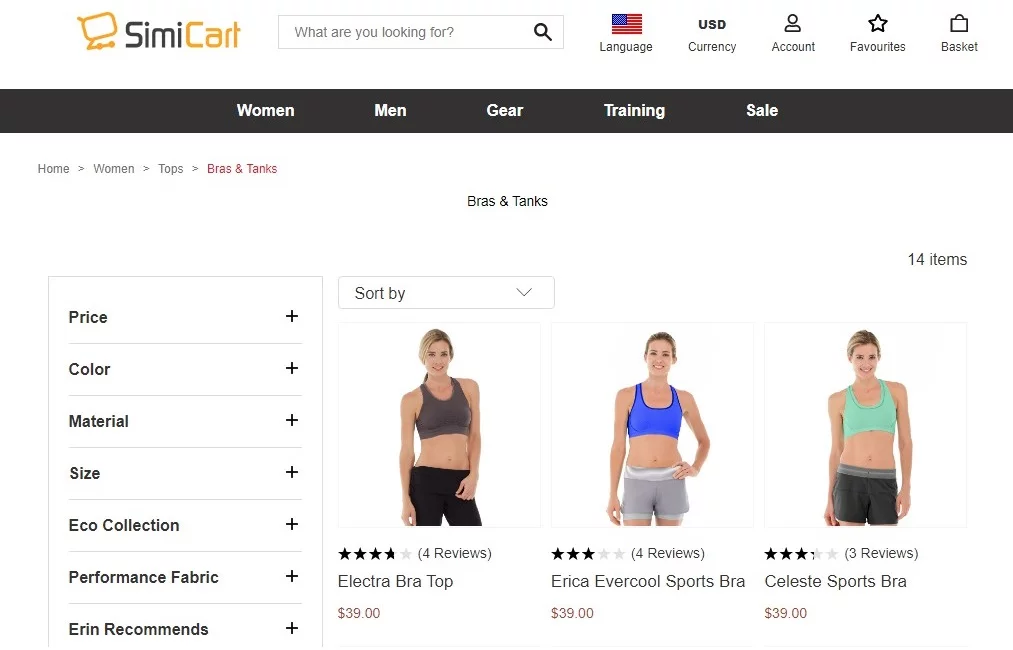 Top Features of Simicart
App localization
Supports multiple themes
Allows Google deep link embedding
Smart banners
Voice search available
Simicart allows users to quickly build and deploy mobile applications for Magento stores.
Think of brands like Amazon, Alexa, Rakuten – aside from traditional websites, they each have their own mobile store versions and apps. As a Magento store owner, you can now expand your reach with such capabilities as well.
This extension allows you to supercharge your own Magento store with all the benefits from mobile apps. Fast page loads, improved search rankings, and more, all leading to improved conversion rates for your digital business.
Simicart requires a yearly subscription of at least $699. The developers can also offer a demo version of the app so that you can test it out before committing.
Price: from $699/yr
Stripe Payments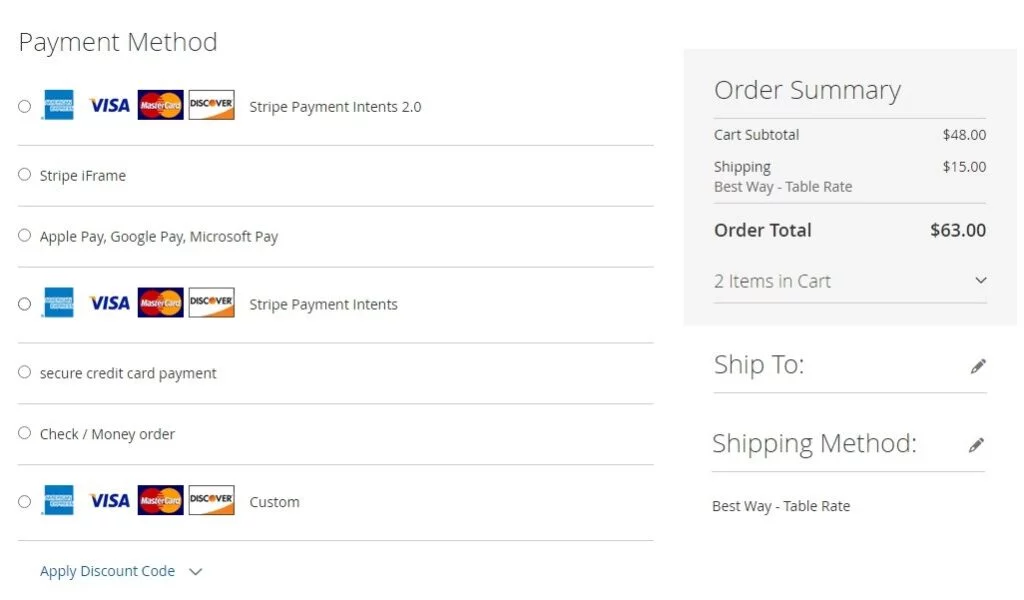 Top Stripe Payments features
Accepts all major payment card providers
Supports over 135 currencies
Able to handle local payment methods
Customized email receipts

Multi

-address and shipping
One thing that Magento site owners have to decide is what payment options they'll support. The default payment options that Magento only cover the basics. While PayPal is supported, you should always aim for versatility.
What if users want to pay with their Visa, MasterCard, or American Express? That's where Stripe Payments comes in handy. With this extension, you'll never have to worry about what digital payments to accept anymore. Stripe Payments can practically handle all card transactions and in multiple currencies too.
Aside from that, the plugin also comes with built-in extensive security features. This includes things like:
Fraud prevention
Tokenization
CVS/CVV authentication
Authorization capture
Stripe's extension is available on the official Magento Marketplace, and it's free to use. However, don't forget that you'll need to pay transaction fees once you activate it on your site.
Price: Free
MageWorx SEO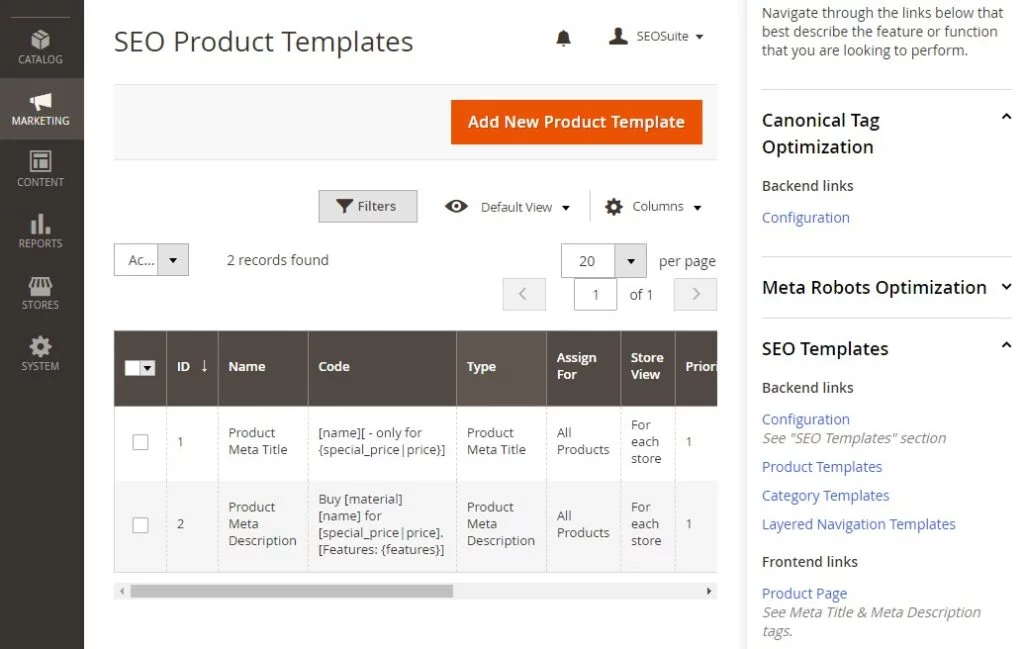 Top Features of Mageworx SEO
Canonical and alternate URLs
Crosslink automation
Product and category SEO templates
Redirect, breadcrumb, and duplicate handling
Comprehensive reporting system
MageWorx calls itself the ultimate SEO extension for Magento and judging by their extensive functionality – they have a solid ground for that. Users can leverage SEO templates to do mass-SEO optimization on multiple values across the board.
Aside from that, there is also an auto cross-link feature which helps you extensively and consistently build a solid website linking architecture.
SEO enhancement utilities help you work with Rich Snippets, XML and HTML sitemaps, and so much more. It's easy to see how Mageworx has become so popular as a one-stop solution for all SEO needs.
Naturally, such feature abundance comes at a price, so expect to pay anywhere from $299 and up to use this SEO extension. Pricing also varies depending on your Magento version, with both 1 and 2 supported.
Price: from $299
Possible Hosting Problems
Extensions may be one of the most powerful ways of adding features and capabilities to your Magento site.
They aren't, however, flawless at all times.
This stems from the fact that extensions integrate with the Magento core without actually being a part of it.
That's why, aside from keeping your web hosting and ecommerce installation secure and up to date, you'll need to keep an eye on every Magento extension as well. Each plugin needs to be properly secured and updated to avoid vulnerabilities.
Make sure to frequently revise your extensions and delete the ones you're not currently using. Leaving old and inactive plugins lying around is just begging for hackers to exploit them.
Fewer is better here – only keep essential Magento extensions your online store cannot do without.
ScalaHosting and Magento
Ecommerce stores often need a fair share of server resources because of the complexity of their architecture. Not to mention the high traffic volumes they often need to handle. A shared hosting plan would rarely suffice…
Thankfully, ScalaHosting has a perfect alternative solution for Magento website owners. This comes in the form of Managed Cloud VPS solutions.
Performance is especially vital for ecommerce sites. Every second lost in page loading can have a negative impact on customer conversions. ScalaHosting's Managed Cloud VPS offers maximized performance for Magento store owners without the need to handle any server technicalities.
If you're unhappy with your current Magento host, Scala also offers free migration assistance. All you need to do is provide the details to our support team, and our trained professionals will take care of the rest.
VPS servers start for as low as $29.95/mo, and you can enjoy a bunch of free solutions inside, like our in-house developed control panel (SPanel) and our customized security system (SShield).
Conclusion
Magento extensions can make your life as an eCommerce store owner a lot easier. More importantly, they can handle a wide range of tasks, from increasing performance to improving customer experience.
At the same time, the hosting solution you have in place also matters more than you might think. How your Magento extensions behave and perform is still dependent on your server configuration, so make sure you pick a reliable host for the job.
Frequently Asked Questions
Q: How do I install Magento 2 extensions?
A: Magento 2 extensions can be installed from your Magento dashboard or manually via command line. For the former, download the package and install it using the System Config tab of your Magento admin dashboard. The extension's developers should provide manual installation instructions.
Q: Are Magento extensions free?
A: Magento extensions come from various third-party sources. Some are free and available for use by anyone. Others may involve a one-time fee or a monthly or annual subscription. As Magento is an ecommerce solution after all, you should expect that most extensions require some premium fee to unlock all capabilities.
Q: Where can I download Magento extensions?
A: The safest place to obtain Magento extensions is the Magento Marketplace. This is a trusted source and ideal for finding the most popular and user-tested solutions. Naturally, there are a number of third-party providers of Magento extensions you can try as well, one of the biggest being Mageplaza.
Q: Do Magento extensions have separate requirements?
A: Magento extensions seldom come with intricate requirements outside of what the core application needs to run. However, keep in mind that extensions bulk up your site. The more you stack – the more likely you are to deter your website performance and security.
What is a VPS – Everything you need to know!
Was this article helpful?