How to Host a Website on AWS with SPanel
The quest for finding a reliable hosting provider is one of the first and most essential steps of your online journey. Naturally, your particular project needs should be of prime consideration, but there are a bunch more factors to look out for – feature set, ease of use, security, support assistance, just to name a few.
In short, the right hosting environment is of the utmost importance.
We have discussed the benefits of VPS solutions on numerous occasions, and for a good reason too. Solving most of the problems related to shared hosting services, virtual servers are ideal for small and growing businesses, online shops, and business pages.
But how to make our pick?
ScalaHosting and Amazon AWS
Amazon Web Services (AWS) is a name that needs no introduction when we talk about cloud computing services. One of the major technology giants entered the cloud solutions game about 15 years ago and has spread over 32% of the market since then.
ScalaHosting, on the other hand, has always been a web host that focuses on service innovations and product improvements that push the entire industry forward. That's why the partnership between Scala and AWS was anything but a surprise.
This collaboration allowed Scala to add more server options for our clients, ranging from 2GB to 16GB RAM and up to 4 CPU cores on the fixed plans. Naturally, any VPS user also got a dedicated IP address as part of the deal.
As part of its services, AWS includes the Elastic Compute Cloud – a cloud computing platform that allows you to easily rent out virtual servers.
AWS introduced new server locations for hosting users as well. Scattered over 13 cities on 4 continents, this expansion ensured that every client could find a suitable datacenter location near their main audience.
IMPORTANT: The available AWS server locations are in Virginia, Ohio, Oregon, Montreal, London, Ireland, Paris, Frankfurt, Singapore, Tokyo, Seoul, Mumbai, and Sydney.
But best of all, our clients could now pair the AWS servers with SPanel.
Why Use AWS with SPanel?
SPanel is more than just a control panel. Acting as a full-blown hosting management platform, Scala's custom-built solution allows for easy control over your websites and domain names. Not only that, but you can also count on SPanel for:
Fast and Lightweight – Our control panel is developed in a way that the platform puts as little extra load on your server as possible. To make your performance even more impressive, the solution supports LiteSpeed and OpenLiteSpeed – the fastest web server technologies out there. The SPanel configuration guarantees all your server power goes into boosting the speeds of your website.
First-class Security – SPanel consists of different integral parts, and one of them is SShield. The AI-powered security solution vows to detect over 99.998% of all attacks before they reach your server. SShield utilizes machine learning to improve its knowledge about the latest malware and spam threats. Comes for free for every user of SPanel with AWS.
Easy WordPress Management – Another unique feature of SPanel is SWordPress Manager. As the name suggests, this one is for all the millions of WordPress fans out there, helping them easily set up a WP website. To do that, SWordPress Manager includes one-click installations, automatic core and plugin updates, admin password change, and a security lock feature. The latter is ideal if you want to harden your security and block your files/directories from editing. Comes for free with SPanel AWS accounts.
Free to Use – cPanel is still the market leader of control panel solutions for hosting but its frequently rising licensing fees have made more and more clients look elsewhere. SPanel works as a great alternative since there are no added costs when using the control panel with AWS. Considering that other custom elements like SShield and SWordPress Manager come for free as well, the platform saves you a hefty sum you can invest in growing your business.
Free Migration – On top of all the goods, the ScalaHosting Team is always happy to help new AWS users move their websites absolutely free of charge. Our professionals can migrate as many websites as you wish and will also ensure everything is working properly in the new environment.
As if that's not enough, one of the great things about SPanel is that it is in active development, so new features and improvements are added on a regular basis. Check out our detailed SPanel feature review for more details.
How to Host a Website on AWS with SPanel?
We put our best efforts into ensuring that managing a cloud AWS server with ScalaHosting is as easy as possible for both new and existing clients.
Simply visit our website homepage and navigate to the AWS tab:
You will see AWS's pre-fixed plans with an expanding menu that gives you full details about each plan and what it includes. Clicking the green Configure Your Server button takes you to the first step of the order – the configuration:
Here, you can select the best possible billing cycle and possible hosting extras like backups and proactive monitoring.
You can click the Continue button once done.
This takes you to the next step – your Domain Name.
Depending on if you already have a domain or want one registered, choose one of the three options. If you are looking for a new domain – the system will automatically check if it's available and offer possible alternatives.
Click Continue when ready.
The last step is for your payment details, giving you the option to pay via Debit/Credit Card, PayPal, or bank transfer.
IMPORTANT: Make sure to check out the Terms of Service and tick the box that you Agree to them afterward. Only then will the Proceed to Invoice button become active.
That's basically it.
Your SPanel AWS account is now created, and you will get the welcome emails on the specified mailbox of your choice.
Now that your AWS cloud VPS has been created, you can go ahead, log in to SPanel with the credentials provided and start managing your hosting server.
You can also check this wonderful video tutorial that explains how to set up AWS with SPanel for the best possible price.
How to Host Your Website on AWS – Managed AWS Tutorial
How to Install WordPress on AWS with SPanel
WordPress users, especially more inexperienced ones, will find the combination between AWS and SPanel an ideal solution. That's because setting up and managing the CMS through our custom-built control panel is a breeze.
Inside SPanel, you will find Softaculous. The 1-click app installer supports over 400 scripts apart from WordPress so the initial installation is as easy as possible.
But Scala makes things even easier with SWordPress Manager.
Located under the Tools section in SPanel, this free tool will help you install, update, and secure WordPress in a matter of a few clicks.
Once inside, you will immediately see the installation screen: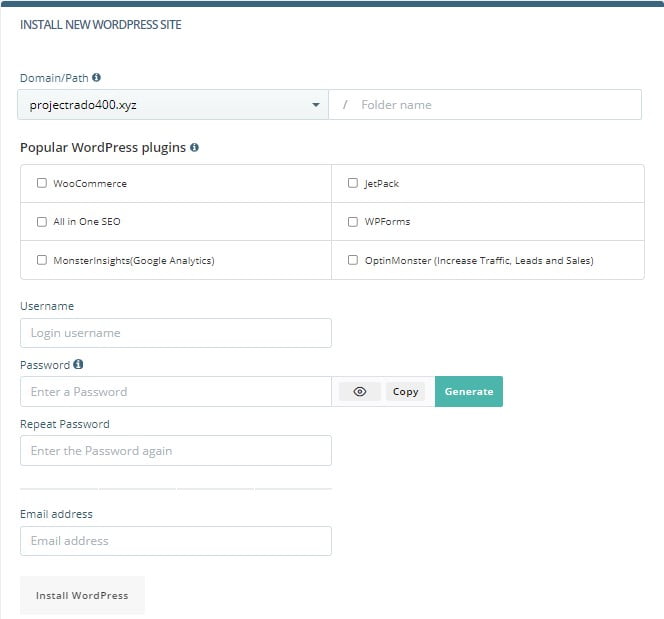 You simply need to fill in all the registration details like username, password, and email address. Additionally, SWordPress Manager lets you install a few essential plugins right off the bat – WooCommerce, Jetpack, and WPForms to name a few.
Hit the Install WordPress button and our installer will do the rest.
How to Update WordPress on AWS with SPanel
Updating WordPress on AWS with SPanel is easier than you can imagine. Normally, you can perform the process through the WP dashboard or manually via FTP.
But you already have SWordPress Manager for that.
Head on to the platform under Tools again and scroll down on the main screen to the Existing Installations sections. You will see two options there:

Make sure the second option, Auto Updates, is On. This will effectively leave all core, plugin, and theme updates in the hands of SWordPress Manager, saving you heaps of time in the process.
IMPORTANT: The other option here is Security Lock. It effectively blocks all editing access to the files and directories you specify. Automatic updates will still be performed even if Security Lock is turned on.
Conclusion
Pairing up AWS with SPanel is a combination that brings a ton of benefits for startups and growing businesses. You get a powerful server hosted by one of the industry leaders and a management platform that is super intuitive and saves you a ton of money.
Contact the Scala Team if you need more help setting up AWS with SPanel!
Was this article helpful?