Many years have passed without anything major happening in the web hosting industry. The most serious issue for websites in the last 8-10 years remains security and speed.
ScalaHosting wants to fix that and allow website owners to sleep well knowing their data is secure and their website loads instantly 24/7 with no risk that another website on the same server may affect their business. That's the reason why we initiated the process of developing SPanel
What Is SPanel?
SPanel is an "all-in-one" hosting platform for managing cloud VPS services. It includes everything a website owner needs to grow their business in a secure environment.
SPanel is a quick and easy replacement for cPanel which will not only save you the cPanel license fee but also add lots of additional benefits. It is light-weight, faster and doesn't have any software limitations.
SPanel is not just a control panel. It is an ALL-IN-ONE web hosting solution. It makes shared web hosting unworthy because you can have a fully managed SPanel cloud VPS for a little extra per month removing all software limitations and bringing the following benefits which shared hosting cannot provide.
Better Security – everyone knows that shared web hosting can't provide high security no matter what security system you install on the shared server and no matter how you configure the server because when you have a single hacked website on the shared server, it becomes a backdoor allowing the hacker to attack all other websites locally
Faster Websites – your websites will load always fast. Other clients on the same server will not slow down your website ever again
100% Email Delivery – your emails will never get blacklisted as you will have a dedicated mail IP that no one else may use
The Admin Interface
The owner of the server gets access to the admin interface which allows you to manage the accounts on the server. You can add, remove and modify accounts, change passwords, suspend or unsuspend websites. You are also able to see the server status, health, restart individual services or the whole server if needed.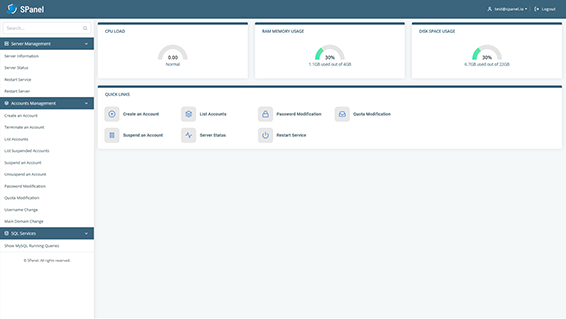 Lightning Fast Web Hosting
SPanel supports Apache, Nginx, LiteSpeed Enterprise and OpenLiteSpeed web servers with the last 2 being the fastest in the world. That guarantees that your websites will load instantly which is very important for ranking high in Google and not losing visitors.
Free Migration
SPanel includes a free migration service for unlimited websites. ScalaHosting will migrate as many websites as you ask us to transfer to your service with us at no additional cost . We'll also verify they work on the new server. There will be no downtime during the migration. Any website can be moved in 3 easy steps:
Provide the login details to your old server
We migrate the website and verify it works on the new server
You change the nameservers and point the website to the new server
Host Unlimited Websites And Emails
SPanel has no software limitations. You can host unlimited websites, emails, databases.
Free SSL For Every Website
Each website hosted on a SPanel server will get a free SSL certificate automatically installed and renewed.
Multiple PHP Versions Supported
Choose the desired PHP version quickly and easily. You can have a different PHP version for each of your websites. SPanel supports all PHP versions from 5.6 onwards.
Fully Managed Service
Each SPanel cloud VPS comes fully managed. That means we've got you covered and you will not have to worry about managing or securing your server. Systems administrators are available 24/7/365 to answer any question you may have.
Demo Available On Request
If you want to see a demo of SPanel, just contact us. We'll deploy a server and let you try SPanel for free.