Unmanaged or Managed VPS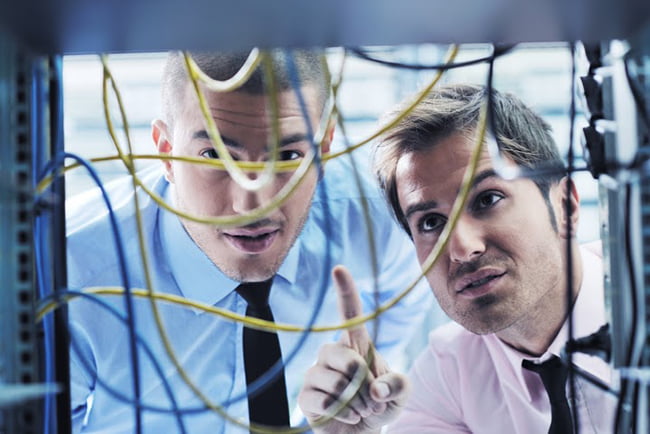 One of the most important steps on the way to creating a business website is the decision about the web hosting server. In most cases this is a decision more crucial than the choosing of the web hosting itself. The Virtual Private Server (VPS) is a trend nowadays, because it appears like a bridge between the shared hosting and the dedicated server. This type of hosting works similarly to the dedicated hosting but in a shared environment. This means that you get your own server, where you can install an operating system of your taste, but this server would be sharing a computer (the physical server) with several other websites. However, this type of web hosting is great for business websites, because it's scalable – with the growth of your website the resources you get would increase as well – you only need to inform your provider of what you need. This option seems very attractive to many entrepreneurs, because the prices are reasonable and the benefits – numerous. But then again a question pops up: "Which one should I choose – an unmanaged or a managed VPS?". The answer of this question depends on many factors actually, such as: "Are you tech savvy?", "Do you have the energy and time to self manage?", "What's your budget?" and so on, and so on. The decision may seem confusing at first, especially if you don't have all the information on the subject. In the following article we'll explain the differences between the two terms, so you'll hopefully be able to choose for yourself.
Managed hosting
If you choose this type of hosting plan, that means that the administration team of the web hosting company, which you have chosen, will be in charge of the configuration, updates and maintenance of your server. Usually the provider will give you some options about the operating system, from which you will be ableto choose during the signup, or there will be a fixed one from the beginning. As you can see, this option is the right for you if you are not particularly technically savvy or if you simply don't have the time to run and operate the server, because you can leave most of the work on the server in the hands of your host's administration team. With the managed VPS you'd receive any kind of help at all times if there should be a technical issue with your server, because the technical support team is available for the customer 24/7. However, you should definitely check the live support of the web hosting provider, because that's the most distinctive sign if the company is committed to its' users. This kind of hosting guarantees you little to no downtime at all and offers an impressive volume of resources. The host provides you with a control panel, which gives you an easy way to handle the creation of databases and the DNS records. The most popular control panels are cPanel and Plesk. You should know that you could create sucha control panel if you decide to with unmanaged hosting as well, but you need to have the necessary skills in order to configure it. It'll be much easier for you to create a website or an e-mail inbox, because you will not have to deal with the technical part. The different web hosting companies offer different services when it comes to automated backups. It would do you good if you find a provider, who offers backups, which include your databases, because they are the most important part of your website. Some of the web hosting providers save their customers' data on a different server, so you could never lose important information. Most of the hosts take care of the server's updates as well. However, you need to know that some of the older applications may not run well or may not run at all with the newer version of the software, so you've definitely got to check the requirements of the applications, which you need on your website.In addition to that, you could use a monitoring system in order to gain information about you disk space and CPU usage. This could save you from a possible crisis if your server is close to using all of the resources, allocated to you.
Another benefit of the managed hosting is the protection from malware, as there are removal services, which regularly scan the system and tackle with the possible attacks. You'll be provided with a firewall and anti-spammer technologies, which will secure your website even more. This will bring you a peace of mind, which is almost never possible with the unmanaged VPS hosting.The safety of your web site should be your number one priority. Of course, the prices of managed VPS are high, but if you are low on the budget, you could always find cheap managed vps, which will definitely cost you less than hiring an extra staff to take care of it. The essence of this kind of VPS are the "on-demand" services. A good example here is the malware protection, offered by some providers: basically, you'll be notified if there is a virus, threatening your server, but you'll need to pay extra for the removal of the virus. With the fully managed hosting, it will be removed automatically, but such services increase the monthly price slightly. The biggest disadvantage of this type of hosting is the fact that you have less control over the software, so our advice is to search for a flexible host, who'd consult with you about the important decisions. You should know that is possible that there are a lot of restrictions, because the hosts try to provide all their clients with an optimal performance, which could mean that some of the web hosting companies would not give you root access at all.All in all the managed hosting will leave you with only your own websites to manage. It is ideal for you if your business is small and you'd like to focus on it instead of taking care of the server maintenance and configuration or if you don't have the time to tackle with all the issues, affecting it. Large businesses would spare time and energy choosing this option as well.
Unmanaged Hosting
With unmanaged VPS hosting you'd have complete control over your server. This means that if any issue comes up, you'll have to tackle with it on your own, because your host would onlybe taking care of the availability of the physical server (hardware). You'll get a server with an installed OS, but you'll be responsible for the installation and maintenance of any additional software (like the newest version of PHP for example). Your site will be benefiting from this type of hosting when it comes to better features and efficiency. No one could affect the work of your website or the usage of resources since every single aspect of the server's configuration is under your control.You'll be able to modify your information in any way you like, because you'll have full root access. This means that your server will meet all of the needs of your clients as you will be able to install any application, which wouldn't run on a managed server because of its' software requirements. Of course, you need to have the proper skills and a good knowledge of Linux/Windows OS in order to create and maintain a control panel.These can be acquired within a few months, but if you're not sure in your knowledge, you better choose a managed VPS. In addition to that you need to back up your data regularly and to take care of the security. It is very important to make sure that your site is safe in order to gain trust from your customers and clients.If you choose this type of VPS be sure to make enough time to handle all of this properly. Every little detail of the server can have an impact on the performance of you website and the image of your business as well. Financially this option is very economical since you get the benefits of a dedicated server without actually paying for one. Hence you're left with no control panel and support team. If you hire an administration team to manage your server it could cost you way more than paying your providers to do so. You must pay for some of the software licensing like cPanel or CloudLinux too. There's the possibility, that you can't fix an issue, in which case you'd have to pay an hourly rate to your provider in order to receive help. This could cost you a lot. If you're not sure that unmanaged hosting would be the better and cheaper option for you, it's preferable to look for some cheap managed vps plans, because you may find a better and more satisfying deal.
As you can see there should be a lot of things considered before choosing the right VPS for you. The web hosting plan affects your site and business enormously. Be sure to make a thorough research before making any decisions. Both of the hosting plans will provide you with enough resources, so there shouldn't be worries about the efficiency of your site, but you should carefully look into the pros and cons of the two options in order to get the best service for your site. If you are sure that you have enough time and knowledge to run a server and want to be careful on the budget or if you lack staff, you should go with the unmanaged hosting. This is the better option in case you'll run applications on your site, which require a specific software, as the control over the server would be entirely in your hands. Note, however, that there could be many unexpected costs and that every single issue would be your responsibility. The thing is, that with the unmanaged server you have to pay for many additional stuff as well. If you want to be sure, that you could receive help at any time and if you don't want to worry about the server's configuration, updates, data backups and security, then the cheap managed VPS is the right choice for you. If you can't afford the fully managed VPS, you could always find perfectly satisfying cheap managed VPS as well. You should know that the management level varies from one provider to another – some offer data backups on another server and some not, some would ask your permission when updating the software and some would not. It's almost as difficult to find a reliable provider as choosing the right web hosting type for you, so be sure to take your time and contemplate the options thoroughly.
We could only advise you to go with managed hosting – it will spare you a lot of worries and problems on the long run. It will give you all the security, the newest updates and will ensure the safety of your data, without a single effort on your side. Financially it has its' benefits too, as you don't need to pay additionally for maintenance. This will give you the time to focus on your company and improve your business image instead of dealing with malware and downtime, which can cost you a lot of time, resulting in loss of clients and income. Putting your priorities in order is a ground rule for the good business. Even if you tackle well with the technical problems, you can be sure that the administration team of the web hosting company is way more grounded in the technical part of the server and has definitely come face to face with all of the possible problems already. Even if you don't have the biggest budget, you should know that you don't need to pick the most expensive option in order to get a good care for your server – a cheap managed vps could work twice as well, when you've chosen the right host. It all comes down to a good research and a long-term perspective.