Joomla is a Content Management System (CMS) designed to help users build and run websites that serve large amounts of dynamic content. Despite many similarities, Joomla.com and Joomla.org are not the same thing. To understand why this is so, we need to understand Joomla itself.
Since it's a web application, you can get Joomla either as a download to deploy on your choice of web hosting or as a package deal.
What is Joomla.com?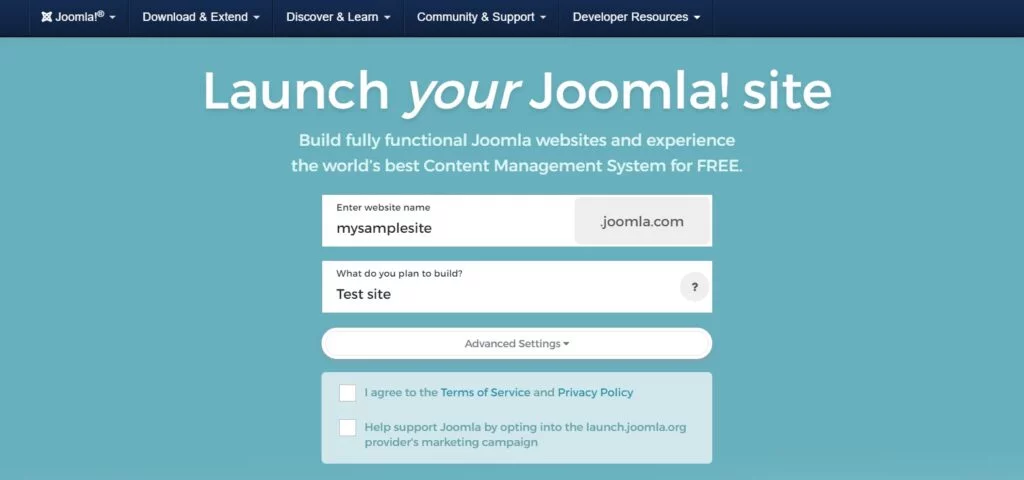 Joomla.com diverts to launch.joomla.org, a collaboration between Joomla and a web hosting service provider to provide Joomla as a unified solution. By unified, we mean a ready-to-use web application with web hosting and domain name.
The website allows you to sign up for an account that's completely free and has Joomla pre-installed with all the fixings. You will get a Joomla subdomain to build your site on, such as – https://yourjoomlasite.joomla.com.
When signing up, simply specify a few parameters such as your website subdomain name, Joomla version, and template. Of course, you'll need to register for an account as well, but you can quickly do that by linking your Google or Facebook account.
It takes a minute or two to set up your account once registered. The system will then bring you to a control dashboard where you manage your Joomla sites.
Joomla.com Benefits
Perhaps the most significant advantage of using Joomla.com is that it's a speedy and convenient way to start with site building. The service saves you the headaches about choosing a hosting provider, a Joomla-optimized environment, or even account setup.
Joomla.com does everything for you so you can jump right into customizing your Joomla site.
Joomla.com offers a fair amount of storage space for a free service, at least for starter websites. All new users get access to 500MB – more than enough for a new project.
Besides the basic Joomla application, you can also access extensions directly from your management interface. The extension system is a big part of Joomla's strength and allows you to add extra features easily.
Some of the other Joomla.com advantages include:
Ready-to-use Joomla site
Free hosting and subdomain name
Easy site management
What is Joomla.org?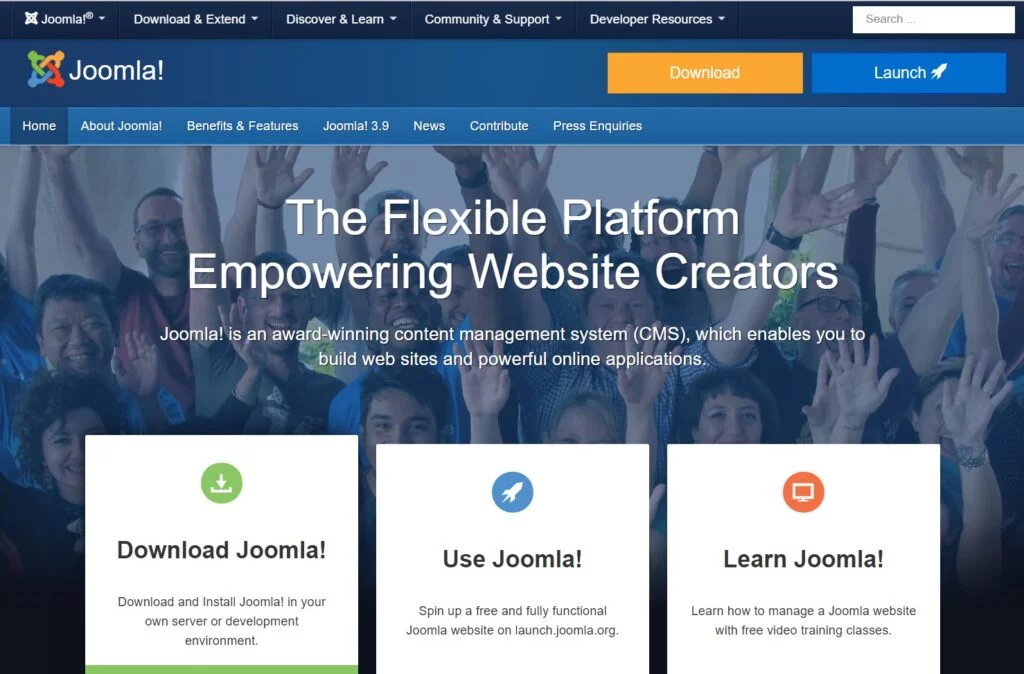 Unlike Joomla.com, which has everything wrapped up in a neat package, Joomla.org is more of an official site for the Joomla project. This website is the single best source of Joomla information out there.
It also serves as the official repository for the Joomla installation package, extra language packs, and extensions. While you can obtain Joomla and associated materials elsewhere, this site should be your go-to choice whenever possible.
Joomla.org Benefits
Joomla.org doesn't come with web hosting and domain name like Joomla.com. Still, it does offer other advantages.
The free deal on Joomla.com isn't ideal, especially for those who have experience with Joomla sites and want to build something more substantial with it. For instance, if you're building a big website or a more complex enterprise project, you will find Joomla.com severely limiting.
Inside Joomla.org, you can also find various communities where you can interact with other Joomla users. The community is quite active, with both topic and country-based forums. If you need any assistance with Joomla – this should be your first stop.
Resources are widely available even if you're not a Joomla user already. The extensive documentation can also modify Joomla into any kind of website.
As an overview, Joomla.org is a:
Official Joomla package repository
Congregation point for users to interact on
Source of extensive documentation
Joomla.com vs Joomla.org
Despite practically offering the same CMS, running a site from Joomla.com and Joomla.org isn't the same. Let's see what some of the key differences are.
Learning Curve
Joomla.com is an integrated service that pre-deploys the CMS. This all-in-one solution makes things much easier for new users who may be unfamiliar with Joomla or web hosting services. It's a very low-curve introduction point to the world of Joomla.
Features
The Joomla CMS is pretty standard, and you can use it for many different purposes. However, by using the free service on Joomla.com, you're tied to a single hosting provider. There isn't any choice on the matter, so your flexibility is quite limited.
If you download Joomla from Joomla.org, however, you get to choose the exact hosting provider and solution that fits your needs like a glove. The entire environment will be under your control, removing many elements that may hinder the performance and potential of your Joomla website.
Cost of Operation
Naturally, since Joomla.com is free, there isn't much to compare here. Yet if your site intends to build further, you will ultimately outgrow the free plan pretty easily. Once you reach that point, you have to upgrade to a premium plan, which could be very costly.
If you want to avoid that, you can also consider migrating to your own hosting provider.
Operational Overhead
Again, the maintenance of your Joomla site on Joomla.com is much simpler. Joomla.com gives users the whole Joomla CMS experience without the burden of anything else. That means maintenance and operational tasks for web hosting are all taken care of on your behalf.
In comparison, downloading Joomla from the .org site and deploying it on your hosting account falls on your shoulders. You need to handle backups, security, optimizations, and more as well.
In some cases, that's relatively easy – like shared hosting – but more advanced plans like Virtual Private Server (VPS) may complicate things.
Finding a Joomla Hosting Provider
The best way of ensuring the best performance for your Joomla site is to choose a solid hosting partner, there's no doubt about that.
With so many web hosting providers in the market, though, how will you know which is the right one for you? While many considerations need to come into play, there are a few proven guidelines:
Reputation and Performance
Most reputable web hosting providers have been in the market for some time. They offer good services, and their customers are more than happy to share a testimonial after some smooth sailing. That's why one indication of good (or bad) performance can come from user reviews, especially those that come from moderated websites like TrustPilot.
Features Available
The critical thing about features is that having too many of them is not always ideal. For instance, a hosting plan that comes jam-packed with services may also imply additional resource overhead to handle them.
Choose a hosting plan that offers enough to smoothly run Joomla without too many extra bells and whistles. You should consider anything additional on an incremental basis. This will also help you find more affordable plans that go easy on your budget.
Security
Web hosting security has become crucial in this day and age. Hackers are going after anything online, and that doesn't affect business websites only. You need to look for a hosting provider that goes above and beyond when security is concerned.
One good example of this is ScalaHosting and our very own SShield cybersecurity tool. We have proudly developed this solution for real-time protection against web threats. SShield has been known to block over 99.998% of attacks.
Scalability
Back to the issue of having room to grow, it isn't always easy to migrate from one service provider to another, even if you want to. At the very least, doing so will take time and effort – plus, there's always the chance something may go wrong.
Ideally, look for a hosting provider with a flexible migration and upgrade strategy. At the very least, VPS hosting should be available – that's often the best option for online shops and enterprise websites.
Reliability
Make sure the host you choose offers at least some form of a backup system. While you can implement this on your own, having a native backup system in place is a great "Plan B." Besides that, note how easily you can use those backups to recover should anything terrible happens.
In some cases, the host may offer a quick website recovery option that you can use to roll back to a previous instance. In others, you may have to get in touch with the support team and hope they get your site up and running again as fast as possible.
Customer Support
Finally, we come to customer support. No matter how good a hosting plan you choose or how much you pay for it – customer support should be of prime consideration. Unfortunately, even in 2021, not all hosting providers treat customers the way they should.
Always take note of what channels of support might be available. These can range from live chat to a support ticket system or even phone support for emergency cases. Check the working times as well – are they 24/7? What are the working hours on weekends?
Whenever possible, always the support team with some sales and technical questions to see if their expertise and attitude is on par with your needs.
Conclusion
Joomla is a great platform to build a website on and has been around for ages. While it has grown with the times, it is still far from the popularity of WordPress. If you're curious about this CMS or want to experiment with it – take a trip down to Joomla.com to take a free account out for a spin.
For a long-term solution, work with a good web hosting partner to ensure ideal Joomla site performance.
Frequently Asked Questions
Q: Is Joomla good for websites?
A: Yes, definitely. Joomla is a web application that lets you quickly build and deploy complete, dynamic websites. It is perfect for content-heavy websites that are frequently updated and can be expanded easily, feature-wise.
Q: Is Joomla suitable for ecommerce?
A: Joomla is indeed suited for online shop owners as well. Thanks to its modular extension system, you can easily turn Joomla into an ecommerce website in no time. Joomla doesn't support ecommerce out of the box, but the content-driven nature makes a strong foundation for an online store.
Q: Is Joomla better than WordPress?
A: Each CMS has its pros and cons. Still, Joomla is deemed by many as being slightly less flexible than WordPress. The latter has limitless expansion capabilities and ease of use that Joomla still is not ready to match.
What is a VPS – Everything you need to know!
Was this article helpful?