Plenty of stats can show us how the world has changed over the last few years. It wasn't that long ago when negotiating a Business-to-Business (B2B) deal required a lot of phone calls and written communication.
By contrast, in 2019, more than $1 trillion worth of B2B sales were completed via ecommerce websites. It's difficult to say how many of them were made possible by Magento, but given the platform's popularity, chances are, the proportion is significant.
What is Magento?
Officially launched in 2008, Magento is an open-source ecommerce platform written in PHP. Its purpose is to provide a relatively simple but powerful solution for creating and running online shops.
It's fair to say the platform has done that rather successfully.
Magento powers 1.2% of all CMS-based websites. That amounts to 250 thousand websites – a whopping 12% of all online stores.
Such popularity has attracted attention from big corporations, and, in 2018, Adobe acquired Magento for a reported fee of close to $1.7 billion.
Magento has evolved quite a lot since its first release. The platform supports two separate versions – a free one for small to medium businesses and a commercial one that better suits enterprise-level organizations.
In 2015, Magento 2 came out, introducing a completely rewritten version of the ecommerce application. It has expanded on performance and feature range, especially excelling in optimization for mobile users.
Many people tend to associate Magento with retail commerce, but the platform proves to be an excellent solution for B2B projects as well.
Why Magento for B2B?
Magento comes with many distinct advantages that make it perfect for B2B applications.
For one, it's relatively easy-to-use, and quite a few people have gained experience with it over the years. With the right know-how, you can save quite a lot of time and money with Magento.
The community has a lot to offer, as well. Because of its popularity, people have developed tons of extensions that integrate Magento to most ERP and CRM systems. This will help you track orders, manage customers and inventory, and follow capital flows much more easily.
Magento is an excellent solution if your business model involves either wholesale and retail commerce. The platform offers advanced customer segmentation that can divide users into B2B and B2C customers and customize the experience for each group.
Magento offers many other features that help organizations streamline their operations and grow their business. Perhaps its biggest advantage, however, is the wide range of extensions that expand this functionality and make the platform even more versatile. Let's have a look at some of them.
The Best Magento B2B Extensions
Extensions play a crucial role in many successful Magento-powered projects. The functionality they offer is extremely diverse. The ones we'll be discussing today are specifically aimed at improving the experience for buyers and sellers in a B2B scenario.
Cart2Quote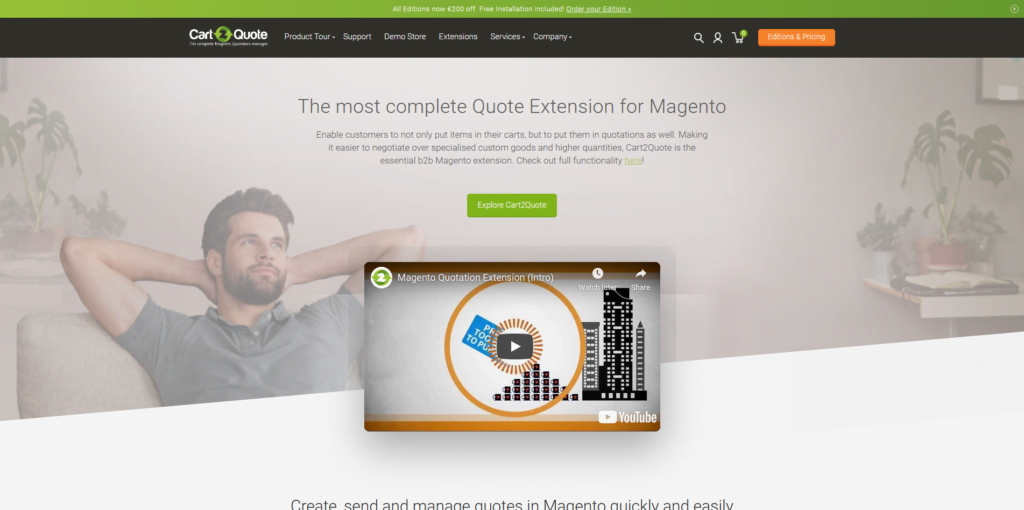 Traditionally, B2B deals are harder to evaluate because the price is often subject to lengthy negotiations. Magento doesn't seem like the best platform to facilitate them as it's default pricing is fixed.
Cart2Quote is one of the companies that have recognized the problem and decided to solve it with an extension by the same name. The Cart2Quote extension displays a button on your website that helps the buyer request a custom quote on a given product.
Cart2Quote lets you customize the quote fields as much as you want.
The Quick Quote feature allows buyers to request a quote request directly from the product page. Meanwhile, using an intuitive backend system, the seller can apply a preset discount or put together a custom quote and send it back to the potential customer.
Anyone can sign up for Cart2Quote's 30-day free trial. After the test period is over, they can either continue using the extension for free or upgrade to one of the premium plans that start at around €400 (or $490). The paid packages contain a ton of extra features, including:
custom quote request form
support for Magento price rules
custom shipping prices
automatic proposals
CRM and ticketing system integration
Not2Order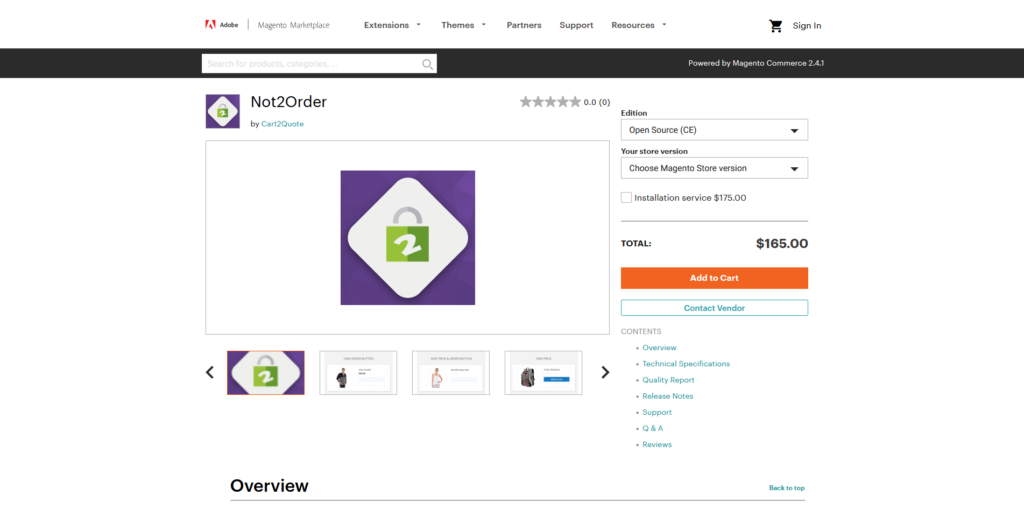 Cart2Quote's developers also sell Not2Order – another extension that can be very useful for B2B applications. The two add-ons can work on their own or integrated into a tandem.
Not2Order gives website administrators more control over what users see in the product catalog and what they can do. It could be especially useful for online stores that sell to both B2B and B2C customers.
Using this extension, the owner can hide the price or make the Order button unavailable on selected products. These changes can be applied both globally and to individual user groups.
This way, retail customers will be able to buy items as usual, while B2B clients will have to contact the seller and ask for a quote. It lowers the chance of a wholesaler abandoning an order because of the high retail price. It also gives users the feeling of a more personalized experience, which is something everyone loves.
Not2Order is a part of Cart2Quote's most expensive plan, but you can also buy it from Magento's Marketplace for $165.
B2B Ecommerce Suite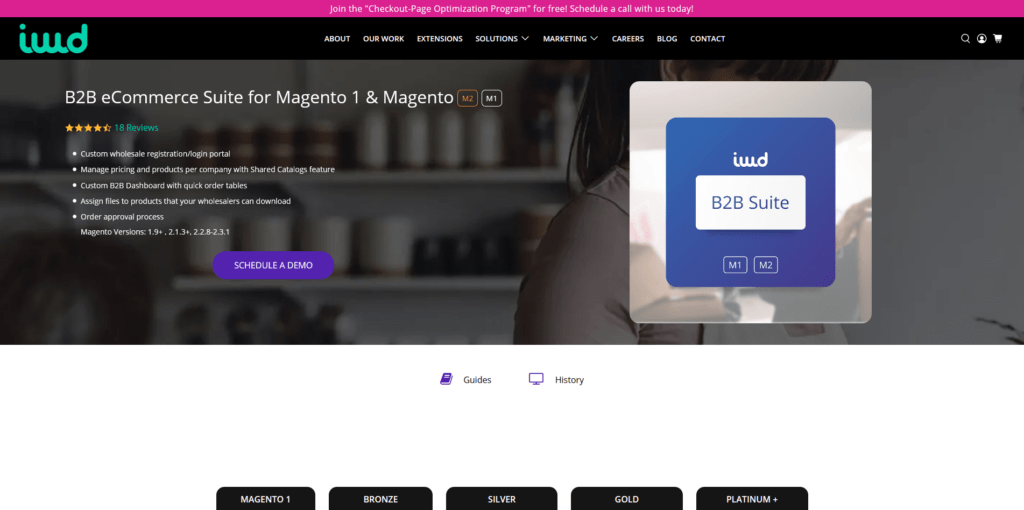 IWD's B2B Ecommerce Suite is available for Magento 1 and Magento 2 and promises to bring you a wide range of tools under a single extension. Because the extension is so feature-rich, there is no free version. The entry-level cost is $50/mo, and for that, you can either get the add-on with limited features for unlimited wholesalers or a fully-featured extension for up to 5 active wholesalers.
The B2B Ecommerce Suite is a gem on an extension.
Site owners can create a custom login and registration page reserved for B2B customers only. After logging in, B2B users access a portal that offers a wide variety of options, including tools for quick bulk ordering and even the ability to order products using a CSV file.
The extra features include:
custom catalogs
custom pricing for different groups of clients
custom quote requests
credit limits for wholesale customers
a wide range of sales rep tools
Product Questions Extension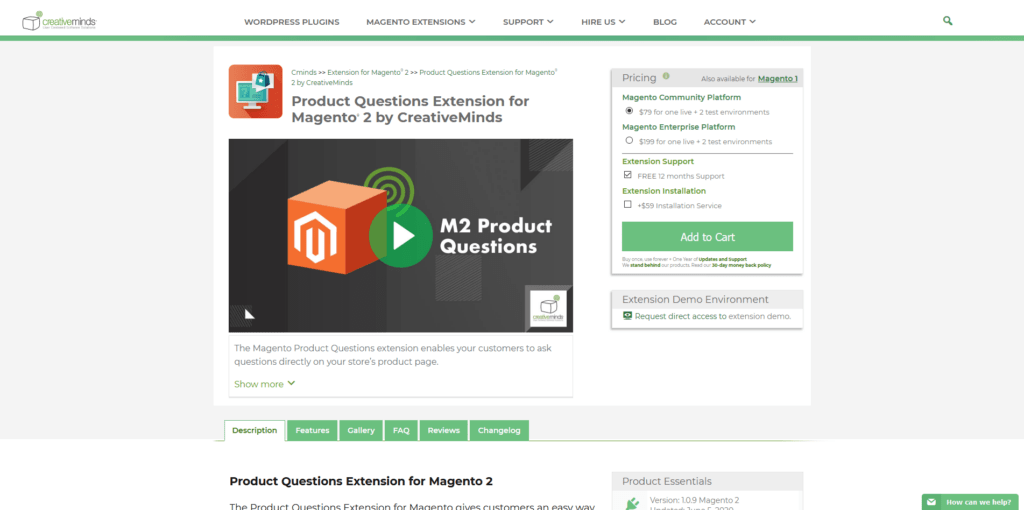 A user is very likely to abandon an order if there's something they're not sure about. This is bad enough for a retail customer, but even a single unfinished wholesale purchase could result in thousands of lost revenue.
The Product Questions Extension by Creative Minds tries to lower the rate of abandoned orders by giving the user a quick way of contacting the site owner. In essence, it sets up a form on the product page, which can be used for asking questions. After the query is submitted, it immediately appears on the product page, and the site owner can manage it through the admin panel.
They can modify the question to make it clearer, answer it, and decide whether it should be visible on the product page. The extension creates quite a lot of user-generated content and helps potential customers gain more information about the product they're looking at.
The Product Questions Extension is available for Magento 1 and Magento 2. It costs $79 for Magento Open Source (or Community) and $199 for Magento Commerce (or Enterprise).
Customer Group Catalog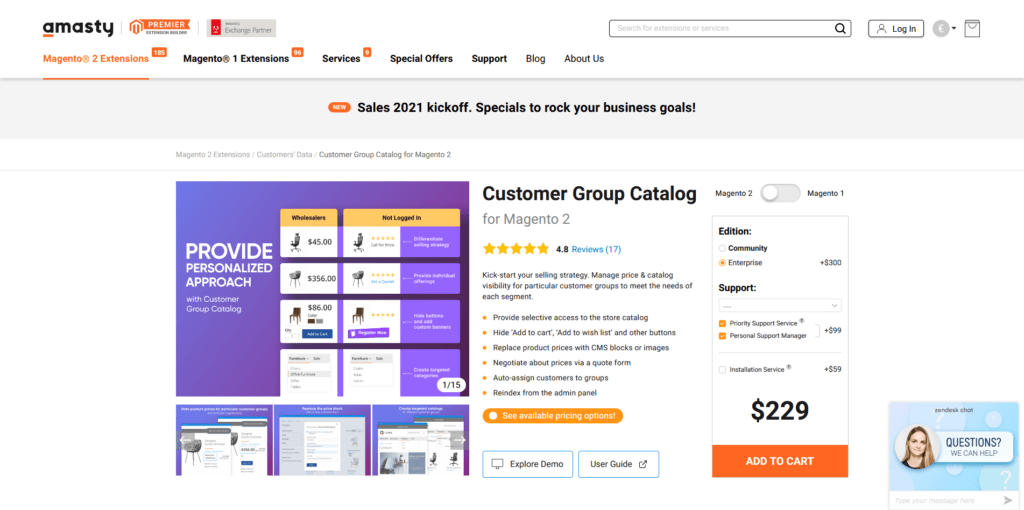 Developed by Amasty, the Customer Group Catalog extension promises to help you build a healthy relationship between you and your B2B partners. Site owners can modify and customize the way the product catalog looks for individual users.
The extension hides the price on the product page and replaces it with a phone number where potential customers can get more information. You can also integrate a quote request form and/or hide some of the product information.
However, the most useful functionality from a B2B standpoint is setting completely different catalogs for various user groups.
Amasty offers the extension as a premium product only. It costs $229 if you use Magento's free version and $529 with Magento Commerce.
Multi User Account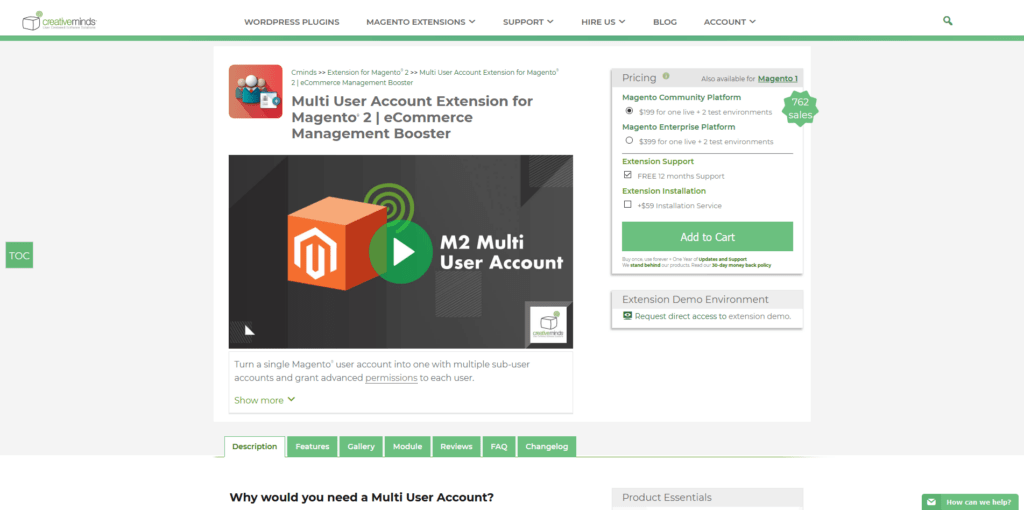 The Multi User Account extension by Creative Minds can benefit sizable B2B clients with many employees. Using it, a company can have a single master account and unlimited subaccounts.
A backend system gives the master account owner plenty of options for managing the subaccount permissions. As a result, a client organization can register accounts for multiple employees and place orders without processing actual payments.
The wide range of access levels gives the master account owner much more control over what's going on while still ensuring a steady flow of orders.
Multi User Account is available as a premium product only and costs $199 if you use Magento Open Source and $399 if you are on Magento Commerce.
Order Approval Manager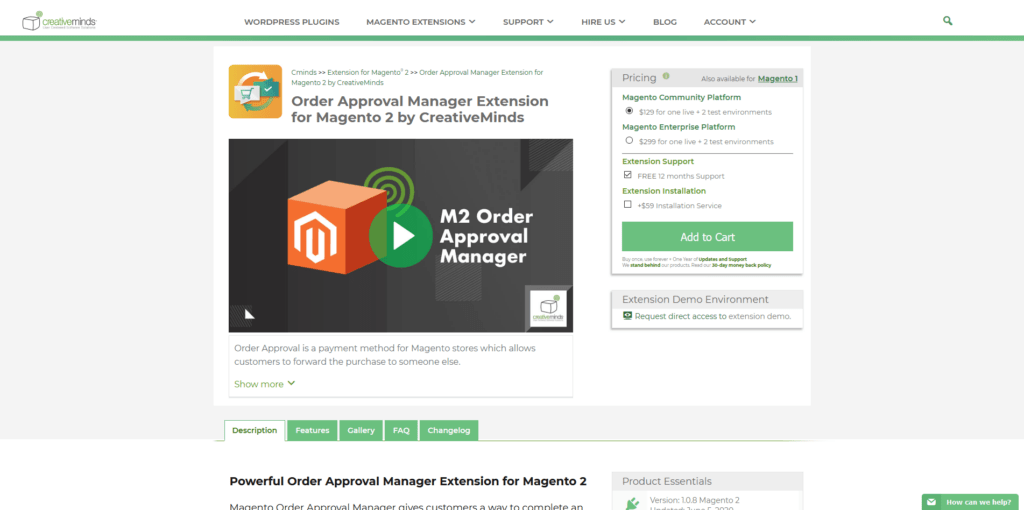 Order Approval Manager by Creative Minds is another extension aimed directly at B2B customers.
The extension streamlines this process of purchasing goods for the company in the ecommerce environment.
The employee places the order, and the extension automatically relays it to the manager or department responsible for giving the green light. They can, in term, review, correct, and approve it. They are the only ones who can process the transaction and complete the order.
Order Approval Manager improves the purchase flow for B2B customers. It saves you precious time that would otherwise be wasted on internal communication and reduces the risk of mistakes during the ordering process.
The Order Approval Manager is available as a premium product only and costs $129 for Magento Open Source and $299 for the Commerce edition.
Minimum Order Amount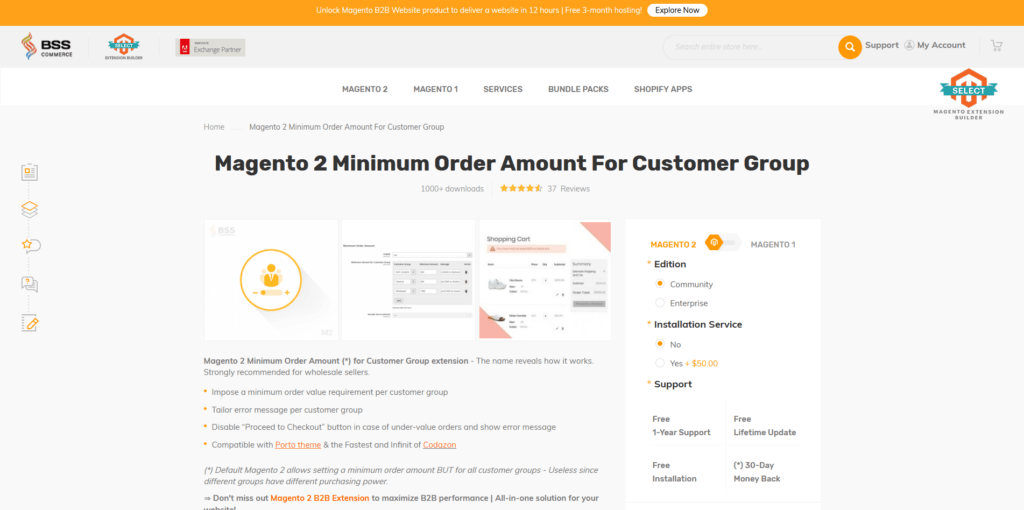 Developed by BSS Commerce, the Minimum Order Amount extension does exactly what it says on the label.
With this extension, you can set different minimum order amounts for separate user groups. You can configure it to stop B2B customers from placing orders that are too small. The extension either disables the Proceed to Checkout button or displays a tailored error message.
The Minimum Order Amount add-on is available as a premium product only and costs $35.
Magento B2B Marketplace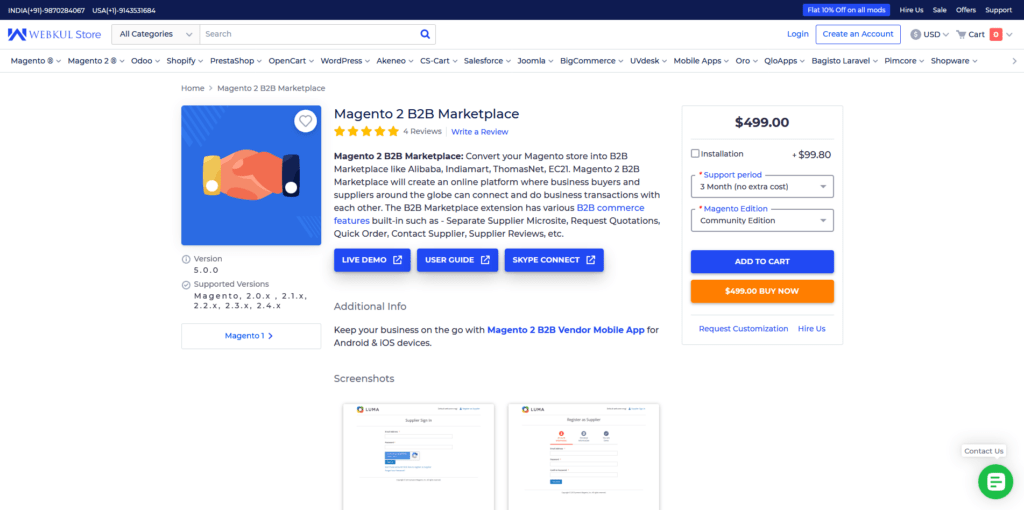 If your project is a bit more ambitious, and you want to create an entire marketplace rather than a single-vendor shop, the Magento B2B Marketplace extension might be the perfect tool for you. It allows suppliers to register an account on your site and sell products through it.
They get their own dashboard, which lets them track orders, manage inventory, and edit their product portfolio. Meanwhile, other wholesalers can place orders, request quotes, and contact suppliers directly.
All in all, Magento B2B Marketplace turns your humble Magento website into a fully-fledged B2B platform.
The extension costs $499 for Magento's Open Source edition and $998 for the Commerce version.
OneStepCheckout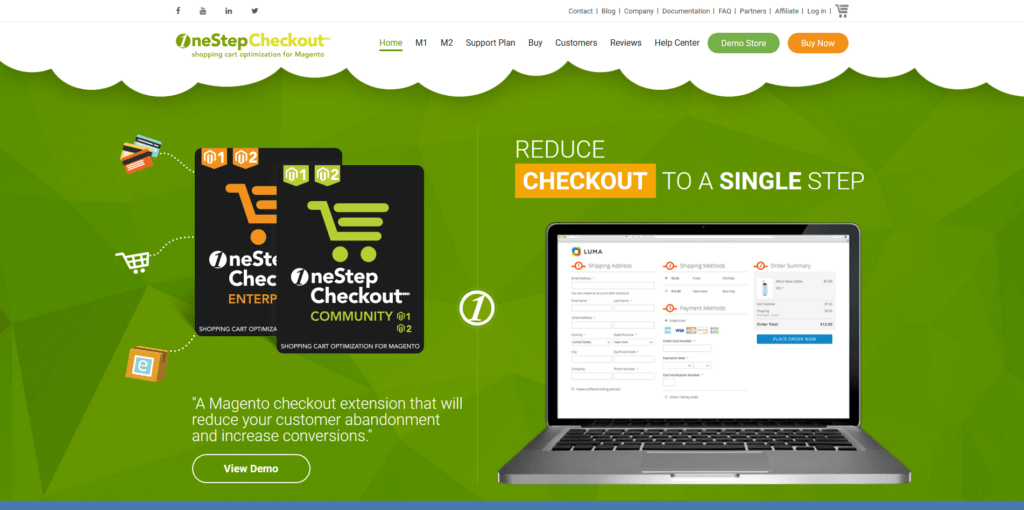 OneStepCheckout isn't specifically aimed at B2B businesses but promises to help them as well by solving one of the most pressing issues for store owners – order abandonment.
Quite a few users consider Magento's default checkout process far too cumbersome and frustrating. It contains several steps, which makes people abandon their orders far too often.
OneStepCheckout combines all the needed customer details on a single page to improve user experience. Placing an order is quicker and requires fewer clicks. The optimized design can reduce shopping cart abandonment and improve your conversions in no time.
According to OneStepCheckout's website, more than 20,000 Magento merchants utilize the popular extension.
Users of Magento's Open Source version can install OneStepCheckout for €485 (or just under $600). As for the Commerce edition – the price is €1,685 (a little over $2,000).
ScalaHosting and Magento
B2B ecommerce is a huge industry and bound to become even more prominent. Web hosting plays a vital role in all of this.
People who start B2B projects can put maximum effort, but all the hard work can be undone with a poor hosting service.
The ScalaHosting Magento hosting plans are specifically tailored for the ecommerce platform. Our experts have put all their experience into an optimal server configuration and best performance for the app.
In terms of cybersecurity, a dedicated firewall and custom security rules were set to protect your Magento website from hackers. SShield, our proprietary security system, will monitor your hosting account in real-time and alert you if it detects any suspicious attacks coming your way.
You get even more extras on our Managed VPS plans. You will have your own virtual server, while our experts will take care of things like OS updates and other system-level configuration settings. As a result, you will have more time to focus on your B2B project.
The server hardware resources are reserved for your website only, and you get a dedicated IP. You won't have to worry about anyone else slowing down your website or blacklisting the IP you're using for your emails.
In short – a fruitful environment for any Magento web store.
Conclusion
Online presence is essential for every B2B venture. For most of your potential customers, communicating over the phone or email is too much of a hassle. You need an ecommerce system that works well not only for them but for you as well.
Magento is undoubtedly a good starting point, and with the right extensions, you can create a solid B2B platform on which you can build your partnerships.
FAQ
Will my B2B partners be interested in my ecommerce website?
Statistics show that B2B ecommerce is on the rise, and there's little to reverse this trend. Your potential partners know that shopping online is more convenient and less time-consuming, so presenting them with an ecommerce platform is not just an advantage but a necessity.
Can Magento help me build a successful B2B ecommerce site?
Creating ecommerce websites is Magento's primary purpose. Most people associate it with retail online shops, but the fact is that it offers plenty of features to facilitate a good B2B ecommerce platform. By picking the right extensions, you can expand its functionalities even further.
What do I need to keep in mind when choosing Magento extensions?
An extension's job is to improve and expand Magento's functionality, but because a third party is developing it – you might encounter certain problems.
Magento core updates introduce new patches and code rewrites that may end up conflicting with existing plugins. Furthermore, keeping inactive extensions or plugins from untrusted sources may end up opening security backdoors that can easily be exploited.
Only install Magento extensions that are critical to your business mission.
Was this article helpful?