You depend on the web, we depend on you.
Backed By Award-Winning
24/7 Hosting Support
You're covered by a Support Team that's renowned for being one of the most knowledgeable, fast and efficient. Ready to assist you any time, with any issue, 24/7. That's part of why our customers stay with us for 7 years on average, and 99%+ of them happy.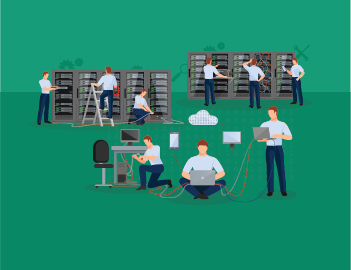 Avoid Losing Important Communication
A business e-mail hosting plan is required for companies because of its reliability. Communication is key, and no one wants to risk losing an important e-mail. Free e-mail services may result in losing that e-mail, which may be from your biggest new customer.
Smooth Communication
Communicate easily with your clients. Scala Hosting professional e-mail hosting service includes several features for smooth and quick communication with your clients and business partners.
Web-Based Email
If you need to access your e-mail account from another device securely, you can do so using the web-based e-mail application that comes for free with every business e-mail hosting plan.
Access From Anywhere
As an e-mail hosting provider, we make sure you can access your e-mail account from any device all over the world. You can use POP3 or IMAP to fetch your e-mail messages 24/7. We support iPhone, Android (all vendors), Windows mobile, Blackberry, Windows phone, Nokia, and e-mail clients on Windows/Linux/MacOS.
Brute-Force Protection
As a business e-mail hosting provider, we take care of all attacks against your e-mail boxes, and we will block any malicious activity or people trying to compromise your account.
Secure Communication
Each e-mail hosting plan comes with a free shared SSL certificate you can use to connect to your mail server and send/receive encrypted e-mail messages for maximum security.
Block 99.98% Of Spam
All e-mail hosting plans except the Mini plan come with a professional antispam filtering system that does not allow a spam message to be delivered to your inbox ever again.
Easy-To-Use Control Panel
You will get a user-friendly control panel to manage your business e-mail hosting account. It allows you to add/remove e-mails, change their quotas, passwords, configure e-mail forwarding and auto-responders.
7 Recovery Points
If for some reason you need to restore the state of your e-mail account to a specific time in the past, you can easily do that yourself from the control panel. We provide 7 recovery points to choose from for the last 7 days.
Get A Business E-Mail Hosting Plan For Smooth Communication
Communication has always been key in building a successful business. Our business e-mail hosting plans provide the features you need to have easy and smooth communication with your clients and business partners. We provide e-mail hosting to thousands of businesses all over the world, delivering the tools they need to handle their daily routines electronically. Companies require a business e-mail hosting plan because of its reliability. We run multiple e-mail servers at the same time. We can't allow an important message to be missed. You will have 24/7 access to your e-mail box via the e-mail client on your computer, mobile device, or web mail. Each message sent to you will be inspected by a commercial antispam system, which will not allow a single spam message to be delivered to your inbox and waste valuable time. The professional antispam gateway we run filters 99.98% of the spam out of the box with no custom configuration. You will be able to access your e-mail addresses via IMAP and POP3. You will also be able to use a free shared SSL certificate to connect to the server and send encrypted data for maximum security. Make no mistakes and use an e-mail hosting service which will allow you to communicate quickly and easily without problems.
Why Choose ScalaHosting?
100% CUSTOMER SATISFACTION
Customers love Scala Hosting. That's why we are ranked #1 in TrustPilot and WHTOP. Just read hundreds of glowing 5-star reviews and see what clients say about us, ot simply read the reviews on Facebook page
11 YEARS IN INNOVATIONS
Powering over 700,000 websites of customers from 120+ countries, Scala Hosting has been doing innovations for 11 years. SPanel is the latest innovation that made managed VPS services affordable.
30-DAY MONEY-BACK GUARANTEE
Expect nothing but the best! You'll love our hosting, you site will be up 99.99% of the time, faster and more secure that ever. And if for some reason that's not the case, we'll fully refund you to the last cent. No questions asked.