Virtual Private Servers (VPS) have had quite an impact on our online lives. Because of them, website owners don't need to pay for expensive dedicated servers whenever they outgrow their shared hosting plans. Companies have an affordable solution for organizing, processing, and managing business data, and even gamers can play their favorite online games without breaking the bank.
Forex traders have also found a use for virtual private servers. Let's see what it is.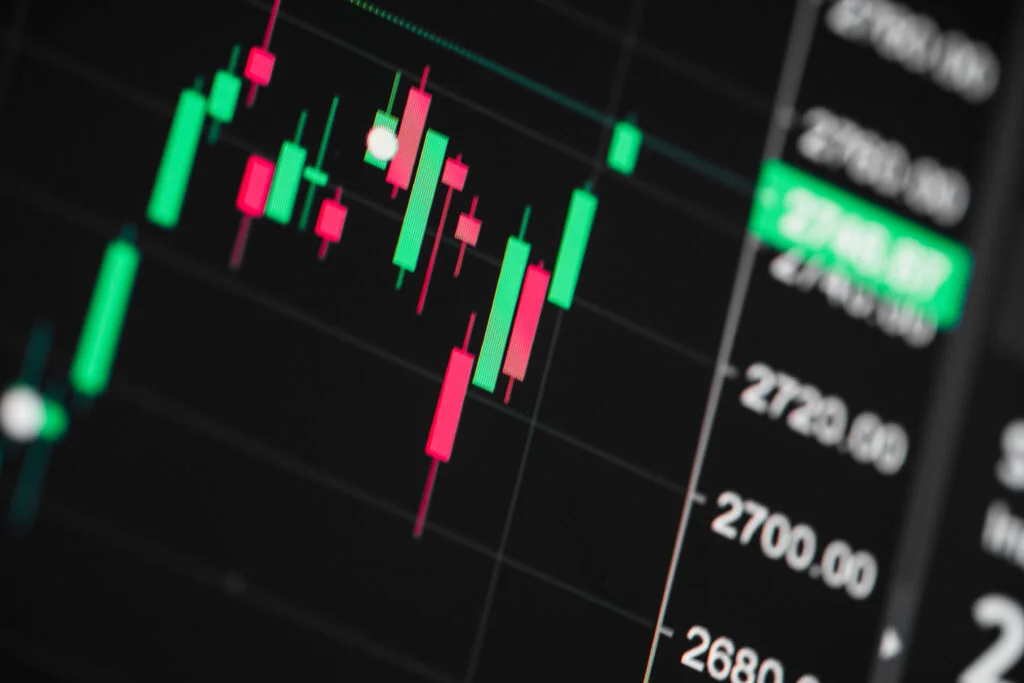 Why Should You Use a VPS for Forex Trading?
Forex trading happens over the internet, so you need a device connected to the web. Nowadays, you have quite a few options.
You can install trading apps on your phone, and many traders do enjoy managing their portfolios on the move. However convenient this is, some people still prefer the bigger screen of a desktop or laptop computer.
There are, however, traders that spend money on a virtual private server and set up their trading operations on it. They do it because trading on VPS has several significant advantages over trading on a personal device. Let's explore them in a bit more detail.
Speed
Trading applications are not particularly resource-intensive in general, but if you want to get good performance and excellent trade execution times, you'll need adequate hardware. A powerful VPS can give you just that.
On your home PC, the trading platform will need to share the same resources with all the other software you've installed, whereas if you dedicate an entire VPS to Forex trades, you will have enough power to eliminate the chances of delays or drops in performance.
Trade execution times are also affected by upload/download speeds, and once again, a VPS is head and shoulders above the alternatives. It has an internet connection that is many times faster than the broadband service you have at home, so when an order is placed through it, it will arrive much more quickly at the broker.
Reliability
Your VPS works on enterprise-grade hardware that is located in the carefully controlled environment of a data center. It is monitored by a team of experts who keep a close eye on it and make sure any issues are dealt with before they affect the performance.
The servers and the network components are built using high-end equipment, and failures are extremely rare.
At home, your trades can be affected by power outages or connectivity issues. With a VPS, this problem is practically eliminated.
Continuous trading
The Forex exchange doesn't stop for the night. Trades are executed around the clock during weekdays, and because they don't want to miss any potentially profitable trades, tech-savvy traders have devised Forex robots – automated scripts that make investment decisions for you based on a range of technical signals.
Your VPS is on 24/7, so you can set up a Forex robot on it and let it do the hard work. This way, you will be able to trade and profit while you work, travel, and even sleep.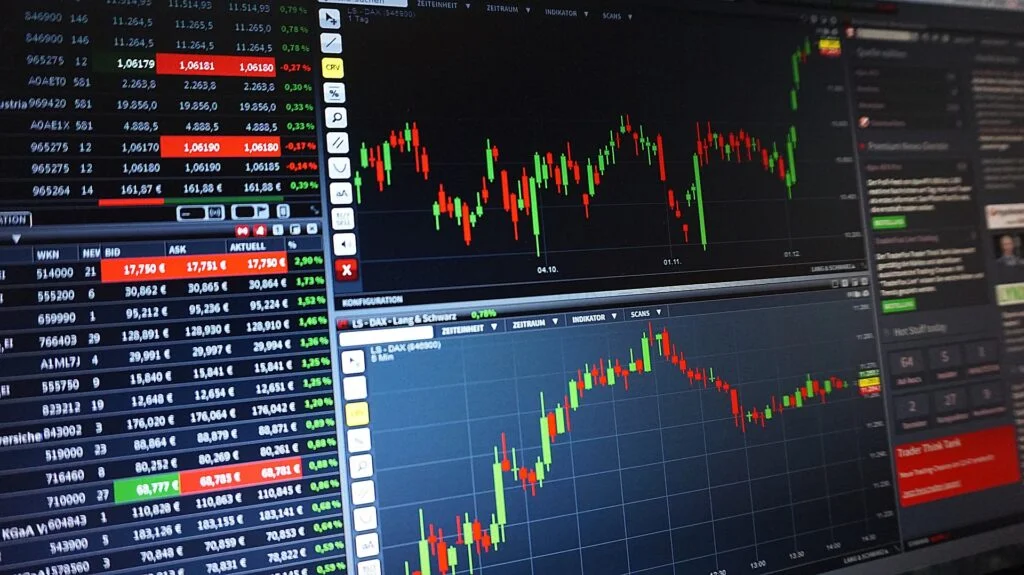 How to Choose a Forex VPS?
There are a few things you need to bear in mind when choosing a VPS for Forex trading. Here's what your strategy should be.
1. Find the right platform
If you want to place orders on the Forex exchange, you'll need a trading application. There are many apps, all working with different brokers. It's essential to figure out which broker you'll be working with, the commissions you'll be paying, and under what conditions you'll trade.
After choosing a trading application, you need to check what sort of operating system it works on. This is one of the vital things you need to look out for when choosing a VPS.
2. Check the hardware requirements
Every trading application has a set of system requirements, and making sure your VPS covers them is essential for the platform's functionality. Bear in mind that the higher the volume of trades you execute, the more hardware resources you'll need, so be sure to leave some overhead to guarantee excellent performance and quick trade execution.
3. Compare your options
There are quite a few VPSs on the market. You can choose between managed and self-managed virtual private servers. With a managed VPS, your hosting provider will be responsible for the initial configuration of the virtual machine. You'll have fewer things to worry about, but the service is more expensive, and you need to contact the host and ask whether Forex trading is even possible.
A self-managed machine is usually cheaper, but it comes with a few things already set up. You have more control over the server, but you're also responsible for its correct configuration and security, so you'll need a better understanding of how the machine works.
Having figured out the OS and the hardware, you'll have to choose a VPS hosting provider. Make sure you do some research and pay attention to things like the infrastructure hosting the VPSs, the availability of a data center close to your broker, the service's reliability according to existing customers, and the responsiveness of the customer support team.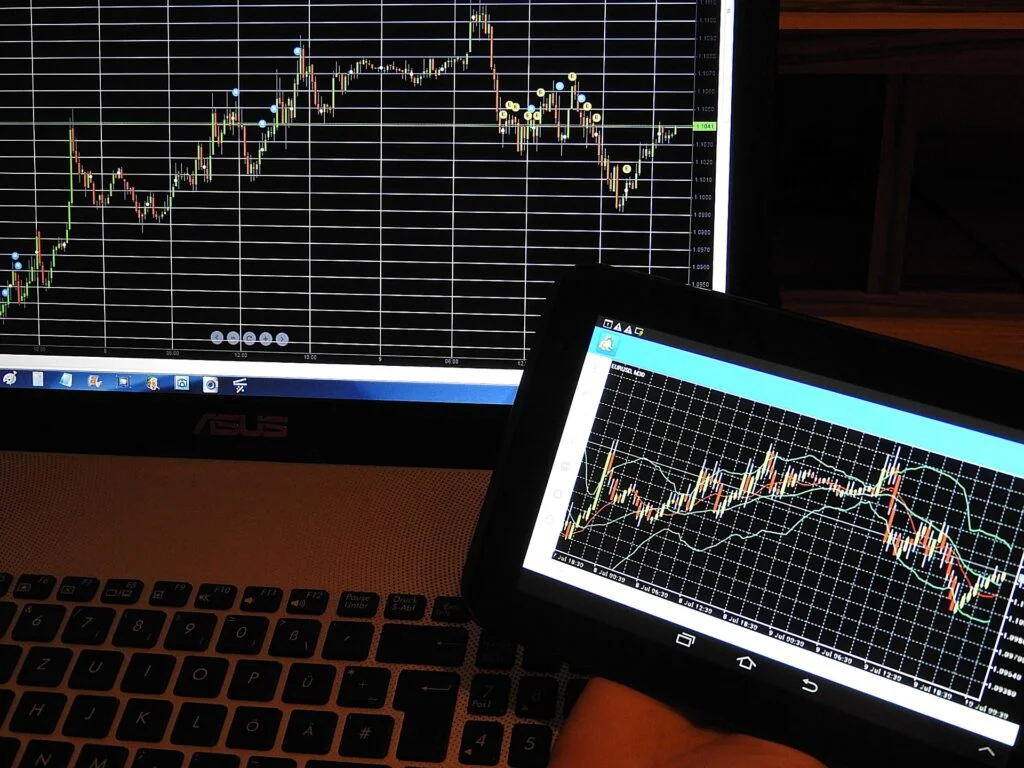 How to Install MT4 on Your Forex VPS?
After your new Forex VPS is ready and set up, all you need to do to get it going is install your online trading platform. Anyone who has ever been interested in Forex trading has probably heard of Meta Trader 4 (MT4). It's a trading platform that appeared in 2005, and despite its age, it continues to be the most popular application of this kind.
Some Forex VPSs come with MT4 already set up. If that's not the case, you can easily do it yourself.
MT4 was developed from the ground up to work on Windows. You can theoretically launch it on a Linux or macOS machine using Wine, a compatibility layer that lets you run Windows software on Unix-based OSs, but ideally, you'll want a Windows VPS.
Once you have it, you can follow the steps below:
1. Connect to your VPS
Because you're using a Windows virtual private server, you'll connect to it via RDP (Remote Desktop Protocol). RDP was developed by Microsoft, so if you're using Windows on your home PC, you have a built-in client that can communicate with your VPS.
The easiest way to launch it is to open the Start menu and write "remote desktop." Windows's client will appear as a suggestion.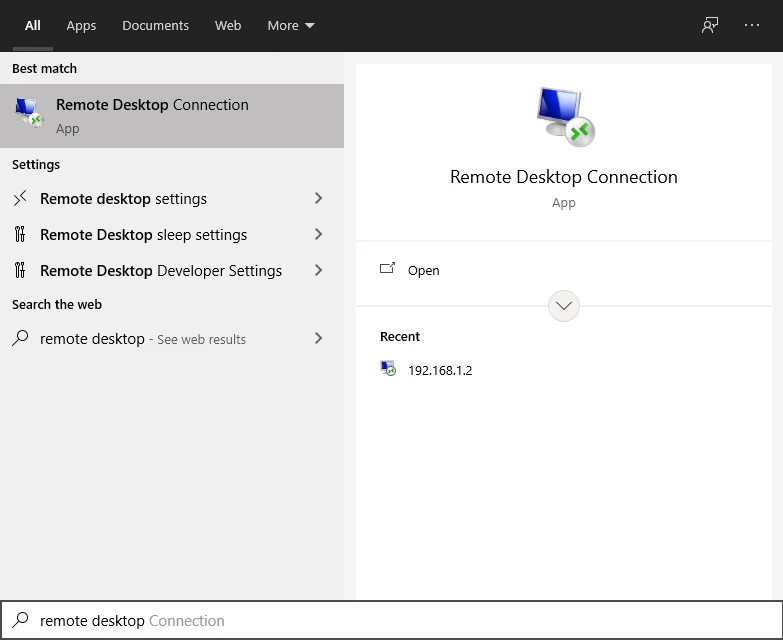 When you open the client, it'll ask you for the server's IP and login credentials.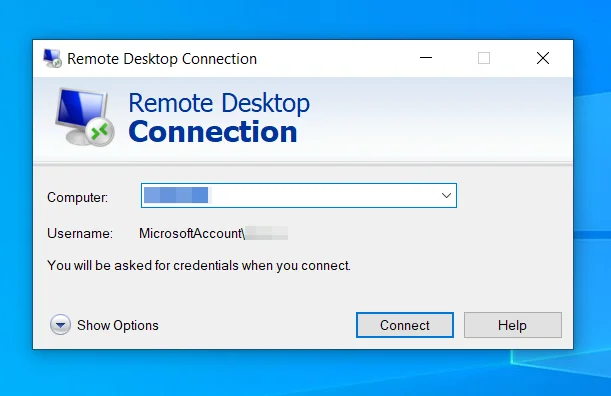 This information should be available in the welcome email you received from your host. After entering your username and password, you will establish a connection to your VPS and see its desktop on your home computer's screen.
2. Download and install MT4
Next, you need to install Metatrader on your Windows VPS. Often, the installer is provided by your broker. If that's not the case, you can download it straight from MT4's official website.
Make sure you select the correct platform before downloading and running the installer.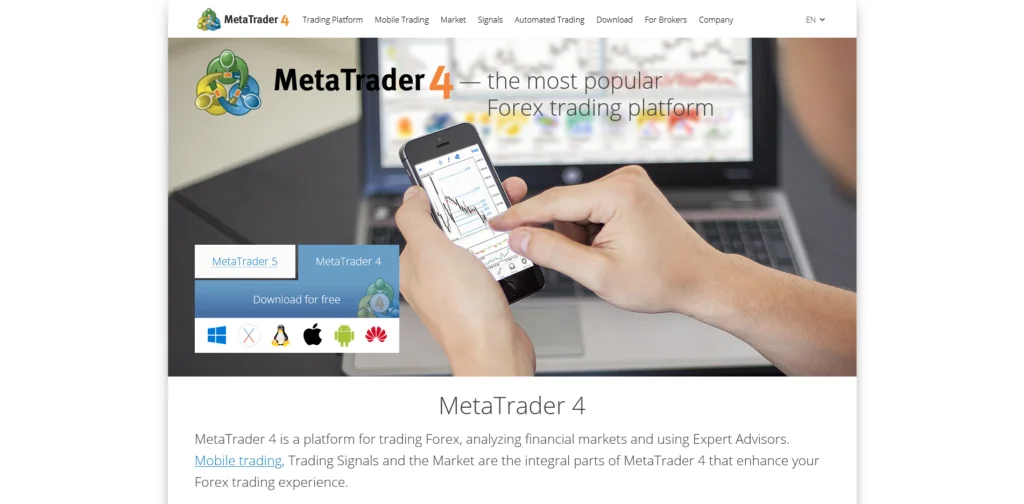 All you need to do is read through the licensing agreement and click Next to agree to it.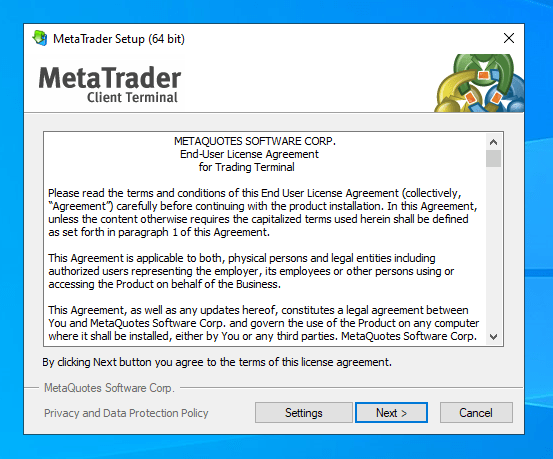 MT4's installer will automatically start the installation, and in a few moments, the trading platform should be set up and ready to go.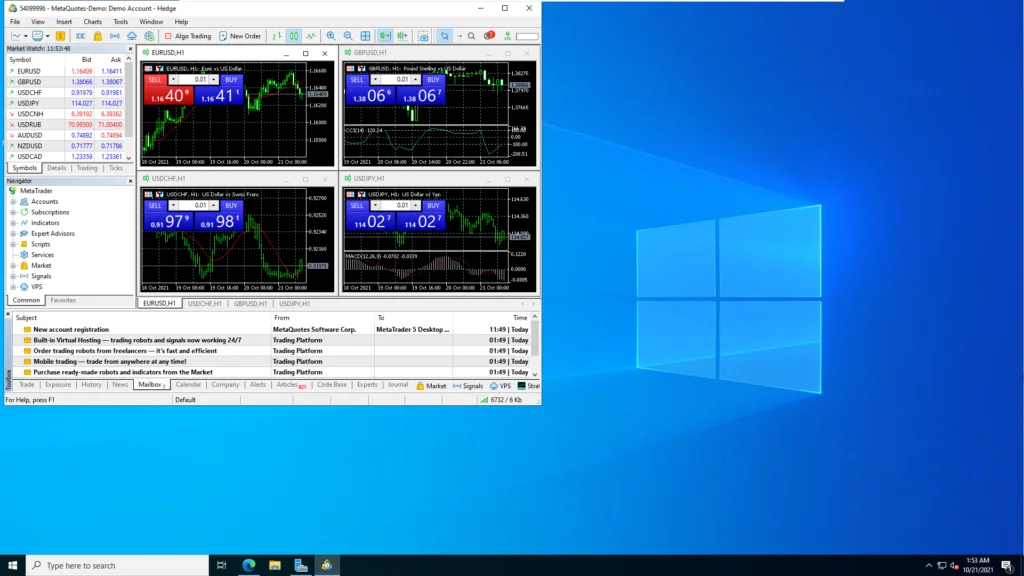 3. Set up your Forex robots
With Forex robots (also known as Expert Advisors or EAs), you can take advantage of the fact that your VPS runs 24/7, and you can trade non-stop. If you are an experienced trader and have some coding skills, you can create the robot yourself and configure it to make decisions based on your trading style. Alternatively, you can get trading robots and EAs straight from the market available inside MT4.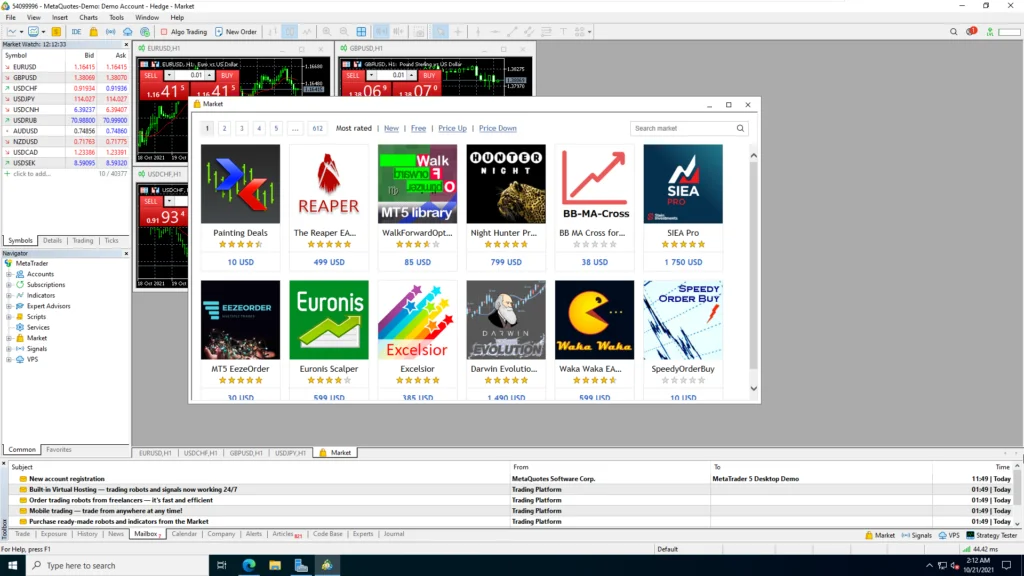 There are plenty of options available. You have premium robots (with prices ranging from less than $100 to several thousand), but there are quite a few free alternatives as well. They can do anything from trading according to complex technical analysis and signals to simply copying what experienced traders do. After you create an account, the installation process is pretty straightforward.
Conclusion
Being successful on the Forex market depends to a large extent on your ability to pay attention to the details. It's an overcrowded place where everybody is trying to maximize their profits, so beating the competition is anything but easy.
A Forex VPS is one of the things that might just give you the edge you're after, so if you're serious about your trading, it's definitely worth considering getting one.
FAQ
Q: How do I connect to a Forex VPS?
A: The method you'll use for connecting to your Forex VPS depends mainly on the server's operating system. Because most trading platforms run on Windows, however, you'll most likely use Microsoft's Remote Desktop Protocol (RDP).
Q: Do I need a VPS for Forex trading?
A: Theoretically, you can trade from your home computer or your smartphone. However, a VPS gives you a safer environment, a blistering internet connection, and a reliable service that is online 24/7.
Q: Is a VPS always on?
A: Whether they're physical or virtual, servers are meant to be switched on and connected to the internet 24/7. They run on robust, enterprise-grade hardware that rarely ever fails, and hosting providers employ teams of experts that are on hand to ensure that if something happens, the problem will be addressed swiftly.
What is a VPS – Everything you need to know!
Was this article helpful?