The owners of around 2.5 million active websites have chosen Joomla for their online projects. They all have different objectives and different ideas on how to get there. However, in the early stages of their projects, they all faced the same challenge – finding a suitable template. As it turns out, this is easier said than done…
What is a Joomla Template?
We all know what people say about judging a book by its cover. In the online world, however, things are a bit different. A website's success is very much dependent on the way it looks. Users often end up on a particular page via a search engine link, and you only have a few seconds to catch their attention.
It all starts with a visually pleasing design. If users then find the layout intuitive and functional as well – they are much more likely to come back.
This is why Joomla templates are so important.
In addition to governing the way your website looks, they can also bring additional functionality to the pages and greatly improve the overall user experience.
Finding the right template can be a bit of a challenge, especially if you're developing your website on a shoestring. As we'll find out in a minute, you can find good-looking free Joomla templates if you just know where to look.
But before we get to that, let's first see what you need to do to install a template on your website.
How to Install a Joomla Template?
Other CMS solutions like WordPress and Drupal support official theme/template repositories. In some cases, they're even integrated into the system's backend.
This is not exactly the case with Joomla.
Developers market templates either through their websites or via third-party repositories dedicated to Joomla products. The Download button usually gives you a ZIP archive containing the template files.
Joomla may not have WordPress's two-click theme installation process, but the task is by no means difficult.
First, log in to your Joomla Control Panel at https://yourdomain.com/administrator/ and go to Extensions > Manage > Install.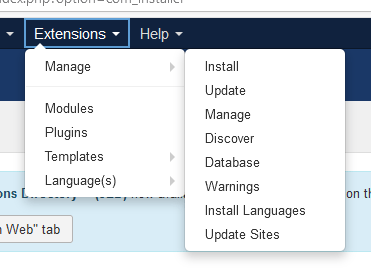 You have three options:
Upload Package File
Install from Folder
Install from URL

If you have the ZIP archive on your local computer, you'll most likely want to use the Upload Package File option. The CMS offers an interface where you can either drag-and-drop the ZIP file or select it from a window. Joomla will then take care of extracting the data and making the necessary adjustments.
Alternatively, you can extract the files yourself and use an FTP client to upload them to a directory on the server. You can then click on the Install from Folder tab to enter the correct path.
If the ZIP archive is on a remote server, you can use the Install from URL tab. Joomla will retrieve the package and complete the installation automatically.
After the successful template installation, you can find it in the Extensions > Templates menu.
Types of Templates
Joomla is an extremely versatile website building application. Utilizing it, you can launch a personal blog, an online shop, a business page, and pretty much anything in between. Even if the required functionality isn't available in the core, chances are, you'll find an extension for it.
You'll need the right template, as well, though. Thankfully, there are quite a few websites dedicated to CMS themes and add-ons.
Different templates serve different types of websites. For example, themes that are suitable for news sites have a completely different layout compared to the ones designed for online stores.
Online marketplaces divide Joomla themes into categories according to the purpose they serve. As a result, you can easily filter through the thousands of available templates and shortlist only the ones suitable for your specific needs.
Template Marketplaces Offering Free Templates
Every Joomla website needs a template, and it's not surprising that quite a few developers have seen the business opportunity in selling premium themes. You can find some high-quality designs out there, but the price tag may not always fit your budget.
Fortunately, you can find free Joomla templates that do the job just fine, especially in the early stages of your website development. You just need to know where to look.
JoomlArt is a part of a larger network of websites specializing in Joomla templates and extensions. The developers working for these outlets have decades of experience and have created hundreds of premium templates and extensions.
In addition to the premium products, JoomlArt also offers you six Joomla templates completely free of charge. They look professional enough and could easily act as the basis for your website. The only thing you need to do to use them is to set up a JoomlArt account.
JoomDev is another software company that offers Joomla templates. Although most of JoomDev's templates are paid, they were all based on Astroid. The popular Joomla template framework is a solution that you can download for free. If you have enough time and skills to invest in developing your own template – you can use the framework to create a unique look for your website without paying a penny.
If you need a quicker solution, you can try one of the ten free templates JoomDev offers. In addition to this, the marketplace can give you one premium template for free if you're willing to recommend it to your friends on social media.
Joomla Monster has been around for years now, and it's an integral part of the Joomla community. In addition to templates, its experts can develop extensions, fix bugs, modify add-ons to fit your needs, and create an entire Joomla website from the ground up.
Similar to JoomDev, Joomla Monster has a template framework called E4, which you can download and use to create your unique template for free. Alternatively, you can choose from one of their free themes.
Nicepage is an incredibly rich resource. You have over 6,000 free templates you can start with, each offering endless modifications. To export the finished product as a Joomla template, you need to download the desktop application (available for both Windows and macOS) and edit them locally. The drag-and-drop interface is incredibly intuitive, and you get enough tools for more advanced customizations.
The only problem is, Nicepage markets itself as a page builder rather than a template creator. It can be great for one-page websites, but it might not be the best solution for you if you want to have numerous sections and subsections.
Joomla Shack has been around for pretty much as long as Joomla itself. It has years of experience, and it's responsible for creating a number of premium templates and extensions. In addition to the paid templates, you can download a few free ones. Those who want to put in the effort and create something truly unique can use the Joomla Shack's Wright framework to put together a custom template.
GavickPro is one of the biggest template repositories in the JoomlArt portfolio. All websites under JoomlArt's wing are accessible with a single account. GavickPro focuses on premium templates, and the number of free ones is relatively limited. Nevertheless, they look professional and fit various types of websites.
The last website on our list is Joomla Perfect. It's dedicated specifically to free Joomla templates, and it has over 1,000 of them. Some of the offerings are quite old, so you need to double-check which version of Joomla they support. Close to 70 independent providers develop the templates, and if you have a template of your own – you can submit it to Joomla Perfect for more exposure.
How to Choose the Right Joomla Template?
One of the advantages of a free template is that you needn't worry about losing money if you choose the wrong design. Most template developers give you demos of their products, so you can see them in action before you make the final choice.
Better yet, because they are free, you can set up a development environment and test several templates before deciding which one suits your needs the best. It's not a decision you should take lightly, and there are quite a few things to consider.
Features
Finding a Joomla template that fits as many of your requirements as possible is crucial if you're going to turn your ideas into reality. This is not particularly easy with a free theme, but we will show you how to do it easily.
Take a good look at the template preview and see what sort of features it contains. You'll probably want to change the website's default layout and add some new components, so you to be sure your theme is flexible enough for the tasks ahead. Some of the free Joomla templates are quite rigid, and the websites created with them look pretty similar, which is not ideal.
Ease of use
Finding and installing the desired Joomla template is just half of the story. The template acts as a base you build upon and modify until you're happy with the way your website looks. You can do it by editing the core files – it's child's play if you have some CSS knowledge.
Not all free Joomla templates are editable, though.
You can find many themes that are hardcoded, and you can only use them in their default state.
Support
You are unlikely to have any technical difficulties while working with a free template, but if you do need assistance – it's good to have some options.
Template providers are understandably more interested in helping premium product users. It's also difficult to predict whether the developers will commit to keeping a free template compatible with future versions of Joomla. If they don't – you could be faced with the prospect of either changing the template or sticking to an old version of the CMS.
Neither option is particularly desirable.
Make sure to test your free Joomla template extensively before applying it to a live website.
Conclusion
Compared to premium ones, free Joomla templates are a bit harder to find, and they have a few disadvantages. More often than not, they're not as sleek as the paid ones, and the functionality is somewhat limited.
Still, if you're on a tight budget, they can be instrumental in getting your Joomla project off the ground. You just need to find the right one.
FAQ
Q: Are free Joomla templates really free?
A: Yes, they are. You can download the templates and install them on as many websites as you want. At most, the author will be credited in the footer.
Q: Are free Joomla templates easy to install?
A: Yes, Joomla templates are elementary to install. The theme files are usually in a ZIP archive, and Joomla can automatically extract them to the destination of your choice. Alternatively, you can install a template from a folder on your server or through a remote URL.
Q: What should I do when I'm choosing a template?
A: Choosing a template is not an easy task, regardless of whether you're going for a free or a premium one. Essentially, you need to ensure the chosen template is compatible with your version of Joomla. If possible, check what your website will look like in a staging environment and test all template features and customization options. This will give you a clear idea of what you can do with it.
What is a VPS – Everything you need to know!
Was this article helpful?