How to Keep Your Website Secure with SShield (Now in SPanel)
Keeping a website safe from hacker attacks and clean from malicious code should be among the top priorities of any webmaster, regardless if they are managing a small startup project or in charge of a large-scale enterprise. The logic is simple – as technology is evolving, more and more people and businesses are "moving" online, which inevitably attracts unwanted attention.
But what can we do about it?
Well, the ScalaHosting Team has already indicated the vital importance of website security and has ensured all server clients are constantly aware of the status of their projects.
This all happens in SPanel.
Introducing SPanel
SPanel is a unique Scala-developed platform that simplifies account and server management, allowing even inexperienced users to easily build a website on a resource-packed scalable platform. SPanel offers an intuitive graphic interface that helps you take care of your domains, files, databases, emails, and many more. You also have control over the server environment with helpful monitoring tools and access to a variety of options for new accounts.
Security-wise, ScalaHosting has another surprise for users – our very own SShield.
Introducing SShield
SShield is all about server security. This real-time monitoring tool is designed to detect malicious behavior and stop hackers in their tracks. SShield is fully automated and requires little to no interaction from the client as long as things are going well.
Scala's unique website security solution has proven its effectiveness with a track record of over 99.998% successful hacking detection. As soon as SShield detects any suspicious behavior – it immediately sends a notification to the administrator, letting them know where the vulnerability is and what they can do about it.
Usually, when hosting providers detect malicious activity on one of their servers – they promptly block the entire account and all associated services. This can be a huge inconvenience and can easily cause an online business to lose tons of money while their website is down. In comparison, SShield acts proactively and allows the user enough time to take the appropriate actions to clear the issue.
SShield Now Integrated with SPanel
Up until now, SShield was quietly working behind the scenes. The Scala tool has been active on all managed VPS solutions for some time now, fighting spam and malware like a trusted knight.
But our clients were understandably curious – what does this SShield look like, how does it work, how can we interact with it? The questions even popped up in our SPanel Feature Requests forum.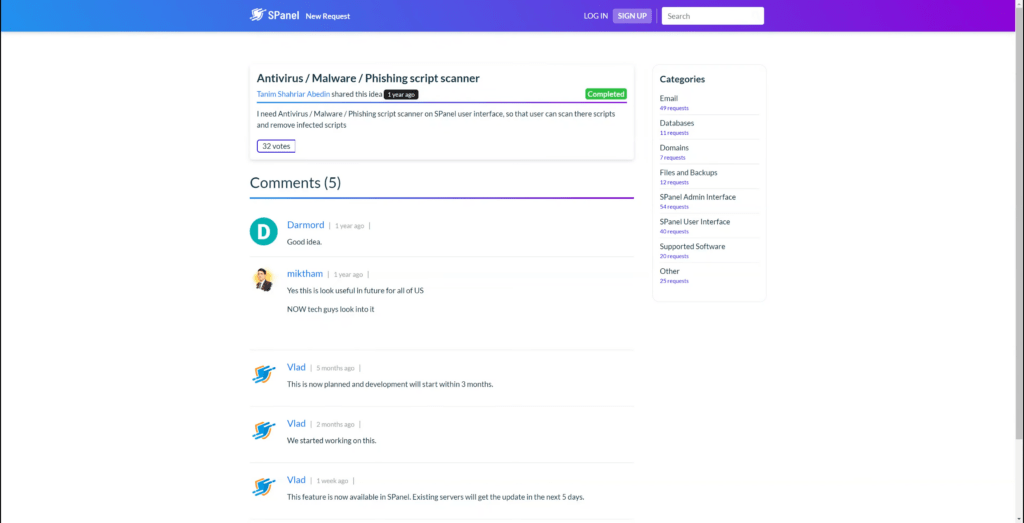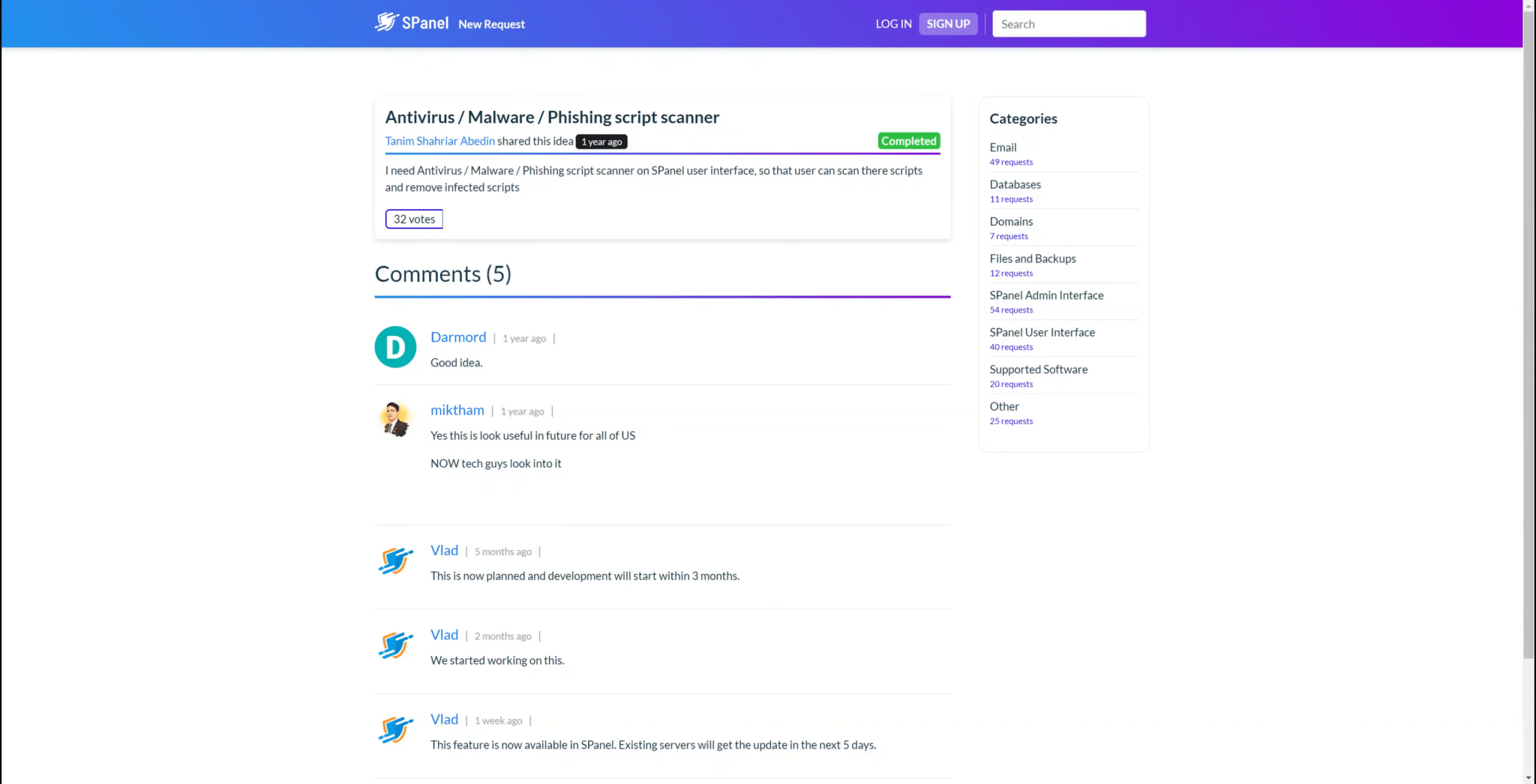 ScalaHosting has always been a community-driven company above all, so we quickly assigned our developers with the job of making SShield more comprehensive, allowing for a more hands-on user approach. After just a few months, we are now delighted to provide quick access to SShield straight from our SPanel platform.
You can find the option under the Tools section in the User Interface, and it only takes a single click to get in.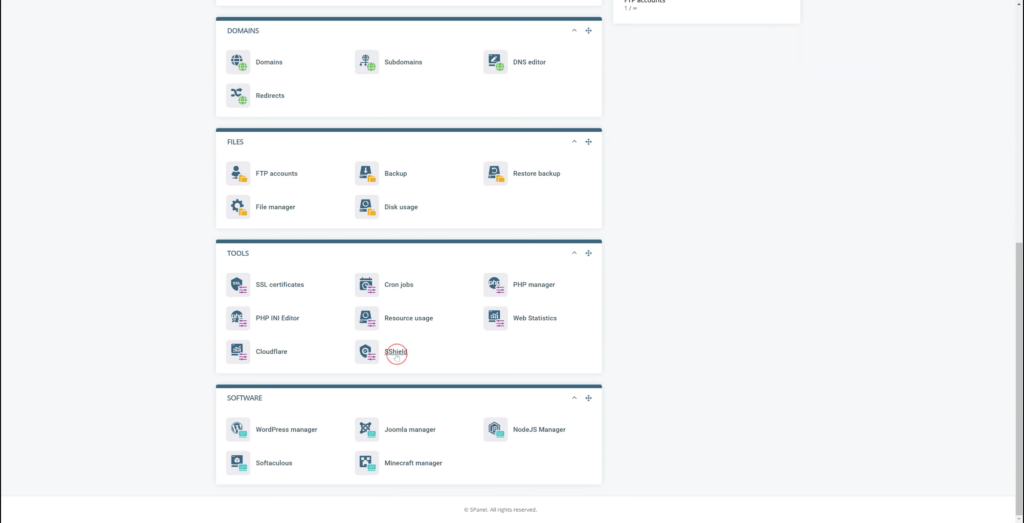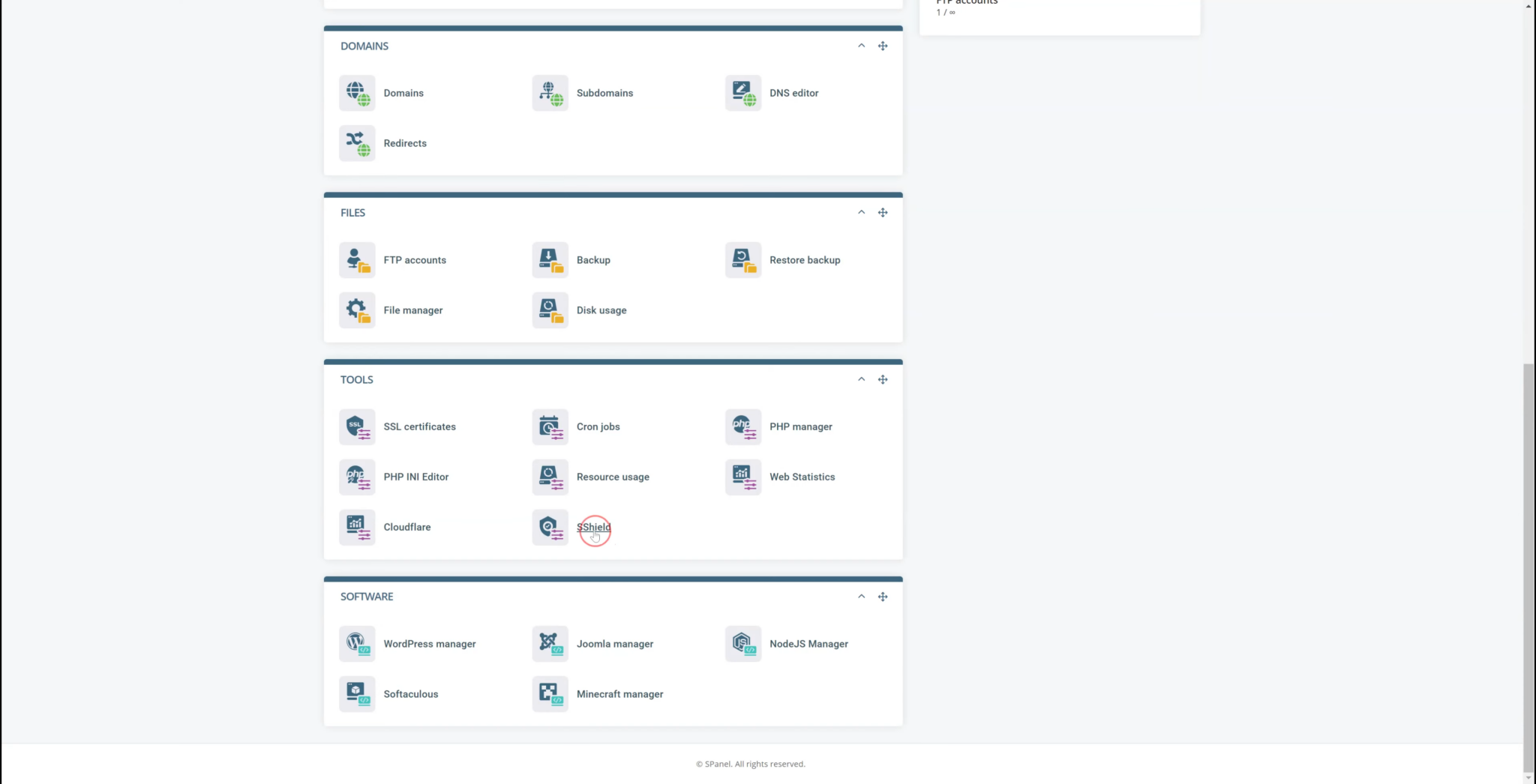 SShield Dashboard
Once inside the SShield dashboard, you will see a few options and some helpers to show you the ropes. From the drop-down menu, you can select a specific domain for manual security scanning or keep the default option for checking all domains.
The SShield Scan Events section is where all the magic is happening. As you will notice, there is already an active scan here, which is the automatic monitoring provided by our platform. When you add new manual scans for certain domains – they will also appear in this section.
Normally, if everything is malware-free, you will get a green tick next to your scan, like this: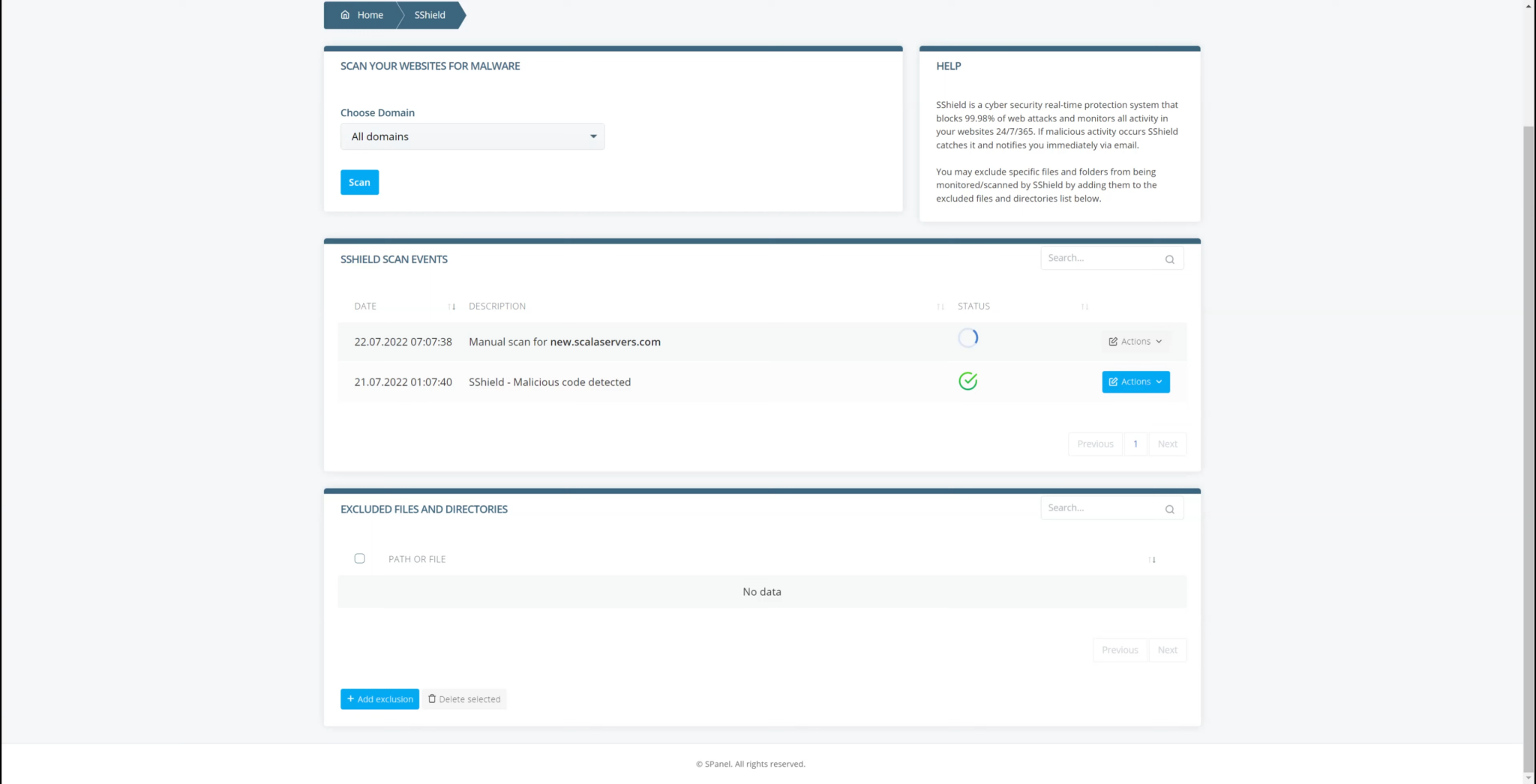 Should anything suspicious is detected, SShield will indicate it with a red X while also sending a notification to the server admin that there is a pending issue.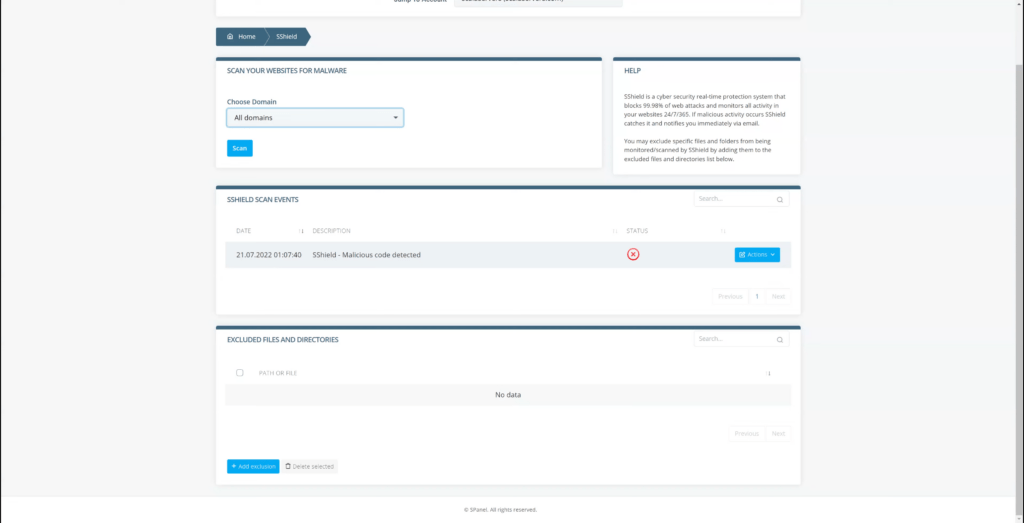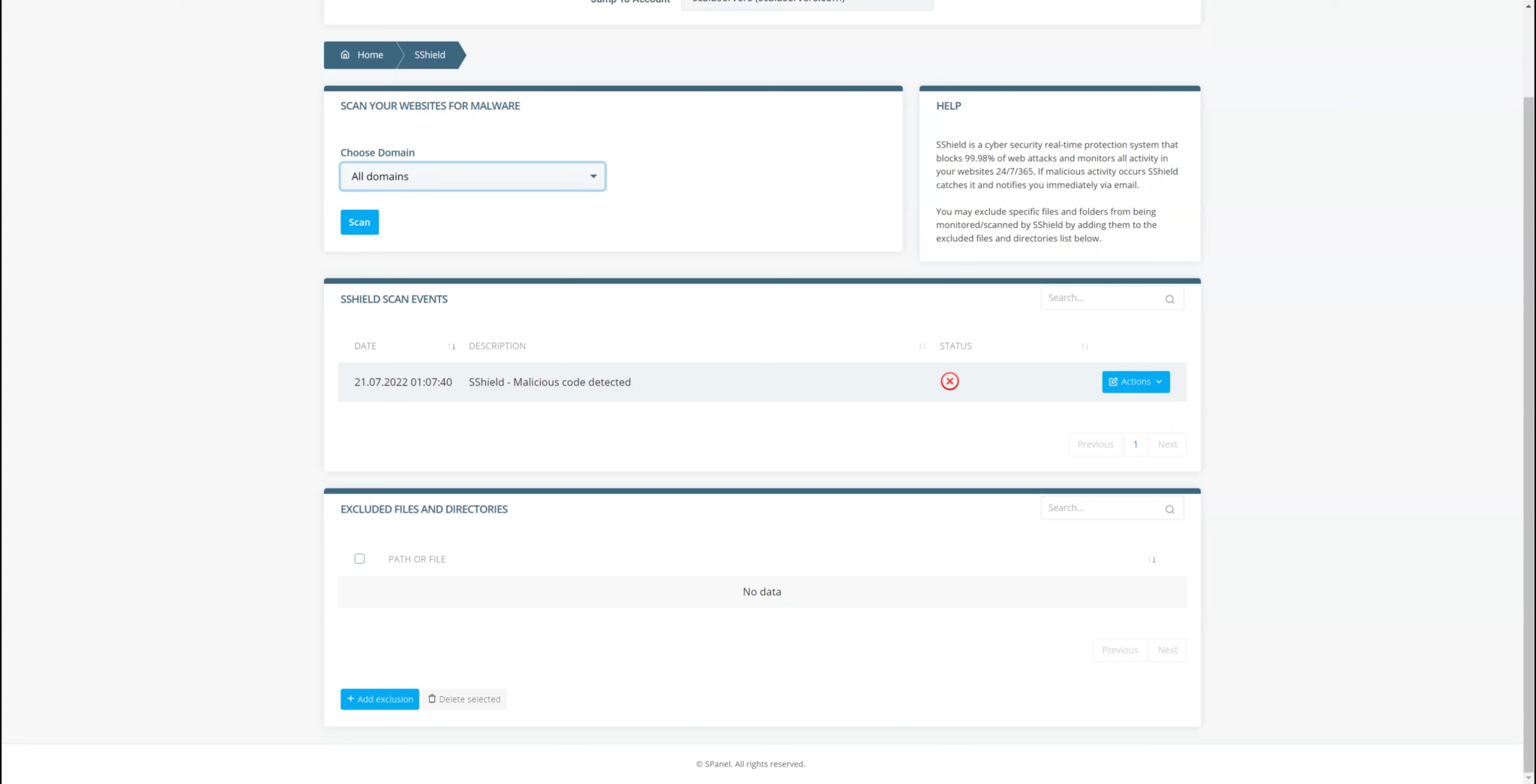 If the user doesn't react, the system will keep sending daily warnings without bringing your website offline. This will continue until you take appropriate actions to fix the issue.
SShield Options
Now that SShield has found some malicious files, what exactly can we do about them? Clicking on the blue Actions button next to your scan will reveal four options: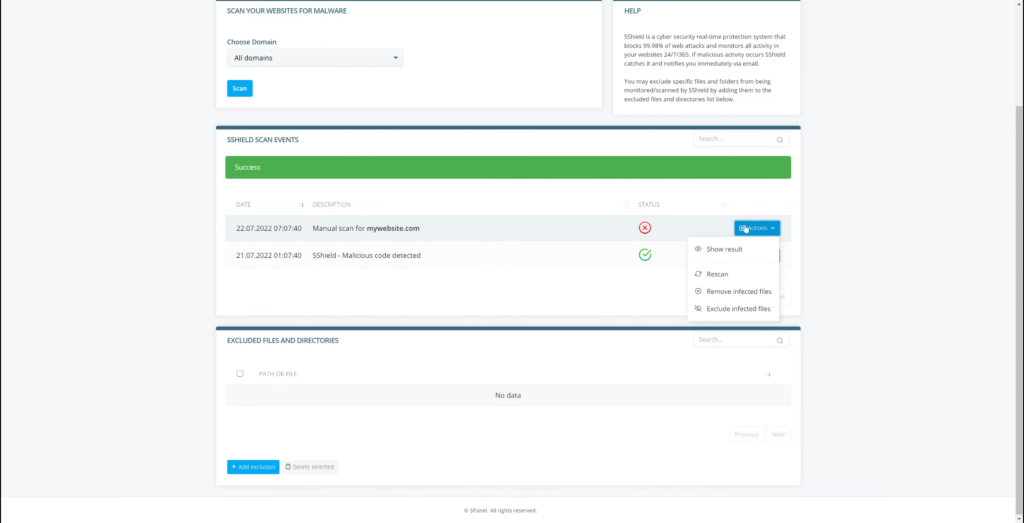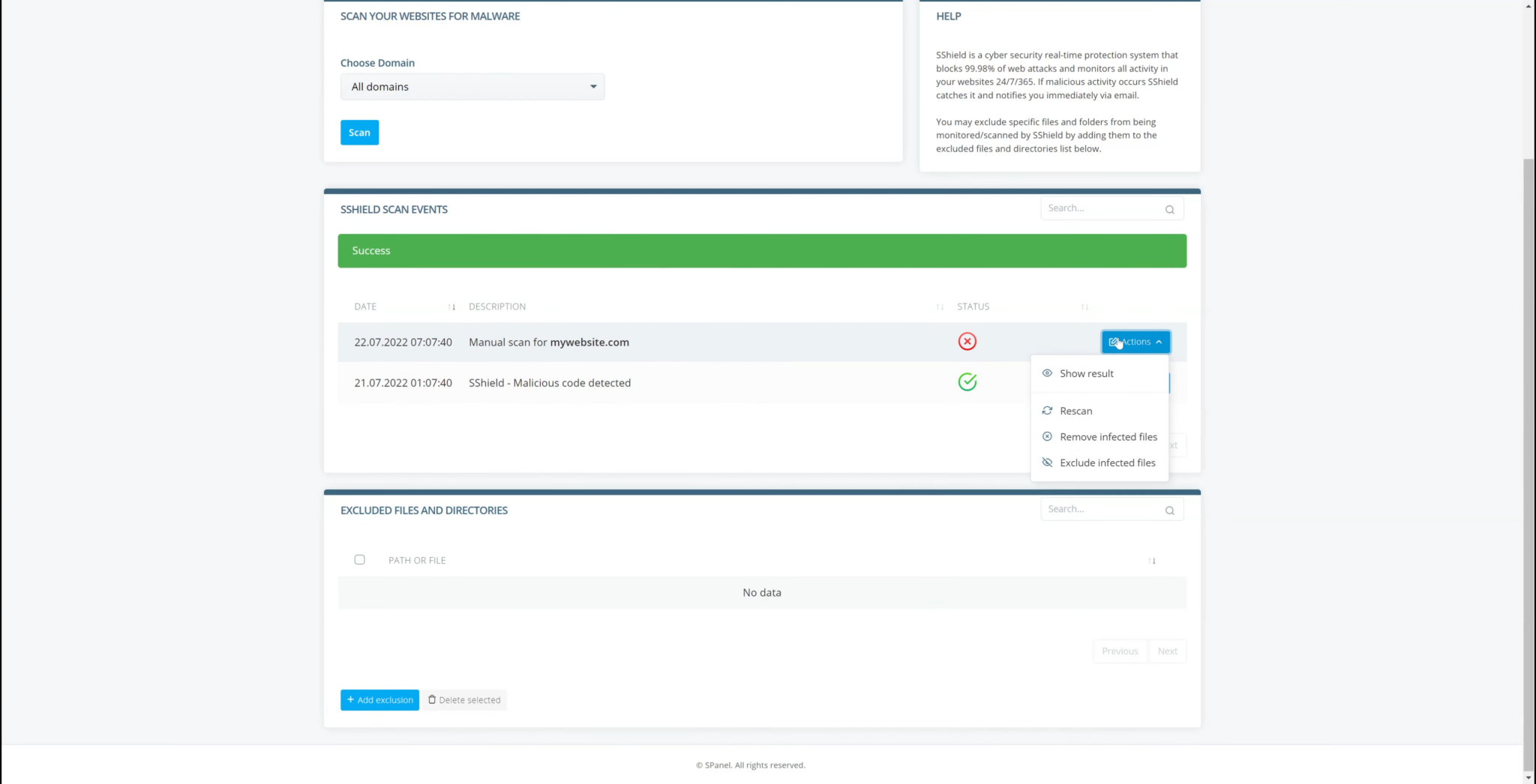 Show Result – this indicates the exact path(s) where possible malware was detected. If unsure what lies within this URL – you can open your website directory via FTP or the File Manager and browse to the right place.
Rescan – this option is needed whenever you've already taken some action to remove the pesky malware and want to double-check if your website is now fully clean.
Remove – SShield allows you to directly remove infected files instead of using FTP/File Manager to find them. This action is permanent and deletes the data from your account.
Exclude – if you are unsure if the detected malware is actually legitimate and needed for your project – you can simply exclude it from the scan. This basically works as whitelisting and tells SShield that it doesn't need to worry about the suspicious file.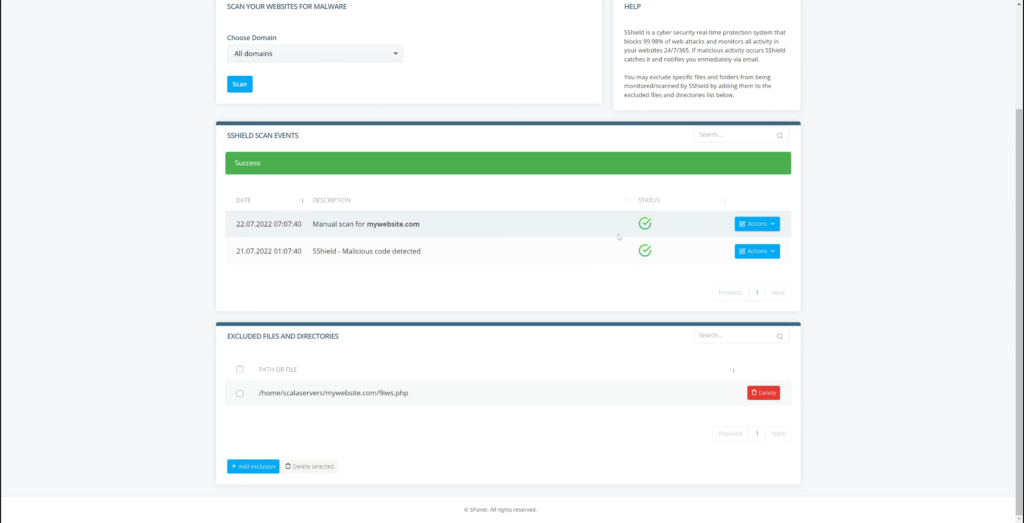 The Future for SShield
SShield is still in active development, so you can expect even more improvements in the foreseeable future. The ScalaHosting R&D Team is keeping a close eye on our Feature Requests forum, and they have already proven how fast and efficient we can be once a user suggestion gets enough attention.
Additionally, SShield learns from itself. Hackers get increasingly more creative in their attacks, so your security system better keep up, or it will quickly become obsolete. This is why our SShield is powered by machine learning algorithms, allowing the tool to expand its capabilities with the various types of malware it encounters.
Naturally, no solution in the world is 100% fail-safe, but SShield sure aims to get as close as possible.
Conclusion
Scala believes every client should feel safe and have peace of mind, regardless if they host a small blog or a booming online shop. Cybersecurity will continue to be among our top priorities, starting from the datacenters all the way to each separate client website. Follow our blog for more news, or simply contact the Scala operators, and they will be glad to tell you more about SShield.
FAQ
Q: Is SShield secure?
A: SShield has a track record of 99.998% malware detection. This includes viruses, worms, trojans, adware, spyware, and many other kinds of possible malicious attacks. SShield now allows for more hands-on client management, involving the user in the process of perfecting their web security.
Q: How much does SShield cost?
A: SShield comes absolutely free of charge with any SPanel VPS hosting plan. Given that your control panel is also at no added cost, this makes the bundles some of the most affordable and cost-effective solutions on the market.
Q: How to install SShield?
A: SShield does not require any installation from the client's side. ScalaHosting has configured the security on all SPanel servers, and you can already find the option in your control panel.
Was this article helpful?