The Importance of Data Backups
Data backups are an essential part of operating a website. Disaster can strike at any time, and if something happens to your website data – you need to recover swiftly.
Today we'll be sharing more about this essential activity in web operations and the various ways data backups can save your website.
What Are Data Backups?
Data backups are copies of existing data records kept as a redundancy measure. In case anything happens to the data set in use – restoration from backup data can facilitate quick disaster recovery.
For instance, Android smartphones with a connected Google account get contact information backed up to Google systems. If the phone is lost, simply logging in to the same account on a new phone will enable the contact data recovery.
While this is just one example of data backups, many similar forms exist, each with varying cost, efficiency, and efforts involved.
Why Are Data Backups Important?
Imagine running a successful WordPress website, with thousands of viewers visiting your site daily. Suddenly something happens to your web hosting plan, and the entire site is lost. The loss can cause not only significant financial loss but may also be impossible to recover.
Data backups help us overcome instances such as this. There are many benefits to backing up your data, the most obvious of them being:
While websites can be re-built, doing so from scratch can take significant time. It may also be hard to remember everything you've implemented, especially as time goes by. Even a three-month-old website may be difficult to fully replicate by memory.
Backups allow us to do a quick restoration to an existing point of operation. In fact, with an adequate backup strategy in place, you can recover a website within minutes.
Data loss due to cyber attacks can happen over time. For instance, a trojan may sit unnoticed for weeks or more before it gets detected. What's more, at this point, you would be foolish to simply remove it and assume everything is fine.
The best way of resolving this is to perform a recovery operation from previous data. Doing so can restore everything to a snapshot in time before the infection occurred. This advantage generally comes with keeping multiple backup cycles.
Avoid Potentially High Recovery Cost
Recovering from any data-related disaster can prove very costly. From hardware replacement to data recovery – every little fee adds up. Instead of relying on your host alone, you can do your own backups and easily avoid potential recovery fees.
Data backup costs vary depending on how the archiving model and where the backups will be stored. It's entirely up to you what system to implement or follow, so you can carry out backups that fit your exact needs.
How to Perform a Data Backup?
There are many ways to do data backup – from manual ad-hoc ones to complex, automated solutions. Each method has its advantages and disadvantages, regardless of its cost and complexities.
For those seeking to perform data backups for web hosting, you can consider the following things.
Manual Backups
The crudest method of them all, manual backups, involves selecting all elements to be backed up and then making copies of everything. You need to handle everything on your own and find the time to babysit the process until it's complete to ensure everything goes fine.
The key advantages of manual backups are that you have high control over the process and can choose the exact tools to use. Of course, that one is also absolutely free.
Data Backup via cPanel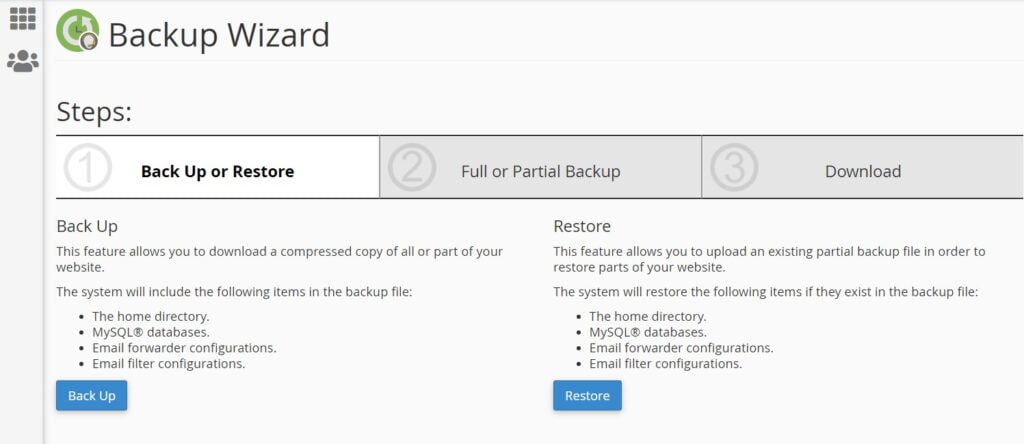 You can do backups via the cPanel dashboard if that's the control panel you are using.
Typing Backups into the search box will show "Backup" and "Backup Wizard" options. The former contains additional, comprehensive settings that give reasonable control over the backup process.
Using the Backup option in cPanel lets you choose to either backup your entire cPanel account or choose specific portions of it. For instance, you can back up only the home directory, specific databases, or even just some email accounts.
The Backup Wizard helps automate this procedure, allowing you to do a full or partial website of particular websites. It includes the files, associated databases, as well as any email accounts associated with the website.
Aside from backing up the data, this option also has a Restore function. Using it, you can quickly recover from a previous backup point.
cPanel also has a "Server Rewind" option that lets you choose instances of your account from which you can do a restoration. Your host creates these backups, so availability depends on the settings they choose to implement.
Data Backup via SPanel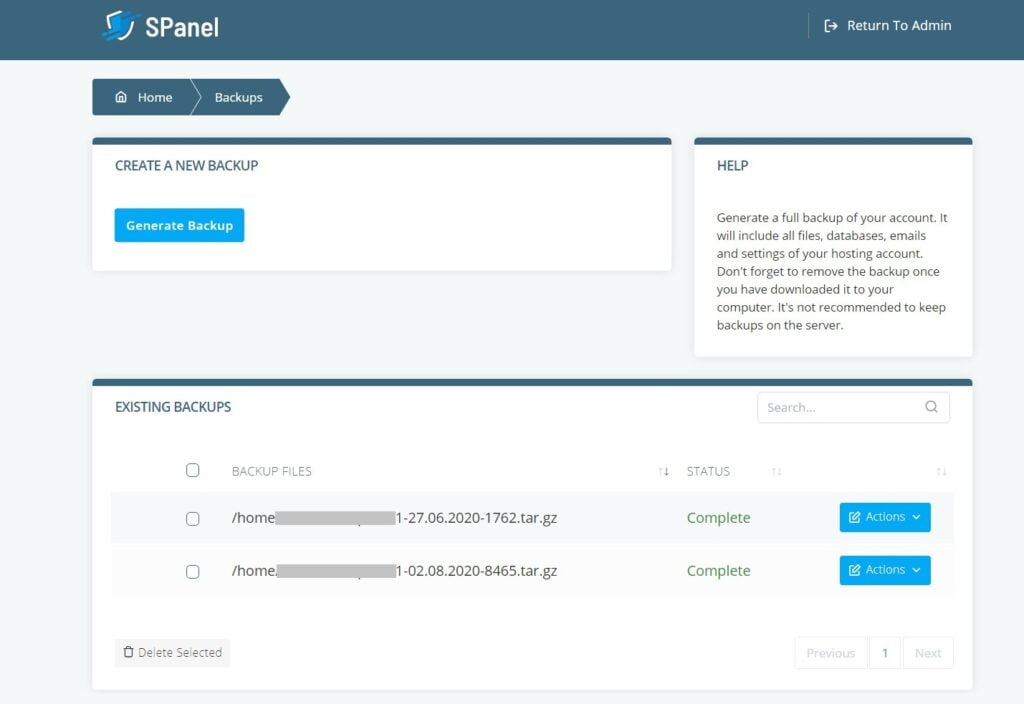 Backups in SPanel are quick and easy to perform. There are only two options – one for the backup and another to restore from a previously chosen restore point.
Still, all backups will reside on a location within your web hosting account. We always recommend that you download copies of these and keep them in another secure location off-site for better resilience.
SPanel keeps options clear and straightforward to increase performance by offering a lightweight model. This means the control panel itself utilizes minimum system resources, allowing you to make the most for what you're paying for.
ScalaHosting and Data Backups
Aside from the backup and recovery features embedded within SPanel, Scala Hosting offers other data-related advantages as well.
Starting with shared hosting plans, each account comes with a minimum of 7-day backup cycles that we handle on your behalf.
VPS plan users at ScalaHosting get two complete snapshots of the VPS accounts per cycle. That means you can restore your entire account if anything happens.
Conclusion
Having a backup strategy in place is vital for many things that concern your business continuity. Remember, you can have multiple backup systems in place, and not all of them need to be carried out every time – some can be periodical. Also, remember to keep at least one backup archive offline in case anything unexpected happens to your web server.
Frequently Asked Questions
Should you back up data?
Backing up your data is not a question of "if" but "how often." Data backups are essential for any online project, be it a personal or commercial one. Failing to back up data means you have to start building your website from scratch every time there is a critical issue with it.
What are the types of backups?
Backups can be categorized as full, incremental, and differential. The first is a complete backup of everything. Incremental backups save only the new changes you make on your website. Similar to that, differential backups also save site changes, but this time it happens every time you make an alteration of the original data archive.
What happens when you back up your data?
When data is backed up, a copy of it is created and stored. This copy is then kept and used to do a restore if anything happens to the data set in active use. It's a form of redundancy that helps in disaster mitigation and recovery.
Was this article helpful?