You've all seen social media sharing buttons on hundreds of websites. They let you easily jump from the website you're visiting to your favorite social media, sharing the great content you've just seen. Many of the buttons got there thanks to the WordPress plugins we're going to be looking at today.
The Importance of Social Media
The real struggle for most administrators is not building but popularizing their websites. Millions of projects fight for the same audience, and with that sort of competition, surviving without additional help is not possible.
WordPress is an excellent foundation for a brand new online project, but it can't drive traffic on its own.
This is where social networks come in.
Social media sharing is the modern-day equivalent of popularizing a product through word of mouth. It puts your WordPress site in front of millions of eyes and can be an enormous traffic booster. This affects your website's overall search engine rankings as well, so social media can have an even more significant impact than you think.
So, obviously, you need to find the best add-ons. Here are the 7 best social media sharing plugins for WordPress, according to us:
Top Social Media Sharing Plugins for WordPress
There's nothing complicated about sharing a web link on social media in this day and age. You can easily copy the content URL and paste it into a post or tweet. Nevertheless, simplifying the process can significantly increase the number of likes and retweets.
You can find dozens of WordPress plugins that make the social sharing experience more pleasant for both users and admins.
Let's have a look at some of the most popular:
Shareaholic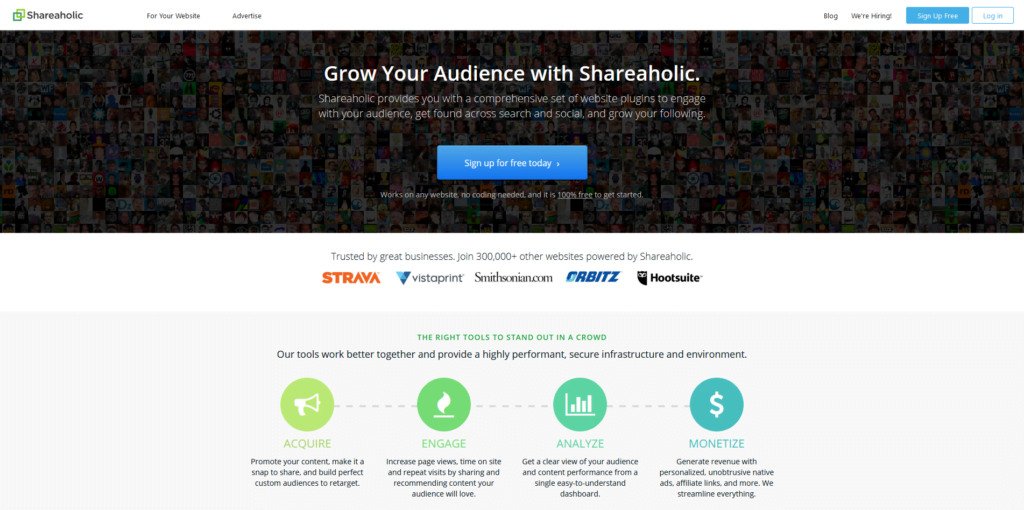 Shareaholic's WP plugin contains a suite of tools promising to help you grow your audience and monetize your website. You can use it for free, but there are also a couple of premium plans (starting from $8 per month) with more advanced features.
When it comes to social media, the plugin's functionality is fairly extensive. You can place a floating sidebar with sharing buttons, reposition it, and change its color scheme.
In the backend, you'll find a total of 80 different buttons to choose from, and rearranging them inside the sidebar is as easy as dragging and dropping them. You also get buttons leading to your website's social media pages and can display a Thank You popup every time someone shares some of your content.
Social Snap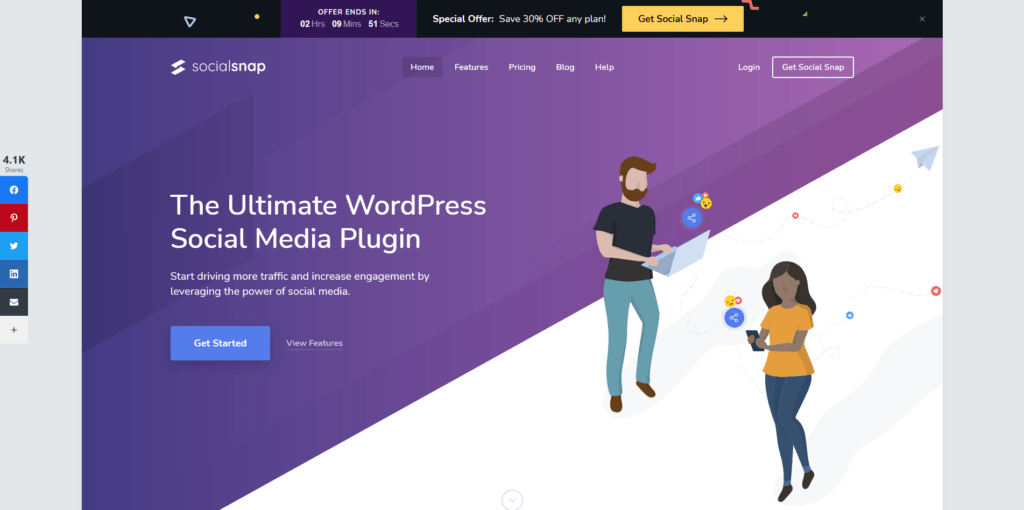 Social Snap is another WordPress plugin that follows a freemium model. A free version of the addon is available in WP's official plugin repository, and you can easily install it directly through the app dashboard.
Social Snap gives you both a floating sidebar and inline social sharing buttons above or below the post. As far as customization is concerned, the options are plentiful even in the free version.
The same can't be said about the available social networks, but if you purchase one of the premium plans (starting at just over $27/year for a single website), you can get over 30 different share buttons as well as share counts.
Sumo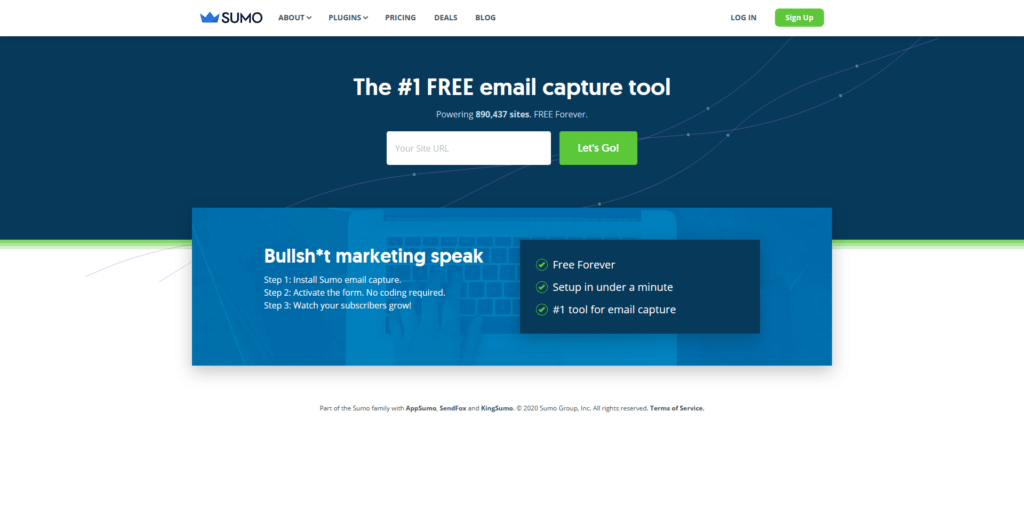 Sumo is yet another suite of marketing tools aimed at people trying to reach a wider audience. Once again, you can use the plugin for free, or you can get a Pro plan (at the cost of $39 per month), which gives you extra functionality.
Even with the free plugin, however, you get quite a few tools you can engage your visitors with. You can create a popup asking users to sign up for your newsletter or place social media follow buttons in a bar at the top or bottom of the page.
Novashare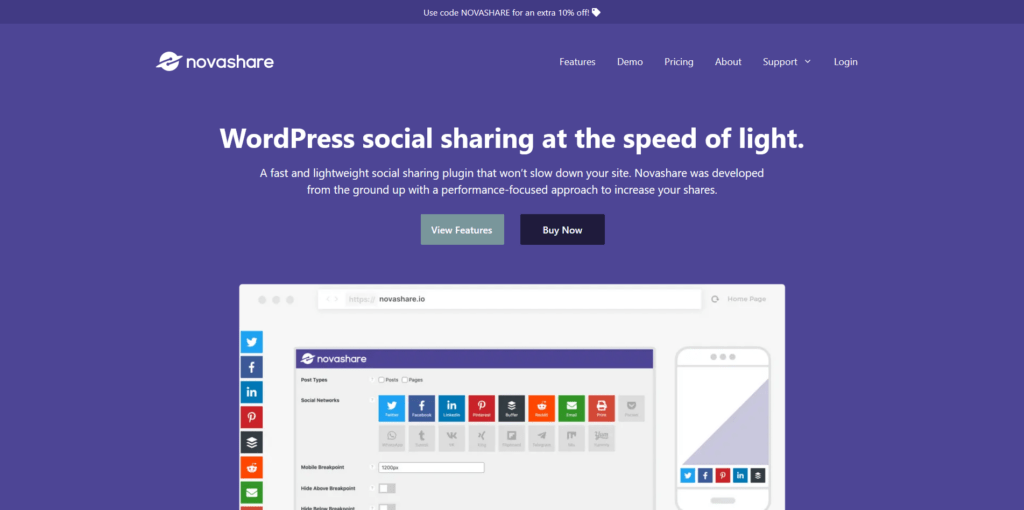 Novashare is the only plugin on our list without a free version.
The license for a single site is $29.95 per year and renews at a 15% discount. The lack of a free option may deter some WP admins, but if you're serious about promoting your content on social networks – Novashare gives you all the tools you need.
You can place social media buttons in sidebars, above and below the posts, on top of images, even in widgets. Tons of customization options let you change the way the buttons look, display share counts, shorten links, and gather detailed analytics data.
All this gives you a better understanding of how your website performs and what you can do to drive more traffic.
AddToAny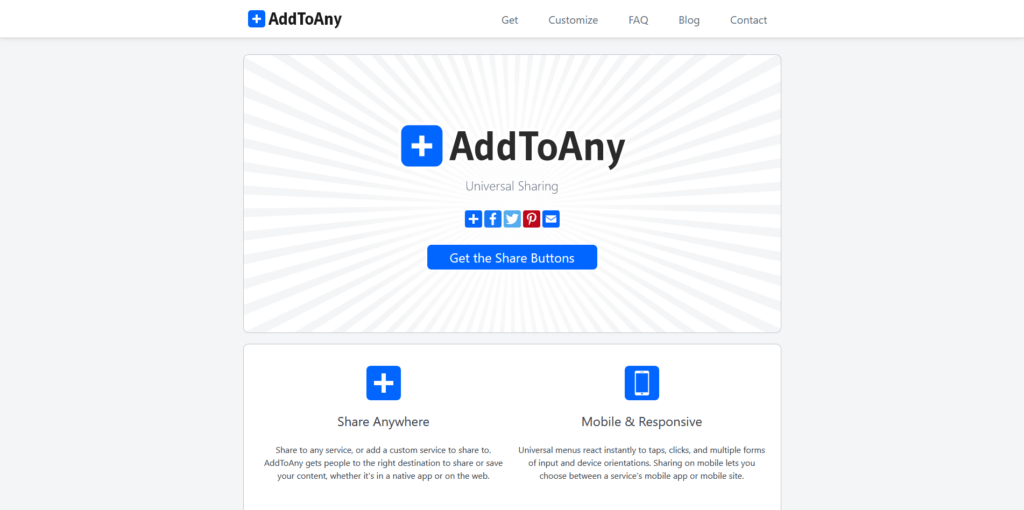 With 500,000+ active installations, AddToAny has to be the most popular social sharing plugin on our list. It's also the only one that doesn't offer a premium option. Despite this, it's unlikely to leave you wanting extra features.
AddToAny has only one purpose – to let you place social media icons on your website. You have more than 90 designs to choose from, and it's up to you to decide how to arrange the widgets. You can put them either in floating sidebars or situate them around your posts.
In terms of customization, you can change the buttons' color scheme or use your own set of icons. If you have some coding skills, you can edit the plugin JavaScript and CSS files.
Revive Old Posts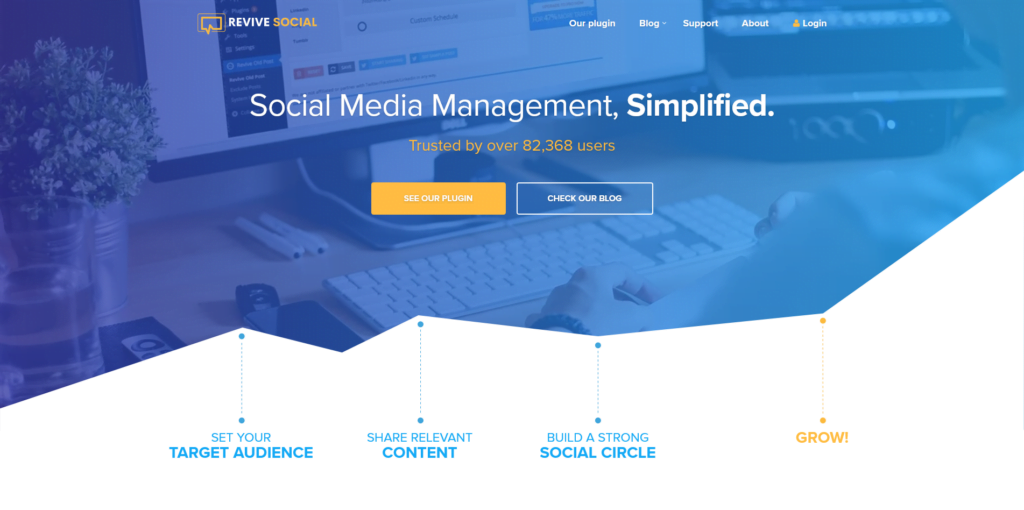 Revive Old Posts doesn't exactly enable users to share your content. Instead, it helps you utilize social media to popularize your website. Revive Old Posts Lite is available in WordPress's official plugin repository, and the premium versions can be purchased from the developer's website.
The price ranges between €75 (just over $90) for a single site and €299 (a little over $360) for unlimited websites. The free version supports only Facebook and Twitter, while the premium ones can share content on other platforms as well.
The plugin lets you reshare old content and get people interested in it once again. That being said, it's a convenient tool for engaging your social media followers, even for new websites.
What you need to do is connect your social network accounts and configure the plugin. It's up to you to decide which of the existing pages will be reposted and when. The add-on sends out tweets and posts on your behalf and can also share new content as soon as you publish it.
Social Warfare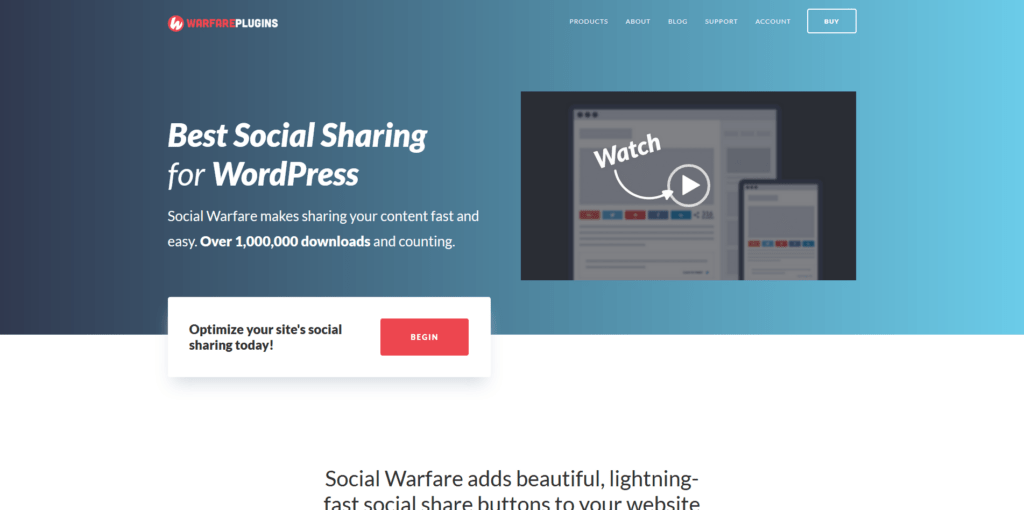 Social Warfare lets you create beautiful social media share buttons that take a prominent place on the page without being intrusive. The free version is available on WordPress.org and has been installed on over 60,000 websites.
Social Warfare Pro gives you, among other things, more styles and customization options. The license for a single site is $29.
The SW backend is extremely user-friendly, and the plugin is pretty much ready to use as soon as you install it. With the free version, you can reposition and rearrange buttons, enable share counts, and connect your social media profiles so that people who share your content can tag you.
How to Choose a Social Media Sharing Plugin
In addition to the plugins we've shown you today, dozens of other tools promise similar functionality. With so many options, picking the best social media plugins can be a bit of a nightmare. Here are some of the factors you may want to consider when making a final decision.
Features
Start with your exact goals and requirements, and shortlist the plugins accordingly. For example, if you only need social media share buttons, you can safely disregard extensions that offer additional features like ad monetization and newsletter subscription popups. Have a good look around, check out the functionality provided by different addons, and decide which ones will be a suitable and lightweight fit.
Design
Simplifying your social media sharing should never happen at the expense of your overall website design. Review the screenshots in detail and make sure the available buttons and options will mesh well with your current visuals. If they are too big or intrusive, you risk ruining the user experience, and that's something you definitely want to avoid.
Ease of use
Setting up а WordPress social sharing plugin shouldn't require any advanced technical skills, but customizing the options can prove more challenging. Almost all popular social media plugins give you tools to change your buttons' design, but you often need a separate set of icons or some coding skills to get the look you're after. At the very least, check if the plugin offers a demo, so you can get a better idea of what you're getting into.
Performance
Putting social media sharing buttons on your website increases the number of requests the server needs to process, and this inevitably leads to slower loading speeds. The plugin developers are well-aware of this and put a lot of effort into minimizing the effects their products have on your site performance. Still, it's a good idea to read some reviews and see how the addon works for other WordPress users.
Cost
You can find both free and premium social media sharing plugins. Naturally, paid ones tend to offer more in the way of features and functionality. You have to consider your individual budget limitations, though. Make sure you're convinced the investment is worthwhile before you fully commit to one tool.
ScalaHosting WordPress Deals
The social media buzz won't be enough to lift your project off the ground if you don't have a stable and secure hosting environment. At ScalaHosting, we are prepared to give you just that.
For more than a decade, we've been helping thousands of WP admins get their projects off the ground. To give them the best possible hosting setup, we have configured our servers for optimal WordPress performance and offer hosting plans specifically designed for the CMS.
The shared plans can be a perfect launchpad for your project, but when it comes to speed and security, you'll need something more powerful. Our managed VPS hosting solutions give you an isolated cloud environment with guaranteed resources, so you won't have to worry about other clients overloading your server.
You can control your hosting account via SPanel – our all-in-one management solution designed specifically for VPS clients. SPanel packs all the tools needed to maintain your virtual server and run your projects.
Among them is SWordPress – a proprietary WordPress installer and manager.
With it, you can not only install WordPress in a matter of seconds but also manage auto-updates, clone installations, change admin passwords, and enable Security Lock – a safety feature that locks your website files and prevents anyone from tampering with them.
Best of all, our managed VPS solutions ensure the blistering speed and robust security at a price very close to that of shared plans.
Conclusion
Quality content can be an enormous growth driver, but only if it's accessible to as many users as possible. Social media can help you popularize it, and, as a WordPress admin, you have access to more than a few plugins that integrate social sharing capabilities into your website.
Hopefully, our list will help you choose the right one.
FAQ
Can I use more than one social media sharing plugin on my website?
In theory, you can, but it's rarely advisable. Utilizing plugins with similar functionalities will just create needless clutter on the page. That is more likely to annoy users than urge them to spread the word about your website around.
Can social media sharing plugins slow down my website?
Every single add-on increases the number of requests the server needs to process, which inevitably affects loading speeds. Still, plugin developers have done a lot to minimize the performance impact, and with a well-written extension, the difference in speed should be barely visible.
How can I get the most out of my social media sharing plugin?
Whichever tool you choose, use the plugin customization options to make it easily visible without being too intrusive. Try not to overstuff the sharing bars and widgets with too many buttons. Add only the social networks your visitors are most likely to use.
ScalaHosting – 7 Best Social Media Sharing Plugins for WordPress
Was this article helpful?