Learn how the BuddyPress plugin helps create a community around your WordPress site and why it's an essential tool for any business serious about sustainable growth.
To build a sustainable anything, you need the right tools. This post introduces the BuddyPress plugin and explores its winning roles in community-driven growth. We will also cover a few of its significant weaknesses that can compromise your WordPress speed and security–and how to fix them, of course.
What is the BuddyPress Plugin?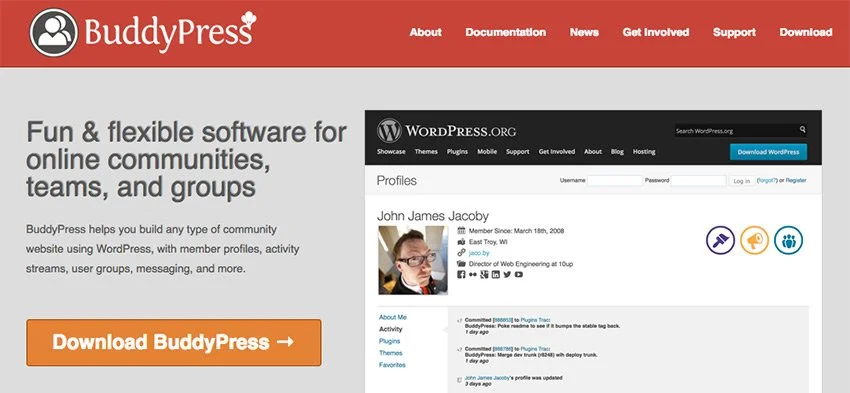 BuddyPress is an open-source WordPress plugin that helps you launch an online community with ease. Site visitors can create Facebook-esque profiles, connect with other users, scroll through activity feeds, send private messages, receive notifications, and even start their own private groups.
By itself, the BuddyPress plugin is all you need to create an online community. Still, numerous accessories can transform your WordPress site from a modest hangout into a real classy joint.
For example, you can jazz up the place with the following elements:
Chatrooms
Forums
Messaging
User groups
Survey tools
And that's just the tip of the iceberg.
Installing BuddyPress is absolutely effortless. From your WordPress dashboard, navigate to Plugins and click on Add New. Search for "BuddyPress" and click the Install Now button. Once the download finishes – you can hit Activate Plugin.
Why do People Use BuddyPress?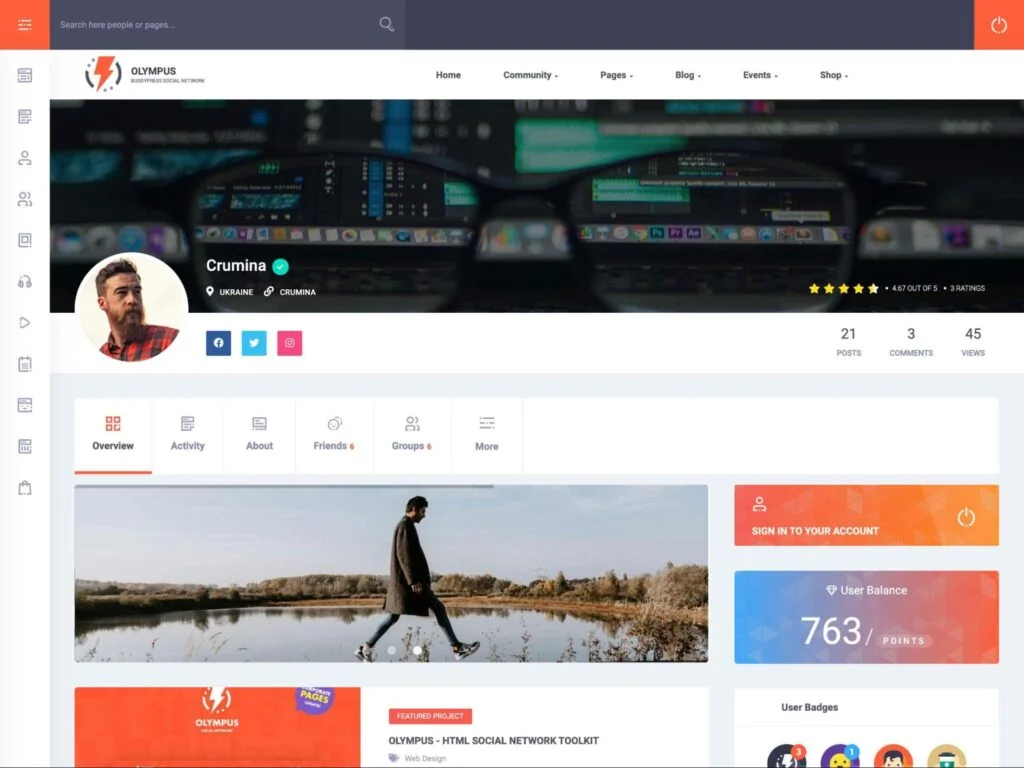 People use the BuddyPress plugin to 'socialize' their WordPress sites. For some, it's enough to simply build an online community. Others seek to develop highly-targeted ecosystems that are perfect for conducting market research, cultivating user-generated content, and adopting a community-driven growth model.
And some people are just tired of political censorship on commercialized social platforms.
Online Community
Online communities create a space for brands, businesses, people, and products to learn and grow with each other. We can share ideas, insights, and inspiration with those who share our interests.
An online community may start as a discussion board and organically evolve into study groups, product development teams, and self-sustaining enterprises.
It's common to see products like online courses and paid memberships emerge from community requests. Or, it may be that these kinds of businesses build an online community around them and benefit from its collective support and guidance.
Market Research
A random sample of the general public may offer some market insight but does nothing to help you understand your target audience. Data collection and research tools can bring you a little closer but still fail to reveal the latest consumer sentiment–you still have to quantify, qualify, and figure out how to use the information.
A community sample is way more convenient. Reviews, feedback, polls, questionnaires, and open dialogue come from people who are actively participating in your product's development.
In other words, you get continuous insight into a highly-targeted audience with its dynamic needs and desires in real-time.
(And you wonder why Facebook monitors your activity…)
User-Generated Content
When people search for solutions online, they often enter phrases or questions into a search engine and scroll down until they stumble upon a suitable result. Businesses base most of their website content around this process, just so people can find them as easily as possible.
But what if community members ask those kinds of questions on your BuddyPress site?
Google likey very much.
And you don't have to fumble around with keyword research or stress over the ambiguity of SEO:
Discussion boards
Reviews and feedback
Newsfeeds
Content engagement
These are a few common examples of where community members can produce a perpetual flow of relevant content.
Community-Led Growth
You can define your community in several ways. Fundamentally, however, it's a bunch of organisms that come together and form a bigger organism. Together, they have more information, functionality, versatility–and ultimately – a better chance to survive.
Community-led growth is a business model that uses online communities to attract new prospects, evolve your brand, and build customer loyalty.
For early-stage startups, community members are like focus groups that give valuable feedback that they can later use to improve their products. Over time, the product becomes the fruit of community contributions, adapting to necessary changes, and implementing new ideas.
As community members realize the magic of participation, they begin to evangelize your product and adopt an immovable loyalty to the brand.
Studies show that customers who feel part of a bigger society are more likely to refer their friends and rarely leave for a competitor. A survey from Forrester indicates that nearly 70% of US adults trust brand or product recommendations from friends and family, and 46% trust consumer-written online reviews. In comparison, just 10% trust ads on websites, and 9% can be influenced by text messages from companies or brands.
The BuddyPress Ecosystem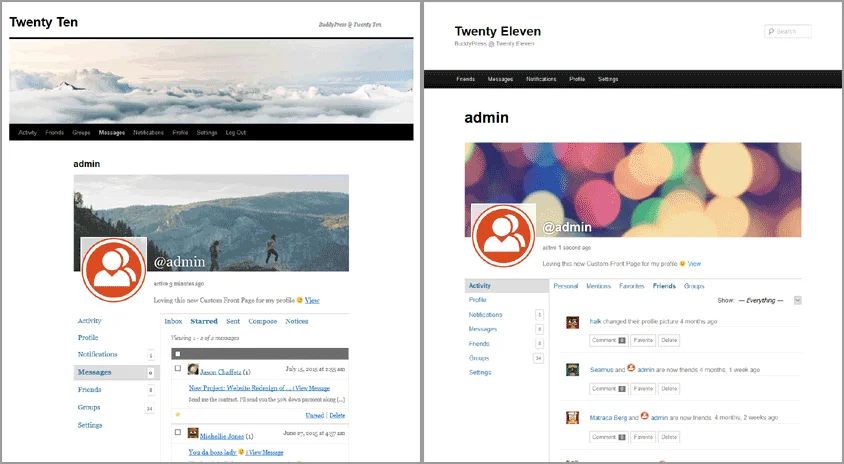 BuddyPress has its own community as well. As you can expect, their forums are full of ongoing conversations – from troubleshooting problems to recommending plugins–all user-generated content that scores relevance points with search engines. There's even a plugins directory where you can find software enhancements explicitly made for BuddyPress.
BuddyPress Support
You can talk to your fellow BuddyPressers about how everything works, find tutorials, and contribute to the plugin ecosystem. For the most part, that's all the support you need.
However, BuddyPress being a free plugin, there is a shortage of in-house professionals waiting around to solve your technical problems.
Fortunately, there are other means of finding technical support. One alternative is to choose a WordPress-savvy hosting service like our managed VPS plans.
BuddyPress Plugins Directory
The WordPress marketplace has hundreds of unique BuddyPress plugins. For example:
bbBuddy is forum software you can use to add custom bulletin boards
CometChat is one of many ways to offer on-site instant messaging
AtomChat is a plugin that provides a customizable chat room
BuddyPress Polls allows you to get precise feedback from your community
You can even create custom plugins that seamlessly integrate with BuddyPress by hiring a developer who is familiar with MySQL and PHP.
When choosing plugins, make sure to choose one that gets regular updates to reduce security risks and glitches in your website.
Drawbacks to Using BuddyPress
Everything with BuddyPress seems great so far. So, what's the catch?
Slower speeds – Websites using BuddyPress score slightly lower for speed than a copy of the same website without the plugin. Remember that the website copy would have to add alternative plugins to achieve the same community features.
More complex – Due to the open-source nature of the BuddyPress plugin, it can be frustrating to get to the bottom of technical issues. In other words, troubleshooting can turn out to be more like crap shooting.
Less secure – Older versions of BuddyPress are more vulnerable to cyber-attacks. The same goes for any accessory plugins that aren't frequently updated.
ScalaHosting and WordPress
At first, the BuddyPress drawbacks seem like dealbreakers. For us – they're just unmet needs. ScalaHosting sees vulnerabilities, slow speeds, and 'tricky coding stuff' as an opportunity.
Don't let anything slow you down
Page loading speed is a crucial metric for any online project–anything over two seconds, and you're losing visitors. But it's not just BuddyPress that's slowing you down. There are dozens of ways to optimize your WordPress site for speed, but many of the adjustments take time and effort.
ScalaHosting starts you off with the right environment for that. We provide the fastest Virtual Private Servers (VPS) with maximum control over the customizations. Even if your BuddyPress site is brimming with plugins – you'll still be measuring your loading time in milliseconds.
WordPress professionals at your service
Our solutions don't stop at speed–we make your life easier as well. Installing and managing WordPress sites is completely effortless with our SWordPress Manager tool. You can set up the BuddyPress plugin in seconds, get automatic updates, and take advantage of our professional WordPress technicians.
SPanel Hosting and SShield Security
You never have to worry about security risks either – SShield monitors your websites in real-time. Should an attack occur – you'll know about it right away. We immediately gather information about the security breach and send you a report about what happened and how to fix the vulnerability to secure your website.
"If you want to go fast, go alone. If you want to go far, go together".
The BuddyPress plugin is perfect for those who want to go the distance and understand the value of working together. If you are also interested in getting the best out of WordPress – get in touch with our operators, and they will gladly answer all your questions.
FAQs
Does BuddyPress slow down your WordPress site?
Technically, yes – WordPress plugins contribute to slower performance. However, that's not your issue. Most of the time, slow loading times result from sharing a server with busy websites or failing to optimize your WordPress settings.
What's the difference between bbPress and BuddyPress?
BuddyPress is a core plugin that provides infrastructure for numerous social networking features on your WordPress site. You can customize BuddyPress like a Mr. Potato Head with extra plugins, including chat rooms, questionnaires, forums, etc. bbPress is one such plugin that adds software for customizable community forums and bulletin boards.
What are BuddyPress group types?
Groups in BuddyPress are gatherings of members, posts, and any other user-generated content. If enabled by the site administrator, any member can create a group in BuddyPress. This person automatically becomes the group administrator when a member makes a group.
Was this article helpful?