WordPress is the world's most popular Content Management System (CMS), but there are many other open-source solutions for ecommerce, social networking, and blogging.
On the other hand, we have custom solutions.
Coding with PHP, Python, Ruby, ASP.NET, and other programming languages is a cornerstone of website and mobile application development.
Most small business publishers and independent developers can benefit from using the free, open-source CMS options like WordPress, but is the app really the right choice for every web project?.

In order to try a demo of the best alternatives to WordPress, navigate to the SPanel in your ScalaHosting account and click on the Softaculous icon. In addition to a library of over 400 open-source scripts, the platform offers easy one-click installation for each of them.
1. What are the best alternatives to WordPress?
There are many other free alternatives to WordPress when it comes to building blogs, ecommerce, and business websites, but none have the same level of developer support popularly.
Drupal and Joomla are two of the closest WordPress competitors with similar functionality and versatility. You can improve your website with various modules and create custom designs with themes.
Blog and ecommerce scripts provide dynamic content displays using a MySQL database to store post information and PHP code for processing web requests. Still, most lack the wider extensibility of a CMS in exchange for their ease of use.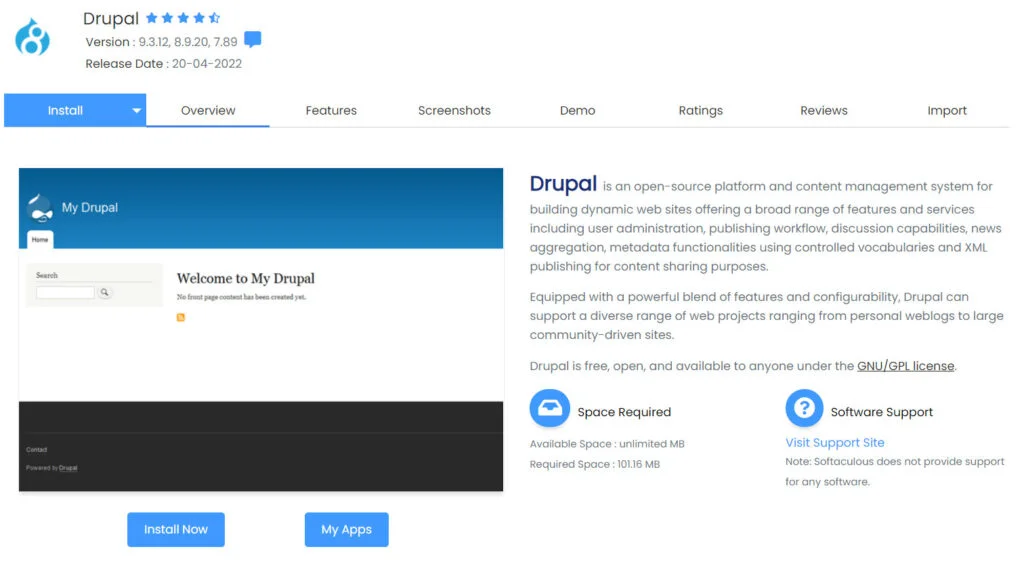 Drupal: "An open-source content management system (CMS) for building dynamic websites."
CMS Platforms
Softaculous offers 56 different CMS options in its ever-growing software library. Some of the advantages of running these scripts as an alternative to WordPress are that they require less processing resources to operate, and many include unique design elements.
Some popular WordPress alternatives in this category are e107, Xoops, GRAV, TYPO3, WinterCMS, Pagekit, ExpressionEngine, OctoberCMS, Pimcore, Mahara, and Sitemagic. You can easily set up these applications on your main domain or any chosen subdomain via the one-click installer.
While WordPress, Joomla, and Drupal are the most popular CMS solutions out there, there are many new open-source projects actively releasing new updates as well. One of the advantages of adopting PHP 8.x solutions is that the code is optimized for quicker runtime and page load speeds on the same web server hardware.
Blog Scripts
The main blog script alternatives provided by Softaculous are SitePad, Dotclear, Serendipity, b2evolution, Textpattern, SitePad, HTMLy, and FlatPress. SitePad is one of the most advanced, with over 80 widgets for text, video, music, maps, forms, etc.
Other options include a diary format of flat-file design. If you do not need ecommerce, LMS, and other specific functionalities, a blog script is a great way to keep things simple. This will allow you to keep your focus on writing and worry less about the technicalities.
Serendipity, b2evolution, and Dotclear have much of the same blog functionality as WordPress in a much more simplified environment. If you are looking for a blog solution that is easier to navigate and use than WordPress – check out a demo of the alternatives in Softaculous.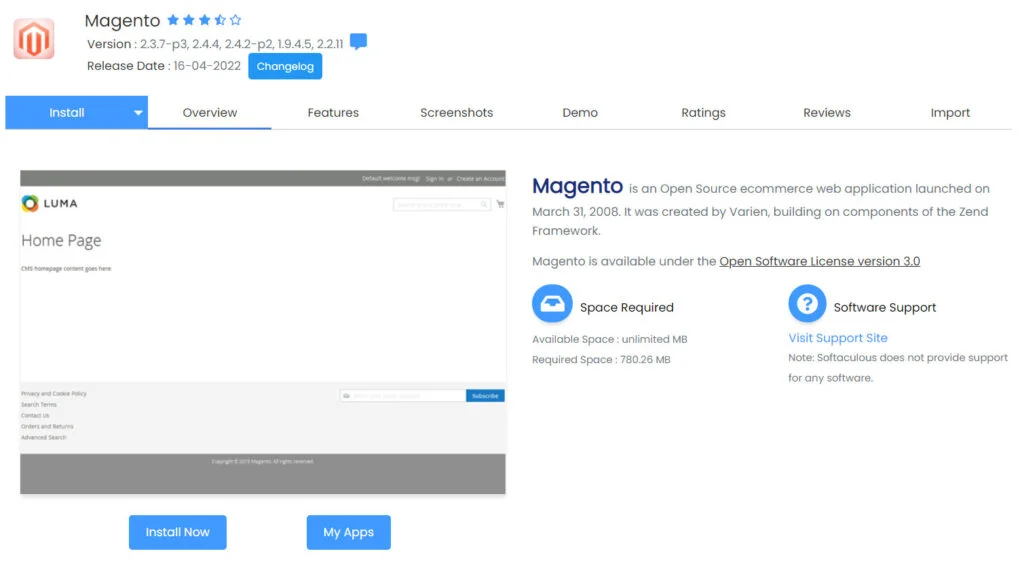 Magento: "An open-source ecommerce web application based on the PHP Zend Framework."
Ecommerce
The Softaculous archive offers 26 different ecommerce and shopping cart scripts that can easily replace WordPress when building an online store. Most users nowadays utilize the WP-based WooCommerce, but scripts like Magento, PrestaShop, CubeCart, ZenCart, OpenCart, and AbanteCart are all viable alternatives. These scripts keep the focus on ecommerce and ecommerce alone.
Out of the above, Magento is the most complete solution with enterprise scalability. Magento has a rather steep learning curve and may be difficult to manage, it has a great set of features targeted to serve large-scale brands. PrestaShop, CubeCart, and ZenCart are good options as well, but mainly for smaller, more independent sellers.
Softaculous also offers one-click installation of WHMCS, Blesta, and ClientExec. These ecommerce systems are widely used in the hosting industry by shop owners and resellers that need a reliable billing system.
2. Which are the best resources from Softaculous?
When it comes to forums, image galleries, wikis, and social networking, there are thousands of competing plugin solutions for WordPress. That's because, for some clients, using a more streamlined script can help them build a website with specific functionalities for a targeted audience.
Depending on the project at hand, Softaculous offers some niche tools like phpBB, MediaWiki, Elgg, ownCloud, MantisBT, and Moodle. Many of these alternatives have years of active development behind the product and have been tested by millions of users globally.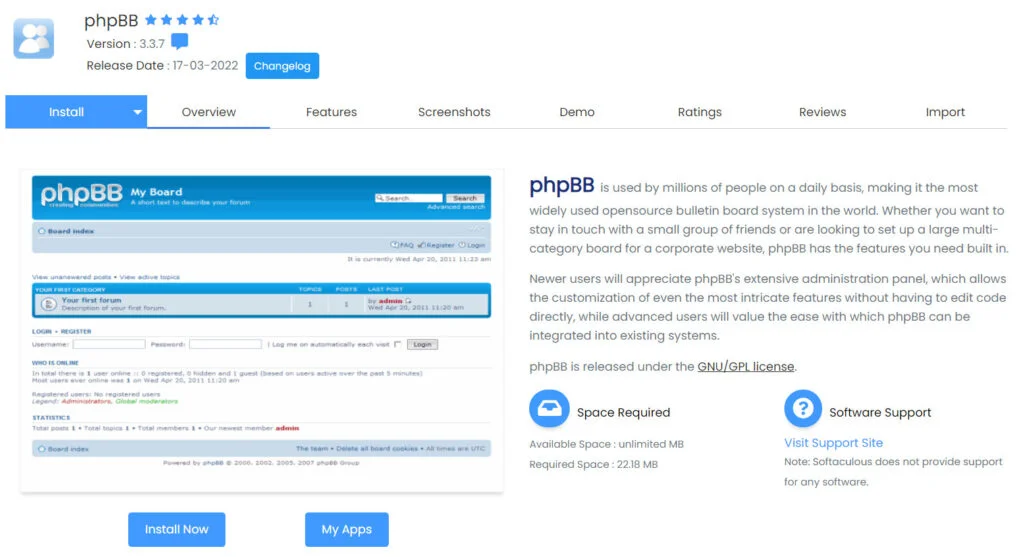 phpBB: "The most widely used open-source bulletin board system (BBS) in the world today."
Forums
The main option for forums with WordPress is the bbPress plugin from Automattic, but there are numerous other options from third-party developers.
The forum alternatives offered by Softaculous include 14 different options like phpBB, SMF, MyBB, Vanilla, Flarum, miniBB, and FUDforum. Although some of these are dated, they are proven popular in community use.
Technical support sites can set up a free forum script on a subdomain with Softaculous. A vBulletin subscription costs around $200, so a free web forum script with all available features of phpBB or bbPress can be valuable. Forums allow niche communities to attract users and grow online. Publishers can use them for advertising to their audience for monetization of content.
Image Galleries
Similar to many open-source forum scripts, there are image gallery solutions that are older than WordPress.
The main Softaculous options here are Gallery, Piwigo, Coppermine, Zenphoto, TinyWebGallery, Lychee, Chevereto Free, and iGalerie. These solutions all work great if you want to distinguish your gallery or portfolio site from the common WordPress-themed solutions.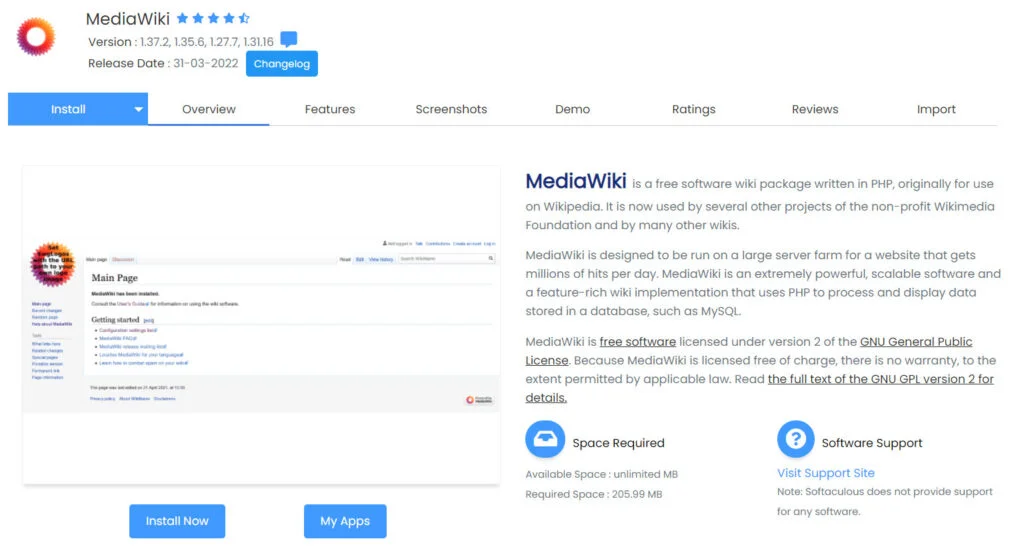 MediaWiki: "A free software wiki package written in PHP, originally for use on Wikipedia."
Wikis
WordPress is rarely the right CMS for a wiki platform due to the complexity of user permissions for editing and its theme design specifics. If you need to make a Wikipedia-like website, Softaculous offers MediaWiki, the most popular script among publishers.
Other suitable alternatives include DokuWiki, PmWiki, and WikkaWiki.
DokuWiki is designed for collaborative documentation projects, whereas PmWiki attempts to follow a traditional CMS site building approach with multi-user editing. Use MediaWiki for a canonical wiki installation and simply follow the markup standards.
Social Networking
The BuddyPress installation profile is one of many social networking distributions of WordPress that are available in the app marketplace.
On the other side of the ring, we have Softaculous and its ten alternatives for building a Facebook-like website – pH7Builder, Dolphin, Jcow, Open Source Social Network, Etano, HumHub, UNA, GNU social, Hubzilla, and Elgg 3.
Web designers can easily use pre-built resources with these social networking scripts and customize them to build a unique site that attracts audiences with fancy looks and functionalities. For niche publishers, the ability to organize content around groups, profiles, and activity streams means that users will likely spend more time on the platform.
Social networking communities allow users to share photos, blogs, videos, status updates, and build profiles that express their values and lifestyle. Such websites can also be integrated with Google & Bing ads for monetization.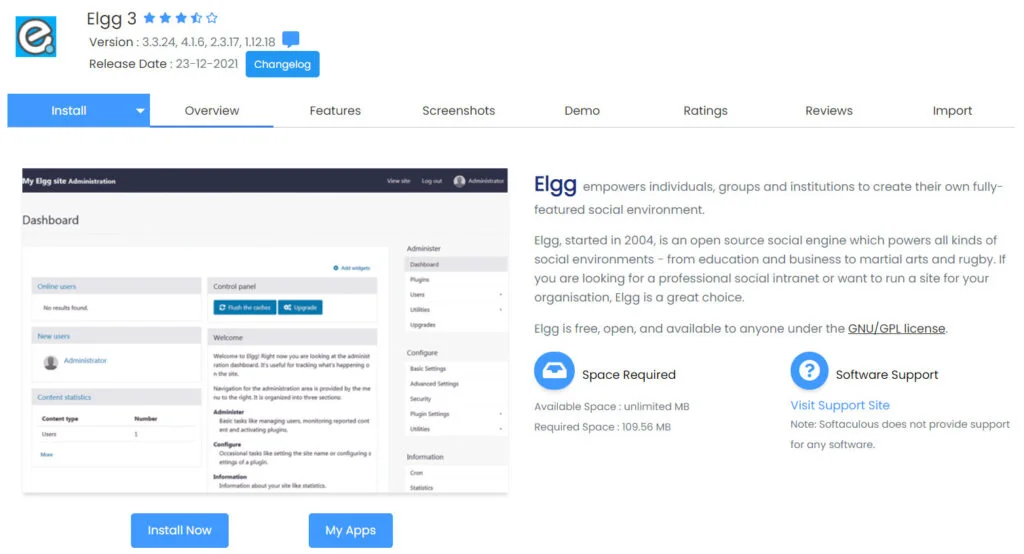 Elgg: "Empowers individuals, groups, and institutions to create their own social environment."
3. What other scripts are available in Softaculous?
Site owners and web developers need to be aware of all of the script resources available in Softaculous before deciding on the best approach for their online project.
File management apps utilize private cloud storage for your shared hosting resources. Calendars, polls, and analytics solutions can add extra value to already developed businesses or help share information between teams in collaboration. It doesn't even end there – CRM apps, classifieds, customer support tools, frameworks – sky is the limit with Softaculous.
Making use of these scripts can be easier, quicker, and simpler to manage than WordPress, especially if you have some previous experience with the chosen app.
File Management
There are 12 different file management applications in the Softaculous archive. The most popular is ownCloud, which allows you to create a cloud storage archive for your files on shared hosting or VPS plans. ProjectSend is similar but focuses on sharing files between team members or business partners.
Other file management script options here are Nextcloud, Pydio, eXtplorer, FileRun, Arfooo, LetoDMS, Monsta FTP, OpenDocMan, SeedDMS, and net2ftp.
Consider the FTP transfer apps as an alternative to Filezilla or the File Manager in your control panel.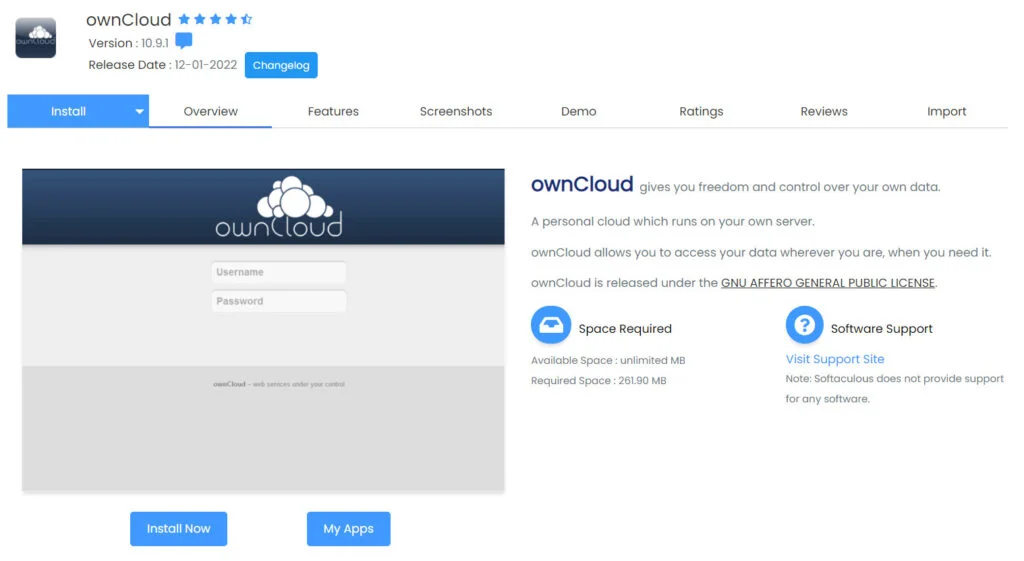 ownCloud: "Gives you the freedom and control of a personal cloud on your own web server."
Calendars
Calendars can be added via a plugin with WordPress and configured to synchronize with Google or Microsoft Teams.
Standalone alternatives provided by Softaculous for free include WebCalendar, Booked, LuxCal, and SuperCali. The main advantage of these solutions is independent operations for team collaboration and a more streamlined workflow.
Polls
Polls in WordPress integrate with the Crowdsignal API or are added through various plugins and form applications.
If you want to set up a quick and easy polling solution for your workplace or community, Softaculous provides LimeSurvey. The framework offers customizable themes, detailed analytics, and MySQL poll storage.
Analytics
The main analytics tools offered by Softaculous are Matomo, Open Web Analytics, Logaholic, and Framadate.
Matomo is a fully-featured, open-source alternative to Google Analytics. You can install it on your hosting server and use it across websites. In comparison, Open Web Analytics (OWA) can give you more insights on the user base.
These tools can also be integrated into WordPress.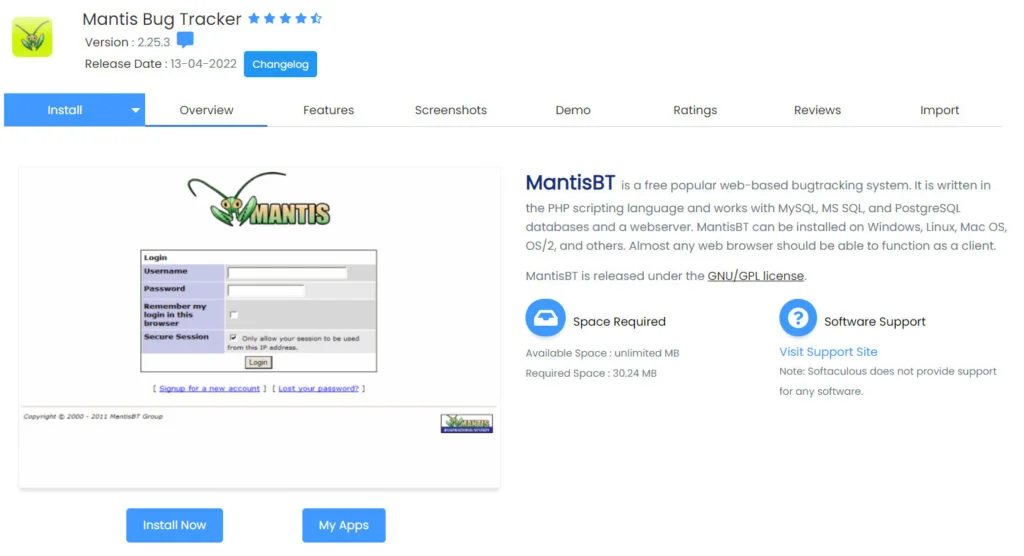 MantisBT: "A free bug tracking system written in PHP with MySQL & PostgreSQL support."
Project Management
Softaculous provides 16 open source solutions for bug tracking, project management, and team collaboration. Mantis Bug Tracker and The Bug Genie can be added to any website as a means to track issues, errors, and fixes.
Alternatively, Kanboard, SOPlanning, ProjeQtOr, phpCollab, ZenTao, and WebCollab allow you to create work assignments and kanban boards for project management.
Customer Support
Open-source customer support solutions are easy to install on a Linux server and include everything a business needs for ticket management and customer communications in one package. The use of apps like osTicket, Faveo Helpdesk, Vision Helpdesk, and OpenSupports can often be more efficient than WordPress when client assistance is your primary goal. Softaculous also offers chat communication options.
Educational
Learning Management Systems (LMS) are essential for education websites and allow schools to build remote classroom environments for students. The leader in this sector is Moodle, but Softaculous also flaunts other excellent tools like Chamilo, TCExam, Omeka, Gibbon, Forma LMS, ILIAS, Xerte Online Toolkits, and Savsoft Quiz that can be easier for teachers to use than WordPress.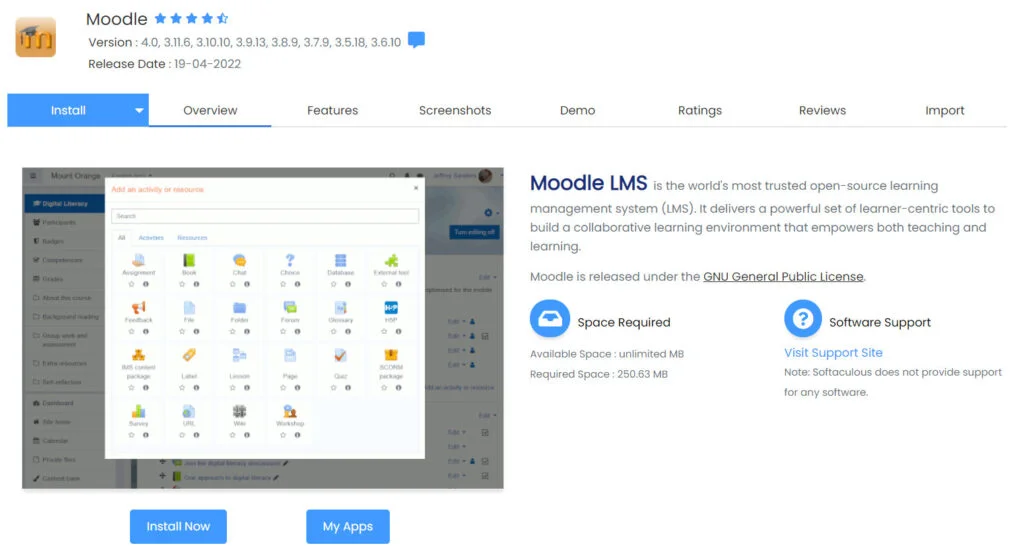 Moodle LMS: "The world's most trusted open-source learning management system (LMS)."
4. Programming & Custom Applications
The 400+ WordPress alternatives in Softaculous allow programmers to speed up project development by using mature open-source tools. But a growing number of businesses have switched to employing programming teams to focus on building new software solutions with custom code as well. This allows companies to modify their applications and control user data with remote hosting and storage on their VPS or dedicated server plans.
The most popular options for custom programming of web/mobile applications are PHP, Python, JavaScript, Ruby, and ASP.NET. Apart from the latter, such projects can all be hosted on a Linux-based server. More and more business organizations operate with mobile native code as well, so building support for multiple devices and displays is essential.
Custom-coded applications allow you to introduce unique new features and functionalities to apps before your competitors. While WordPress is also known to be incredibly flexible, you are still bound to the limits of your chosen theme and add-ons.
5. Conclusion
One advantage of a ScalaHosting VPS plan is that you can easily configure the web server environment to support the programming requirements of any project. You can use one of the hundreds of free apps in Softaculous for wider project and business support or simply go with the most popular choice and install WordPress
You can consider a WP alternative in any of the following cases:
Wikis
Forums
Polling applications
Customer support
Live chat communications
Ticket management
Platform analytics
Social networking
Blog publishing
Image gallery
File-sharing tools
These solutions will help you optimize the efficiency of any project and can be used by professional web developers as alternatives to WordPress.
Was this article helpful?