If you need an easy way to design your WordPress site layout, a page builder might just be the thing for you. These tools are often simple to use and require no coding knowledge at all. It is entirely possible for your first website to get a professional design by simply making use of pre-built features.
Let's take a deeper dive into the world of WordPress page builders.
What is a Drag and Drop Page Builder for WordPress?
WordPress is a Content Management System (CMS) – a web application designed for building and managing websites. Although it's relatively easy to use, its main purpose never was quick site design.
That's where drag and drop page builders come in handy.
Page builders are add-on utilities that help you easily create custom page designs and layouts for your site. The solutions are simple and offer all basic functionalities to build a website and publish it online.
How it Works?
Web pages are made up of programming code. Every image that's added, every outline drawn, or line of text that's formatted – they are all a product of some underlying string of numbers, letters, and symbols.
Enter the world of WordPress page builders, where all coding is done for you in advance. Since many site elements are typically reused, page building platforms take advantage of this and work with ready-made building blocks.
It's a bit like playing with Lego – working with a grid-style layout, you can move elements into place, rearrange them, and customize the end result.
Top WordPress Page Builders
Thanks to a thriving WordPress ecosystem there are tons of drag and drop page builders to choose from. Some are free while others are commercial. What they all offer is a chance to easily create custom page designs.
Here are some of the top drag and drop page builders available for WordPress.
Elementor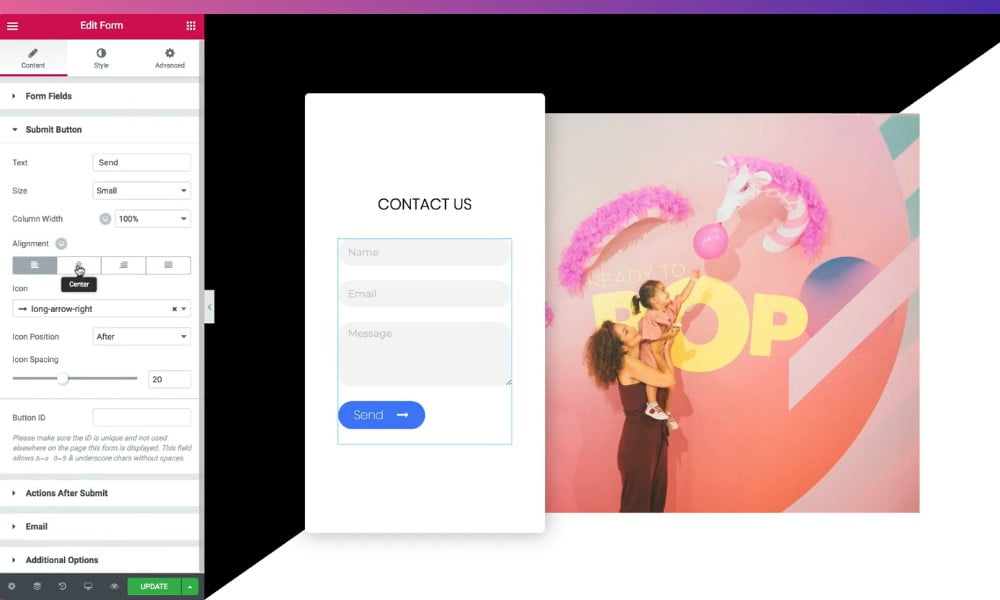 Currently one of the biggest names in WordPress page builders, Elementor offers a truly classic drag and drop experience. One of its most notable benefits is the extensive suite of functionalities that come with the tool.
From basic building blocks to advanced widgets – Elementor can take your page building experience to the next level. Should you need a bit of design inspiration, you will surely love the extensive variety of existing templates.
Aside from its in-built features, Elementor also allows users to integrate other apps for even more options. For example, you can connect to the MailChimp email marketing service or support a helpful chatbot.
While Elementor gives you very granular control, this may be a bit much for new users to handle. The builder has a slight learning curve to it, something that absolute beginners might not enjoy that much.
Visual Composer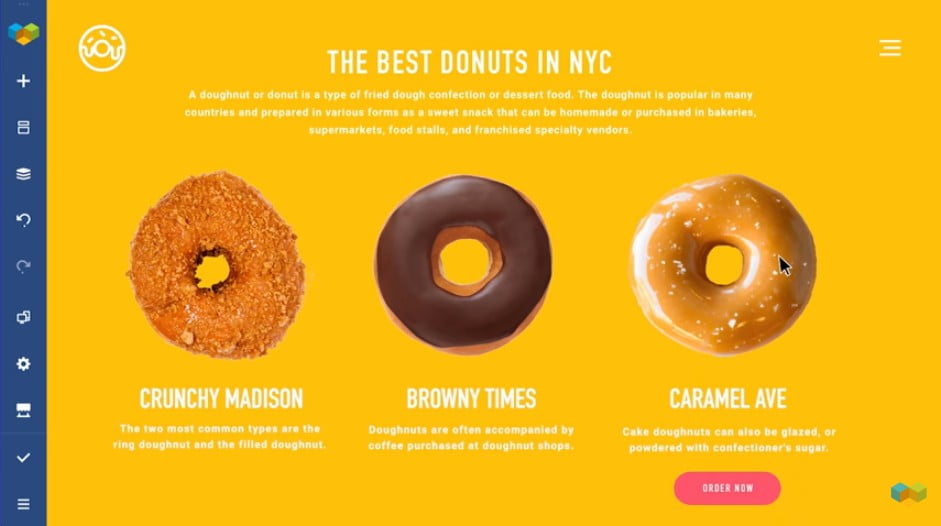 Working with Visual Composer is a true WYSIWYG experience. As with other page builders, this tool lets you work with existing building blocks and drag them into the desired space. These are called "elements" and the free version gives you access to 30 of them.
If you need more choices, opting for a licensed version will give you access to over 200 elements plus a much larger pool of templates to start with. You can build individual pages with Visual Composer but you can also develop entire theme sets for repeated use.
Because of this flexibility, Visual Composer can be used by individuals as well as website designers or agencies. The audience isn't restricted – everyone can take advantage and take their page building to the next level.
SeedProd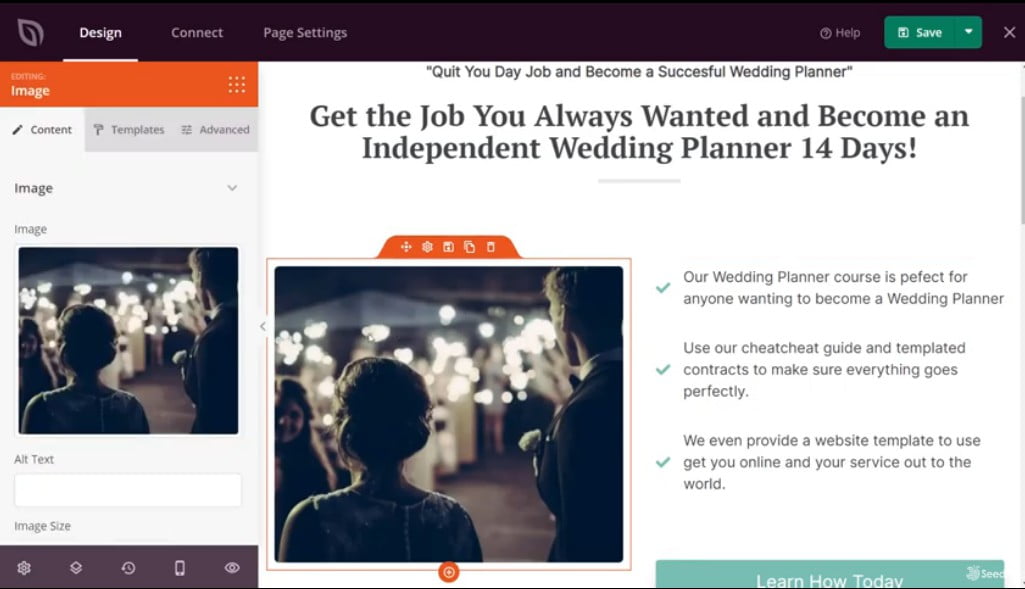 SeedProd is really big on reusability, more so than the average page builder. Aside from the handy building block system, this platform allows you to create customized blocks you can use on other pages and projects.
For those who know how difficult it is to keep track of longer page designs, SeedProd also offers a handy layout organizer. This lets you move entire sections around simply by dragging them on a navigation sidebar.
SeedProd also has a lot of powerful add-ons that can enhance page features. Some of these include forms, social plugins, timers, buttons, and loads more. The page builder can act as a standalone tool or be paired with an existing WordPress theme or plugin.
One of the most attractive selling points for Seedprod is its performance. Unlike similar plugins which may end up causing sluggish WordPress behavior, SeedProd was built with speed in mind.
Beaver Builder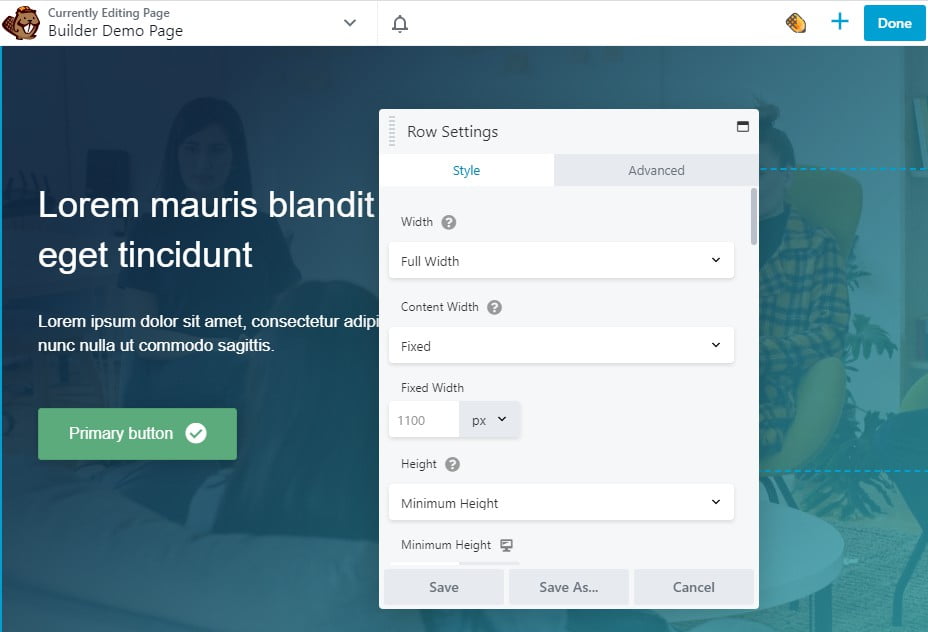 Beaver Builder thrives on usability and smooth UX. It is one of the easiest page builders in the market that offers a degree of control over your page layout.
Similar to other page builders, you can work with building blocks to quickly create attractive page designs. The existing modules are flexible enough to help you add almost any feature to your site with just a few clicks.
The overall user experience with this editor feels as smooth and familiar as using Microsoft Word. If you need help, Beaver Builder offers a great guidance system and excellent templates for the visual outlook of your website.
Divi Builder
Divi Builder takes versatility as its guiding light and gives users plenty of choices while maintaining ease of use. The page builder comes in reasonably large font and building blocks while not being overly clunky.
This is yet another example of an excellent web page builder, but Divi does have its own unique advantages as well. Instead of working with fixed grid layouts, Divi allows you to make slight changes to the editor itself.
For example, you can choose to work with a fixed layout or in a more modern style with floating boxes. While this isn't exactly ground-breaking, it opens up more choices for users who may prefer certain styles of layout.
With Divi, you get access to around 40-odd building blocks that can be moved, rearranged, and customized. It's a true WYSIWYG experience that helps you design individual pages or create entire themes for future use.
Themify Builder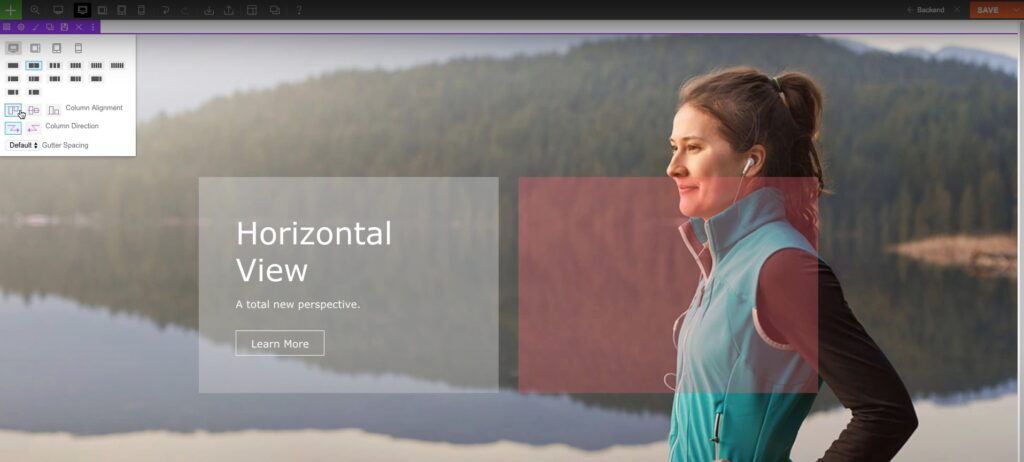 Themify Builder is a true drag and drop page builder in every sense of the word. At its core, it is simply a plugin that works with any theme in the WordPress repository. This makes it one of the most flexible visual page builders in the market.
Unlike many of its competitors, Themify is free for use. Pricing only comes into play if you want to utilize one of the themes designed by Themify.
The builder also comes with a wide range of add-ons but these extras have to be purchased separately. Still, you can get them all for a bundle price and increase your site's feature set with Themify immensely.
Thrive Architect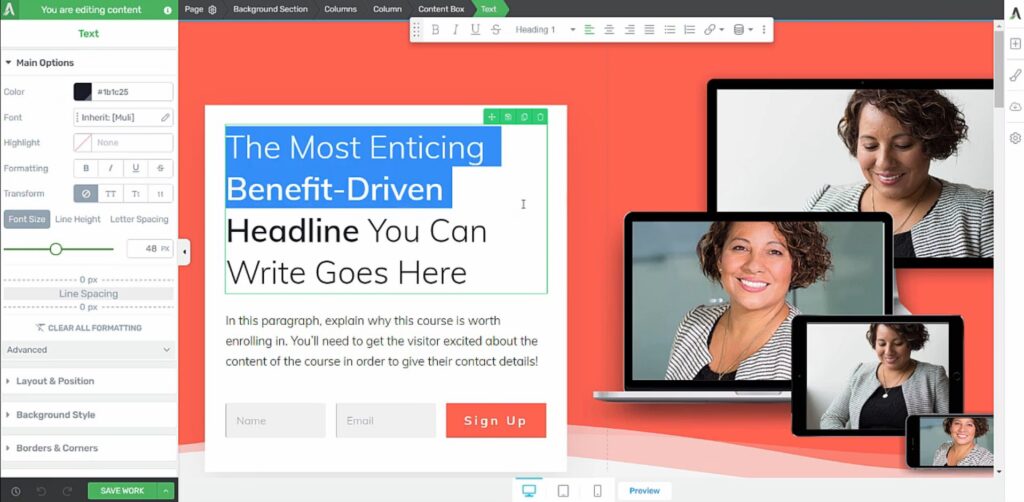 Unlike some drag and drop editors that work in an independent environment, Thrive architect integrates directly into your WordPress pages. This means you can edit your pages on the fly and create a highly customized look and feel for every single page of your website.
A big part of Thrive's appeal is its massive library of existing page templates – over 300 themes at last count. The selection of building blocks is extensive enough and includes buttons, timers, forms, and more.
If you take some time to browse through the Thrive repository you'll find many of their templates cater to a particular niche. This makes it especially easy for small businesses to find a suitable theme and quickly establish their web presence.
Page Builder by SiteOrigin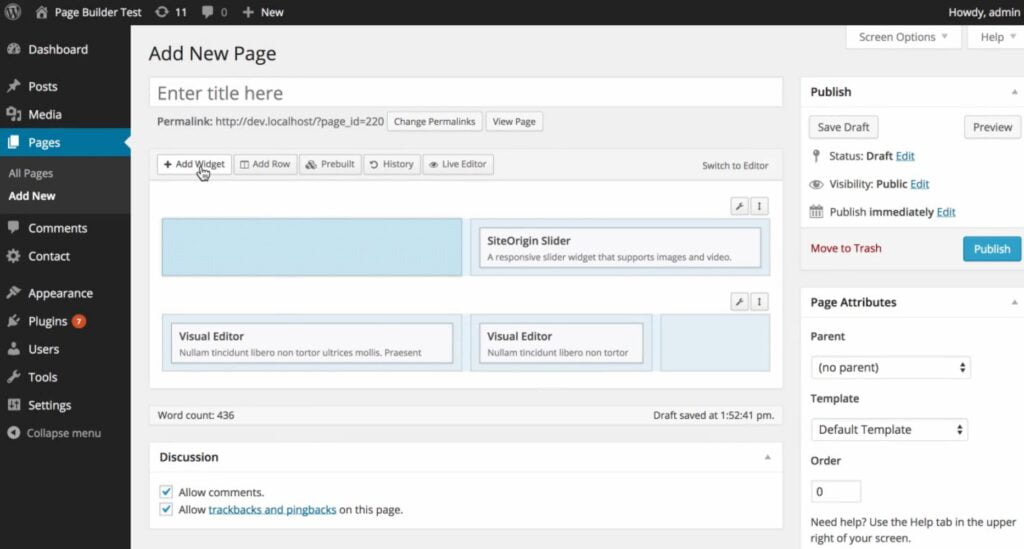 Page Builder by SiteOrigin isn't the most attractive page builder in the market at first glance. In fact, if it was pre-installed as part of your WordPress package you might not even realize its presence.
The reason is that it integrates so tightly with the CMS even the building blocks are actually done in the style of WP widgets.
For those who are already used to WordPress, this page builder is a potentially fantastic choice as it won't interfere with your current configuration. Still, the complexity level is a bit higher since it doesn't come with much of the bling of modern page builders.
Page Builder Live Composer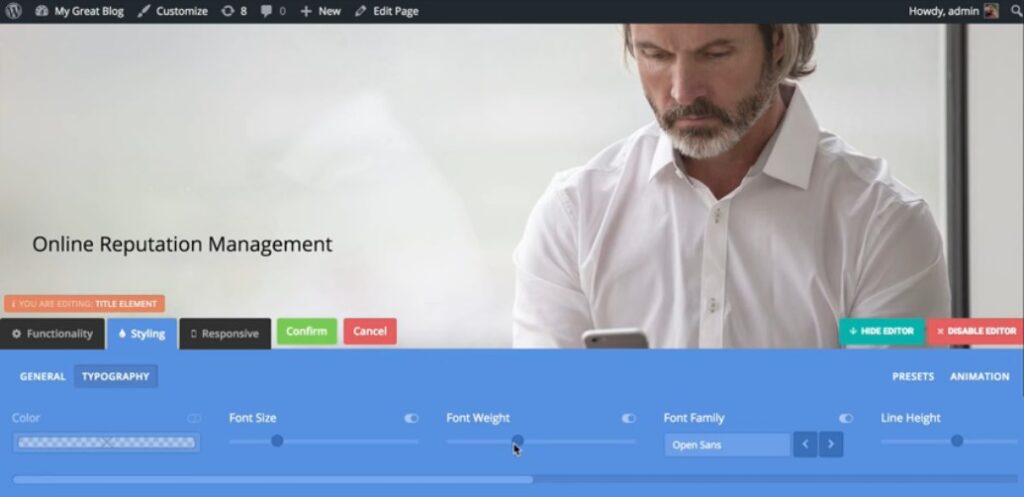 Despite being released back in 2014, Live Composer has undergone enough changes to keep it relevant in today's day and age. It is still one of the more clean-cut page builders in the market, with a close and friendly community to help you along the way.
It features an intuitive drag and drop page design editor that allows you to build responsive sites easily. It's also relatively lightweight since all you get is 2 themes to start with and a handful of building blocks.
Overall, Live Composer is the epitome of simplicity. Many new functionalities can be added with zero effort, like support for WooCommerce, for example. Still, those often come as separate purchasable options.
Ultimate Blocks
If you are struggling to create highly readable and compelling content, which is simultaneously SEO and conversion-friendly, you must try the Ultimate Blocks plugin. It's a great Gutenberg Blocks plugin with tons of 5-star ratings.
The plugin helps you create and present content on your website in such a way it looks like a piece of cake. Some of its exciting blocks are rating, review, button, call-to-action, feature box, countdown, and testimonial, by which you can seamlessly craft conversion-worthy content.
Other blocks like content toggle, progress bar, howto schema, styled list, tabbed content, and number box can increase content readability. Ultimate Blocks is very lightweight. It will never slow down your website. You can easily optimize your content for all devices using it.
Plus, if you want to customize the colors, fonts, layout, and alignment of your content, you'll also find them in this plugin.
Page Builders and Common Hosting Issues
Page builds are generally quite flexible and rarely cause hosting problems. Potentially, the biggest issue might come from the additional resource consumption of the actual platform.
After all, these are add-ons you install on top of WordPress, which already consumes a fair bit of server power. Site builders often utilize extra CSS and other scripts that will increase the load on your machine even more.
Ideally, try to test your site performance pre and post installation. If the overhead is too heavy – you might like to consider an alternative.
Although rare, there might be occasional conflicts between your chosen page builder and your hosting plan. Double-check if your host supports everything needed for the smooth running of Windows and its page builder plugins.
How to Resolve Issues
In scenarios where your hosting can't handle your website, consider upgrading your plan. ScalaHosting offers powerful Managed Cloud VPS packages that are more than capable of handling both WordPress and its associated add-ons.
Conclusion
With such a wide range of drag and drop site builders, you can easily get lost in a sea of information. Ideally, choose a web page building tool that fits not just the type of site that you want to run, but also your customization requirements.
Great WordPress choices are there for the taking…
Frequently Asked Questions
Can you drag and drop in WordPress?
Although sort of modular, WordPress doesn't traditionally support drag and drop page layouts. Still, times are changing and the Gutenberg project is WP's attempt to make the CMS even more user-friendly and flexible.
Are web page builders easy to use?
Some web page builders are quite effortless to master. Still, as with anything else, once you add more features, things tend to become more complex. This is unavoidable even in the best-case scenarios, but site builders still have some of the lowest learning curves.
Can drag and drop builders work for mobile layouts?
Most drag and drop website builders are well-optimized for smartphones. The main difference is whether they achieve that by building responsive pages or separate versions for mobile and desktop sites.
How much does a WordPress page builder cost?
There are many free web page builders you can find to use with WordPress. However, you will generally find that most come with basic functions only and require an upgrade or license to access complete functionality. Prices for such licensing may vary.
Was this article helpful?