How to backup my WordPress site?
Data protection is as important as the security protection for your WordPress web site. Noone will be happy to lose the data of their blog or business web site. That's why web site owners must ensure they have proper processes in place to perform regular backups. Those backups will be useful in case of a web site compromise, a server failure or just a human error. Keep in mind that even if you use the best WordPress hosting plan it can't guarantee 100% data protection. That's why it is highly recommended to create your own archives and store them on your computer or a remote backup server. Scala Hosting provides encrypted backups stored on remote backup servers. We keep 7 restore points but still it is a good idea to have your own backups. That will give you a piece of mind in case the worst happens.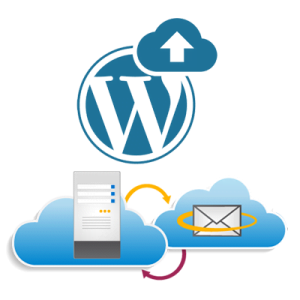 Why do we need backups?
We usually need to use the archives of our data in the following cases.
Web site compromise
Data loss due to failed hard drives on the server
Corrupt file system of the server
Failed software update
Human error
In many of the cases it is possible for some time to pass before we understand we need a backup. That's why we recommend to keep more than one archive of the data (WordPress database and files). Ideally, you must have multiple daily backups and a monthly backup. Scala Hosting keeps 7 restore points for the last 7 days. That covers both the daily and the weekly backups. We recommend for you to generate one backup on monthly basis and keep it on your computer in case the worst happens. Not that we ever had such an issue but it may happen. Nobody knows. It's just a good practice to do monthly backups yourself.
How do we generate the backup?
That depends on what we hosting provider you are using. If you are hosting your WordPress web site on a Scala Hosting server everything becomes so easy. How you will generate the backup depends on where you want to store it.
You will need to login to cPanel, click on Backups -> Generate a full backup and choose to store the backup in the home directory of your account.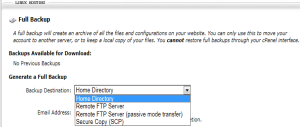 You can also enter your e-mail address to get a notification once the archive is ready for download. Login to your account with your favorite ftp client and download it. After that do not forget to remove the archive from the server so that it doesn't take space.
If you want to have the backup automatically uploaded to a remote ftp server after it is generated choose the option Remote FTP server from the menu. The archive will still be saved in your account's home directory ready for download.
It's a good practice to keep the old monthly backup until the new one is generated. Or if you have enough disk space on your computer it will not hurt to keep even 2 of the monthly backups. You never know when you would need an older copy.
Using a WordPress backup plugin
You can also use a plugin such as the BackUpWordPress one. It has many features you can use to backup your WordPress web site. Note that the plugin will save the data locally only. If you want it to upload the backups to a remote server you would need the BackUpWordPress Pro plugin. You can configure it to generate the backups automatically, send you notifications and many others.
Final thoughts and recommendations
Follow the backup steps below to ensure you have the proper procedures in place to guarantee your data safety.
Use a WordPress hosting plan optimized for WP.
Ensure your server is running at least RAID1 but preferably RAID10 .
Learn about the disaster recovery plan of your hosting provider. Make sure such a plan exists.
Check with your web hosting company what backups they take of your account and how often. How many restore points do they keep?
Do your own backups. At least once per month.
Perform regular audits of your backups to ensure they are healthy and 100% complete.