Building a WordPress website you have thousands of add-ons that can enrich your design and functionality. Today, we are taking a look at the most popular and best-regarded plugins on the market. As the ScalaHosting Team deals with WordPress on a daily basis, we have also based this list on our personal experiences.
Before we show you the Best WordPress Plugins of 2023, let us first see what makes such add-ons so important.
Why are WordPress plugins so important?
WordPress was launched in 2003 and quickly established itself as the most popular content management system (CMS) on the market. Part of its popularity is due to the notoriously easy-to-use interface and limitless customization options.
The vast community is another reason that keeps WordPress going strong for almost two decades. It is an open-source project, so devoted fans and contributors actively help in developing new themes and plugins that allow us all to build a truly unique website.
To date, there are just under 60,000 plugins in the official WordPress repository, with new ones popping up every other week. But which are the most efficient? Are they lightweight or secure enough? Which are the crowd favorites?
Let's have a look:
Top 15 WordPress plugins of 2023
With thousands of plugins promising to improve your WordPress website in many different ways, it's difficult to choose a select few. Still, we tried to compile a shortlist with the most popular and top-rated WP add-ons according to exiting users and our own tests. We tried to be versatile with the list and included plugins from different categories and functionality types.
1. WP Rocket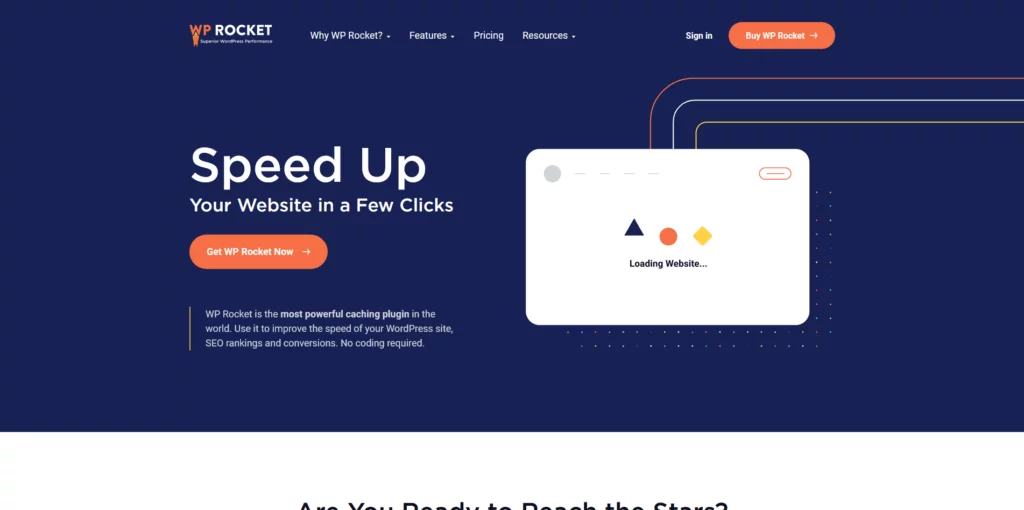 WP Rocket is not the cheapest caching plugin alternative, but it's certainly one of the most feature-packed.
What sets the plugin apart from similar solutions is that it improves the speed of your website even in its default configuration. Tests prove that WP Rocket significantly reduces loading times the moment it's activated.
Browsing through the menus, you will quickly notice that the tool does much more than simple content caching.
WP Rocket can minify HTML/CSS code and defer JavaScript execution out-the-box. Advanced preloading features and lazy loading for images and videos are other great options to boost your website speed.The best thing about WP Rocket is the intuitive control panel that can be directly integrated into the WordPress dashboard.
2. Smush Image Compression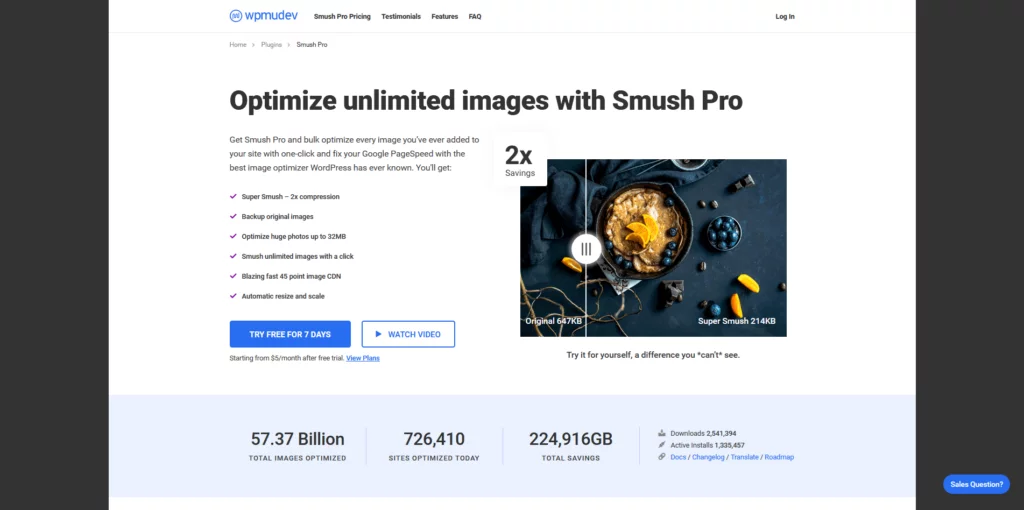 The Smush Image Compression plugin is one of the best choices when it comes to image optimization.
Like WP Rocket, Smush can enable lazy loading on your website, which means that images situated in the lower section of the page won't preload until the user scrolls down.
But that's just scratching the surface.
Smush can detect the exact images that slow down your website and strip them of any unnecessary data. This reduces the image file size, and so visuals can load faster as a result.
Working with all popular image formats, Smush can optimize up to 50 files with one click and even works with pictures that are not in your media library. Most importantly – it does it without any loss of quality.
Smush has racked up over 1 million active installations and has won Torque's Plugin Madness 2018 competition, a sure testament of its effectiveness.
Developed by WPMU DEV, Smush has a Free and a Pro version. The latter comes with a few extra features and starts from around $7.50/mo.
3. Akismet Spam Protection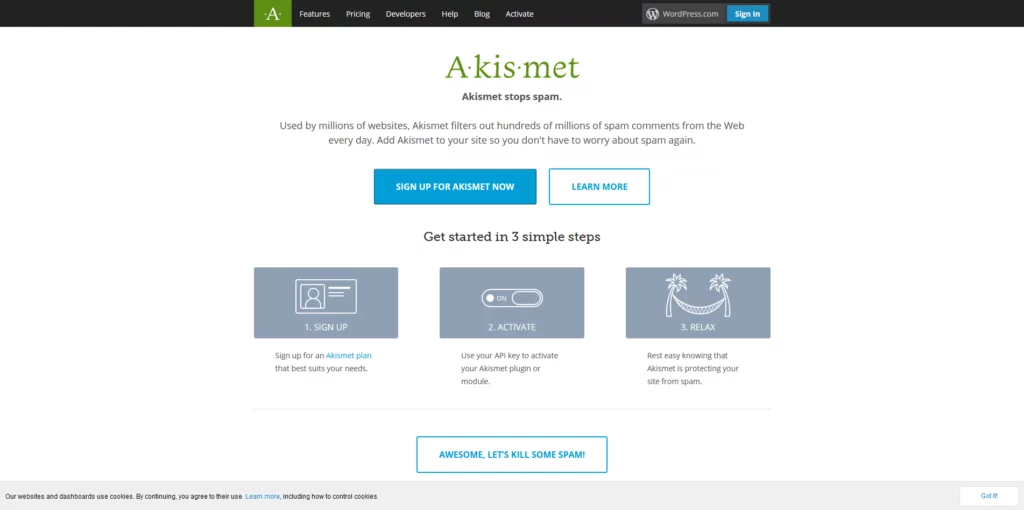 The Akismet Spam Protection plugin comes pre-installed with every new WordPress website. It checks all user comments on your website and prevents the ones that look like spam.
The potentially malicious comments are easy to view and track through the WordPress dashboard, and the plugin also displays the associated URLs so website administrators can spot fishy links. Akismet can discard spammy comments automatically, which saves you disk space and improves your overall site performance.
To activate the plugin, you need an Akismet account and an API key. For personal blogs and websites, Akismet Spam Protection is free, and commercial packages start at just over $7.50 per month.
4. Jetpack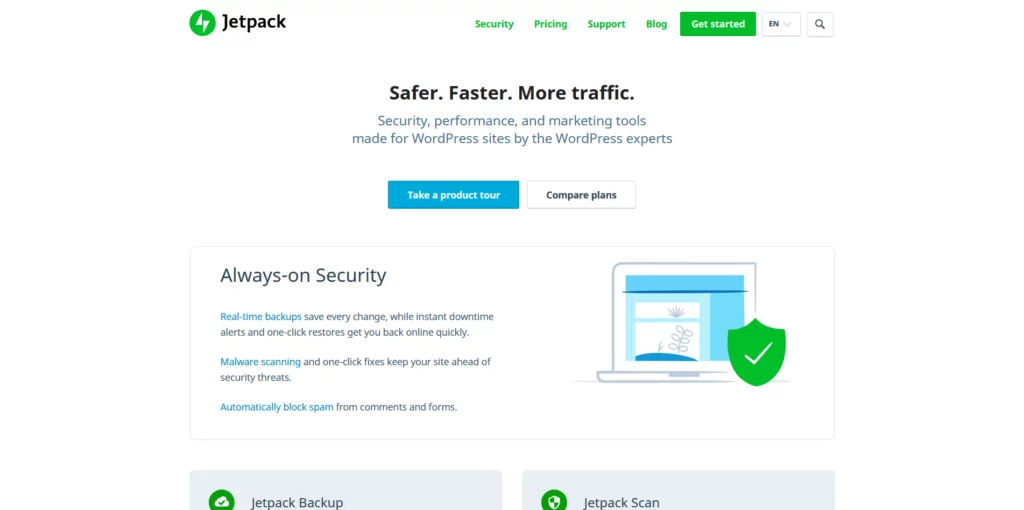 Jetpack by Automattic promises to help you improve your website in three crucial aspects – security, speed, and Search Engine Optimization. With more than 5 million active installations to date, Jetpack seems to be doing something right.
It's packed full of extremely useful features, including a downtime monitoring tool that alerts you if your website becomes inaccessible. It can also send notifications if someone is trying to brute-force their way into your website.
Jetpack has its own spam filtering capabilities, and premium packages even offer powerful backup utilities. Regardless of the deal, every user gets a free CDN service for better availability and site performance.
The regular prices of Jetpack's paid plans start at around $10/mo and could go as high as $96/mo. That being said, first-time customers can take advantage of some hefty discounts.
5. UpdraftPlus Backup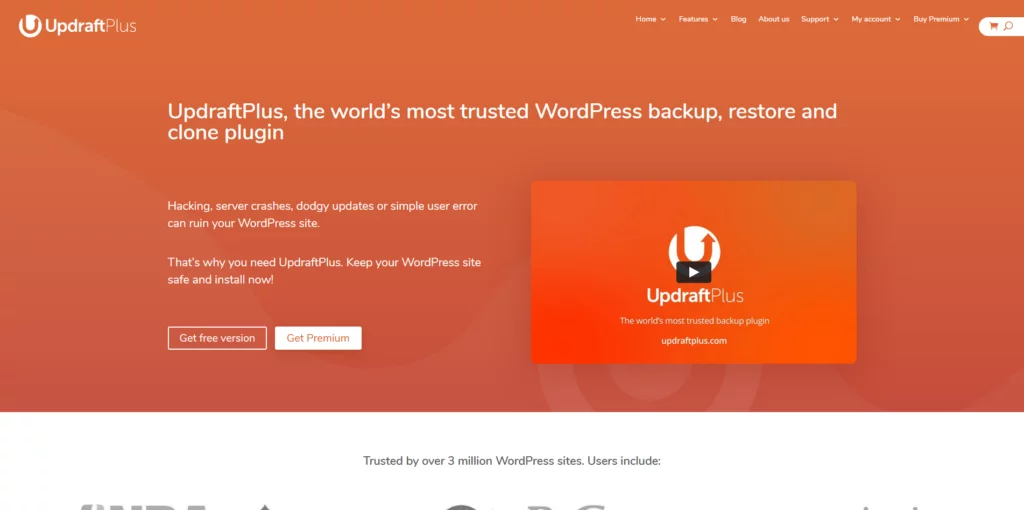 UpdraftPlus Backup advertises itself as "the world's most trusted backup plugin for WordPress." With over 3 million active installations and predominantly positive reviews, this claim doesn't seem to be that far-fetched.
UpdraftPlus can back up your entire website and send it to a cloud platform or an email address of your choice. Unlike similar plugins, it can also restore the entire site whenever needed.
Thanks to the scheduled backups feature, UpdraftPlus is pretty much a set-and-forget plugin.
The free version can upload backups to popular cloud storage platforms like Dropbox and Google Drive. UpdraftPlus premium plans start from $70 per year and offer a number of additional backup destinations and extra features.
6. WooCommerce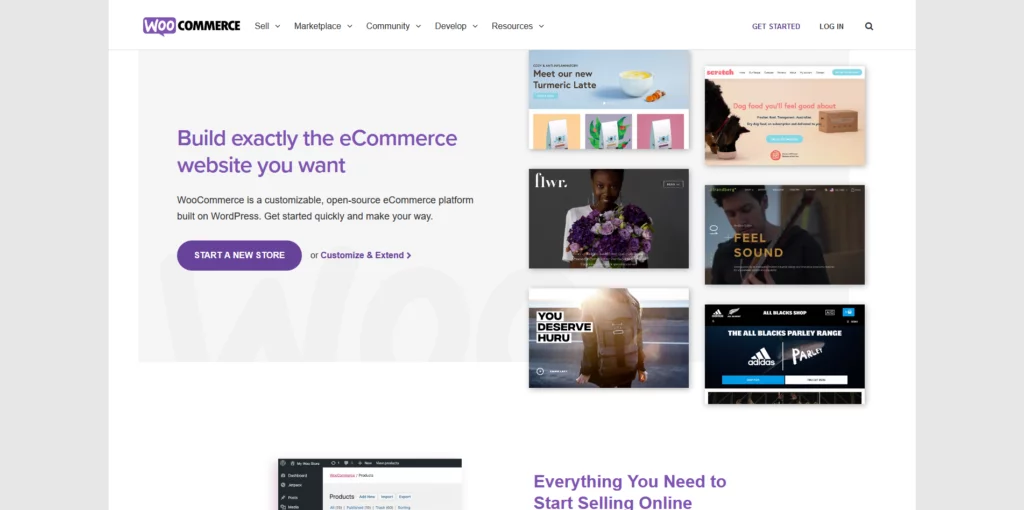 WooCommerce is by far the most popular ecommerce platform for WordPress.
WooCommerce attracts users with several key characteristics. On the one hand, the app is much easier to set up and use compared to other platforms of this type. The fact that you manage your online shop through the all-too-familiar WordPress dashboard plays a significant part in WooCommerce's popularity as well.
Another WooCommerce advantage comes from the enormous community of developers and users that supports the project. You can not only get assistance with technical questions but are guaranteed to enjoy plugins and themes on a regular basis.
Of course, when it comes to ecommerce capabilities, WooCommerce is more than impressive. You can set up a storefront and handle products, pricing, promotions, taxes, shipping, and much more in just a few clicks.
7. SureTriggers

Looking to automate some manual day-to-day boring tasks? Here's a tool that will help you out.
SureTriggers is a great WordPress automation plugin with a SaaS app that will help you supercharge your website and enhance its functionality. This powerful tool offers a host of features that make it the best choice for optimizing your site and user experience.
The plugin allows you to seamlessly connect your WordPress site with various apps and services, expanding its capabilities and connectivity. Additionally, its user-friendly interface and customization options make it a breeze to tailor your page automation to your specific needs. Create dynamic workflows, automate email campaigns, and personalize user experiences, all with ease.
SureTriggers ensures real-time data synchronization, error handling, and enhanced security, guaranteeing that your website operates smoothly and securely without needing your presence.
8. BuddyPress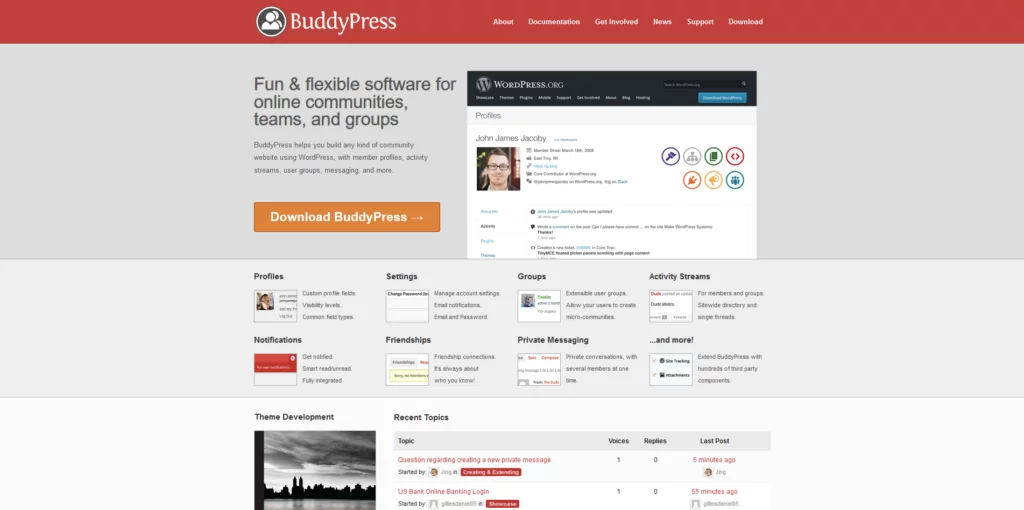 If your goal is to gather an online community of like-minded people, then BuddyPress may be the right WordPress plugin for you. With it, your visitors will be able to interact with your website and each other.
The users will be able to create accounts, upload profile photos, and communicate with other users, both privately and in groups. Meanwhile, you can track their activity via the WordPress dashboard.
BuddyPress is a 100% free, open-source project, available on WordPress.org.
9. Classic Editor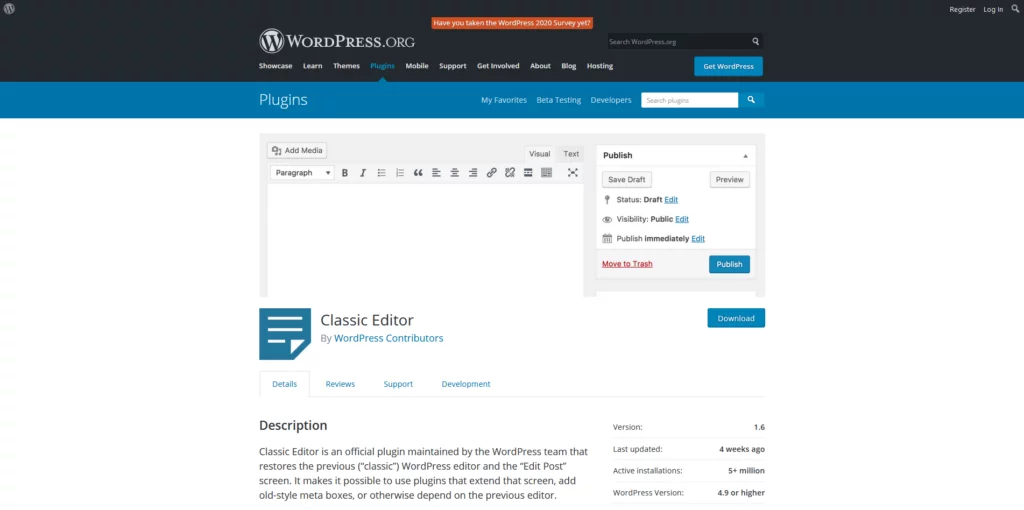 In 2018, WordPress 5.0 arrived with a major update.
A plugin called the Gutenberg Editor (or block editor) was integrated into the WordPress core, becoming the default way of editing posts. It treats every single component, including paragraphs, headings, lists, etc., like a separate block that can be edited with a wide range of tools and menus.
The idea was to give users the chance to make better-looking pages. Some appreciated the new addition, but many were unhappy because they had grown too used to the traditional editor and found it difficult to adjust to the new design.
WordPress's core development team heard the outcry and released the Classic Editor plugin. It has already amassed over 5 million downloads, which goes to show that many still prefer the classic way of editing content.
Classic Editor is free for use and installs with just a few mouse clicks.
10. Elementor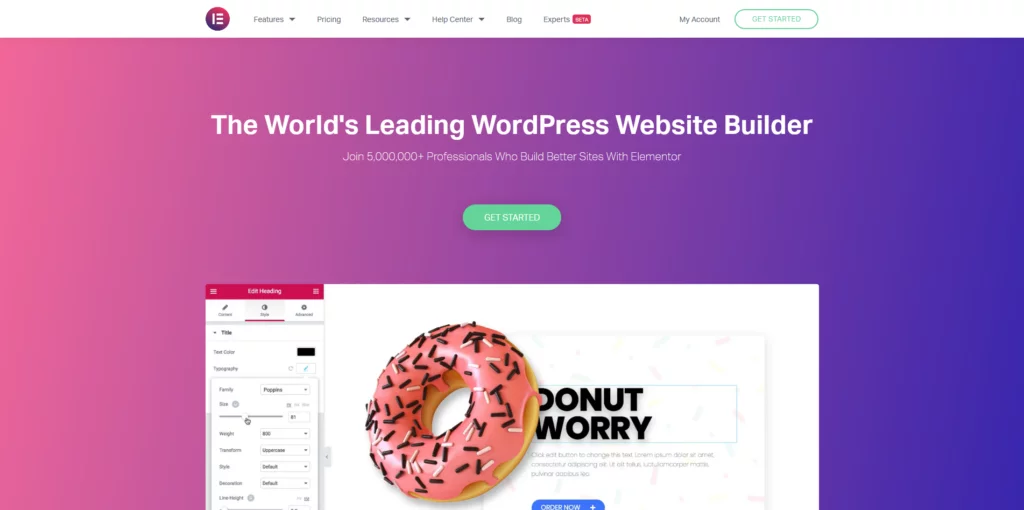 The Elementor plugin should be the perfect solution for users looking to create and design a website easily.
Elementor is a website builder for WordPress. It integrates into your WordPress dashboard and presents you with a drag-and-drop interface for customizing websites.
Using various templates, blocks, and widgets, you can create a professional-looking design even without previous experience. The 5 million active installations and 5,000 five-star user reviews signify that Elementor really does its job tremendously.
Elementor is an open-source plugin, but the free version is somewhat limited in the number of widgets and templates you get access to.
The premium plan costs $99/year and includes the hosting service.
11. WPForms
A drag-and-drop interface is also at the core of the next plugin on our list – WPForms. Creating forms that users can interact with is extremely important in this day and age, and WPForms is arguably the easiest way to do it.
Regardless if you want to create a contact form, get your visitors to sign up for a newsletter, or get signups for a cause, WPForms is there for you. It flaunts a beginner-friendly interface with virtually limitless options.
You can easily rearrange the fields, drop-down menus, and buttons, enable and disable labels, and even apply specific CSS rules to your forms. There's an integrated anti-spam feature, and you can also use reCAPTCHA in your login forms.
You can install WPForms from your WordPress dashboard. The plugin has more than 5 million active users and thousands of positive reviews.
The plugin developers also offer a few premium plans that start at around $40/year and come with a number of additional features and templates.
12. Shared Counts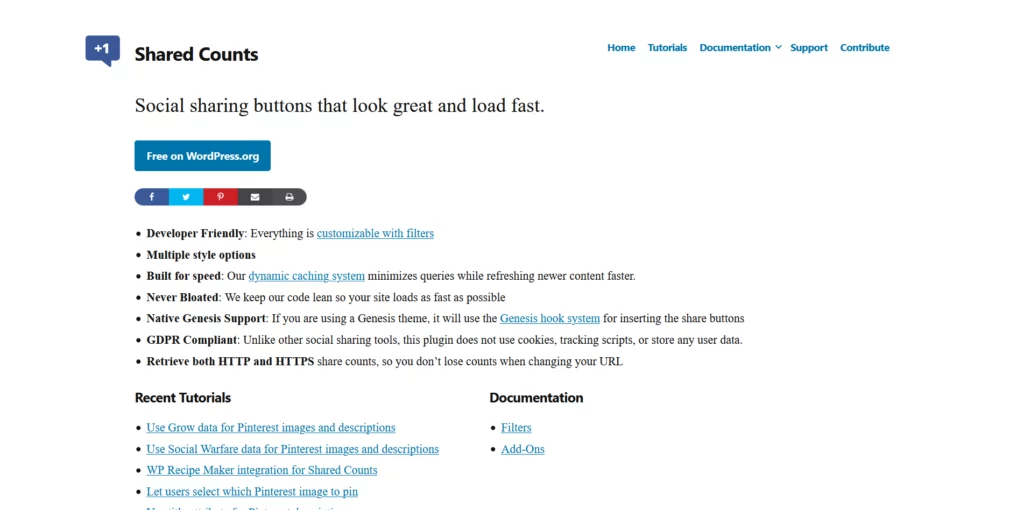 Jared Atchison, one of WPForms's developers, has also contributed to a plugin called Shared Counts. With around 10,000 installations, Shared Counts might not be as popular as the rest of the entries on our list but can be just as useful.
Shared Counts is a very important plugin as it helps visitors share your content on social media. You can place Share and Like buttons for Facebook, Twitter, Pinterest, LinkedIn, and Yummly. Shared Counts even lets you know how many times a particular page has been shared on every social media platform.
The control panel is located inside your WordPress dashboard, and it's about as simple as they come.
The plugin is fully GDPR-compliant and completely free to use.
13. WPML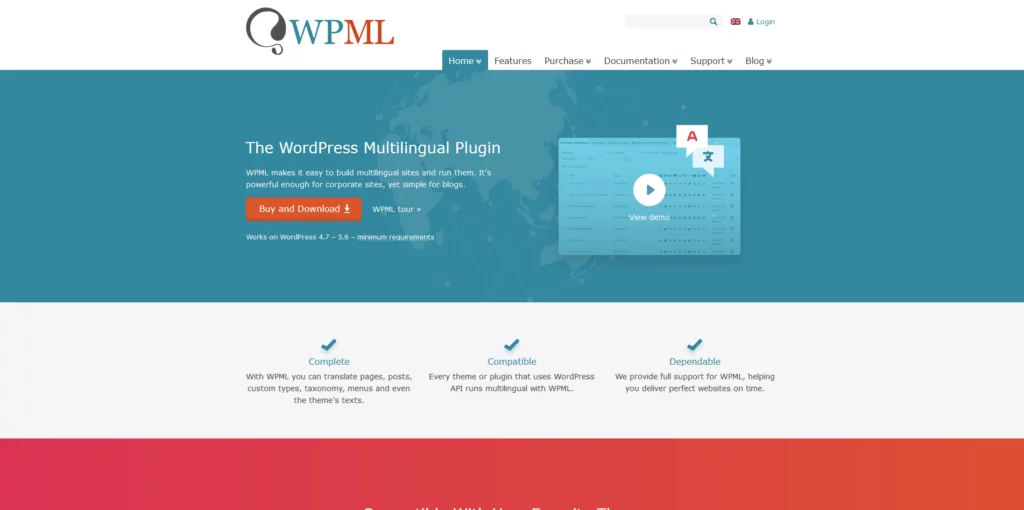 WPML is one of the most popular plugins for multilingual WordPress websites. It offers integration with over 40 languages out of the box, all with easy management options.
Automatic translation is available not only for your content but also for the URLs and meta descriptions, both very important for your SEO efforts.
WPML is a premium product that doesn't have a free version. Prices start at just under $40/year for a single site and go as high as $200/year for the package with all the bells-and-whistles.
14. Yoast SEO
Yoast SEO plugin for WordPress is one of the most powerful weapons around when it comes to getting recognized by search engines.
Yoast SEO traces its roots back to 2008 and currently has over 5 million active installations and tons of positive reviews. It prides itself as the most widely used SEO plugin and one of the most feature-rich ones.
Yoast ensures search engines instantly know what your website is all about.
Keyword and link optimization are available on all plans, and the plugin helps you with suggestions on what you can do to make your content more SEO-friendly.
The Free version is available on WordPress.org and installed directly from your WP backend.
The Paid plans offer numerous additional features and cost under $100 for the first year.
15. Google Analytics Dashboard by MonsterInsights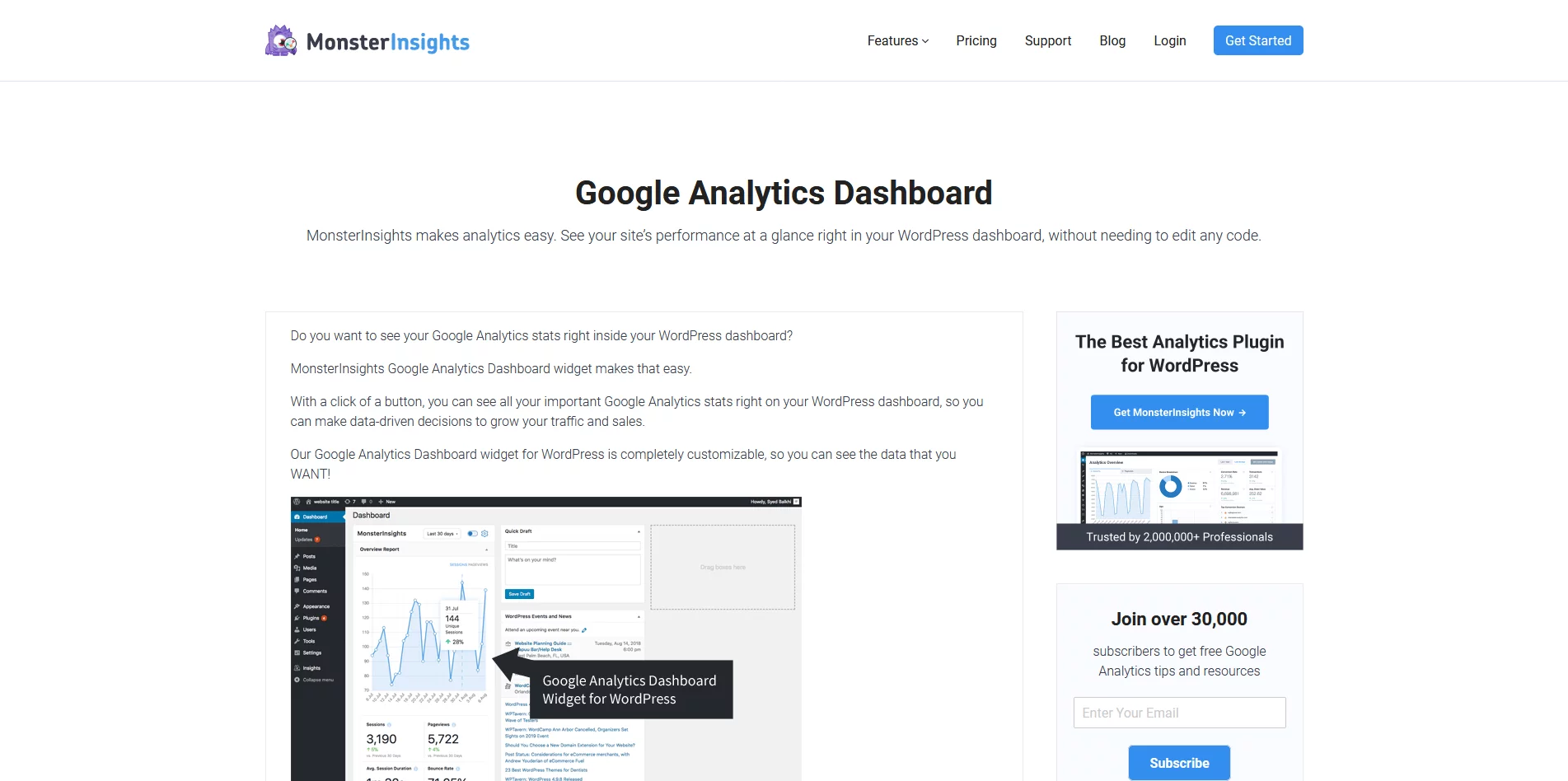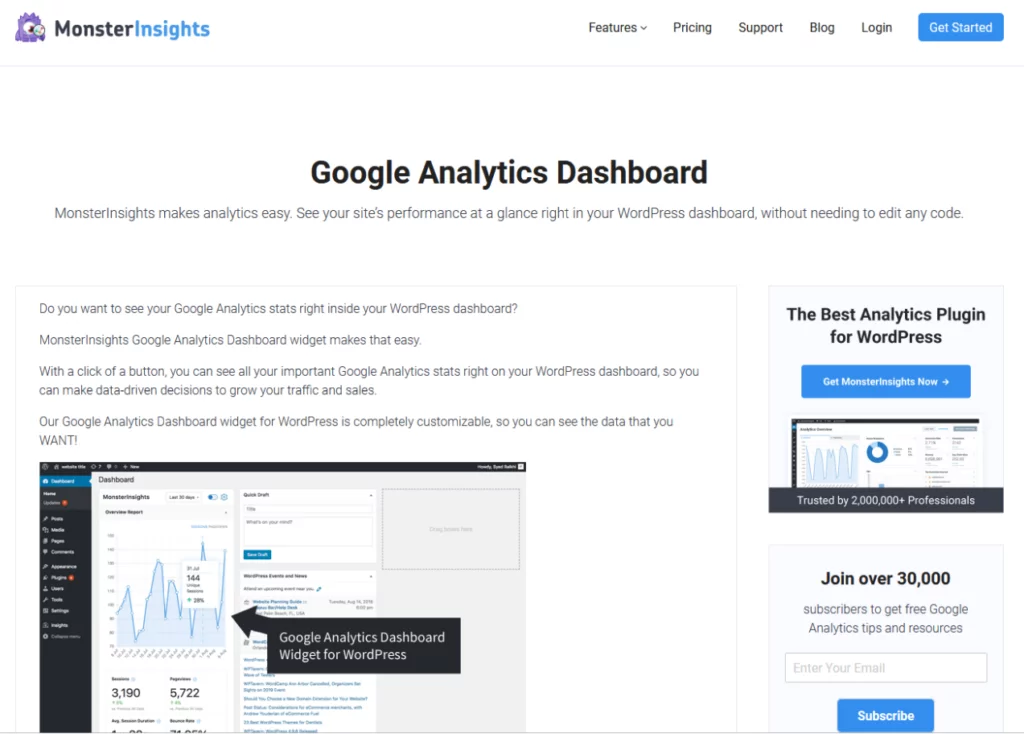 No plugin has been quite as successful in integrating Google Analytics in WordPress as the Google Analytics Dashboard by MonsterInsights.
With over 2 million active installations, it's the most popular plugin of this type. When you check out some of the features included, you'll quickly see why.
Connecting the plugin to your GA account happens in a couple of clicks, and afterward, you can start analyzing your visitor data.
MonsterInsights will give you insights on the most visited pages and posts, how much time people spend on your website, and where they come from. Based on all this data, you can optimize your website and take steps that will help it grow further.
The Lite version of the plugin is available for free and can be used by anyone.
After installing it, you can upgrade to MonsterInsights Pro with a 50% discount. After the discount, the prices start at just under $100/year.
16. Broken Link Checker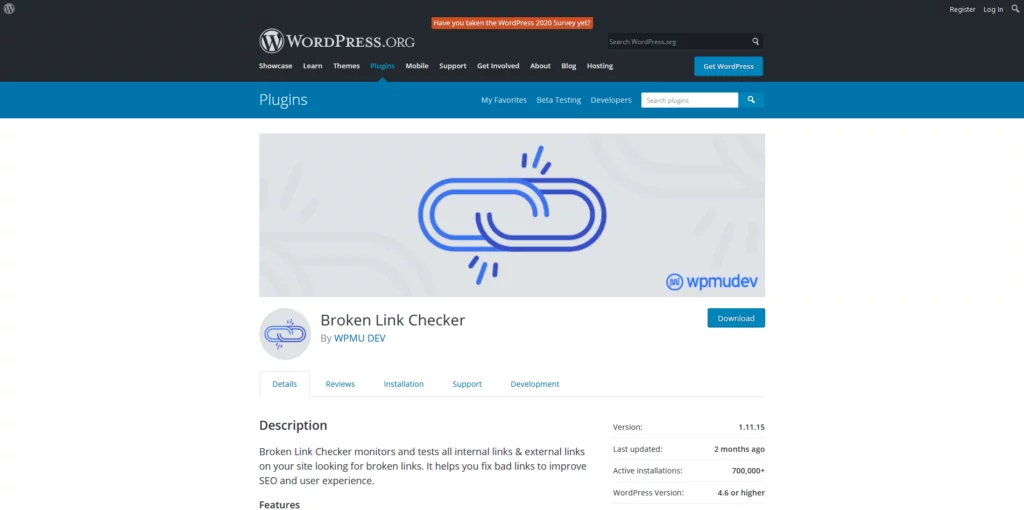 Broken links can be frustrating for both users and search engines as they're often a sign of an untrustworthy website.
There are quite a few plugins that check and identify these mistakes, but Broken Link Checker by WPMU DEV is surely one of the most comprehensive ones.
By default, it checks your website every 72 hours, but you are free to change the frequency if you want to. When it finds an invalid link – it notifies both the administrator and the post author. The plugin can even identify broken links in posts that are scheduled for publishing or saved as drafts.
Broken Link Checker is a completely free plugin that is currently in use on around 700,000 websites.
Possible Issues with WordPress Plugins
Just because there are many useful WordPress plugins out there doesn't mean you should install them all. In fact, many professionals will tell you that keeping as few add-ons as possible is your best course of action.
Handling many plugins at once hides numerous risks:
Higher server resource consumption
Security issues of old and

outdated

plugins
Hacker backdoor possibilities
Negative impact on website performance
Always make sure to download plugins from trusted sources only. It's also a good idea to do regular checks and remove any add-ons you are not currently using. More often than not, we install plugins for a single task and forget about them afterward.
Keep things clean and lightweight and get the best out of the available WordPress plugins.
ScalaHosting and WordPress
ScalaHosting entered the hosting industry nearly 15 years ago, and we've been investing a lot of time and effort into optimizing our environment for WordPress-based projects.
We are always looking to offer more than the average setup, and our proprietary SPanel (server control panel) and SWordPress Manager (WP management and security) are greats steps in that direction.
SWordPress is a great tool for quick WP installation and updates. Its best feature is definitely the unique Security Lock that prevents anyone from modifying your website's files and directories.
SWordPress Manager is a part of our SPanel and is available at no additional cost to customers who pick one of our managed VPS hosting packages.
Conclusion
There are close to 60,000 free plugins on WordPress.org, and it's impossible to say how many more are available on third-party websites. Choosing the top tools among all these options might seem hard, but less so if you follow some simple rules. Only install essential plugins, keep their number to a minimum, update them regularly, and delete the inactive ones.
Not that much of an effort when you consider the benefits of the unique environment WordPress has to offer.
FAQ
Q: What is a WordPress plugin?
A: Traditionally, WordPress plugins add new functionality to the CMS. They can vary in type and serve different purposes like content caching, website promotion, app security, and more.
WordPress supports nearly 60,000 free and paid plugins, available in the official repository and third-party sites.
Q: How can I sort the good plugins from the bad ones?
A: It's difficult to classify plugins as good and bad. What works for you might not work for everyone else, so make sure to do some research before you jump into installing any add-on. Furthermore, you can check out how many active installations it has at the moment and read through some existing user reviews.
At the end of the day, you can always install the plugin in a staging area and see if it causes damage to your website.
Q: Is it difficult to install WordPress plugins?
A: Installing an add-on in WordPress is actually quite effortless. If you want to install a plugin from https://wordpress.org/plugins/, you can directly do it in the WordPress dashboard. If you download the add-on from a third-party website, it will come in the shape of a ZIP archive.
WordPress can then extract the files and install the extension for you within the backend.
Q: Can a plugin break my website?
A: It's not unheard of. Not only do they create more security risks, but they sometimes just lack the compatibility with newer WP versions. Some developers don't put too much effort into maintaining and documenting their plugins properly, which can be very problematic in the long run.
If you see that the plugin you're thinking of installing hasn't been updated in a while – best to first test it in a staging environment.
Was this article helpful?