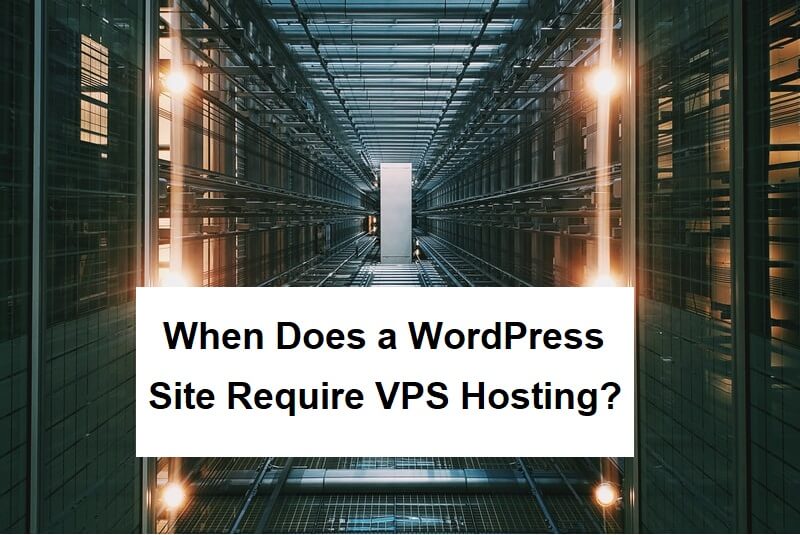 WordPress is a Content Management System (CMS) which was originally highly popular with bloggers. However, because of its flexibility and virtually limitless potential, it has even been used to build regular websites.
Today over one third of all websites in existence are powered by WordPress. Web hosts have long caught on to this trend and many offer specialized WordPress hosting packages. Of course these are based on various types of hosting accounts – at varying price points.
Besides price though, different kinds of web hosting bring their own advantages to the table. Today, Virtual Private Server (VPS) is a good middle ground that allows users to balance price with high potential scalability. Still, it generally does cost more than shared hosting.
The following review includes essential information, such as:
---
1. What is WordPress VPS Hosting?
WordPress VPS hosting is VPS hosting that comes with WordPress pre-deployed on it. These plans are meant for those who already know that they're going to use WordPress as their primary deployment platform.
By itself, WordPress is simply a web application. When you take it and combine it with a type of hosting, it means that the application is pre-deployed and ready to use on the hosting plan. This makes it more convenient for users who opt for it.
In many cases, opting for pre-deployed web application hosting doesn't really mean much. It is more a marketing trend, since deploying a web application today is so simply. Thanks to utilities like Softaculous, Installatron, and more, you can deploy a web application with just a few clicks.
2. The Benefits of WordPress VPS Hosting
Of course, the first benefit that comes to mind with WordPress VPS hosting is that you have WordPress ready to use. In the context of VPS hosting, this does save a little more time and effort in setting up the environment. Because it's VPS, there are also significant benefits that come along with it.
2.1 Speed and Performance
One of the most important elements of WordPress VPS hosting is that many critical resources are guaranteed. For example, CPU and memory – two very important elements to WordPress. This avoids the shared resource problems typically found on shared hosting.
To get a better idea of this, let's consider a scenario on shared hosting. On these servers, resources are pooled. If one account is hogging resources, others may not be able to get their fair share. That means your WordPress site performance may suffer as it waits for resources to become available.
VPS plans avoid this issue by giving each account a dedicated amount of resources. Even if they are not in use by your website, they will lie idle and not be allocated to other accounts, even if they are on the same server.
2.2 Higher Levels of Security
By nature, VPS hosting is much more secure than shared hosting. When it comes to security, VPS is more similar to dedicated servers. Each VPS account is isolated within its own virtual environment, even though there may be multiple accounts on a single server.
This means anything which affects another account will not cause problems for you, unless it is a major server-wide issue. For example, if another VPS account on your server gets affected by malware or hacked, your website will remain safe.
2.3 ScalaHosting VPS is really affordable
In the past VPS was thought to be significantly more expensive than shared hosting. Over time though, it has become increasingly common to see more affordable VPS hosting become available. This was especially true if you were looking towards Managed VPS.
ScalaHosting VPS plans however start at $9.95 for managed VPS plans. This is incredible value for money as it costs less than what some shared hosting accounts do. At the same time, you gain the inherent benefits that come along with VPS plans.
Part of the reason why ScalaHosting is able to offer prices as attractive as this has been their ability to build and deploy advanced technologies like SPanel. This helps avoid increasing fees that some software vendors may charge other web hosts.
Naturally, ScalaHosting is able to pass on those cost savings to customers and offer very competitive pricing.
2.4 Server Customization and Control
Another important feature on WordPress VPS plans is the capacity for granular control. This means you get to decide exactly what your server needs or does not need at any time. This ability lets you easily adjust the capabilities of your web hosting account and fine-tune it for optimal performance.
Root access will let you take full control of your VPS server and perform tasks which are not available on shared hosting. Think of root as the keys to your castle – you decide and can change anything or even everything.
3. When Should I Consider Upgrading to WordPress VPS Hosting?
In most cases, new WordPress website owners or those unfamiliar with web hosting will start off on shared hosting. This is simply a common sense decision. Shared hosting is cheap, commonly available, and very easy to manage.
However, there eventually comes a point when you outgrow it and need to look for something better. WordPress VPS is the next logical step up.
3.1 Slow speed
Performance is typically one of the key reasons users look towards WordPress VPS. ON shared hosting, there can be many reasons why your site is experiencing slow performance. It may be due to resource hogging of other sites or even the implementation of too many features on your own site.
3.2 Security issues
The problem with shared hosting is that accounts on each server (and there may be hundreds of them) are all points of potential threat. If even a single account on that server gets compromised, everyone on the server may suffer the ill effects. If you're taking your website security seriously, consider moving to VPS hosting quickly.
3.3 Traffic levels are growing steadily
As website owners one of the things that make us happiest are when we see traffic levels on our site start to rise. It can be a huge source of satisfaction that more people are being drawn in to your content – as well as a potential money pot. More visitors means more resources needed though, and if you do notice this happening, plan ahead for a move to VPS. Don't wait until your site starts crashing to panic.
4. How WordPress VPS Differs From Shared Hosting
There are a number of key differentiators between WordPress VPS and shared hosting. To get a very clear idea about this, consider the difference between having your own unit in an apartment (that would be VPS) versus sharing an apartment with ten other unrelated people (shared hosting).
This real life comparison can give you an idea of the main differences between WordPress VPS and shared hosting. Using VPS hosting is more secure, gives you greater freedom, anytime access to all the resources you have, and even gives you greater peace of mind.
5. How WordPress VPS Differs From Dedicated Hosting
VPS is actually very similar to dedicated hosting, except in a small number of areas. For example, VPS plans still mean that you share a single server with other accounts, even though your account is isolated.
Since VPS accounts also occupy a single server, they are also limited in resources to what that server can manage. This ultimately limits the resources that VPS accounts can grow towards. Dedicated servers offer all possible resources to one single account.
Although VPS hosting is typically fast, loading speeds on dedicated servers are often superior since the entire server is geared towards a single purpose and account only. This gives it a better lead in performance.
Of course, these benefits come at significant cost. A dedicated server may cost well into the hundreds of dollars each month in hosting fees alone.
6. Conclusion: Is WordPress VPS Right For Me?
Thanks to the narrowing of the margin in price between shared hosting and WordPress VPS, the case for the latter has become increasingly strong. As you can see, there are many clear benefits of WordPress VPS over shared hosting.
If you're completely new to web hosting, a shared hosting account might be a good place to start. However, is it really worth dealing with the hassle of having to migrate to WordPress VPS later on?
Managed VPS accounts like those ScalaHosting offers are so competitively priced that going for shared hosting simply doesn't make real sense anymore. Even without managed VPS, you can still rely on technical support for help with an unmanaged VPS hosting plan.
Frequently Asked Questions
1. What can we do with VPS?
VPS hosting is mainly distinct by the type of environment it offers, along with scalability in resources. Although WordPress VPS hosting comes with the CMS pre-deployed, you can technically scrap that and run anything you want. The potential is limitless.
2. Why is VPS so expensive?
The thought that VPS is so expensive is generally outdated. Today, VPS plans can come very competitively priced and in fact, sometimes cost less than high-end shared hosting plans.
3. Which is the best WordPress VPS Hosting?
Many VPS plans are actually very similar. To find the best VPS plans, look towards service providers that offer unique advantages for additional benefit. For example, ScalaHosting offers the Swordpress Manager plugin, which is designed to help you manage WordPress installations and can even increase site security.
4. How does a VPS work?
As the name Virtual Private Server implies, VPS is actually a virtual server that's on a physical server. This method of deployment slices up the resources on the server and gives them to individual virtual accounts to use. VPS servers also have fewer accounts per server than shared hosting.
5. Are there any free VPS?
Yes, free VPS accounts do exist but real ones are rarer than Moby Dick. At best case, you'll find one available for very limited use and is mainly offered as a sandbox for newbies to experiment with for a while. The majority of free VPS offers are a scam and either unusable, will collect and sell your data, or even try to get you on the phone to sell you something.