Many are familiar with WordPress but are you aware of the significant differences between WordPress.com and WordPress.org? WordPress itself is simply the application, but the two sites offer entirely different things in terms of servicing the CMS.
If you're unsure which to use for your website or blog, read on for our head-to-head comparison of the two platforms.
WordPress.com vs WordPress.org – let's get started:
WordPress.com technically offers web hosting services but only for WordPress-based websites. It's owned and operated by Automattic, a company under Matt Mullenweg, who co-created the most popular CMS today.
Despite this association, WordPress.com is mainly all about WP hosting.
The site offers five WordPress web hosting plans, but similarities to traditional hosting providers end there. Instead of selling potential customers on plan capabilities, WordPress.com places greater emphasis on the platform itself.
There is a segregation of how much storage space each plan has, but the focus remains on the features supported. For example, the Free plan doesn't allow users to install any plugins. For that, you will need a Business plan or above.
WordPress.com Benefits
For those who are unfamiliar with web hosting and want to get off to a quick start, WordPress.com offers many advantages.
The first obvious benefit is the option to test the service without paying. The free plan allows zero-cost ownership of a WordPress website – you can even make use of a subdomain they offer instead of having to buy your own.
WordPress.com is also extremely easy to manage. All plans come with WordPress pre-deployed, and there is not much in the way of hosting management. You get a site management dashboard, and the rest is just WordPress.
Jetpack Essential comes pre-installed with all plans, including the free tier. The plugin is a collection of utilities that supports WordPress websites and includes site statistics, basic cybersecurity protection, search engine optimization (SEO) tools, and more.
WordPress.com is all about the convenience of using the WordPress Content Management System (CMS) without any concerns about the web hosting part of it.
What is WordPress.org?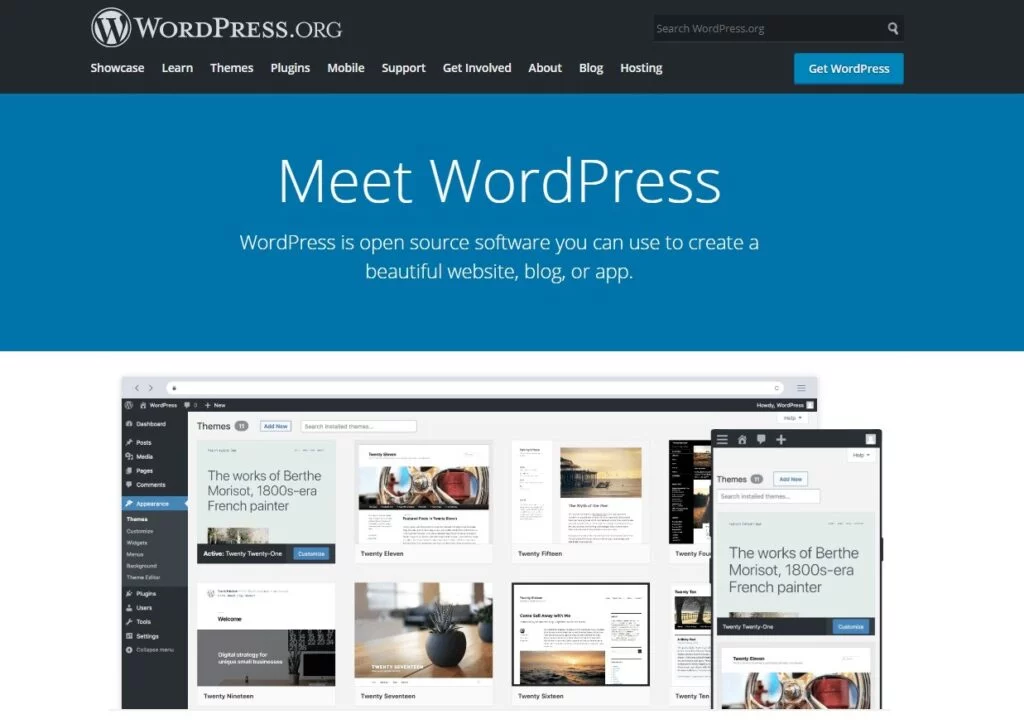 WordPress.org is the official website of the WordPress CMS. Here, you can download an installation package, get a wide range of themes and plugins, and even obtain support.
WordPress.org doesn't offer any web hosting options.
The critical thing to understand about WordPress.org is that you don't need to necessarily download your installer from this site, although it is an official source. WordPress and its accompanying themes and plugins are widely available online.
WordPress.org Benefits
Getting your information and other materials from WordPress.org is like buying a laptop directly from Dell or HP instead of a computer store. It isn't mandatory, but they'll be the ultimate authority on the matter.
The main idea about WordPress.org is you can choose to deploy the CMS on any service provider. WordPress doesn't restrict you to any particular brand or model – you can use it on everything from shared hosting to dedicated servers.
If you need to clarify any doubts about WordPress – simply visit WP.org or try some of the online communities that often help with app issues.
WordPress.com vs WordPress.org – Head-to-Head
Although WordPress.com and WordPress.org may sound very similar, the details above spell out a very different story. One has WordPress-only web hosting, while the latter offers the tools needed to run WordPress anywhere you want.
This difference results in each model having distinct advantages and disadvantages.
Cost of Operation
WordPress itself is free to use – all you need is а web hosting account and domain name. However, WordPress.com offers an entirely free web hosting tier available.
Still, you have to consider that using WP.com for free is suitable only for testing purposes or small personal projects. The company applies intrusive ads and high limitations on the Free plan, which you can only avoid by switching to one of the Premium options – starting from $7/mo for the Personal deals.
Access to Features
If you download the CMS from WordPress.org and deploy it on your hosting plan, chances are you get unrestricted access to all WordPress features. Before you shrug this off as inconsequential, WordPress.com heavily relies on its flexibility, and WP.com doesn't offer much in that aspect.
The best illustration would be WordPress plugins, which are the lifeblood of many WP-based websites. WordPress.com only allows plugin installation on Business plans and above, which start at $33 per month.
Monetization
Using WordPress.org means you're free to monetize your website with ads.
WordPress.com doesn't allow this – unless you're on one of their more expensive deals. Only users on Premium plans and above can earn ad revenue when using WordPress.com. This restriction is a major headache for most website owners, many of whom will want to use a service like Google AdSense, for example.
Content Restriction
WordPress.com also restricts content types based on the plan you choose. Choosing a Free or lower-tier plan means you cannot upload video content, for example. While this might not bother you at present, you have to also consider your future growth and expansion.
Support Channels
Given that WordPress.com offers hosted solutions, it's slightly surprising that support channels can be pretty limited. For example, Live Chat support isn't available, even for ecommerce plan users who have to pay as much as $59 each month.
WordPress.org gives you the flexibility to control this. You can sign up with any service provider you choose and test their support services even before becoming a customer.
Finding a WordPress Hosting Provider
Opting for WordPress.com is more about a smooth entry to the WordPress platform than anything else. From the comparative differences we've covered above, you can see that in the overall scope of things, the cost and restrictions that come with using WordPress.com are seldom feasible for serious business projects.
Because of this, it would be better to consider saving yourself some trouble in having to migrate later by using WordPress.org right from the get-go.
For this to work, though, you need to choose the right web hosting provider.
There are hundreds of web hosting companies around who offer a wide range of plans at varying price points. Choosing the right partner can significantly impact your user experience.
Before we go into some details on making the right choice, understand this – the kind of WordPress site you intend to build matters a lot. Knowing your intentions will allow you to match your needs with what web hosts are offering.
On a more general note, here are some areas you have to always pay attention to when choosing your WordPress hosting provider.
Performance – It can be hard to assess the performance of a service before signing up for it. Still, most providers offer free trials so you can deploy a simple WordPress page and test its speeds. Comparing the results between different providers will give you a good idea of what to expect from the overall service.
Customer Support – No matter your level of expertise with WordPress, you will need support for your web hosting plan sooner or later. Always choose a host that offers a variety of channels for assistance, from ticketing to live chat. 24/7 customer coverage is a must as well.
WordPress Utilities – Some web hosting providers offer unique WordPress-specific features that can prove invaluable. ScalaHosting, for example, offers SWordPress, something that will help you better manage your WordPress sites.
Room to Grow – While you may only be interested in shared hosting initially, your website will eventually grow. Look for a host that offers a range of plans for a long-term migration path. At the very least, consider one that also has good VPS hosting plans.
Price – There isn't much point in paying for a hosting plan that comes with everything, including the kitchen sink. Balance cost versus features carefully, making sure to pay for essential elements while excluding excess bloat.
Security – Websites today are under growing pressure from web-based threats. Ideally, try and find a hosting provider that takes cyber security seriously. Most hosts will offer basic security features, but some go above and beyond, either working with cybersecurity experts or introducing innovative protection measures.
Conclusion
Many who want to start their first website often start off thinking about design and content. However, remember that your WordPress site deeply ties in with the hosting service chosen. Keep other considerations in mind, such as performance, long-term cost, and above all, the ability to get help when you need it.
So, what do you think works better for you – WordPress.com or WordPress.org?
Frequently Asked Questions
Should I use WordPress.com or WordPress.org?
WordPress.org has much better long-term viability compared to WordPress.com. The latter offers a more manageable learning curve, but the cost and many limitations severely cripple its potential.
Which is more secure, WordPress.com or WordPress.org?
WordPress.com is more secure out of the box. This is primarily due to the level of control the service places on users. You have the Automattic Team behind your back, and they know WordPress inside and out. Of course, you can always find a top-tier WordPress host and still get the professional service and support you're after.
Can I move from WordPress com to WordPress org?
Yes, you can. Unlike some services such as Wix, you can easily migrate WordPress.com websites to other web hosting solutions. You can make a move at any time, and there are many tools to help you with the process.
Was this article helpful?