Why Is Your Website Loading Slowly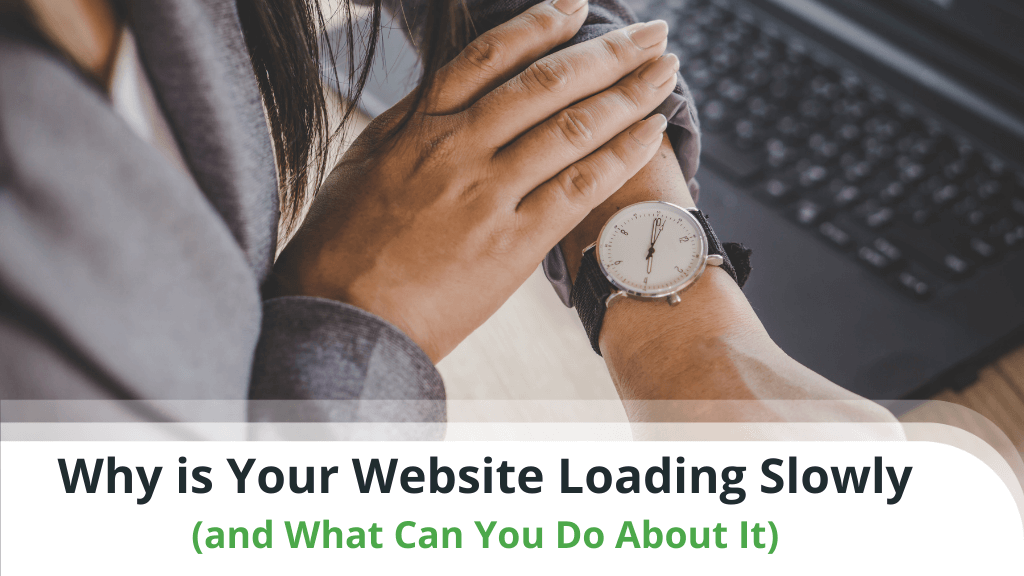 . We will also throw in some useful tips to help you tackle this issue with minimum effort.
Table of contents:
---
Why Do You Need a Fast Website?
According to recent statistics, anything
over 3 seconds
for page load brings a high risk of losing visitors and eventually sales.
Bounce rates
can increase by
up to 32%
when your website loads from 1 to 3 seconds. As if that's not enough, you may
lose 30% of the money you spend on ads
.
Imagine you were running an ecommerce shop and spending about
$1500/mo in Google Ads
to promote your website. If 30% of your investments are lost because of sluggish pages, this means you are down a whopping
$6000
for one year
alone.
But how do you find out what's the reason and what can you do to solve the problem?
First of all, you can start by
contacting your web hosting provider
. More often than not, the host can see if the server is slowing you down or it's something connected with the way your website is built. If you're running out of resources, the provider can help you upgrade to a better deal.
This is one of the main reasons people turn to
cloud VPS servers
– unlike shared hosting, each user gets a dedicated amount of resources for their project. This
removes the risk of outside interference
and allows you to get much more processing power for better speeds.
Why is VPS hosting better?
Gone are the days when virtual servers were crazy expensive and suited only for big-budget businesses. VPS prices are getting increasingly lower and now even come close to the rates of
affordable shared hosting plans
.
But now come all the advantages:
Performance

– in a shared environment, all clients on a server (and there are a lot) utilize the resource pool, which often leads to limited performance for everyone. That's not a problem on a

VPS server

– the machine accommodates only a few users, and each account gets its own

dedicated CPU, RAM, disk space, and bandwidth.

As a result, websites on a

VPS plan

are significantly faster and achieve better uptime.

Scalability

– when you start running out of space, or operating memory, you can easily add more without having to upgrade to a costlier plan.

VPS solutions

are extremely scalable, which allows the users to customize their server on-the-go.

Control

–

speaking of customizations

, this is an ideal choice if you need more control over your server and its capabilities. You can set up custom caching solutions, integrate your own firewall rules, or install specific software.

Security

– shared services carry numerous security risks as they suffer from something called the bad neighbor effect. Your server is secure as its weakest link, and a single

breach grants hackers

control over hundreds of websites.

VPS solutions

rely on a caged environment, and you can harden your account without worrying about your neighbors.
It's a battle with only one clear winner – VPS servers. But let's say you've already secured the right hosting deal and still have issues.
How To Analyze a Slow Website?
The first thing to do is try to find the cause. You have to analyze your website and see what elements are mostly slowing it down. This way, you'll know exactly what you need to improve – be it
caching, image optimization, plugin removal
, or something else.
Let's start with checking your
resource consumption
. Most hosting providers will offer some kind of control panel, like
cPanel
or
SPanel
, where you can find the current state of your website. If it's a case of your
server lacking CPU or RAM
– this is the way to find it.
If all seems ok with your host, you should move on to your site itself. Tons of third-party websites will help with analysis and tips, but the most popular are:
Any of them will provide plenty of useful information and tips, but we always recommend a
combination of several tools
to get the best view of your site condition.
Some tips might appear a bit technical for inexperienced users, but you can always get a developer to help with some quick
speed optimizations
. We have also compiled
this guide for website optimization
, where you can learn more about how these tips work in action.
My Website is Optimized but Still Slow
If you have seemingly enough server resources and think you've done enough to optimize your website speed on your side, there are a couple more possible reasons for that.
Network issue

– a quick check with your host will let you know if there is a global network issue that affects the

connectivity of all underlying servers

. It's a critical issue that web hosting support treats with the utmost urgency, so you should just allow some time for the professionals to deal with it.

Server configuration issue

– this includes multiple factors that may influence your website speed in a positive or negative way. Those are mostly technicalities like how your server reads database queries, how it caches content, or if it utilizes

SSD

. It's best to check those things before you sign up with the host.

Slow Linux distribution

– not all Linux distributions perform the same, so the optimal choice for the provider might not be the best one for your website. For example, many

hosts still utilize CloudLinux

, which comes with a lot of limitations in terms of memory, CPU, and IOPS (

input/output operations per second

). ScalaHosting prefers CentOS for shared hosting clients and

LiteSpeed / OpenLiteSpeed for its VPS users

.
Final Takes
So there you have it – speed affects everything – your
site visits
,
sales
,
SEO
,
user satisfaction
. It's a vicious circle, and your page load times are right in the middle.
You can start by
choosing a great web host
with an
optimal server configuration
. You can then analyze your website and see what you can do from your side to speed it up.
The best thing is that you can go through this list even if you are a complete newbie in web hosting. Most of the steps are self-explanatory, but ScalaHosting would gladly help with more information. Simply
contact us 24/7
via chat, email, or ticket, and let our support team take it from there.
FAQ
Q: How do I optimize my HTML website?
A:
The web server plays a big role when it comes to
fast HTML websites
. For example, LiteSpeed tests to serve content 4-6 times faster than the standard
Apache configuration
. You can also ensure better speeds with things like
browser caching, adaptive images, CDN, the HTTP keep-alive function
, and more.
Q: Does a slow website affect my SEO?
A:
Yes, and in a big way too. There were speculations over the year that
speed affects search engine results
, but Google has recently confirmed that notion. What's more, the company promises that faster websites will get increasingly more attention when ranking.
Q: What affects website speed?
A:
Picking a reliable web hosting provider is an essential move that plays a big role in your page load times. The company is
responsible for configuring your server, setting up caching, and other speed-related improvements
. Apart from that, other factors can include your page coding, file types, software, and plugins, even your browser.