WordPress is loved by many due to its power and versatility. For monetized sites that leverage more than one form of traffic source, it's important to keep an eye on Google Ads conversion tracking. Doing so will help you understand your audience better and have better control over your marketing spend.
This article will walk you through the ins and outs of Google Ads conversion tracking, from why you need it to how it gets done.
What is Google Ads Conversion Tracking?
Although all webmasters love organic (free) traffic, there is a big market for ad-driven sources as well. Making use of ads is a viable alternative for commercial sites for getting fast results, and Google Ads is a very robust platform where you can achieve them.
Still, getting relevant ad traffic can get expensive, so you are naturally looking for as much Return on Investment (ROI) as possible.
That's where conversion tracking comes into play.
You can determine how well your ads are converting right from your WordPress dashboard.
Google Ads Conversion will also help you with:
Visitor behavior during ad campaigns
Easy ROI calculation
Detailed product analysis
A/B testing
Ad bids adjustment
How Google Ads Conversion Tracking Works?
As you may already know, Google's tracking platform is Google Analytics, while ads are sold through Google Ads. To get the full picture, you need to collect and integrate data from both sources.
Luckily, Google provides easy means to do so.
Google Analytics monitors essential data that pertains to visitor traffic on your site – most visited pages, navigation routes, demographics, and more. What's more, monitoring Google Ads conversions on a WordPress website, you need to do some integrations on the platform itself.
For the actual tracking to work, you need to create what Google calls a conversion action in your Ads account. Examples of these conversions can be sign-ups, purchases, or even form completion.
What Can You Track With Google Ads Conversions?
There are multiple conversion types that Google can track. As we mentioned above, that typically covers website actions, but there is so much more you can do.
Some other Google Ads conversions include:
Phone calls – If you publish a number in your ad, you can create a conversion action around customer calls from that ad. This works when a potential customer clicks the number published within the ad.
App installs and actions – If you're running a mobile-app version of your site, you can also track everything related to that app. This includes how many times the app is installed, what purchases are made through it, and other related activities.
Local Actions – When your ad is tied into an actual store element (such as an address), you can track interactions for that purpose as well.
How to Setup Google Ads Conversion Tracking in WordPress?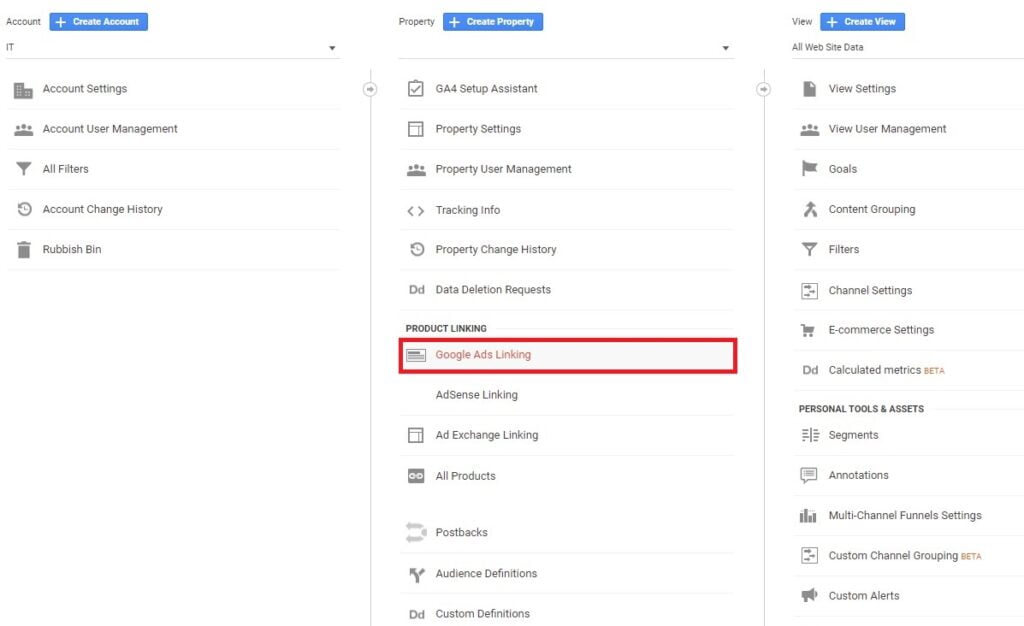 To begin setting up conversion tracking in WordPress, you need to start with your Google Analytics account. Once inside, click on the Admin link at the bottom left corner of the interface.
From there, you will want to link your Google Ads account by navigating to Google Ads Linking under Property for your site. Next, you will need to provide details of your Ads account to complete the process.
How to Setup Google Ads Conversion Tracking in WooCommerce?
If you run an online store with WooCommerce, you will also need to enable conversion tracking in your Google Ads account.Do this by logging in to your Ads account and clicking on the Tools menu. Once inside, go to Measurement -> Conversions. Select Website from the options presented and fill in the requested details. Part of this will entail selecting the items you wish to track in the conversions – these will be unique to you, so just follow your needs.
Once you have done that, simply click Create and Continue. In order to link this conversion with your WooCommerce site, you will have to install the code manually. When asked how you wish to set up the tracker, choose the option Install the Tag Yourself.
Alternatively, you can simply utilize a helpful Woo plugin for the job. There are many add-ons that help you add the Google Ads code to various areas of your WooCommerce site quickly and easily. One such plugin is Code Snippets.
If you don't want to deal with codes at all, various plugins can handle the entire process for you. One example is the aptly-named WooCommerce Google Ads Conversion Tracking add-on.
Keep in mind, whatever tool you choose, you will still have to set up the conversion action manually on Google Ads.
Possible Google Ads Conversions Problems
Conversion data not appearing – If you've completed the implementation process, but data isn't showing up, there are a few possible points of failure. One common mistake is that the Ads code was incorrectly implemented. To rectify this, try and delete the code and repeat the implementation process from the beginning.
Data seems to be inaccurate – Data duplication is a common error for new users. This often occurs when you configure multiple conversion tracking events by mixing up different implementation methods. To resolve this, ensure you only use one implementation method and take a close look at the events you currently have set up.
Mismatch between Google Ads and Analytics data – There are many possible reasons why data in these two platforms may not match. One example is that the two accounts have not yet been linked. The mismatch may also be a result of user actions such as clicking the same ad multiple times.
Conclusion
Google Ads conversion tracking is a potent utility for WordPress site owners. This simple fact rings especially true for those running online stores or websites that are otherwise monetized. Keeping track of your conversion can give you solid information that helps you cut business costs and increase your ROI in the long run.
Frequently Asked Questions
Can I track multiple Google ads in the same campaign?
Yes, tracking multiple ads within the same campaign is absolutely possible with Google Ads. There are a few ways you can do that. The first is by selecting the Ad Content option in the acquisition link between Google Ads and Google Analytics. The second is through the use of UTM parameters.
How do I add Google tracking to WordPress?
In order to make benefit from Google tracking in WordPress, you will need to sign up for a Google Analytics account first. Once you have that, the provided code will need to be inserted on your WordPress site. This can be done manually or by using a plugin.
Can Google Analytics track conversions?
Google Analytics can track multiple conversion types. However, to do so, you will need a Google Ads account as well. The two accounts must be manually linked before you can track ad conversions.
Was this article helpful?