If you're looking to create an educational website, you're most probably eyeing one of the many Learning Management Systems (LMS) on the market, wondering which one to choose. There are quite a few applications explicitly designed with this task in mind, but did you know that WordPress can turn into a fully functional LMS as well?
You just need the right LMS plugins, of course…
In today's guide, we'll look at some of the best extensions for educational websites, but first, let's see what an LMS is and why you'd use WordPress to create such a system.
What is an LMS?
A Learning Management System is a software platform used for managing, tracking, and delivering online courses and training materials. Although a relatively recent concept, in 2020, the LMS market size grew to over $13 billion in valuation.
This is hardly surprising considering how many people can find a good use for an LMS. With it, you can create a full-blown platform, like Massive Open Online Course (MOOC), but the applications are actually more than a few.
LMS solutions are often used to streamline the employee onboarding and training process. Even if you are selling a specific product or service – an LMS can help your partners and customers get used to it more easily.
Why Choose WordPress for your LMS?
There is a wide range of dedicated LMS solutions out there.
Some of them, like Docebo, are based on the Software-as-a-Service (SaaS) model. After you sign up for an account with such platforms, the service provider gives you the LMS already set up and running. You don't need to go through the hassle of finding a host or installing an application.
A good learning system lets you control users and training programs through an intuitive backend interface, and more often than not, the learning curve is not that steep. These platforms can pretty much guarantee a hassle-free experience.
Still, because the service provider takes care of so many aspects of the entire project, prices can quickly spiral out of control.
If you're on a tight budget, you'll most likely look at self-hosted LMS applications like Moodle. There are many free and open-source solutions in that niche, which should help you keep the costs down.
Self-hosted solutions require a hosting account, though, to guarantee decent performance, you need to make sure to find a host, which meets the app server requirements.
Here's the real kicker – WordPress can actually be a genuine alternative.
Thanks to its vast ecosystem of plugins, WP can be used for just about any purpose imaginable. Building an LMS is no exception.
The system is controlled through the same WP dashboard people are familiar with, so they don't need to learn how to work with an application they've never seen before.
The only problem is finding the right plugin…
The Best LMS Plugins for WordPress
Many plugins can turn your standard WordPress installation into an LMS, and sifting through all of them could be a bit of a challenge.

Worry not.
If you're wondering what are the best LMS plugins for WordPress, we have a pretty neat list for you:
LearnDash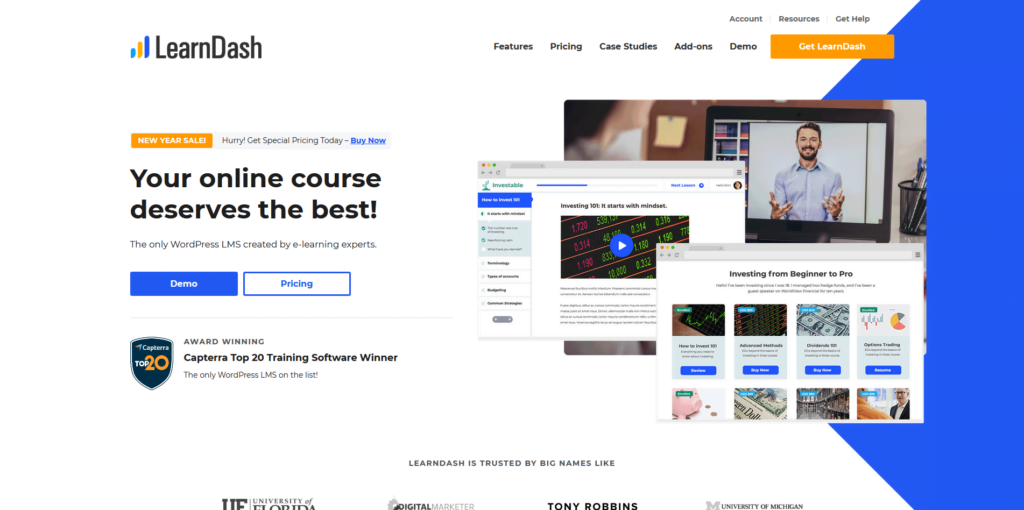 LearnDash has been developed by e-learning professionals and markets itself as one of the best LMS platforms not just for WordPress but as a whole. It has won its fair share of awards, too.
LearnDash Advantages
Structured and scheduled content delivery
Quizzing engine with advanced assessment and rewarding capabilities
Seamless integration with popular payment gateways
Robust user management
LearnDash provides a comprehensive solution to both businesses and educational institutions at a competitive price. The Basic plan starts at $159 per year and includes a single website license, scheduled content delivery, advanced quizzing, and many more. The Plus Package for $189 per year and the Pro Package for $329 per year allows for more websites and includes ProPanel – an easy-to-use dashboard that tracks students' activity.
MemberPress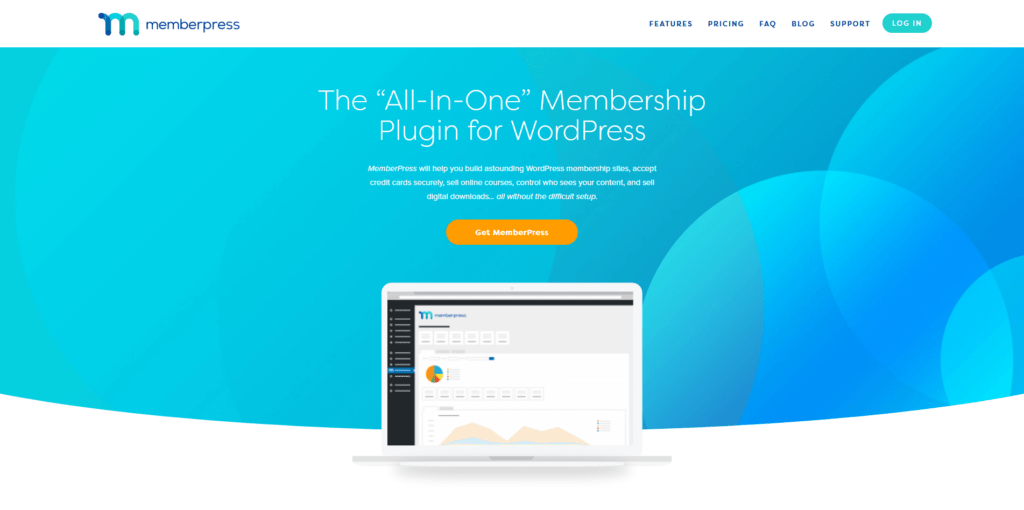 MemberPress wasn't specifically designed with this goal in mind, but among other functions, the plugin lets you easily create an LMS with WordPress. It markets itself as the perfect solution for any membership WP site, regardless of its content.
Here are some of the most notable e-learning features:
Easy payment gateway integration
Detailed statistics on sales and user interaction
Scheduled content publishing
Strict access rules for users
More advanced features, like the ability to launch affiliate and discount coupon programs, can make MemberPress a suitable solution for wider audiences.
Prices start at $149/year for the most affordable plan and can go up to $349/year for the Pro package.
Teachable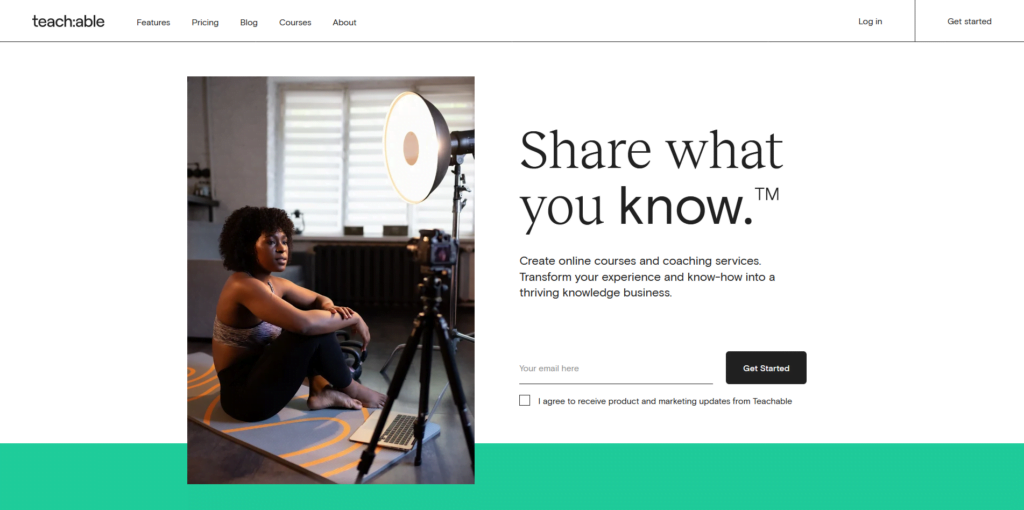 Teachable's goal is to turn your WordPress installation into an LMS and provide seamless communication between you and your students. It comes with its own user-friendly editor, which lets you create multimedia lectures, video lessons, and coaching sessions.
There are yet more advanced features, including:
One-on-one sessions with students
Course completion certificates
Course compliance controls
Add multiple tutors and team members
Comprehensive sales statistics
If you're serious about your new LMS project, you should definitely consider Teachable as a possible option. On an annual billing cycle, prices start at $348/year for the cheapest package and go all the way up to $2,988 per year for the Business deal.
LifterLMS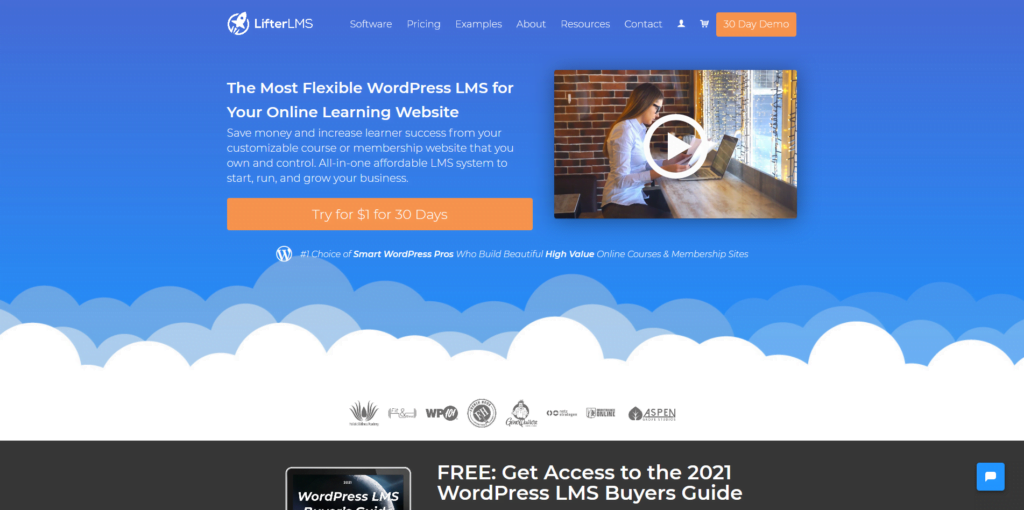 LifterLMS's developers believe that teachers shouldn't be restricted in any way when they're preparing their courses. That's why LifterLMS is arguably the most flexible LMS plugin for WordPress currently on the market.
Among its features, you'll find:
Drag-and-drop course builder
Stunning graphics pack for certificate customization
Quiz timer
Private coaching
LifterLMS integrates well with many third-party tools and offers a wide range of features that help with sales reporting, student engagement, and content management.
The core LifterLMS plugin is available for an annual subscription of $99, but it lacks many of the advanced features. To unlock them, you can either pay for each individually or opt for one of LifterLMS's bundle packages (available for $299/year and $999/year).
Sensei LMS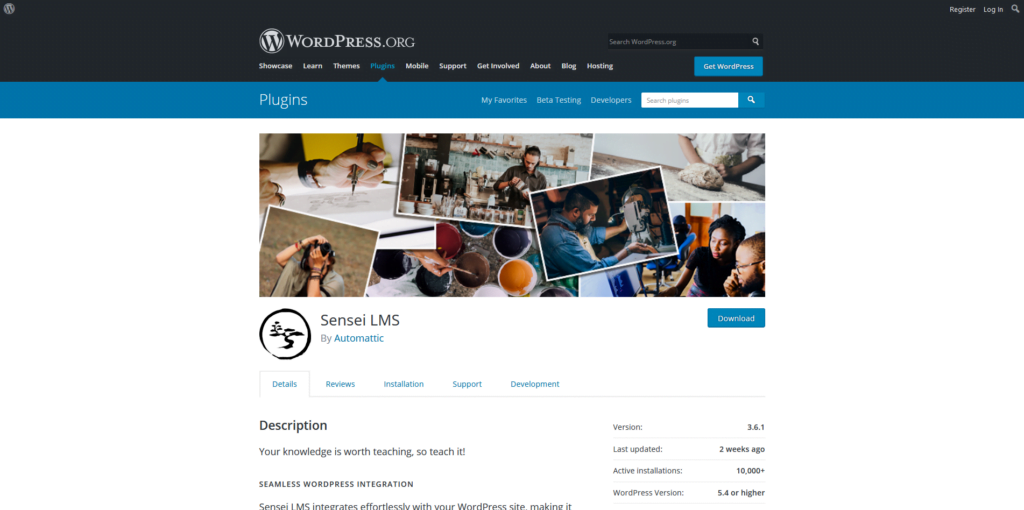 Automattic, the company that develops and maintains WordPress, also supports the Sensei LMS plugin. To say that these people know WP inside and out would be an understatement. Utilizing one of their products is a sure sign of reliability and professionalism. Some even consider it the best WordPress LMS plugin.
The add-on has over 10,000 active installations and is available in the official WordPress plugin repository.
With it, you can have a fully functioning LMS platform that can:
Step-by-step initial setup wizard
Import content from CSV files
Create great-looking courses
Create entertaining quizzes and tests
Sensei LMS is completely free to use, so it lacks some of the in-depth features of similar entries on our list. The open-source community has developed plenty of add-ons that expand Sensei's functionality.
One thing to have in mind is that if you want to sell your courses, you'll have to install the WooCommerce Paid Courses extension, which costs $129/year.
Tutor LMS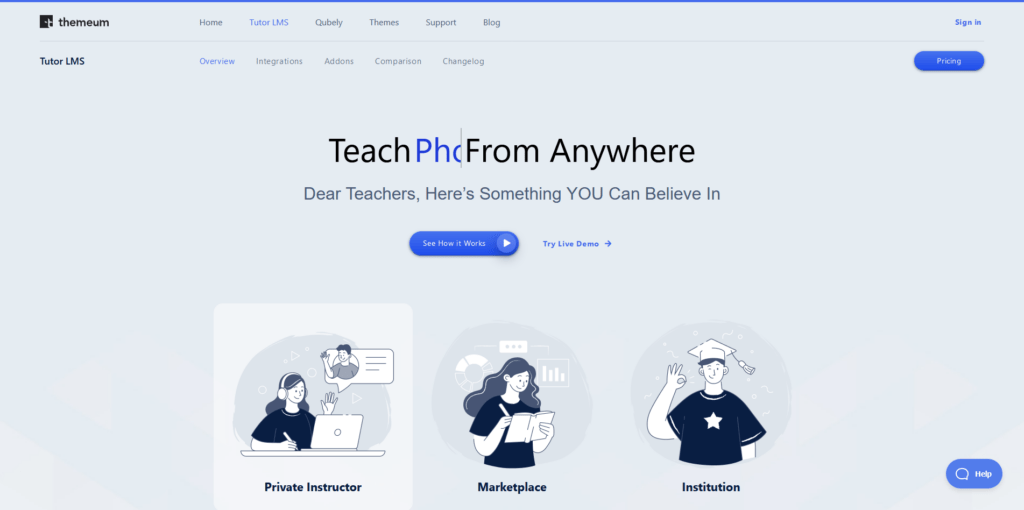 Similar to Sensei LMS, Tutor LMS is available in WP's official plugin repository. You can download it for free and create a fully-functioning learning management system with the help of excellent features, like:
Intuitive course builder
Quiz creator
Automated quiz results
WooCommerce support
The premium Tutor LMS plans do not differ in terms of features but of the websites you can cover with the license. The three deals are priced $149/year, $199/year, and $299/year for one, five, and unlimited websites accordingly.
If you're looking for a long-term solution and already trust Tutor LMS – you can opt-in for a lifetime plugin license with a one-time fee.
WP Courseware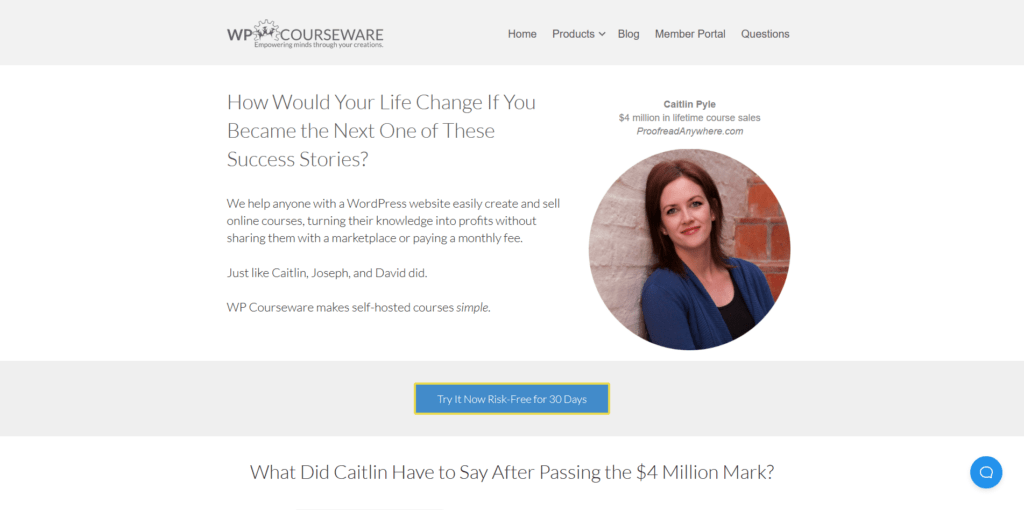 WP Courseware may be the final LMS plugin on our list but by no means the least powerful.
First released in 2012, today it is enjoyed by more than 21,000 website owners who get quite a few premium features, including:
Drag-and-drop course creator
Detailed progress reports for individual students
Automatic certificates
Email notifications for tutors and students
WP Courseware integrates with your WordPress theme with ease and lets you quickly set up a payment system – all things that are supposed to make your life easier.
Prices start at $129, which gets you support and updates for a year covering two websites.
How to Choose an LMS Plugin for WordPress?
When it comes to WordPress plugins, you always need to be careful not to go overboard and bloat your app too much. Sure, WP might not be able to help you solve all your problems out-the-box, but stuffing it with add-ons is unlikely to help, either.
Careful research is needed here, but you can simplify the process by taking note of a few essential factors when picking a new LMS plugin:
Features
You might not necessarily use all of the available plugin features from the very beginning, but your requirements will surely change as the project grows. Migrating courses and users from one platform to another after the website takes off is never easy, so it pays to be a bit more careful now and ensure the plugin you choose is a good fit.
Ease-of-use
All LMS plugins have pretty much the same end goal – creating a functioning e-learning website with ease. The solutions target different audiences, though, so not every add-on will be beginner-friendly.
Try to check out as many demos and videos as possible before you buy or install a plugin. If there is a free trial available – sign up for it. That way, you can test for yourself if you have the technical knowledge to take full advantage of the tool.
Monetization
Many LMS site owners consider monetizing from their courses and materials as well. As you can imagine, some plugins do that better than others.
The selection of payment gateways and processors is pretty much endless. You need to decide which ones to integrate with your service, but also – which ones your customers will want to use. You can then check the available options with the prospective plugins and the fees they involve.
Cost
Most of the LMS plugins out there do not come for free. To avoid potential headaches, think about the budget you're willing to set aside for your new project and pick an add-on that will not go too hard on your current spending. A premium WordPress LMS plugin might seem like a big leap budget-wise, especially in the beginning, but it's worth it once you can afford it. Thankfully, there are a lot of options with a free version, too.
ScalaHosting and LMS Websites
At ScalaHosting, we know the LMS business is thriving, so we do our best to provide the perfect hosting environment for anyone that wants to start an educational project.
In addition to our popular Moodle hosting plans, we have various packages that help you launch your e-learning project on a wide variety of different solutions.
Our managed cloud VPS servers can be very beneficial for LMS websites because of the excellent scalability and performance at a highly affordable price. In addition to guaranteed hardware resources and a dedicated IP, you'll get SPanel – an all-in-one management platform that helps you control your entire hosting account.
If you decide to use WordPress for your LMS website, you can install and control the CMS via SWordPress – our proprietary WP management tool. And if you have other plans, the recently integrated Softaculous installer can help you set up more than a dozen different e-learning and LMS applications in mere seconds.
Conclusion
The benefits of an LMS website can be immeasurable. Such projects can be an incredible productivity boost for a company trying to onboard new employees and train existing ones. At the same time, for a tutor who is trying to share their knowledge with people all around the world, it can be a great way of avoiding the commissions associated with open online course providers.
Many different tools and platforms can help you create a new e-learning website, and the combination of WordPress with an LMS plugin is just one of the best.
FAQ
Can a plugin really turn WordPress into an LMS?
Yes, it can. All the plugins on our list are packed with enough features to make WordPress a viable alternative to the dedicated LMS solutions. This is extremely convenient for users who have experience with WP because they get to manage an entirely new type of website through a dashboard they're all too familiar with.
What do I need to look out for when choosing an LMS plugin?
Many factors need to be taken into consideration, but there are a few ones you need to focus on the most. Research every single plugin well, and see if it has the features to help you achieve your goals. If it does, check out how easy it is to operate it.
If possible, contact the plugin developers and ask whether their product works well with your theme and any other addons you have installed. Last but not least – consider how the extension will affect your budget.
Do I need any coding skills to install or work with LMS plugins?
No, not at all. Installing a new addon is as easy as selecting it from the WP dashboard, and because all extensions were designed with ease-of-use in mind – they are all managed through a convenient graphical user interface (GUI).
Was this article helpful?