Thanks to WordPress, creating a website doesn't require technical skills anymore, so people from all walks of life can give it a go. Regardless of whether you're setting up a personal blog or launching an online business, it all starts with building an online identity.
Choosing the perfect WordPress theme is a crucial part of this process…
What Is a WordPress Theme?
In essence, a WordPress theme is a collection of media, PHP, JavaScript, and CSS files. They "tell" the browser what your website should look like. The theme determines the overall layout, and in most cases, lets you customize the typography and add design elements.
A stylish WordPress template can completely transform your website and give it a truly unique look and functionality.
Themes are created both by professional developers and by the open-source community members. At any given moment, you are no more than a Google search away from thousands of free and premium WordPress themes.
Why Do You Need a Good WordPress Theme?
A good design engages the user's attention and convinces them to spend more time on the page, clicking more buttons and links.
If they find the overall user experience pleasant enough, they'll want to come back, which will form a base of regular visitors. They'll associate your brand with your website design, which is why you must ensure it stands out from the crowd.
WordPress themes can help you with that, and, as we'll find out in a minute, there are plenty to choose from.
First, however, let's go through the process of setting up a WP layout.
How to Install a WordPress Theme?
The steps here depend on the theme's origin. There are two options – installing an official WordPress theme or uploading a ZIP file from a third-party source.
WordPress.org hosts close to 10,000 themes in the official template repository. All of them are free to use, and all have a Demo button so you can explore the design in more detail. If you're after a free theme, you won't find a more comprehensive selection of designs, and for your convenience, they are all available in your WP dashboard.
If you don't find what you're looking for at WordPress.org, you can install a theme from a third-party website. It arrives as an archive file, and WordPress handles most of the installation for you.
In both cases, the steps are pretty simple. First, you need to log into your WordPress Dashboard at https://yourdomain.com/wp-admin/ and go to Appearance > Themes. Next, click the Add New button.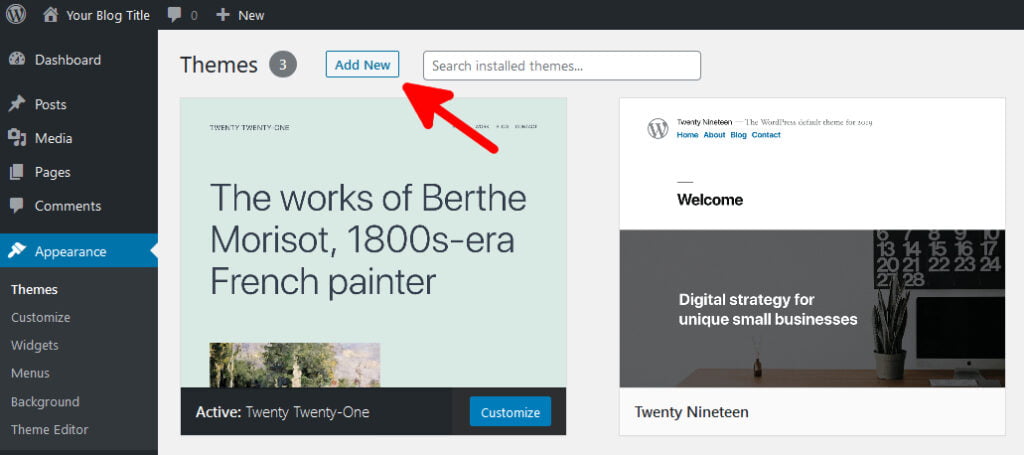 The themes from the official repository are all available in this window. You can search by keywords, filter results according to various criteria, and even browse through selected favorite designs.
When you hover over a theme, you can click Details & Preview and see what your website will look like with it. The Install button sets up the theme with a single click. To apply the new design to the live website, you need to click the Activate button, which is available both in this window and in Appearance > Themes.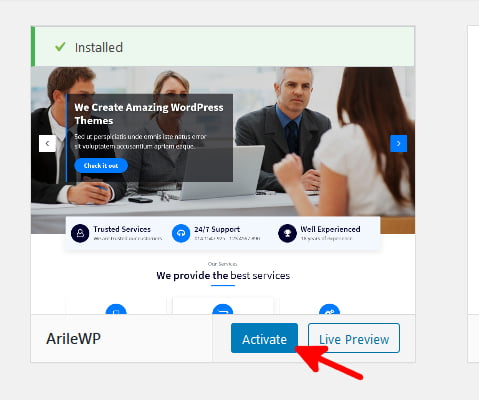 If the theme isn't available in the WP official repository, and you have it as a ZIP file, you need to click the Upload Theme button in the Add Themes section.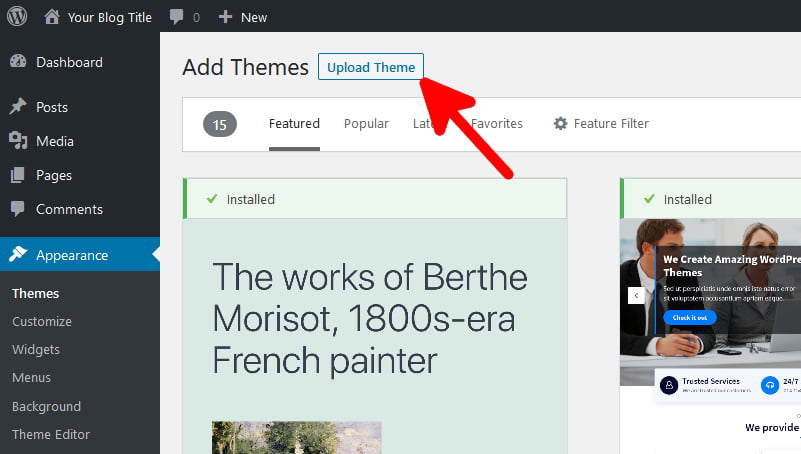 Click the Browse button, navigate to the location where you saved the ZIP file, and double-click on it. Click Install Now to initiate the process, and in a few moments, the new theme will be ready to use. WP will notify you and let you either preview and activate the layout or return to the Themes section.
Top WordPress Themes of 2023
There's nothing complicated about installing a new WordPress theme, regardless of where you download it from. You could even say that choosing a theme is a lot harder than installing it. Today, we'll try to help you out with a list of some of the best WordPress themes currently available on the market.
BeTheme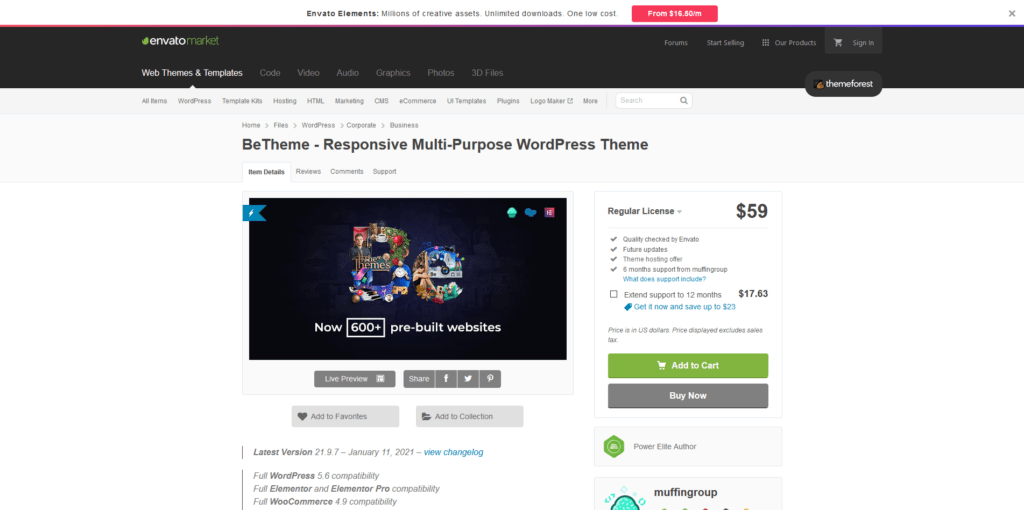 Developed by The Muffin Group, BeTheme has been around since 2014 and has registered close to 260,000 sales. It's a more comprehensive and well-designed solution than many regular themes.
It flaunts over 600 pre-built templates that act as the starting point for a vast range of websites. Regardless of what your idea is, achieving it with BeTheme is most likely possible. All pre-built templates are professionally made, and there's an endless array of customization options to make your website unique.
If you don't charge end users for the product you create with BeTheme, you can use the theme under the Envato Market regular license for just under $60. The extended license, which lets you use the BeTheme for commercial products, costs $2,950.
Shop Mania
Shop Mania is one of the fastest WooCommerce themes on the market. It comes with all the tools you need to set up a quick, responsive ecommerce website, including over 20 pre-built, ready-to-import demo templates.
You can sell anything you want with a Shop Mania store – from clothes to cosmetics, groceries to furniture, and medical supplies to jewelry – whatever your business plan, this WooCommerce theme is up to it. You can even set up a multivendor marketplace with it.
Shop Mania's code is clean and SEO-friendly, the theme can easily be translated into any language you want, and you have full compatibility with the major WP page builders. Couple this with the excellent performance, and you get one of the best premium WooCommerce templates around.
Total
Similar to BeTheme, Total by WPExplorer is a WordPress theme that comes with pre-built templates (called demos), which you can use as a starting point.
There are about 40 demos, so the choice is rather limited, but you're more than likely to find what you're looking for. When you do, you'll have plenty of customization features to finish off the design. You can also create custom pages with over 100 builder modules included in the pack.
Total is available on the Envato Market for $59.
Avada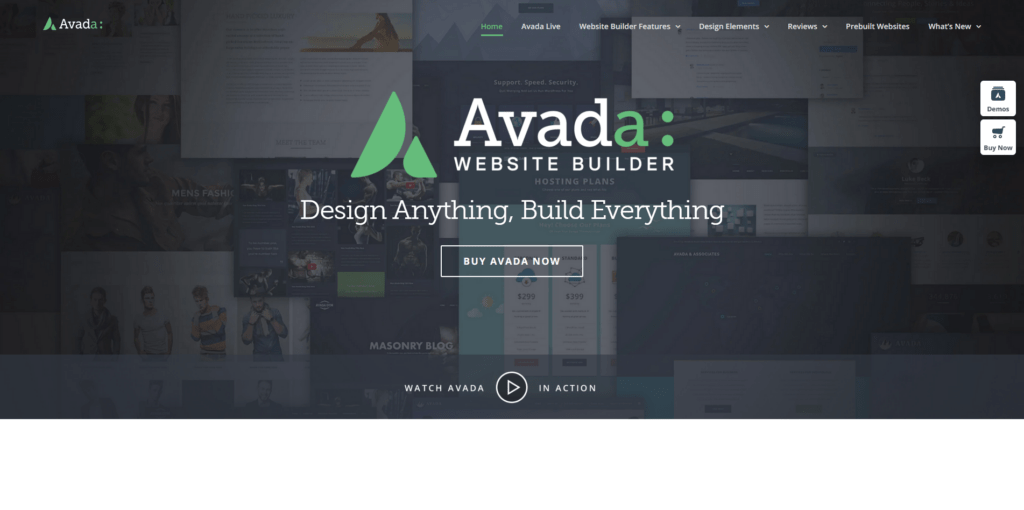 Avada by ThemeFusion boasts itself as the best selling WordPress theme of all time, and given the 800,000+ users, this claim may not be too far-fetched. It's primarily aimed at ecommerce businesses and comes with close to 80 pre-built templates, catering to just about any online shop you can think of.
At least part of its popularity is due to its compatibility with WooCommerce, the most widely used ecommerce WordPress plugin. The rest may be attributed to its ease of use.
Avada gives you pretty much limitless options for changing the layout and every single design aspect of your website. There's a drag-and-drop editor, and you can also modify the content directly on the live site instead of through the backend.
Avada is available on Envato Market under regular ($69) and extended ($2,950) licenses.
TheGem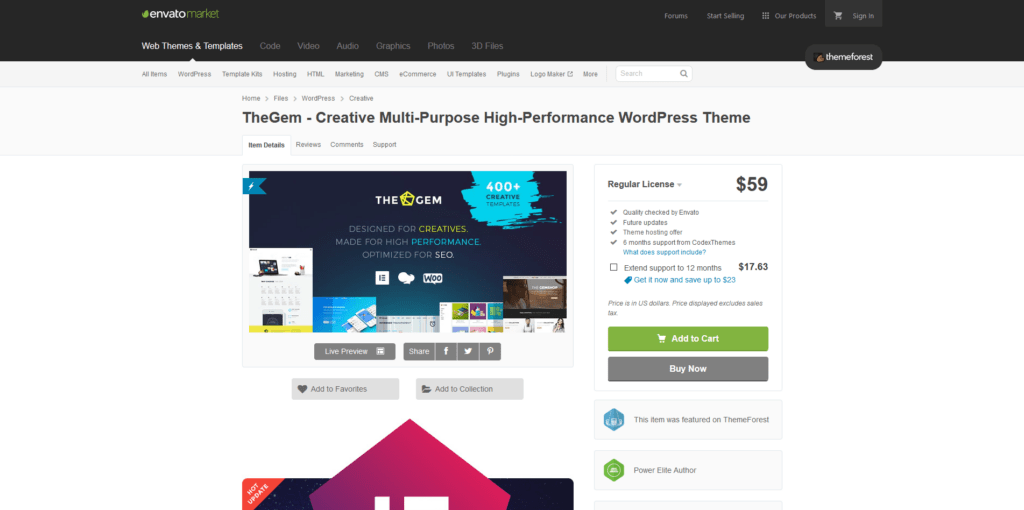 TheGem is yet another WP theme that promises to find a solution for just about any WordPress website owner. It has hundreds of ready-to-use demos and dozens of unique design elements. Customizable skins further expand the options to build a one-of-a-kind page.
TheGem was first released in 2016 and has so far racked up over 67,000 sales.
It's developed and maintained by CodexThemes and available under Envato Market's Regular ($59) and Extended ($2,900) licenses.
XStore
Unlike some of the other themes on our list, XStore is aimed at online shop owners, specifically WooCommerce users. Built by 8theme, XStore has racked up close to 33,000 sales.
The theme does pack a punch.
It has over 100 ready-made designs suitable for all sorts of online shops, an intuitive product page builder, and the ability to monitor changes in real-time. In addition to the website's design, you can modify the outlook of your emails as well.
XStore is available on the Envato Market, and you can have it for as little as $39.
Schema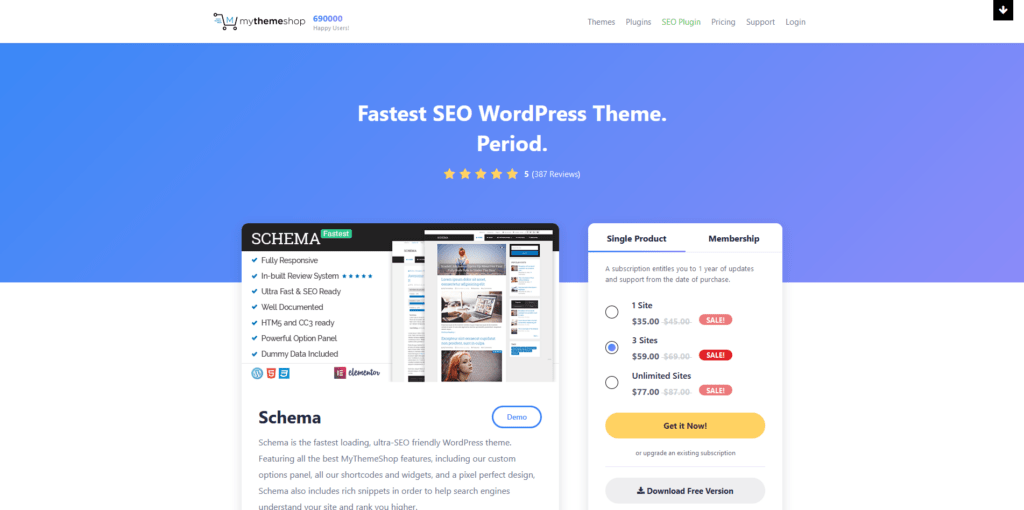 Schema by MyThemeShop is a far more simplified theme from a purely visual standpoint, and you don't get the dozens of pre-built templates and demos offered by similar solutions. Instead, you have a simple-looking design and a few customization features aimed at projects that don't require many advanced functionalities.
Schema's real advantage is its speed and SEO-friendly design. The code is as clean and as optimized as they come, and the theme is supposed to give loading speeds a considerable boost. Performance is a major factor in SEO rankings, so the developers have pulled a few other tricks to push you further up the search result pages.
Schema has a free version, but that one lacks some of its most useful features. The paid version starts at $39 for a year of updates and support.
Divi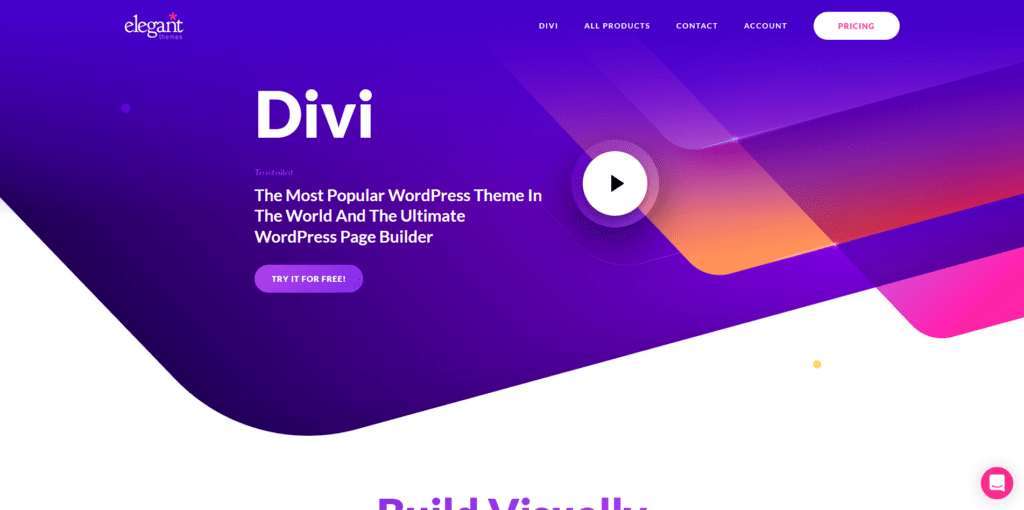 Divi is the flagship product of Elegant Themes, and they market it as something more than a mere WordPress theme.
It comes with hundreds of layout packs – pre-built designs suitable for pretty much any type of website you can think of. The layout packs are neatly organized into categories, so you should have no problems quickly finding the one you need.
You'll be equipped with a What You See is What You Get (WYSIWYG) editor that lets you preview the changes you make in real-time. You can add, remove, shift, and modify design components, reviewing the results immediately.
A yearly subscription of $89 will give you access to Divi as well as the rest of Elegant Themes' products. With it, you'll benefit from updates, 24/7 support, and the ability to use the theme on unlimited websites. Alternatively, you can pay a one-time fee of $249 and get lifetime access to all these extras.
Genesis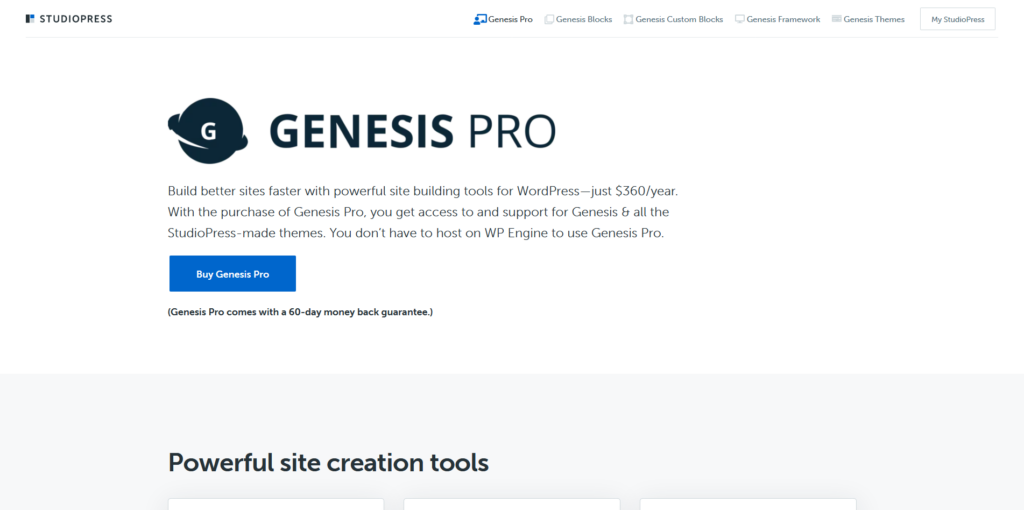 Genesis by StudioPress is not just a WordPress theme. It's a complete suite of tools that make changes to both the frontend and the WordPress dashboard. An annual subscription of $360 gives you access to the entire collection of tools and features, including 35 premium themes.
You can choose one of the readily-available layouts and customize it to your heart's content, or you can create your own from scratch. Additionally, you have an enhanced Gutenberg editor, which makes block-based content editing a breeze.
Storefront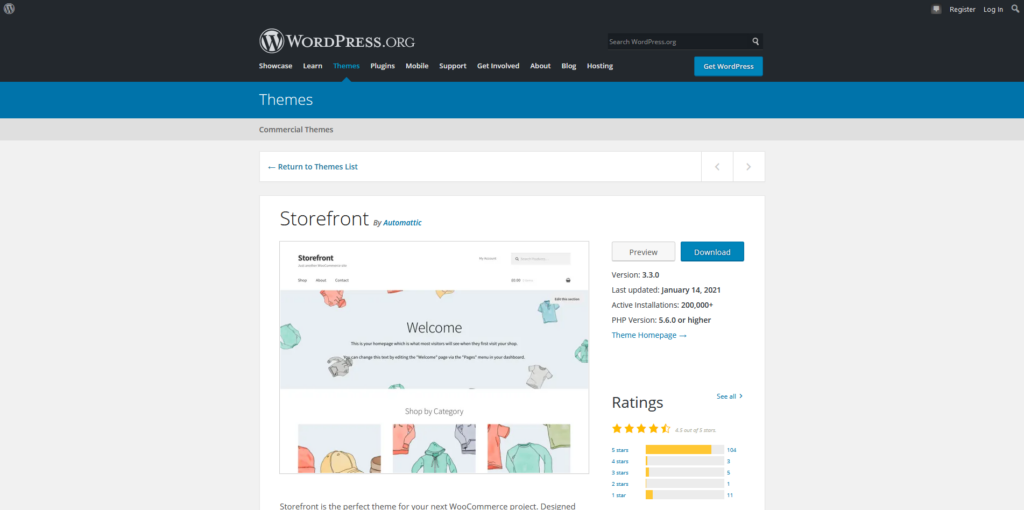 Storefront can be a great starting point if you're launching an ecommerce site based on WooCommerce. It's a lighter, more traditional theme and doesn't count on all the bells and whistles that typically bloat your website.
Storefront is free and comes with a clean and simple design. The layout is customizable, with a selection of free and premium child themes to help you create a unique look for your online store.
Storefront's biggest advantage, however, is the fact that it's developed and maintained by WooCommerce's creators. As a result, you can expect bulletproof integration with the ecommerce platform and the most popular extensions for it. The theme evolves around WooCommerce, so you can be pretty sure that future updates won't cause any conflicts.
Authority Pro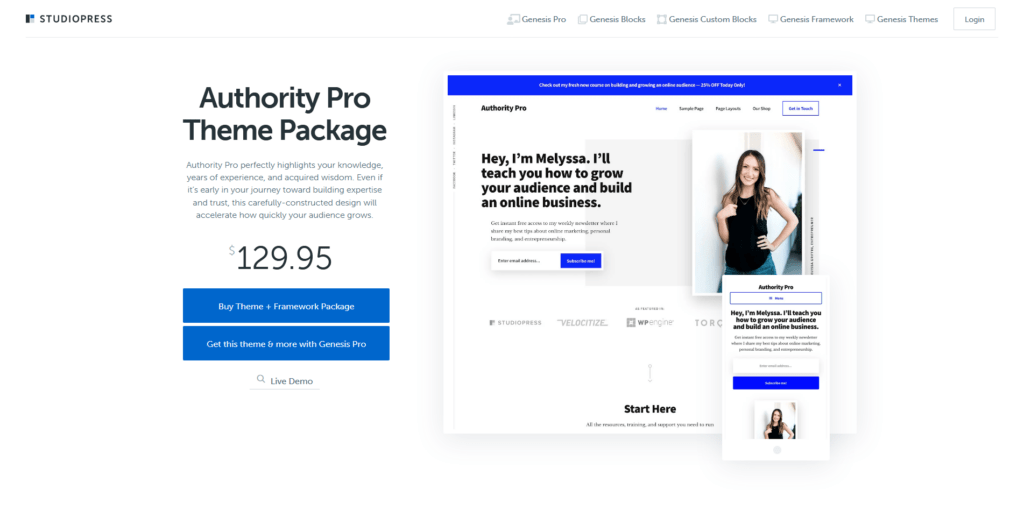 Authority Pro is a WordPress theme developed by StudioPress. It can be bought as a part of the Genesis Pro package at $360 per year.
The theme is suitable for all sorts of WP websites.
In addition to its versatility, Authority Pro prides itself on its responsive design and clean, SEO-friendly code. Its main selling point is the one-click setup process, though. If you're just getting started, you can create an entire website and fill it with demo content with no effort at all. You can then customize the theme and use the Gutenberg block editor to modify the content and set it up just the way you want it.
Deep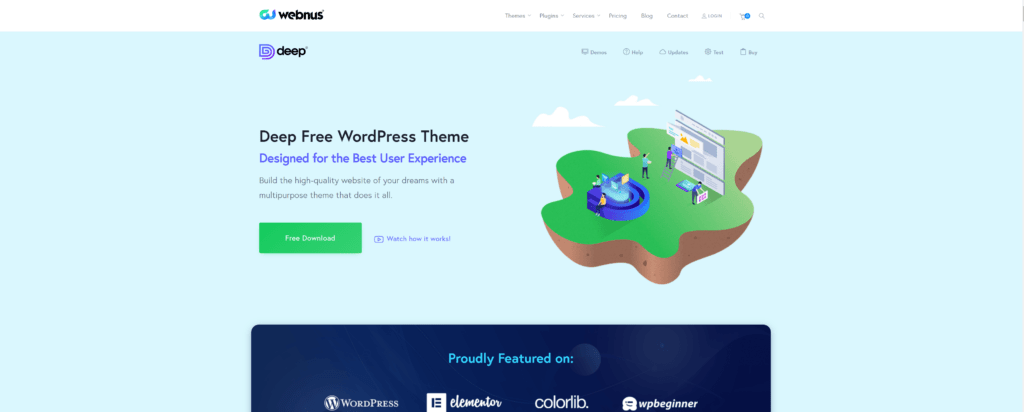 Deep is a multi-purpose WordPress theme that no matter what kind of website you have on your mind, will suffice you. This is because of the ample number of demos, that count up to more than 120 and the number of templates, which rise to more than 160. This profuse amount will erase any boundary regarding designing a website from scratch.
Alongside these, Deep is compatible with Elementor and you can redesign your demo using its drag-and-drop feature.
You can purchase a Deep license for a single website for $39, with all its premium plugins included and 1 year of updates and premium support.
How to Choose a WordPress Theme
We showed you just ten of the best WordPress themes currently available on the market. Choosing one for your own project isn't as easy as picking one from a list like that, though – it's a decision you should carefully think through and base on your particular needs.
There are a few key criteria to consider when you're looking at the thousands of different options. Let's try to go over some of them.
Design
The theme's main purpose is to determine your website's appearance, and its design must line up well with your ideas. In its default state, this is unlikely to happen, which is why it pays to research the available customization options coming with each layout.
Functionality
Usually, plugins are responsible for the website's functionality, but different design components can also influence the way users interact with the project. A good theme ensures your website is both beautiful and functional. At the same time, it should also complement the rest of the plugins.
Ease of use
Merely installing a theme is just the first step. Your site design must be customized, and, more often than not, you have the tools to do it in the template pack. Before you select a theme, however, you must ensure you feel good with its backend and way of operation.
Support
You'll likely want to stick with your selected theme in the long run, so you need to feel safe it will be supported in the future. WordPress core updates introduce new features that can sometimes cause compatibility issues for existing themes. Popular theme developers work hard on getting the problems fixed as quickly as possible, while others aren't that bothered.
Cost
If you decide to utilize a premium theme, you need to make sure you have the budget for it. Prices vary wildly, and some themes can get pretty expensive. Check out as many options as possible and try not to rush a purchase, especially if you're just starting out and money is tight.
Conclusion
The WordPress theme plays a major role in your website's growth. The layout, the logo, and the rest of the design elements are the first things users see and are often most associated with your brand. A good-looking interface engages people's attention, and a functional design turns them into regular visitors.
These are just some of the reasons why picking the right WP theme is so important.
FAQ
Can I create a good-looking website using a free theme?
Free themes can act as the starting point for a great design. Some come with quite a few customization options, and if you have any programming skills, nothing is stopping you from modifying the code and achieving the exact look you're after.
Doing this is often a lot easier when using a premium theme. They are usually professionally written, thoroughly tested, and have more user-friendly customization options.
Is it possible to run into problems with my theme when I update WordPress?
The WordPress core gets security patches and new features through regular updates, and some changes can create conflicts with plugins and themes on your WP website. The theme developer's responsibility is to look for issues and promptly release a fix.
Unfortunately, some developers don't put enough effort into supporting their products, and fixes can be delayed or non-existent.
Is it difficult to install a new WordPress theme?
The process of installing a new WP theme is fairly straightforward. The themes published on WordPress.org are all available in your dashboard, and if you have the design as a ZIP file, all you need to do is upload the archive through the backend. WordPress will take care of the rest.
Was this article helpful?