Millions of people worldwide have already chosen WordPress as their go-to application for website building. How could they not? – the prominent CMS easily wows users with its ultimate flexibility, easy customization, and constant upgrades.
But more often than not, webmasters have to juggle between multiple WordPress instances, and the burden can only get heavier as the number of accounts under their management grows.
Luckily, WordPress has a solution for that problem as well – introducing WordPress Multisite!
Today, we will learn more about WP's multisite functionality – what is it, who can benefit, and how to easily configure it on your account?
What is WordPress Multisite?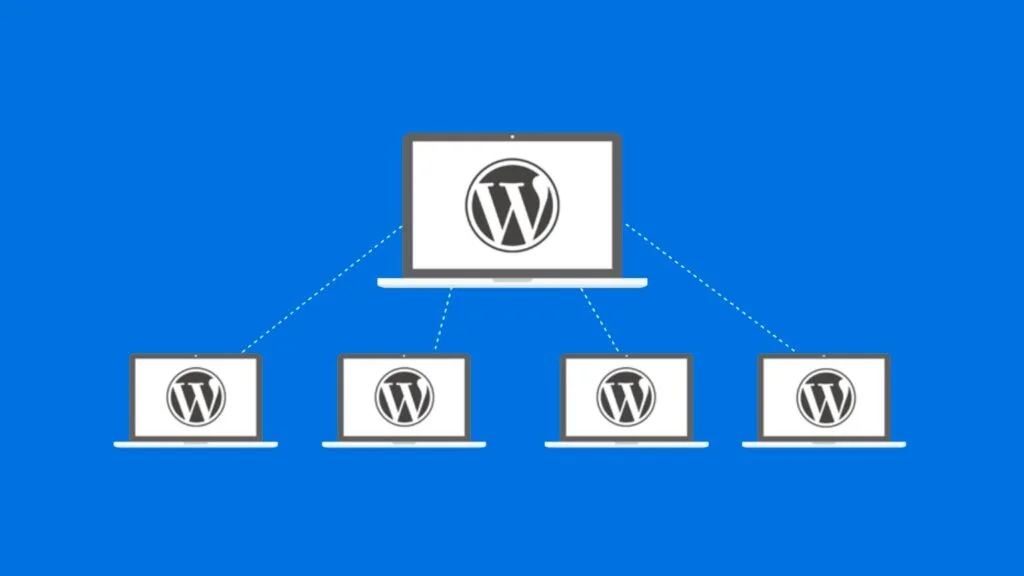 WordPress Multisite (WPMU) is a type of installation that allows users to manage and customize multiple WP instances through the same dashboard. You can create an entire network of websites and easily make changes with a single login username and password. Additionally, you can add more users and assign them different access and permissions.
For example, you are a web developer who simultaneously works on different client projects. Apart from yourself, site owners and various team members might also need access to their particular websites. As an administrator, you can assign users to their specific page without compromising your other projects.
A great example of WPMU in use is WordPress.com. The commercial fork of the most popular CMS offers separate user accounts while the developers maintain full control of what each one contains.
WordPress Multisite Benefits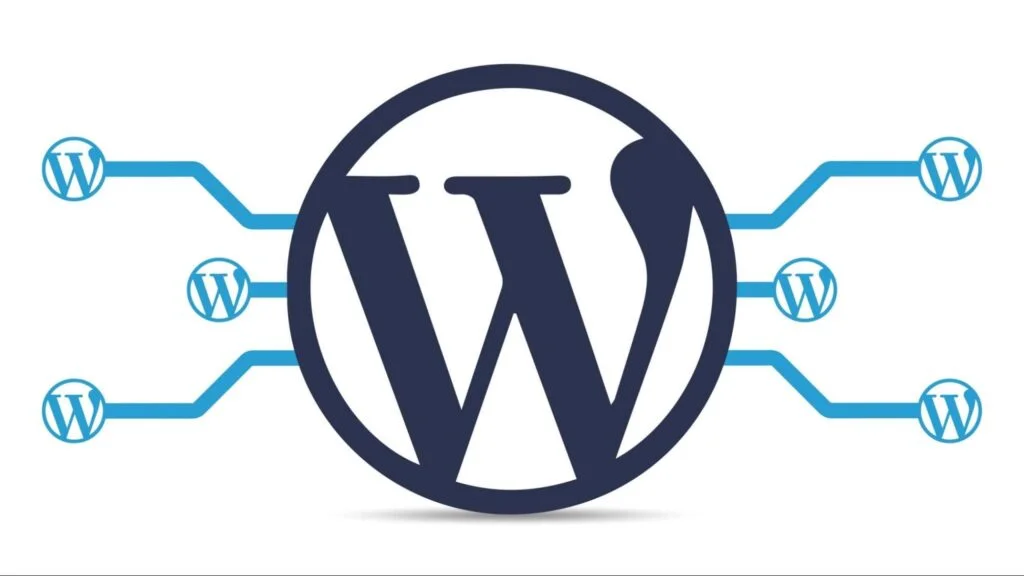 Managing more than a few WordPress websites, you will soon realize your operations can run much more efficiently if you don't waste precious time switching between accounts all the time.
But WordPress Multisite offers so much more than that:
Quick access to many blogs – there is no better way of handling multiple WordPress websites than utilizing this wonderful feat. One username, one password, one dashboard – things don't get much simpler and user-friendly than with WPMU.
Shared themes and plugins – here is where your efficiency can go through the roof. Many of WP's add-ons are multisite-compatible, and you can easily install a theme or plugin only once before using it on different WordPress pages under your control.
Single WordPress installation – as with the add-ons, WordPress Multisite can save you heaps of time with the actual core WP installations. Sure, the initial CMS setup doesn't take more than a few minutes, but the numbers quickly stack up when you have to deal with hundreds of websites.
Single point of upgrade – one of the most lucrative benefits of Multisite shines when it's time to upgrade your application or plugins. You can easily optimize the process and apply the new versions to multiple pages at once.
Multiple access levels – when using WordPress multisite, you act as a super administrator. As such, you have complete control to assign the roles beneath you – who has access to which websites and the kinds of options they can utilize.
Who may Need WordPress Multisite?
WordPress Multisite is somewhat of a niche option in WP, as webmasters that only manage a single project don't really have much use of this feature. But for many other individuals and businesses, this can be an immense time-saver.
This includes:
web developers and designers
web agencies
resellers
international enterprises
marketing specialists
community groups
Now that we have identified the WPMU essentials, it's time to learn how to configure it on our web hosting server.
How to Create a WordPress Multisite Network?
Before you start with your WPMU configuration, you need to ensure you have a reliable hosting provider with optimized servers to flawlessly handle your network's traffic.
Once you have that out of the way, you simply need to follow these steps:
Connect to your server via an FTP client or the File Manager in your control panel.
Locate the wp-config.php file and open it with a text editor of your choice.
Find the line:
/* That's all, stop editing! Happy blogging. */
Just above it, paste the following code:
/* Multisite */
define('WP_ALLOW_MULTISITE', true);
Save the edited file.
Now, head on to your WordPress dashboard. Go to Tools -> Network Setup.
On the next screen, you need to select if the websites within your network will reside on subdomains (like site.yourdomain.com) or subdirectories (yourdomain.com/site). Choose carefully as you cannot change this selection later.
Input your admin credentials and hit the Install button.
You are now on the Network Setup screen. It should look something like this: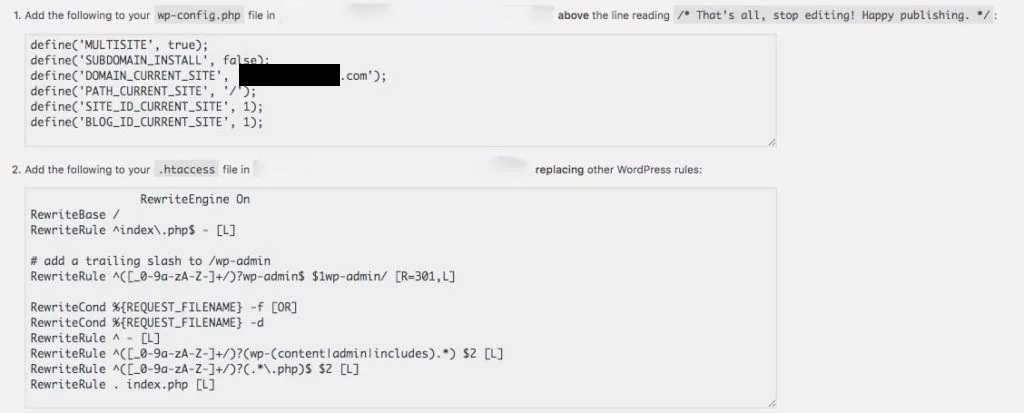 You need to copy this code and paste it into two different files – the wp-config.php and .htaccess.
Save and close the modified files. If the system asks to overwrite any data – you can safely do so.
You will now see a new menu in your WordPress dashboard – My Sites. Clicking on it, you will find various network administrator and site management options.
IMPORTANT: If your control panel offers Softaculous, the one-click installer has an option to activate WordPress Multisite during the initial WP setup.
Managing your WordPress Multisite Network
As a super admin, you have complete control over all websites in your network. If you visit your WP dashboard and go to My Sites -> Network Admin -> Sites, you will see a bunch of helpful options. With their help, you can:
Add new websites – you just need to input a site URL, title, language, and admin email. Once created, you can see the new page in the Sites screen.
Edit site settings – this screen contains a ton of neat options about the site, users, theme, and more. You cannot make any changes to the website content from here.
Deactivate websites – this will hide the chosen website from any site visitors. Instead, they will see a message that the content is not available.
Archive websites – only you, as super admin, can see archived pages. All other users and site visitors will get a message that the site has been archived or suspended.
Mark sites as spam – you don't want to keep any spammy pages within your network, so you can easily mark the ones that break the rules.
And many more.
As you can see – everything the network owner might need is just a couple of clicks away.
WordPress Multisite and Web Hosting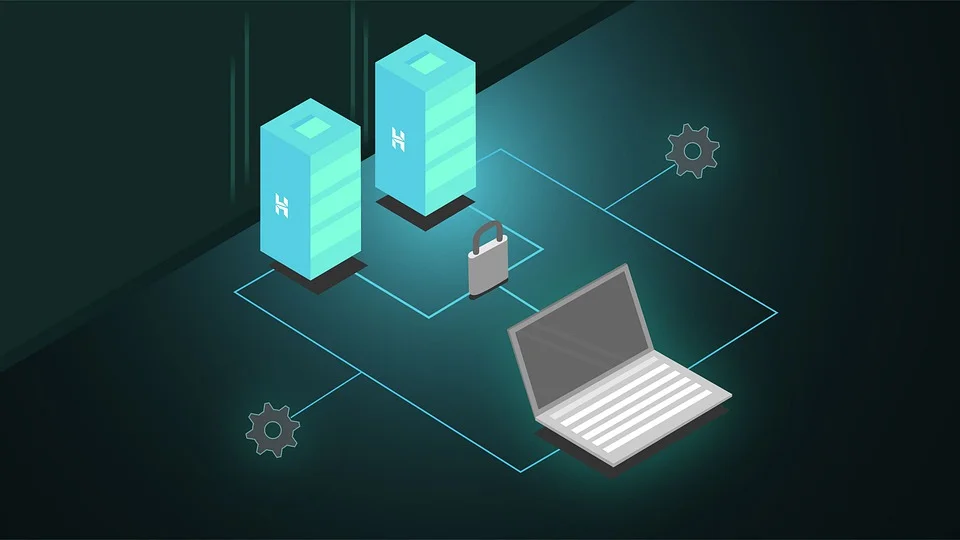 Now that we know what WPMU does and how we can benefit, how do we choose the right hosting provider for our network? Are there any special requirements to look out for when picking our next host?
While managing a WordPress Multisite network doesn't really come with any extraordinary demands, you still have to ensure the following:
enough disk space for all sites and databases
enough server resources to handle all websites
domain registration and management options
WordPress-optimized servers
WP-trained support
SSL certificates
the ability to expand as the websites grow
Now, this last one is particularly important, as every webmaster should be planning for growth.
This is why we can safely recommend cloud VPS solutions as the go-to option for multisite projects. This type of hosting not only comes with a dedicated set of system resources but also offers enhanced security and control over the environment.
You can monitor your server usage at all times, so you will know if you are close to hitting any limits well in advance. But even if that's the case – the cloud technology will ensure you never run out of any CPU, RAM, or disk space.
ScalaHosting offers a wide range of managed and unmanaged VPS solutions with a WordPress-optimized environment and professional support for the app. Additionally, you can choose one of the server options of our industry partners DigitalOcean and Amazon AWS.
Conclusion
If you want to start a new community or are already part of one – WordPress Multisite is definitely one of your most advantageous options. The powerful tool will allow you to set up an entire network of websites and assign access to different users without any previous technical experience.
Whether you are an individual or an established business – WPMU can have a use case for you!
FAQ
Q: What is the difference between WordPress and WordPress Multisite?
A: WPMU is a part of the WordPress environment, so there isn't any major difference between the two. Multisite is simply a feature that allows you to easily host and manage multiple websites within the same admin dashboard. All those websites still utilize the WordPress core and operate just like any website created with the popular CMS.
Q: Is WordPress Multisite good for SEO?
A: WordPress Multisite isn't much different than a standard WP installation, so it doesn't inherently affect your SEO rankings. It all boils down to all the on-page and off-page optimizations you will perform and the competition in your niche. One WPMU specific to watch out for is the choice between subdomains and subfolders when setting up your network, which can affect your overall site structure.
Q: Can WordPress Multisite use different themes?
A: One great thing about WordPress Multisite is the ability to apply a single theme or plugin to multiple websites at once, saving you time and unnecessary installations. Still, this is just one feature you can take advantage of – nothing stops you from using a different template on each of your WordPress websites.
Was this article helpful?