Let's say you have this brilliant idea of how your WooCommerce store should look. Unfortunately, you don't have enough time or maybe the coding skills to turn this vision into a reality. You don't have to. All you need to do is get the best WooCommerce theme.
What Are WooCommerce Themes and Why Do They Matter?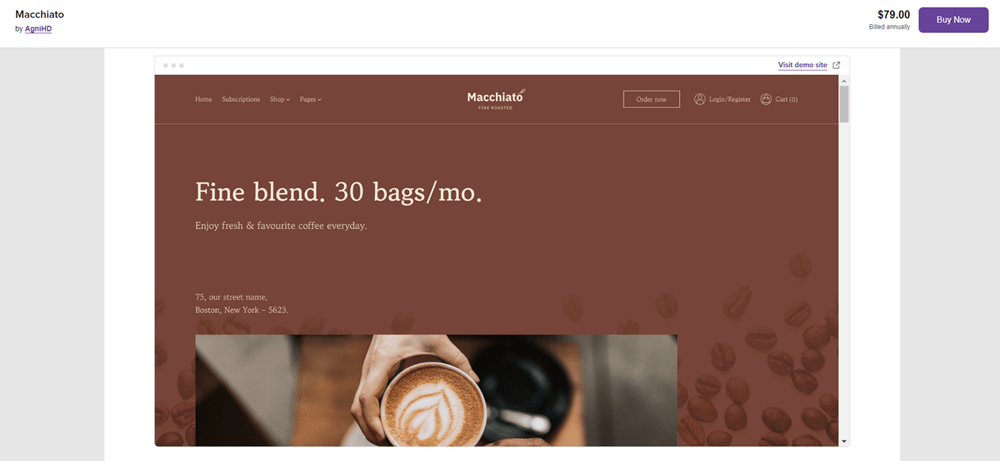 WooCommerce themes change the design of your online store. Different skins can transform it all – from page layouts to the colors and the fonts.
A reliable template can help you create a beautiful, functional, and recognizable platform. Most themes allow you to change the visual details of your website, which means you can have a truly unique end result.
The best part? You need zero coding skills. Just find a WooCommerce theme you like, download, install, and start customizing!
But first things first.
Here's how to find a theme that fits your needs:
How to Choose the Right WooCommerce Theme
At this point, you've probably noticed that there are a lot of WooCommerce themes available online. Consider the following, before choosing:
Free vs. Paid
This one is quite obvious. It all depends on your budget, with both options having different advantages.
There are a lot of free WooCommerce themes available, but they don't have many advanced features. The paid ones are admittedly more expensive, but they come with support from the creators and, more often than not, grant you greater freedom for personalization.
Updates
While this is not an exclusively paid themes advantage, it's rare that you'll find a free option that offers frequent updates. Thing is, you need those if you want to stay on top of your game.
Make sure to check when the latest version of your WooCommerce theme was released and if it's a free one. Same goes for your plugins, which are often associated with your template and its compatibility with their version..
Responsiveness
People will abandon a site that takes longer than 3 seconds to load. So, your store needs to be fast and responsive. In addition, 61% of shopping orders in the US during Q3 of 2022 were made via a smartphone. So, make sure to get a mobile-optimized theme.
Aesthetic
That's usually the first thing people look at. Make sure the general aesthetic of the theme fits your products. An online store for used cars won't benefit from a background with roses, for example.
On the other hand, as long as the theme allows personalization, you'll be fine – even one made for a jewelry store can be customized to fit a car business. As for functionality, you can always add plugins if something is missing.
How to Install a WooCommerce Theme?
Okay, we've reached the slightly technical part. Don't worry, though – you won't have to code.
Downloading a Woo Theme
You can either get a new skin from the WooCommerce Theme Store or choose a different marketplace. Downloading it is literally the easiest part – click on a template you like and you'll see the button to save it. That's it!
Installing and Activating a Woo Theme
If your theme is from the WooCommerce marketplace, you can automatically add the template to your online store.
Your other option is to do it via the WordPress dashboard. Once you are in your WooCommerce account, navigate to the Downloads page and click on the Download icon. This will generate a compressed .zip file.
Your next step is to open your website, click on Appearance, select Themes, then Add New. Upload the .zip file, go back to Themes, and click on Activate.
Troubleshooting
There are two common issues you might encounter when installing a WooCommerce theme:
missing style.css stylesheet – you probably uploaded a plugin or PSD file, not the .zip file.
PCLZIP_ERR_BAD_FORMAT (-10) : Unable to find End of Central Dir Record signature – high chances that the .zip file you've uploaded is corrupted. Try downloading it again.
IMPORTANT: Don't forget to regularly check your WooCommerce core app and the chosen theme for updates. Applying the latest stable version ensures optimal performance and best protection from hacks.
WooCommerce Theme Marketplaces
We kept mentioning WooCommerce marketplaces, which probably had you wondering about the best ones out there. We've got you covered:
WooCommerce Theme Store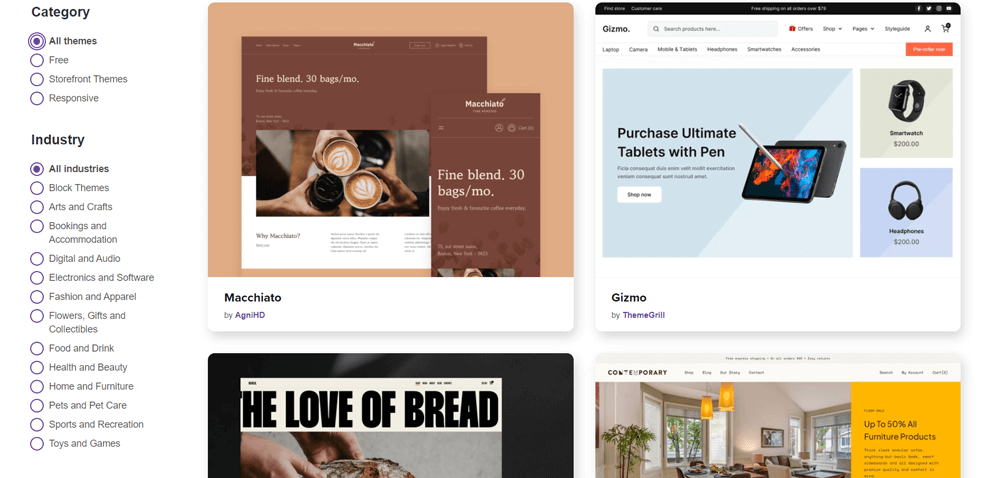 That's the obvious answer, but it doesn't mean the official WooCommerce marketplace is not great. It offers 62 themes, covering 13 industries. And yes, there are free options.
The main advantage of the WooCommerce Theme Store is that any skin you download can be added effortlessly to your store, by clicking one button. It's absolutely perfect, if you're not tech savvy.
Template Monster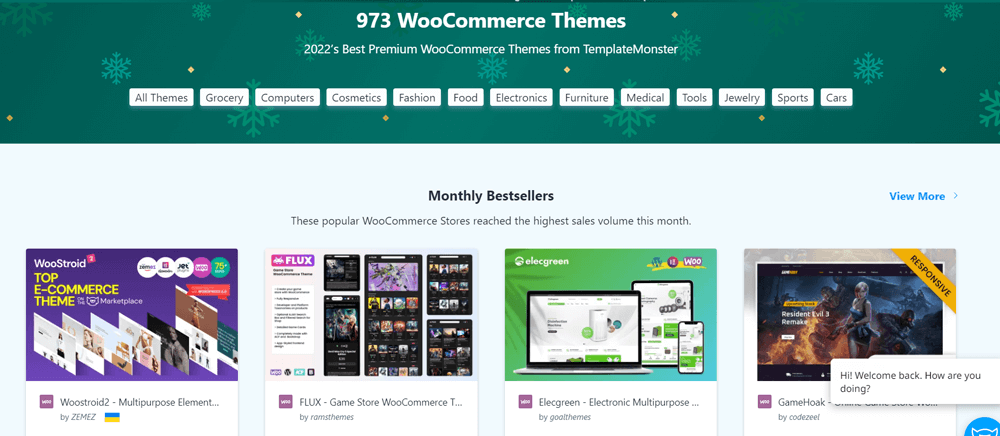 TemplateMonster features the whopping 937 WooCommerce themes, spread across 12 categories:
Electronics
Computers
Fashion
Cosmetics
Medical
Sports
Cars
Jewelry
Grocery
Food
Furniture
Tools
In order to download any, you must get an account and subscribe for $13.50 a month. While this might seem a lot, the price includes installation, setup, and 6 months of support. If you're willing to pay more – you might get extra goodies like must-have plugins, GDPR compliance, premium store customization, and more.
ThemeForest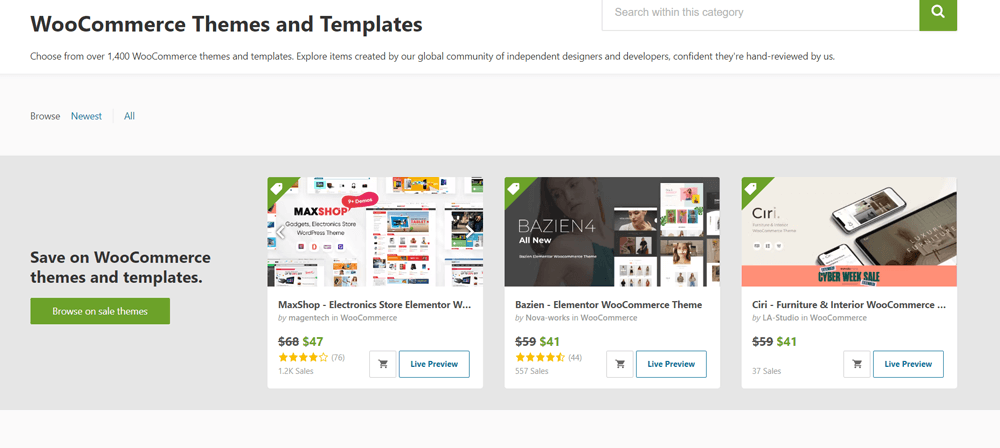 If you're one of those people that love having many options, ThemeForest is for you. The marketplace offers over 1,400 WooCommerce themes and templates, suitable for all types of businesses. There are price tags that will fit different budgets. In addition, most of the themes come with 6 months of support and guaranteed updates.
ScalaHosting and WooCommerce
Having a beautiful and functional theme is not enough, though – you need a stable foundation for your online shop. This is why you need to invest in web hosting.
To make things easier for you, ScalaHosting offers managed WooCommerce hosting, with four plans available.
Our deals include:
Free migration with zero downtime
Free domain name
SPanel for VPS management
24/7 expert support
Unconditional money-back guarantee
To top it all off, we will take care of all technical aspects related to your web hosting , while you focus on choosing the best WooCommerce theme for your business.
Conclusion
Now that you know what WooCommerce themes are, how to choose one and how to install them, you're ready to take over the ecommerce world by storm. But don't forget to first take care of the hosting side of things!
FAQ
Q: Can you use any theme with WooCommerce?
A: Yes, but your best bet is using one designed specifically for WooCommerce. Also, consider that some themes might not work well for ecommerce purposes, and you might lose customers.
Q: How does WooCommerce integrate with custom themes?
A: WooCommerce can integrate with custom themes thanks to a combination of PHP and CSS.
Q: Are all WordPress themes compatible with WooCommerce?
A: Yes, you can use any WordPress theme with WooCommerce. Still, it's best if you use one designed specifically for ecommerce.
Q: Are WooCommerce themes free?
A: There are numerous free WooCommerce themes available. However, it's recommended that you go for a paid one – those come with updates and support.
Q: Does WooCommerce have themes?
A: It has its own theme marketplace, called the WooCommerce Theme Store. It offers 62 themes, suitable for 13 industries.
Was this article helpful?