Are you running an online store using WooCommerce? Do you want to optimize your store's performance, increase your revenue, and make informed decisions to stay ahead of your competitors?
Look no further!
In this guide, we'll take you through everything you need to know about maximizing WooCommerce Reports – from understanding the basics to implementing advanced strategies!
What is WooCommerce?
WooCommerce is an open-source ecommerce plugin built for WordPress. It allows website owners to turn their online project into a fully functional online store by providing the tools to manage products, orders, payments, and shipping.
WooCommerce is highly customizable and offers a wide range of extensions and themes to enhance the look and functionality of your shop. It is one of the most popular ecommerce platforms, powering millions of online stores worldwide.
What are WooCommerce Reports and How Do They Work?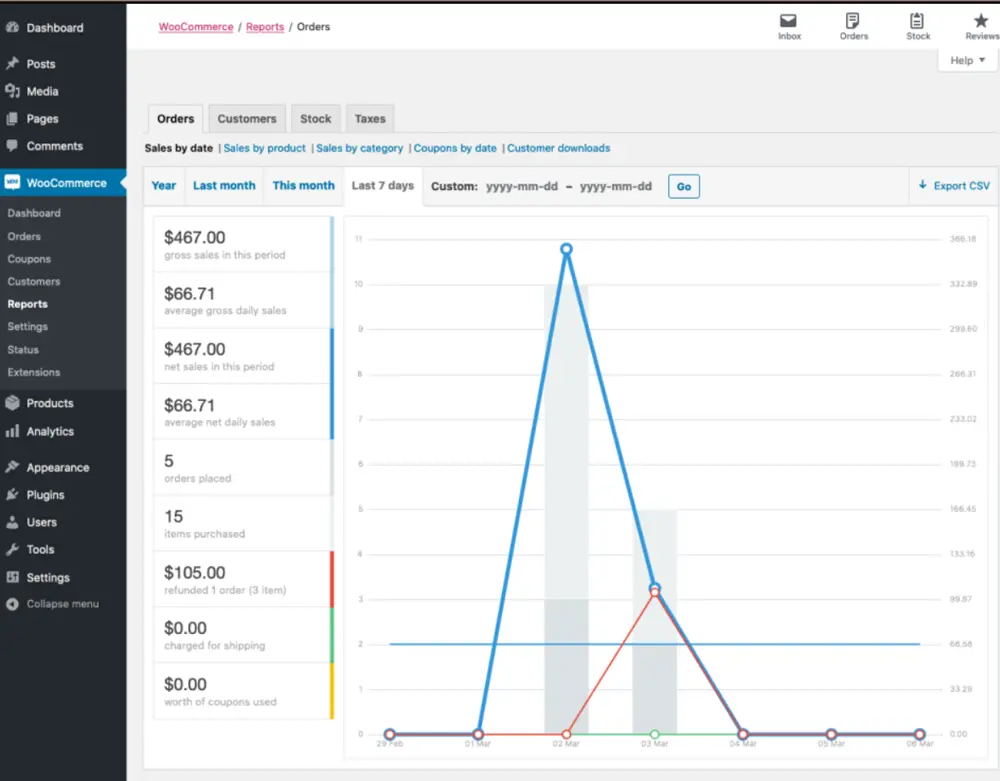 WooCommerce reports provide insights and data about your sales, orders, and customers. This data helps you make informed business decisions by giving you a clear understanding of your store performance.
You can access the section from the WooCommerce > Reports of the WordPress dashboard.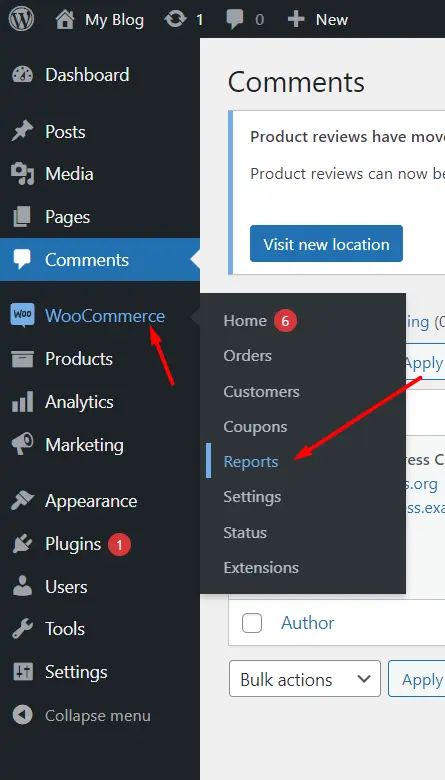 There are six different types of reports you will see on the platform:
Overview: This report provides an overview of your store's performance, including the number of orders, sales, and customers.
Orders: Delivers detailed information about your orders, including the number of orders, revenue, and average value.
Customers: Gives information about your customers, including their number, location, and spending habits.
Stock: This report provides information about your store inventory, including the stock levels and low-stock products.
Taxes: Provides information about the taxes collected from your sales.
Shipping: Carries information about the shipping methods used for your orders.
To summarize, WooCommerce Reports collect data from your store and present it in a clear and organized format. The information can then be customized by selecting different periods, product categories, and customer groups. This allows you to focus on the specific areas of your store that need improvement or attention. Additionally, you can export the reports as CSV or PDF files for further analysis or sharing.

How Do WooCommerce Reports Work?
Below, we will provide some additional insights into how to use WooCommerce reports to get the most out of your ecommerce business:
Customizing Reports: You can customize the reports by selecting a specific period, product category, and customer group to view. This helps you focus on particular areas of your store that need attention.
Advanced Reports: WooCommerce also offers advanced reports that provide even more detailed insights into your store performance. These reports can be accessed through WooCommerce extensions or third-party plugins.
Integrating with Analytics Tools: You can integrate your WooCommerce store with third-party analytics tools like Google Analytics to get more in-depth insights.
Tracking Abandoned Carts: You can track abandoned carts to help identify where customers are leaving the purchase process and take necessary steps to improve conversions.
Inventory Management: The stock report provides information about your store's inventory levels. You can use this information to manage your inventory more effectively and avoid stock outs.
Performance Analysis: The reports help you analyze your store performance over different periods. You can use this information to identify trends and patterns and make informed business decisions.
To summarize, WooCommerce reports are a valuable tool for any online store owner as they help you understand your audience and make data-driven business decisions. With the ability to customize, integrate with other tools, and analyze data in-depth, the reports can help you optimize your store and boost sales.
Finding a Reliable WooCommerce Hosting Provider
WooCommerce hosting providers offer specialized hosting services optimized for online stores built with the app. When choosing a host, it's essential to consider major site factors such as performance, reliability, security, and support.
ScalaHosting has more than ten years of experience in the hosting industry, so we are well aware of the complexities of running a successful WooCommerce store. Therefore, we prioritize providing our clients with specialized tools and support for a smooth ecommerce experience.
Our WooCommerce hosting plans have been tailor-made to accommodate websites built on the widely-used ecommerce platform. Alongside the exceptional website loading speeds and full customization freedom, our plans come with the added bonus of SShield – a security system that we developed in-house to safeguard our customers' projects.
This platform is designed to monitor your website activity and prevent nearly all known online attacks from reaching the server.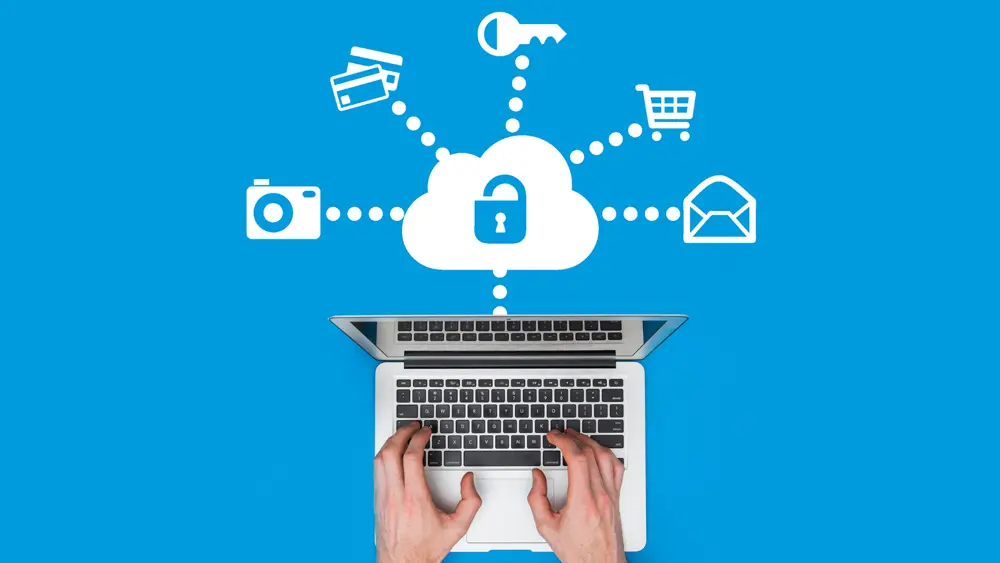 Our managed VPS solutions are the way to go if you seek to provide your online store with ample system resources and top-notch security. This option guarantees unparalleled performance, dedicated hardware resources, and a dedicated IP. Furthermore, we offer our customers access to SWordPress – a WordPress management tool that is also our own creation.
ScalaHosting is committed to providing top-tier support and assistance to help you optimize your WordPress and WooCommerce experience. If you have any questions or concerns, please don't hesitate to contact us. Our expert team is available 24/7/365 to provide you with the necessary guidance and solutions to ensure your online store is running at its best.
Wrap Up
Congratulations, you've reached the end of our comprehensive guide to maximizing WooCommerce Reports!
By now, you should have a clear understanding of what WooCommerce Reports are, how to access them, and how to use them to optimize your store performance and sales.
Remember, the key to success is to analyze the data provided by the reports, take action, and implement changes based on your findings.
Frequently Asked Questions
Q: What are WooCommerce Reports, and what kind of data do they provide?
A: WooCommerce Reports are a built-in feature of the WooCommerce plugin that provides store owners with detailed data and insights about their store and audience. This includes information about sales, revenue, order status, product performance, and customer behavior.
Q: How can I access WooCommerce Reports, and what kind of reports are available?
A: To access WooCommerce Reports, log in to your WordPress dashboard and navigate to WooCommerce > Reports. You'll find a range of records, including sales by date, sales by product, customer reports, and many more. You can customize the reports and filter the data by date range, product category, and other parameters.
Q: How can I use WooCommerce Reports to optimize my online store?
A: By analyzing the data provided by WooCommerce Reports, you can identify trends, patterns, and areas for improvement in your online store. For example, you can explore the best-selling products and optimize your product catalog accordingly. You can also track the conversion rates, abandoned carts, and customer behavior to optimize your sales funnel and increase revenue.
Was this article helpful?