How your site is laid out and designed is one way of boosting sales. It affects not just performance but also the user experience.
Today, we're going to be looking at some of the best WooCommerce themes and see why they're topping the Woo ranks.
What Are WooCommerce Themes?
WooCommerce themes are basically skins that help you quickly change the way your online store looks. Aside from essential elements like font and colors, many templates will also allow you to choose various page layouts. This flexibility can help you create the perfect design for your site even without knowing how to code.
Why You Need a Great WooCommerce Theme?
Awesome WooCommerce themes save time and effort.
Designing an online store can be very time-consuming if you're doing it manually. Coding skills, design principles, and even Search Engine Optimization (SEO) come into play.
Instead of learning all of this and spending time doing the construction, using a WooCommerce theme will allow you to focus on the real business at hand: Building sales on your store.
A great WooCommerce theme can also:
Improve your site performance
Enhance customer experience
Give you flexible layout choices
Installing a WooCommerce Theme
WooCommerce themes are WordPress themes meant for eCommerce sites. The easiest way of installing a theme is through the WordPress dashboard. Simply go to Appearance > Themes and click the Add New button to upload the template archive. You have to then click the Activate button to load the new layout.
Alternatively, you can also manually upload the theme files.
Best WooCommerce Themes of 2023
Flatsome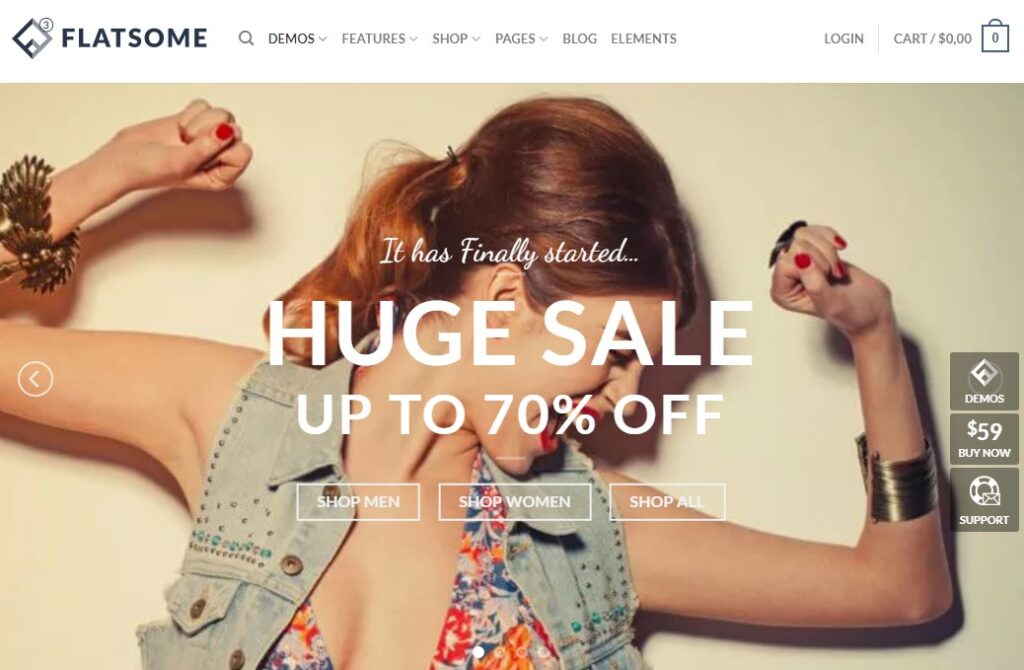 This trendy WooCommerce theme is multi-purpose and responsive. It's compatible with the latest versions of WordPress and WooCommerce, plus it comes with a lifetime of free updates. Besides, the number of features Flatsome boasts is astounding.
Top Features
Flatsome is fully SEO optimized, and you can make use of an easy setup wizard. The live page builder helps in-site design, allowing you to modify templates visually. For newbies, the inclusion of demo content can serve as a guideline on what you can create.
With smooth animations and mobile-optimized sliders, Flatsome will give your site visitors a great experience. It also supports integration with popular third-party applications such as Contact Form 7 and MailChimp.
Price
If you'd like to test Flatsome out, there is a limited free version available. However, to fully unlock the available features, the annual subscription is $59. Paying subscribers can enjoy future updates as well as six months of support.
Goya
Goya offers a sleek and ultra-modern storefront for your customers to enjoy. Its minimalistic design lets store owners clear up the clutter despite the theme being packed so full of features. The handy tools included with Goya makes managing site layout a breeze.
Features
From start to finish, Goya places a great emphasis on usability, aesthetics, and power. Easily importable demo content serves as a quick starting point for this SEO-friendly template. It's fully customizable, responsive, and Retina-ready.
Goya comes with a couple of plugins that work together with it. WP Bakery and Slider Revolution are both premium plugins that can be bundled in the Goya. Import pre-built designs or create your own from scratch – the choice is yours.
Price
Despite including commercial plugins for free, Goya is surprisingly cheap. For only $29, you get access to all updates and six months of support from the theme developer. Customer support may be a little limited, though, since only one person is responsible for its development.
Astra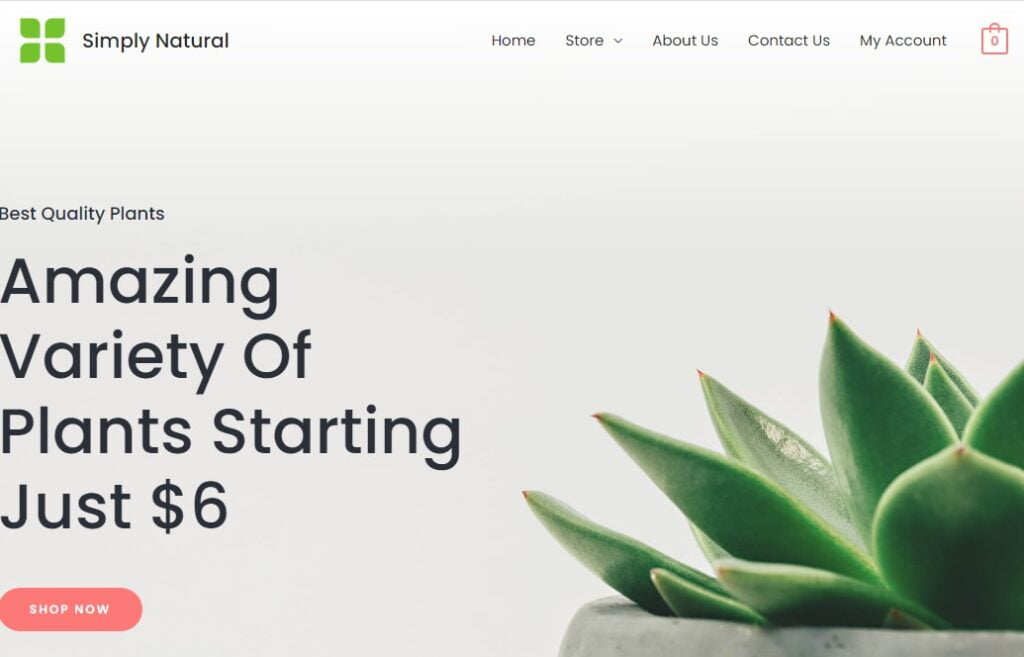 The Astra WooCommerce theme places an equally great focus on performance as it does on design. The template is designed with plain JavaScript to avoid performance issues down the line.
Features
Astra is lightweight and loads quickly thanks to highly optimized code. Even with that, it offers custom layouts and multiple header and footer options. You can also exercise significant control over element placements, either globally or on-page.
For online stores, the Pro version carries some excellent benefits. A powerful grid layout lets you showcase the products in a customizable format. The shopping cart implementation is neat and comes as a quick dropdown.
Price
While the base Astra theme is free, ecommerce users will want to go for at least the Pro option, coming at $41. That one includes more templates and advanced store features. If you need to run Astra on multiple websites, you can only do that with the upgraded bundle.
Neve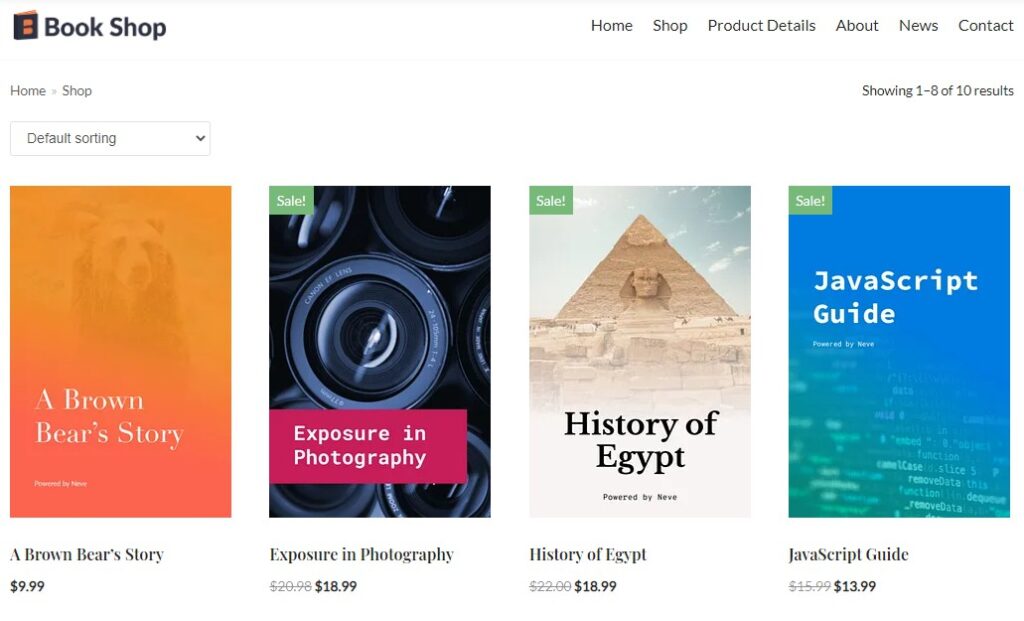 Neve takes drag-and-drop customization to the next level, offering users fantastic design coupled with good performance. Sites using Neve are also mobile-ready thanks to its AMP-friendly construction.
Features
The most significant selling point for Neve is the agile way it handles site-building. Through the visual interface and a component system, you can easily custom-build a site from scratch.
It has an extensive collection of starter sites you can import to get to work quickly. Each of these has a custom header and footer design. While Neve may not be the most feature-rich WooCommerce theme out there, you gain granular control over every aspect of your site layout.
Price
Ecommerce sites will need a paid plan to realize the full benefits of Neve. These plans start at $59 for the use of the pro options plus a year of updates.
XStore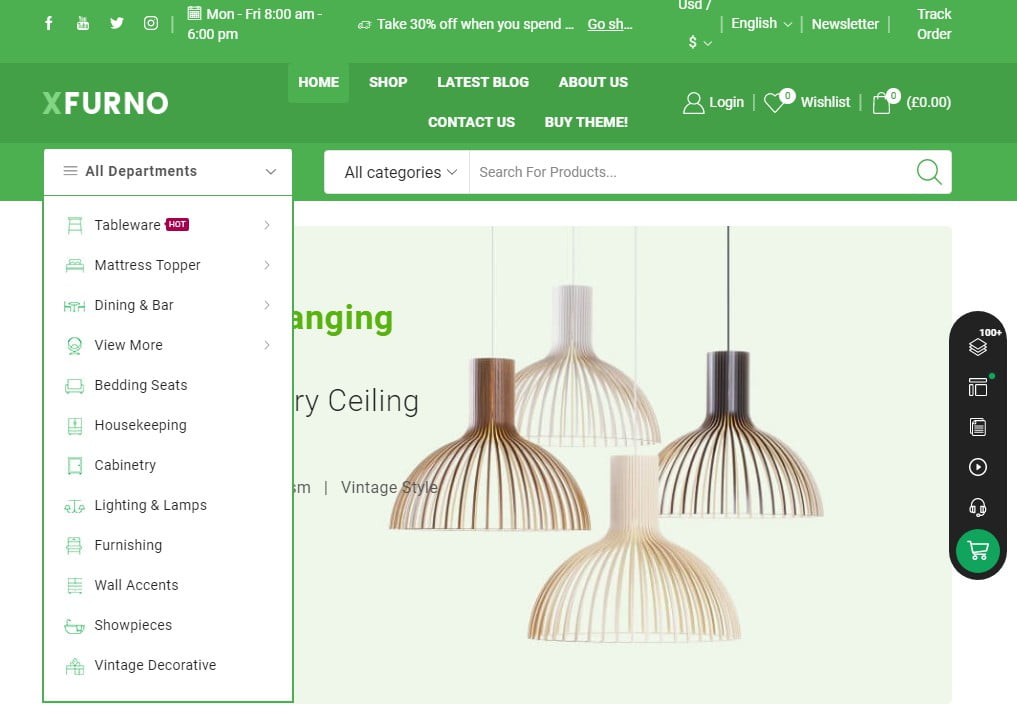 XStore is perhaps one of the most user-friendly and powerful WooCommerce themes around. It includes some unique features as well, making it a compelling buy for many online shop owners.
Features
XStore offers a massive number of building blocks to construct your site – over 350 of them. You can also make use of over 100 pre-built shops that are ready to go with minimal adjustments. Choose from multiple shop layouts – modern style, more practical grid mode, or even custom versions.
The 360 product view you can offer to site visitors is hard to come by with a theme. It adds great dimensional depth that is both realistic and attractive. Products can be grouped in many ways, by type, variable, or even external characteristics.
Price
Given the impressive features on XStore, this WooCommerce template is surprisingly affordable. For only $39, you can build a beautiful WooCommerce online store and get support for the theme as well.
Online Shop Pro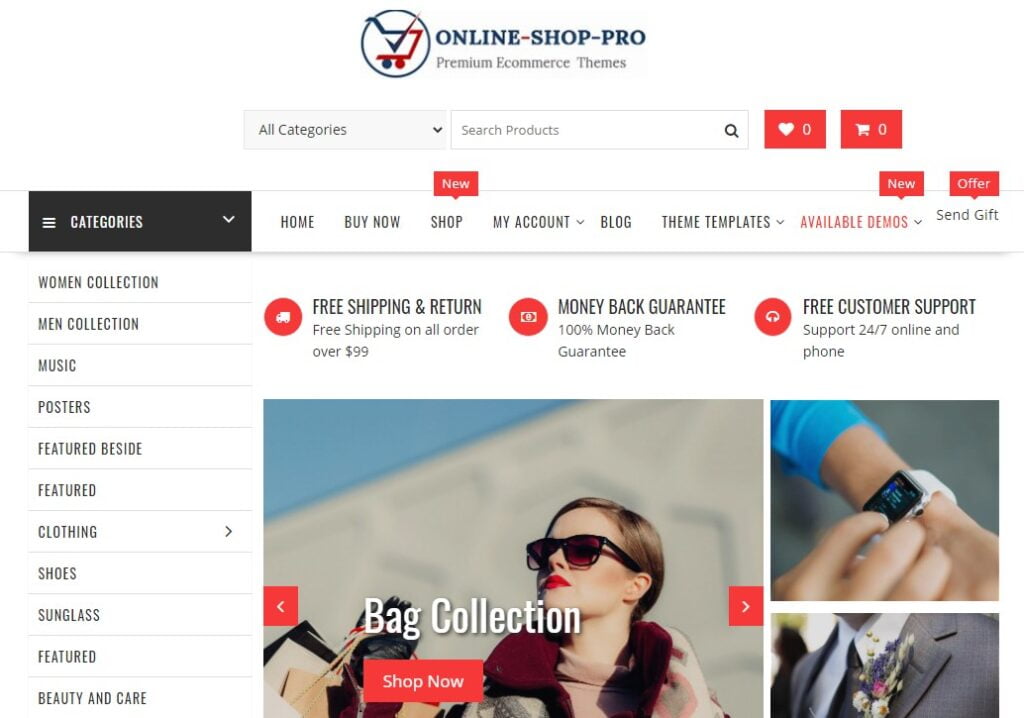 Online Shop Pro may not look overly impressive, but it is clean-cut and fast. This robust and reliable theme is multipurpose and can work for WooCommerce sites. In many ways, it's a better option for those who prefer to work with something more WordPress-like.
Features
With a widget-style of placing layout elements, Online Shop Pro is easy to get used to for those new to WooCommerce. At the same time, you still get reasonable control over design typography, colors, fonts, and more.
Even if your site is live, it's possible to make small adjustments on the fly, thanks to the live customizer. The theme is 100% cross-browser compatible and has extensive documentation for support use.
Price
You can use the basic Online Shop Pro theme for free, but it takes a $55 license to unlock additional features. The advanced documentation that comes with this theme does justice to this price.
OceanWP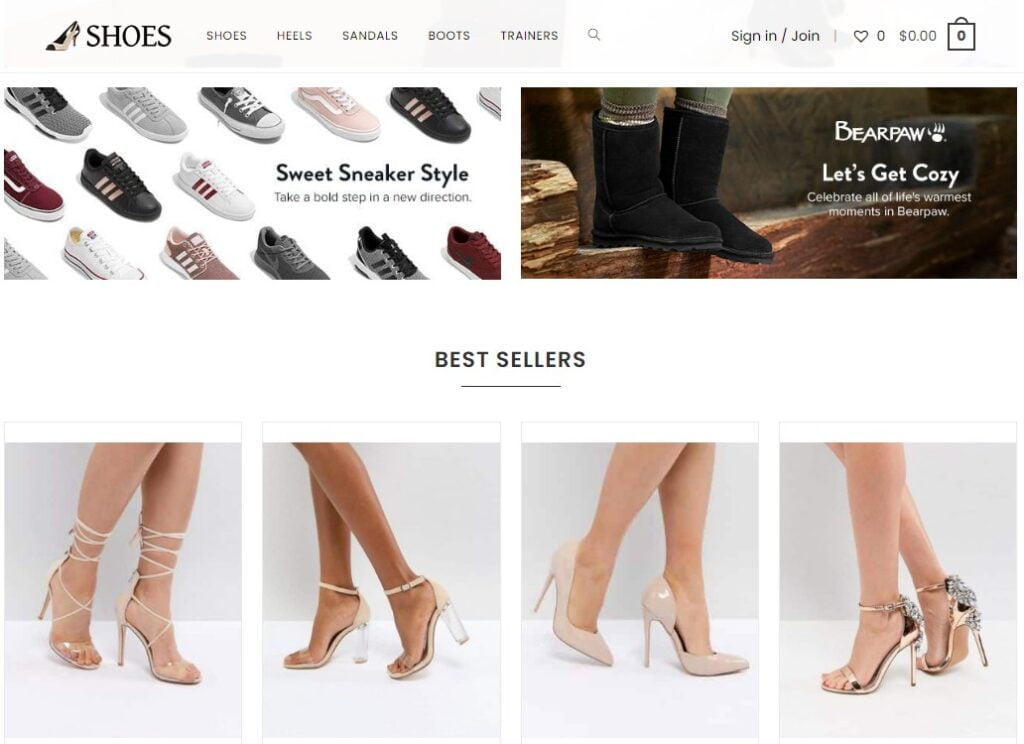 Finding a WooCommerce theme that looks great isn't exactly difficult. For online stores, though, you need something that creates an impact where it counts, and that's OceanWP. The best thing about this theme is that it supports the sales process instead of focusing on looks alone.
Features
OceanWP offers a really professional online store experience.
Take, for example, the dynamic shopping cart that includes a branded checkout page. Store owners can work with an advanced visual editor that allows them to filter multi-layered designs. It's intuitive yet powerful at the same time.
The theme is also impressively fast on mobile devices. With so much web traffic going through mobile, you need to address this trend to boost your sales. Of course, that performance comes from the robust and clean code – perfect for ecommerce use.
Price
OceanWP pricing starts from $27 for single-site use. If you want to roll it out across multiple sites, you may need to bump that fee up to $47 or $77. The price includes support, 8 free extensions, and 12 premium add-ons.
Deep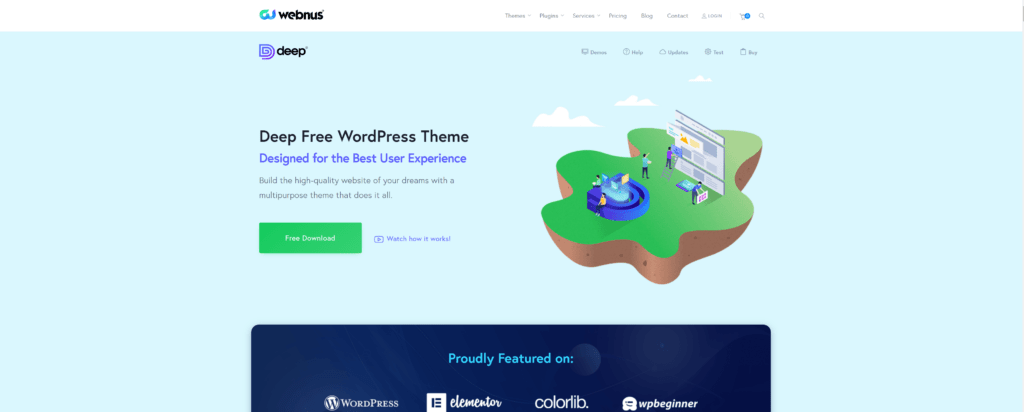 As a multi-purpose WordPress theme, Deep is a theme designed for any kind of business, ranging from blogs and magazines, to online shops and crypto. Deep has more than 120 demos, and this means you will surely find the website you need in its repository.
Features
Deep is fully compatible with Elementor. Everything can be modified using drag-and-drop so easily.
Regarding online shops, Deep has a specific demo for it. You can easily establish your online store, with no worries regarding WooCommerce and stuff.
Besides these, Deep is a fully responsive, fast and lightweight theme.
Price
You can get Deep with $59 for a single license. Deep's licenses are life-time and you will be granted all the premium plugins plus 1 year of premium support from the technical team.
How to Choose a WooCommerce Theme
Many people tend to overly focus on design when it comes to WooCommerce themes. Technically, this isn't wrong since that is one of the main reasons for having them. However, not all layouts are built the same way, so there are more than a couple of factors to consider:
Design – Many WooCommerce templates come with numerous design options. These feats typically take the form of child themes. Apart from that, you also need to note the extent to which your designs are customizable. Lack of sufficient flexibility may force you into shop designs you're not entirely happy using.
Ease of Use – Consider if the theme you want is comprehensive enough for you. This needs to extend to multiple areas such as design, customization, and even the primary interface. Working with a challenging theme will increase the time you need to spend on site building rather than focusing on sales.
Functionality – Some users prefer clean and lean themes, while others like to have everything, including the kitchen sink. Stay focused on your needs, and don't let features tempt you to work with a layout that isn't right for the purpose. You can always add extra functionality later.
Cost – Many premium themes will come at a recurring fee if you want to continue using their pro features. Still, this also includes future updates and security patches, which are vital for keeping your whole infrastructure well-protected.
Conclusion
The WooCommerce theme you choose can be the difference between a typical online store and an outstanding one. Choose a template that complements your needs while having enough support and future development. Remember that choosing the right web hosting package for ecommerce is as essential as your site design.
Frequently Asked Questions
Is WooCommerce a theme?
WooCommerce is an ecommerce plugin designed for WordPress. It can make use of themes to add design features and improve usability, but this solution is more of a platform than a theme itself.
How do you change the theme in WooCommerce?
WooCommerce themes are, in fact, WordPress themes. You can change your WooCommerce theme from the WordPress dashboard, in the Appearance -> Themes section.
Are WooCommerce themes free?
Many WooCommerce themes follow the freemium pricing model. This means that their basic functionality is free, but advanced features may require a paid subscription.
Was this article helpful?