Welcome to the battle of the ecommerce titans: WooCommerce vs. PrestaShop!
As more and more businesses move their operations online, the demand for powerful and reliable ecommerce solutions has never been higher.
In this article, we will take a closer look into the two leading ecommerce platforms – WooCommerce and PrestaShop – to explore their strengths, weaknesses, and key differences.
We'll also explore each platform's features and benefits, discuss their pricing structures, and look at some top feats that make them stand out.
Buckle up and let's get started!
Background on Ecommerce Platforms
Ecommerce platforms, simply put, help businesses to conduct online transactions. In that sense, the most popular online store solutions include Shopify, Magento,WooCommerce, and PrestaShop.
These platforms allow businesses to easily manage their shopping carts, payments, and products. They also provide valuable analytics, customer reviews, and inventory management features.
With the help of AI and chatbots, ecommerce solutions provide clients with a more personalized shopping experience. This includes product suggestions, smarter search results, and better customer service.
Online shop platforms utilize blockchain technology more often to ensure that payments are safe and that all delicate customer information stays private.
Hosted vs. Self-Hosted Ecommerce Platforms
Hosted ecommerce platforms are hosted and managed by a third-party provider. They offer a full set of tools for payment processing, customer management, and inventory management, to help small businesses set up and run an online store. Examples of hosted ecommerce platforms include Shopify, BigCommerce, and Wix.
On the other hand, self-hosted solutions allow the client to take full control of everything – from the hosting environment to the type of server and underlying tools. They have the same features as hosted platforms, but the client is the one who operates everythings. Examples of self-hosted shopping carts include Magento, WooCommerce, and PrestaShop.
WooComerce Overview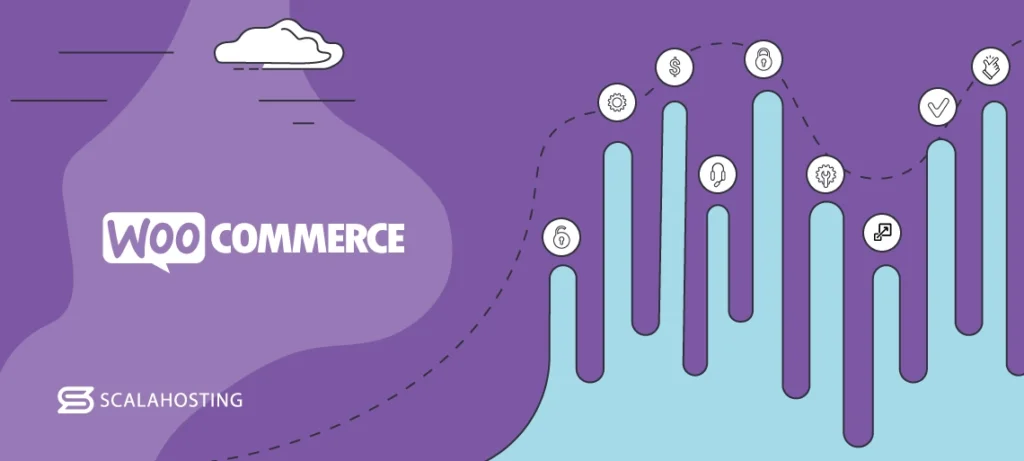 Millions of online stores utilize WooCommerce, an open-source ecommerce platform that started as a WordPress plugin. In fact, the people that created WordPress are in charge of developing and supporting Woo as well.
WooCommerce is a flexible, easy-to-use, and customizable platform that allows you to create an online store quickly and easily. You can sell physical, digital, and even subscription-based products. The solution includes payment gateway integrations, shipping options, product management, inventory control, and many more.
WooCommerce offers a wide range of extensions and themes to customize the look and feel of your store. With its flexibility, ease of use, and customization options, WooCommerce is the perfect solution for creating an online store.
WooComerce Pros
Easy to Use: WooCommerce is an incredibly user-friendly platform. The interface is intuitive and straightforward, helping you to set up a store and start selling in a matter of minutes.
Highly Customizable: WooCommerce is highly customizable. It offers many themes, plugins, and resources, so you can customize your store to fit your brand.
Cost-effective: WooCommerce is a cost-effective option for small business owners. It's free to use, and there are no monthly fees. Plus, you can find plenty of free and low-cost add-ons to get you started.
Secure: WooCommerce is a secure platform. It is regularly updated and checked to ensure it meets the most recent security standards.
Reliable: WooCommerce is reliable and offers high performance. You know it can handle a high traffic volume because millions of stores use it.
WooCommerce Cons
Limited scalability: WooCommerce is great for small and medium-sized businesses, but as your business grows, so too will the complexity of managing your store. You'll need to add more plugins and extensions to handle more products, payment options, and traffic.
Limited customer service: WooCommerce does not provide direct customer service. While numerous forums and resources are available, it can take time to get a hold of someone to help answer your questions. You can only get assistance from your hosting provider and the community forum.
Security vulnerabilities: WooCommerce is an open-source software and is vulnerable to security threats. You'll need to take extra steps to protect your store from hackers.
WooCommerce requires some technical knowledge to keep the store running at best speeds. If you don't have the technical chops, it's best to hire someone to help set up your store.
PrestaShop Overview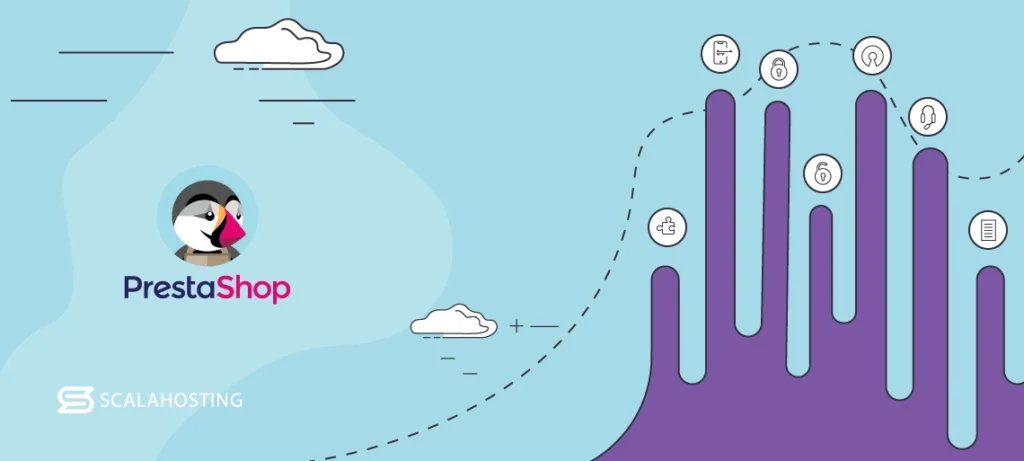 PrestaShop is an open-source ecommerce platform written in the PHP programming language. It is designed to provide merchants with a fully-featured and powerful shopping cart solution that is easy to use and customize.
PrestaShop is available in over 75 languages and has been downloaded over 4 million times since its launch in 2007. Over 250,000 online stores use the platform, making it one of the most well-liked ecommerce options on the market.
The shopping cart offers a wide array of features for customer management, marketing, payment processing, shipping, inventory, and products. Additionally, PrestaShop comes with a wide range of themes and modules to customize the look and feel of your store.
PrestaShop Pros
Open Source: PrestaShop is an open-source platform, which means it's free to use and constantly updated. This gives users access to a wealth of features and tools to improve their stores.
Security: PrestaShop is designed with security in mind and has an array of features that protect customers' information. It also supports SSL encryption and PCI compliance.
Mobile Friendly: PrestaShop is mobile-friendly, and easy to customize with responsive design. This ensures customers can easily access your online store from any device.
Support: PrestaShop has an active support community that gives users a lot of helpful resources, tutorials, and other things. This makes it easy to get help if needed.
PrestaShop Cons
Limited Modules: PrestaShop offers limited modules and features compared to WooCommerce. This means that if you need a specific feature or plugin, you may have to dig deeper.
Poor Documentation: PrestaShop's documentation is lacking in some areas, making it difficult for users to learn how to use the system.
Security Issues: PrestaShop is less secure than some competitors, which can be a concern for businesses handling sensitive customer data.
PrestaShop vs. WooCommerce – Detailed Comparison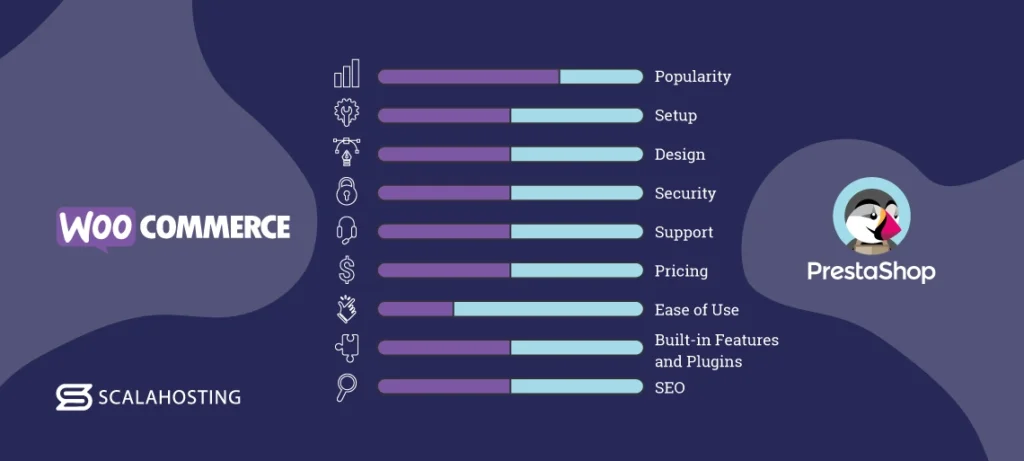 Popularity
PrestaShop is a popular open-source ecommerce platform with over 270,000 stores built on it. It is used by small to medium-sized businesses and is the world's 6th most popular shopping cart solution.
WooCommerce is by far the most popular ecommerce platform globally, with over 3.8 million stores under its helm. Both small and large businesses use it, and WordPress-based stores prefer it the most.
Setup
PrestaShop and WooCommerce are both easy to set up and require no coding knowledge to get a shop going. The application can be installed with a single click through a software autoinstaller like Softaculous, and the setup process takes no more than a minute.
Design
PrestaShop and WooCommerce have a fair selection of professionally designed themes, which are easy to customize with some HTML and CSS knowledge. The apps also offer a wide range of plugins and extensions to customize your store.
Security
WooCommerce and PrestaShop are fairly secure out of the box and have been tested to the highest security standards. The platforms offer a range of security features, such as regular software updates and secure payment processing.
Support
WooCommerce and PrestaShop have many ways to get help, including a large online community, a helpful Frequently Asked Questions section, and paid customer support. They also offer a range of tutorials and guides to help you get started.
Pricing
PrestaShop and WooCommerce are free, open-source ecommerce platforms that do not require any upfront costs. However, you will still need to pay for web hosting, domain name registration, and any premium additional modules you decide to use.
Ease of Use
PrestaShop is a straightforward ecommerce platform that is relatively easy to use even for beginners. It offers an intuitive interface and plenty of helpful tutorials and guides to help users get started quickly. WooCommerce is also relatively easy to use but requires some WordPress knowledge.
Built-in Features and Plugins
WooCommerce and PrestaShop offer many built-in features for managing products, customers, inventory, payments, shipping, taxes, discounts, coupons, and more. Thousands of plugins can be added to give your online store more features and functions.
SEO
WooCommerce and PrestaShop offer a range of SEO features, including creating and customizing meta tags, friendly URLs, and sitemaps. They also offer image optimization and the ability to set up redirects.
PrestaShop vs. WooCommerce – Which One Is Ideal for Your Business?
That's a tough one! It really depends on the type of business you're running and the features you need. PrestaShop has a lot of features and ways to customize them, but WooCommerce is focused on ecommerce and works well with WordPress.
If you're looking for a more fully-featured platform, PrestaShop may be the best choice, but if you need something simpler and quicker to set up, WooCommerce could be the ideal solution. Ultimately, deciding which platform will work best for your business is up to you.
ScalaHosting and Ecommerce Websites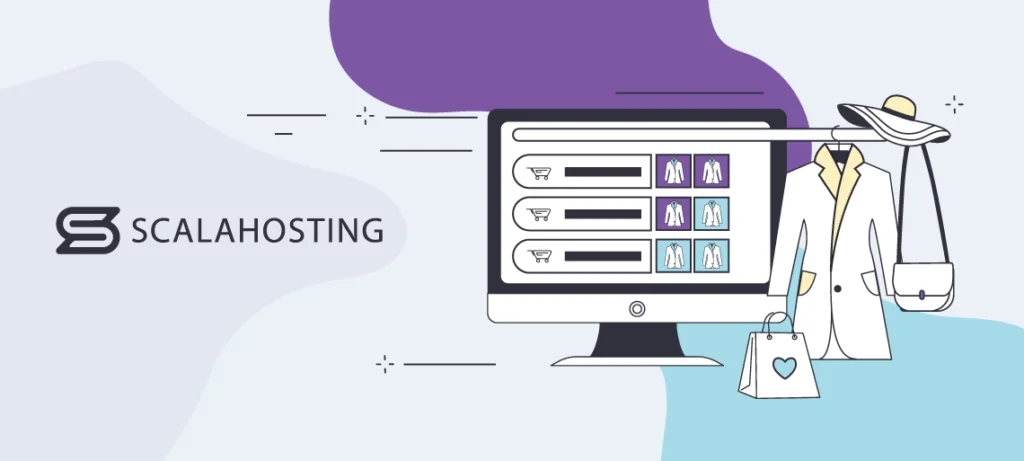 ScalaHosting provides the perfect solution for ecommerce websites, helping you manage your online store easier than ever before. Our reliable and secure VPS hosting solutions are ideal for ecommerce sites, providing an efficient, cost-effective way for your online store to run smoothly. Benefitting from the scalability and flexibility of our VPS servers, you can easily grow along with your client base, ensuring your ecommerce website is always up to date with the latest technology.
Some benefits that store owners can enjoy with our cloud VPS plans:
Uninterrupted uptime
Optimized shopping cart speeds
Scalable RAM and CPU
Free SSL certificates
Dedicated IP address
Daily backups
Contact ScalaHosting today to see if our plans can match your expectations!
Conclusion
Both PrestaShop and WooCommerce are great ecommerce solutions for businesses of any size. Both platforms offer a wide range of features and tools to help you create a successful online store.
PrestaShop is better for larger businesses because it has more features and ways to customize it. WooCommerce, on the other hand, is a great choice for smaller businesses because of its efficiency and cost-effectiveness.
ScalaHosting can help you get the most out of either of these platforms by providing reliable web hosting and support. Ultimately, deciding which platform best fits your business needs is up to you.
FAQs
Q: What are the advantages of using WooCommerce over PrestaShop?
A: One of the main advantages of using WooCommerce is that it is a WordPress plugin, which means that it is easy to install and use. WooCommerce also offers a lot of ways to customize your store to perfection, so merchants can make it fit their needs. WooCommerce is also more popular than PrestaShop, making it an attractive option for small businesses.
Q: What are the advantages of using PrestaShop over WooCommerce?
A: PrestaShop is a standalone solution that is easier to master than WooCommerce. Presta also offers a range of built-in features and modules, allowing merchants to create more complex stores with advanced functionalities.
Q: What shipping options are available for WooCommerce and PrestaShop?
A: Both WooCommerce and PrestaShop offer a range of shipping options, including flat rate, free, and international shipping. WooCommerce also integrates with popular shipping carriers, such as USPS, FedEx, and UPS. On the other hand, PrestaShop can work with many different shipping companies, such as DHL, Royal Mail, and Canada Post.
Was this article helpful?