WooCommerce isn't easy to fault as an online store builder. For one, it's based on WordPress, so you have the support of one of the world's biggest online communities. In addition to this, its backend interface is a joy to use, it will run on almost any server, and it's capable of powering websites of all shapes and sizes.
Perhaps its biggest advantage, however, is its ability to adapt to almost any business plan. For example, by default, it's designed to facilitate one-time sales of physical and digital items.
However, with a single plugin, it can also create a subscription service, allowing users to buy products on a recurring basis. The plugin in question is called WooCommerce Subscriptions, and today, we'll take a closer look at it.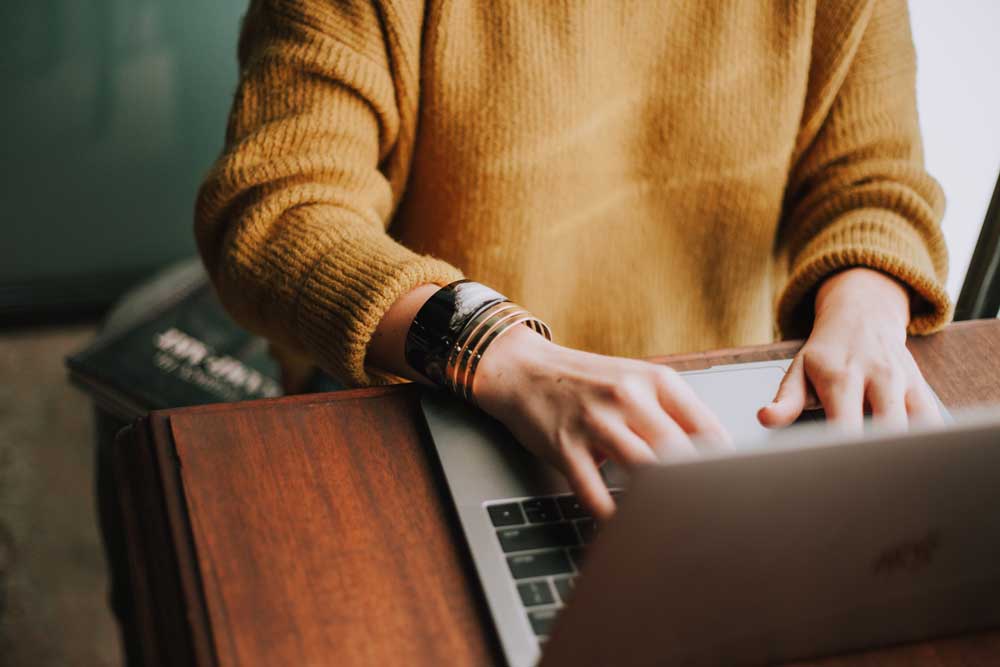 What Is the WooCommerce Subscriptions Plugin Used For?
WooCommerce Subscriptions is a WooCommerce extension that helps you set up recurring sales of physical items, services, and digital applications. It's available in WooCommerce's official extension repository as well as in the initial setup wizard available in your WP dashboard.
It costs $199, and for that, you get the extension itself, one year of updates, and one year of support.
Many users find it hard to differentiate between WooCommerce Subscriptions and WooCommerce Memberships – another extension available in WooCommerce's setup wizard.
The Memberships plugin is commonly used to give paying customers access to specific parts of your website. With it, you can keep premium content away from the general public's eyes and only show it to users with an active membership.
WooCommerce Subscriptions is different. It allows users to buy a product multiple times at a preset interval (e.g., once a month). The extension supports the most popular payment gateways, and recurring orders are usually processed automatically.
From a customer's perspective, this makes the process more convenient because they can get the products they need whenever they need them without even visiting the website. And as for your business, the benefits include a more predictable cash flow and the ability to grow a base of returning customers who can help you succeed.
How to Set Up and Install the WooCommerce Subscriptions Plugin?
The Subscriptions extension doesn't have any specific requirements, but it obviously needs WooCommerce to work, so make sure you have that set up.
After you purchase WooCommerce Subscriptions, you will receive it as a ZIP file. Inside your WP dashboard, go to Plugins > Add new, and click the Upload Plugin button in the top-left corner.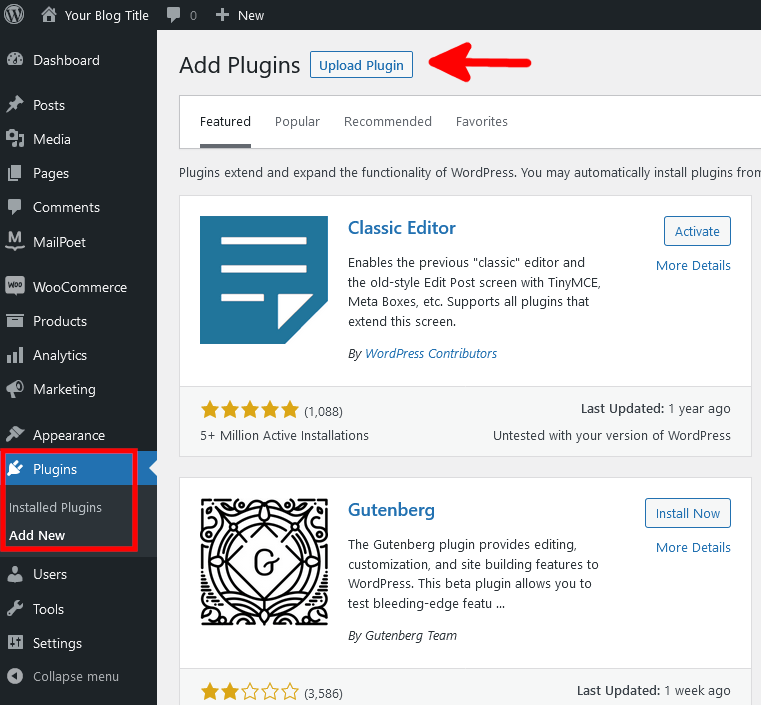 Click Browse, select the ZIP file from your computer, and click Install Now. WordPress will automatically install WooCommerce Subscriptions on your site. All you need to do after it's ready is click the Activate button.
With the Subscriptions extension installed, you can go to WooCommerce > Settings and open the Subscriptions tab, where you'll be able to configure the add-on.

In addition to basic things like the text on the Add to cart button, you have a few mission-critical settings you should probably look at before you continue. The renewal options are particularly important. You can decide whether users will be able to renew their subscriptions manually and whether they'll have a toggle switch to disable recurring payments.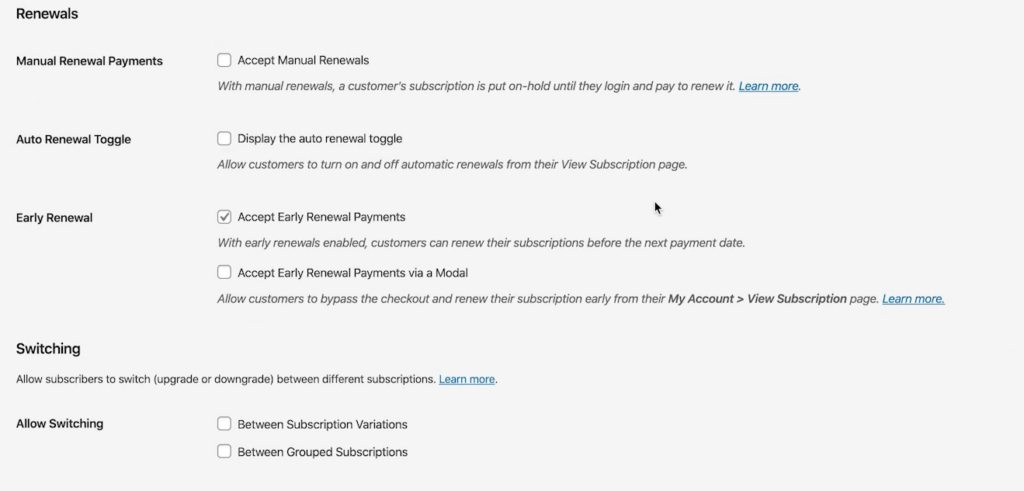 You have a few more options for switching between different subscription variants, synchronizing renewals, enabling additional downloadable content upon renewal, etc. You can have a good look at all of them and decide what the best configuration for your project is.
One thing you must remember is that guest checkout is not possible with subscription products. Your customers need an account to set up recurring purchases. You can force them to set it up themselves or have WordPress create one automatically. The settings for all this are located in WooCommerce > Settings > Accounts & Privacy.

What Kind of Features Does the WooCommerce Subscriptions Plugin Have?
The best way to see how many features the WooCommerce Subscriptions product has is to see a real-world example showing you how you can build a fully-functioning subscription service on your website.
Today, we'll imagine that you're creating a subscription service for pet food via your WooCommerce website. Every month your customers pay a recurring fee, and they receive a predetermined quantity of cat or dog food.
You first need to create a subscription product. The initial steps are standard – log in to the WP dashboard and go to Products > Add New. Then, add the product descriptions, select a category, and upload the correct images.
The difference is that from the Product data drop-down menu immediately below the long description, you need to pick either Simple subscription or Variable subscription.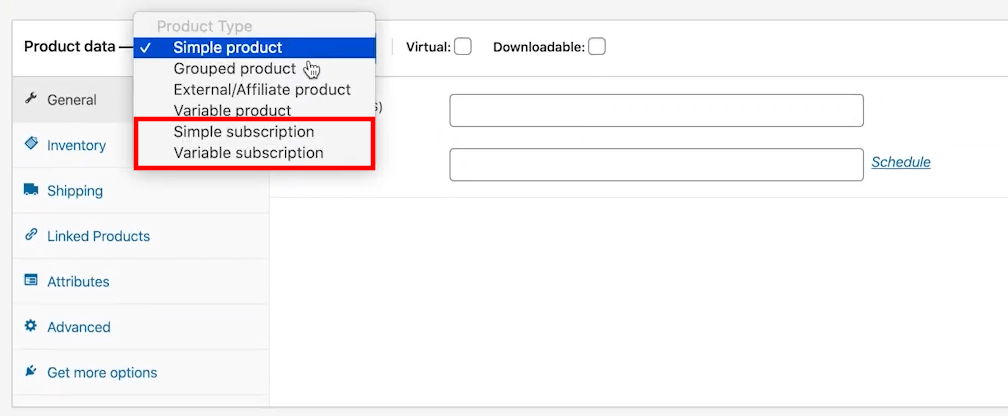 With a variable subscription, users can choose between multiple variations of the same product. For example, customers can pick between a 3 oz. can of cat food or a 5.5 oz. can.
If you have other products that come in 3 oz. and 5.5 oz. cans, you can add the attribute via the Products > Attributes menu. If they are specific to this particular product, you need to set them via the Attributes button below the long description.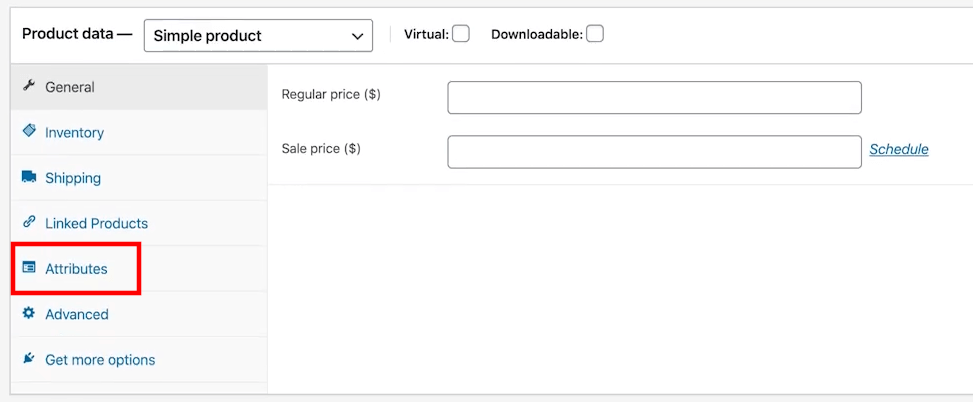 After you add the attributes, select the Used for variations checkbox before saving the changes. Next, go to the Variations tab in the same section, select Create variations from all attributes from the drop-down menu, and click Go.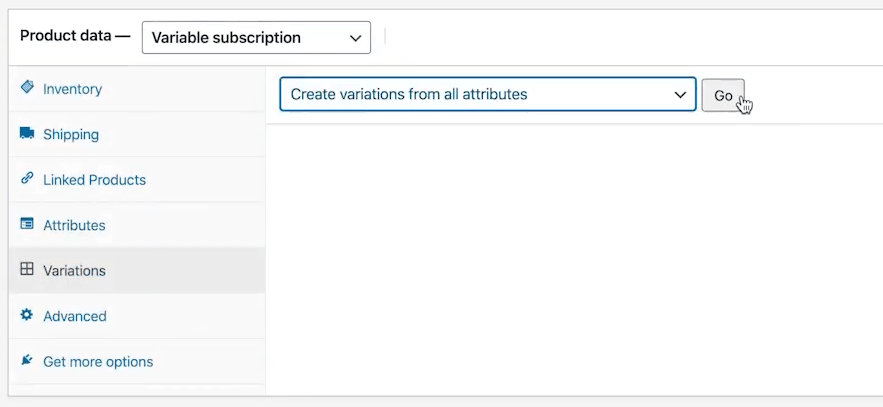 You can now add individual prices, images, and discounts to the different product variants. The options are a bit more straightforward if you're adding a simple subscription product.
You need to set the price, the billing cycle, and the subscription's expiry date. If you wish, you can offer a free trial or charge a sign-up fee.

How Do I Check My Site's Subscriptions?
The WooCommerce subscriptions plugin automates quite a few tasks and takes a lot of the admin work off your shoulders. Nevertheless, you must keep tabs on your site's subscriptions at all times.
You can do it via the WooCommerce > Subscriptions menu. You'll find all subscriptions and any details you might need, including:
Status
Subscriber details
Items
Price
Trial end
Start and end dates
Next payment date
Total number of orders so far
You can easily search through your subscriptions and filter them according to a range of criteria, and if you need to, you can suspend, reactivate, or cancel subscriptions at the click of a mouse.
Conclusion
The WooCommerce Subscriptions plugin isn't suitable for all ecommerce sites. For example, if you retail clothes, you most likely have no use for it.
However, if recurring sales are a part of your business plan, the extension could play an integral role in putting the entire project on the road. As we've established today, it's easy to set up and use, and it certainly has more than enough features to keep users happy and help your ecommerce site grow.
FAQ
Q: How do subscriptions work in WooCommerce?
A: By default, WooCommerce doesn't have subscription functionality. To enable it, you need the WooCommerce Subscriptions extension. It's available in the official repository, and it comes with plenty of options for developing this part of the business.
Q: What is the difference between WooCommerce Subscriptions and WooCommerce Memberships?
A: With WooCommerce Memberships, you usually make certain content available to customers with active memberships. By contrast, WooCommerce Subscriptions enables customers to automatically make recurring purchases of the same product according to a set billing cycle.
Q: How do I sell my subscriptions on a WooCommerce website?
A: After you set up the WooCommerce Subscriptions plugin, you can add subscription products and make them available on your online store. You create subscription products just like regular ones. The only difference is you need to select the right option from the Product data drop-down.
Was this article helpful?