It's time to put two of the most popular ecommerce platforms face-to-face! We have WooCommerce on one side, the open-source plugin for WordPress lovers. On the other side we have BigCommerce, a multifunctional ecommerce solution for shops of all sizes.
In this article, we'll have a closer look into the pros and cons of each platform, helping you make an informed decision.
Introducing WooCommerce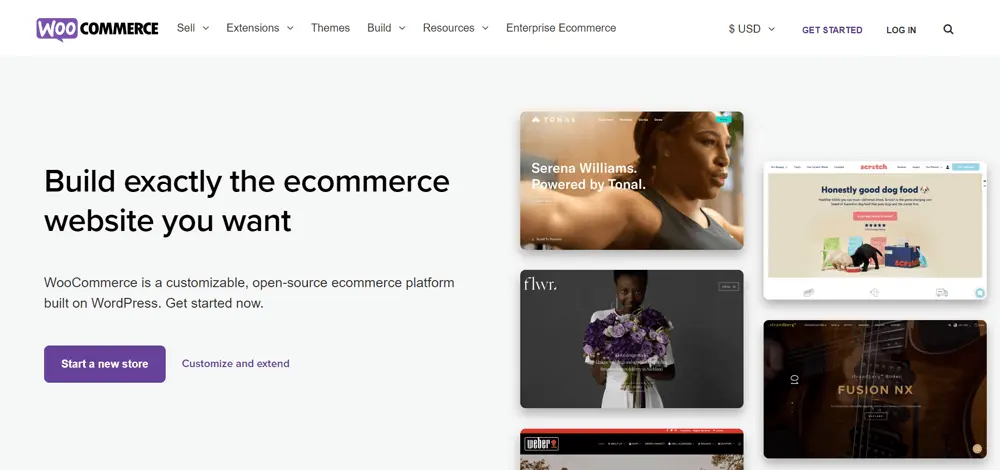 WooCommerce is an open-source ecommerce plugin developed in 2011 by the WordPress theme developers WooThemes. Its purpose is to enable businesses of all sizes to create and manage online stores with a wide range of functionalities.
With over 5 million active installations, WooCommerce has has dominated the market for ecommerce solutions. The app is widely known for its flexibility, ease of use, and active community. Whether you're looking to sell physical or digital products, subscriptions, or appointment – WooCommerce can easily be the right tool for the job.
WooCommerce Pros:
Free to download and use, no monthly fees or transaction fees
Highly customizable, with a vast library of plugins and themes
Seamless WordPress integration
Wide range of payment gateways and shipping options
User-friendly inventory management and reporting tools
WooCommerce Cons:
Requires some technical knowledge to use effectively
Scalability can be an issue for very large stores or high-traffic sites
Self-hosted app, meaning you are largely responsible for the security and performance of your store
Limited customer support from the app developers
Some features may require additional payment
Introducing BigCommerce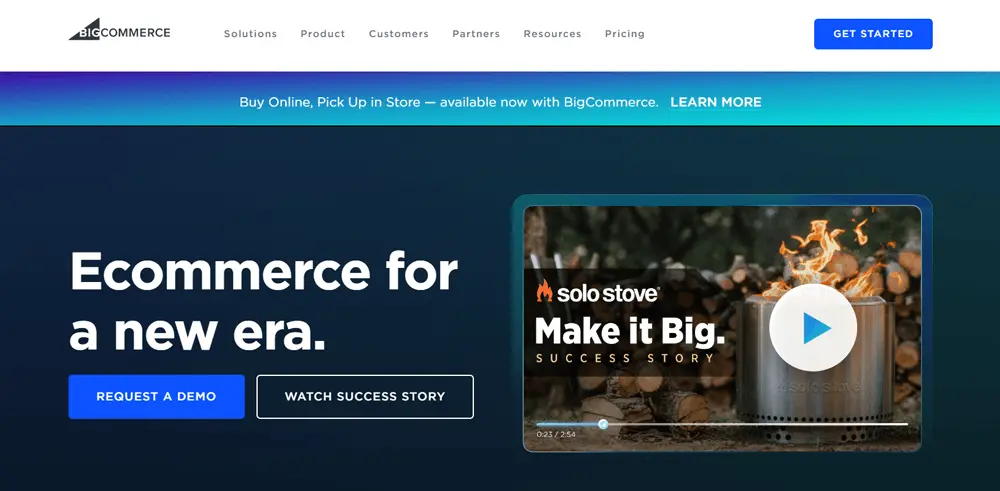 Developed in 2009 by Australians Eddie Machaalani and Mitchell Harper, BigCommerce is an all-in-one ecommerce platform designed to help businesses with their ecommerce needs. Its purpose is to provide a comprehensive solution that includes everything needed to sell products online, from product catalog management to secure payment processing and shipping.
With over 60,000 merchants worldwide, BigCommerce has become a popular choice among small and medium-sized businesses looking to expand their online presence.
BigCommerce Pros:
Fully hosted solution with reliable uptime and high-level security
Easy to install and use, intuitive design and a range of customizable templates
Built-in features for SEO, marketing, and social media integration
Wide range of payment gateways and shipping options
Advanced inventory management and reporting tools
Round-the-clock support via phone, email, or chat
BigCommerce Cons:
Relatively high prices, especially for larger stores
Limited flexibility and customization options compared to WooCommerce
Some advanced features, such as multi-language support, may require additional payment
Core updates can sometimes cause compatibility issues with third-party apps
Low scalability, limits on the number of products and bandwidth usage
WooCommerce vs BigCommerce: Head-to-Head Comparison
You got to the heart of this article – WooCommerce vs. BigCommerce? Who is the more worthy opponent?
It can be a tough call, as both platforms have their strengths and weaknesses. That's why we've decided to pin them against each other in a head-to-head comparison! In this section, we'll analyze everything from the available features and ease of use to pricing and support.
Let's take a look: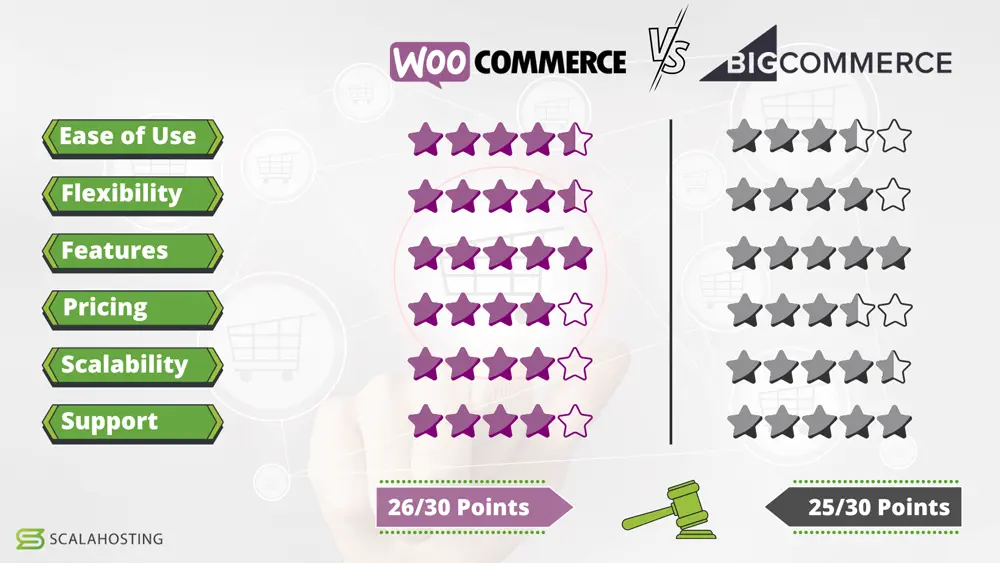 Ease of Use and Setup
Setting up an online store with WooCommerce is relatively easy especially if you are familiar with WordPress. It helps if you have a basic understanding of web hosting, domain names, and site management.
Once configured, WooCommerce offers a user-friendly interface and straightforward navigation. Managing products, orders, and customers within the platform is relatively easy, and the dashboard can help you with detailed reporting and analytics. You have extensive customization options, but you might need to navigate through various plugins and themes to find what you need.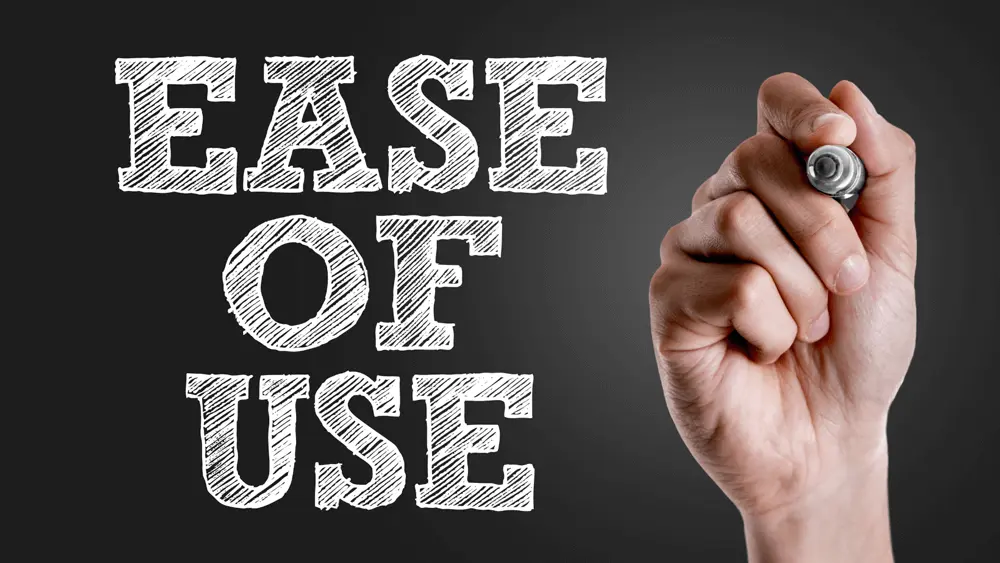 BigCommerce is straightforward and requires no technical knowledge or web development experience. The solution shines with an intuitive design, drag-and-drop functionality, and customizable templates.
BigCommerce also offers built-in features for SEO and marketing, streamlining the process of promoting and growing your store. The dashboard gives you detailed reports and analytics, making it easy to track your site performance and make data-driven decisions.
Still, the customization options with BigCommerce are limited compared to self-hosted solutions like WooCommerce, so users may need to rely on pre-built templates or hire a developer to make more significant changes.
Overall:
While both platforms are relatively easy to use, BigCommerce is more beginner-friendly and requires less technical knowledge from the get-go, which is ideal for small business owners and startups. WooCommerce, on the other hand, offers more flexibility and customization freedom but may require some technical expertise to fully master.
Customization and Flexibility
WooCommerce offers unparalleled flexibility. Users can choose from a huge library of themes and plugins to customize their store design and functionalities. Advanced users can also tinker with the code and make customizations to the platform's core files.
With WooCommerce, you can integrate virtually any third-party service or tool, from payment gateways to marketing automation platforms. However, these customization options can also make it more challenging to maintain and secure your store, especially if you're unfamiliar with web development.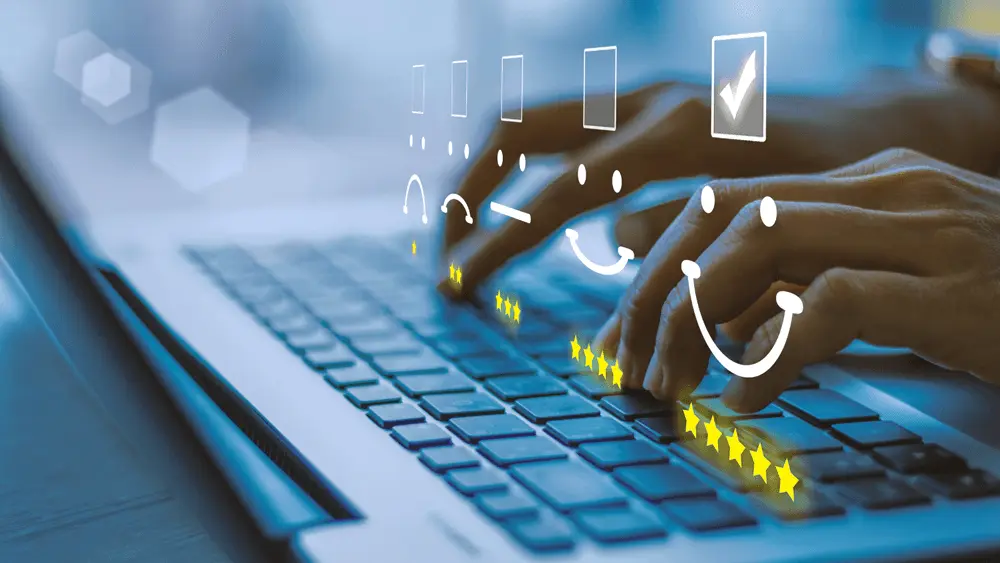 BigCommerce offers a good range of built-in features and integrations. Users can choose from a plethora of customizable templates and an app marketplace for additional functionalities.
Still, any customizations beyond these pre-built options are quite limited, especially compared to WooCommerce. Users can still modify their store's code, but this requires more technical knowledge and may require hiring a developer.
BigCommerce also offers a range of APIs and webhooks to pair up with third-party services, but again, these integrations may require custom development.
Overall:
WooCommerce offers more customization freedom compared to BigCommerce. With its open-source nature and extensive plugin/theme library, users can tailor their ecommerce store to their exact needs. However, this flexibility comes with a steeper learning curve and more significant responsibilities in terms of server management and security.
BigCommerce, on the other hand, offers a more streamlined, user-friendly approach to customization, but with more limited options for advanced design.
Features and Integrations
With WooCommerce, users can choose from a wide range of integrations to add extra store functionalities, from payment gateways to marketing automation tools.
Furthermore, WooCommerce has a vast community of developers that always look for ways to improve the platform. This allows users to connect their online stores with various third-party services, such as shipping providers and accounting software.
But keep in mind these features may require extra setup and configuration, and some may have associated costs.
BigCommerce includes product options and variants, shipping and tax calculators, and abandoned cart recovery tools. The platform also offers integrations with third-party services such as PayPal and Google Analytics.
Still, users may find the extras a bit limited compared to WooCommerce. Plus, some of these integrations may include extra costs and upgrades to access certain features.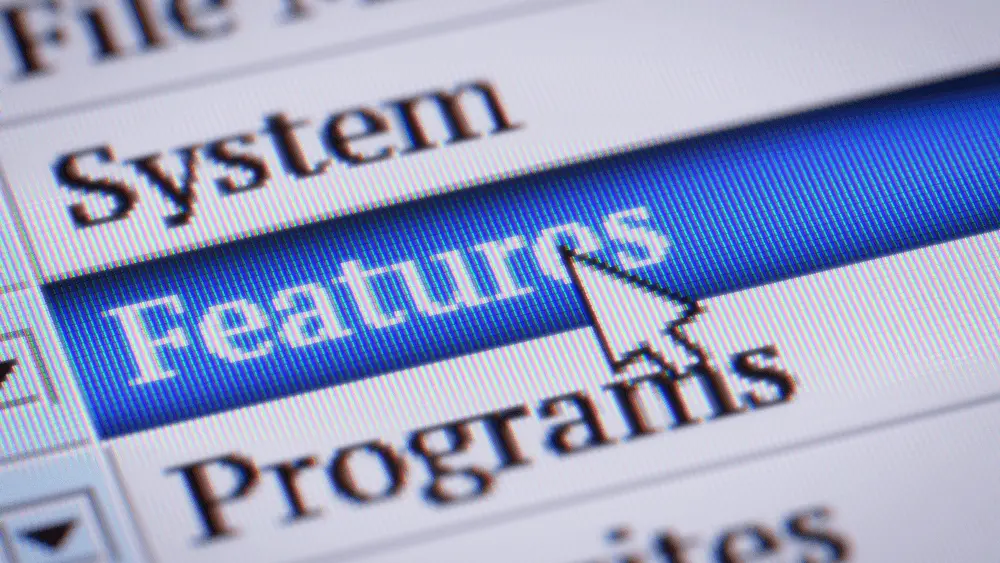 Overall:
WooCommerce gets the upper hand here because of its extensive customization options and a large developer community. BigCommerce, on the other hand, offers a more streamlined approach, with a range of built-in features and integrations that are easy to set up and use.
Pricing and Plans
WooCommerce is absolutely free to download and use. This makes it an attractive option for those on a tight budget. Still, users have to consider the fees for web hosting and domain registration.
WooCommerce also offers paid plugins with more intricate functionalities. These extensions may range in price from a few bucks to several hundred dollars. Not only that, but users may also need to hire a developer for more advanced customizations.
BigCommerce offers several pricing plans to fit the needs of businesses of all sizes. These range from Standard to Pro, with additional Enterprise plans available for larger businesses. Each plan includes various integrations, with more advanced features and support offered at higher tiers.
BigCommerce also provides free and paid add-ons to change the look and feel of your ecommerce website. However, compared to WooCommerce, the costs can add up quickly. Users are facing other hurdles as their online store grows, with more fees required for extra bandwidth and number of transactions.
Overall:
Both WooCommerce and BigCommerce offer flexible pricing options to fit the needs of any type of business. Still, WooCommerce looks like the more cost-effective option when you take everything into account. BigCommerce comes with more built-in features and support but may require more significant investments as your store grows.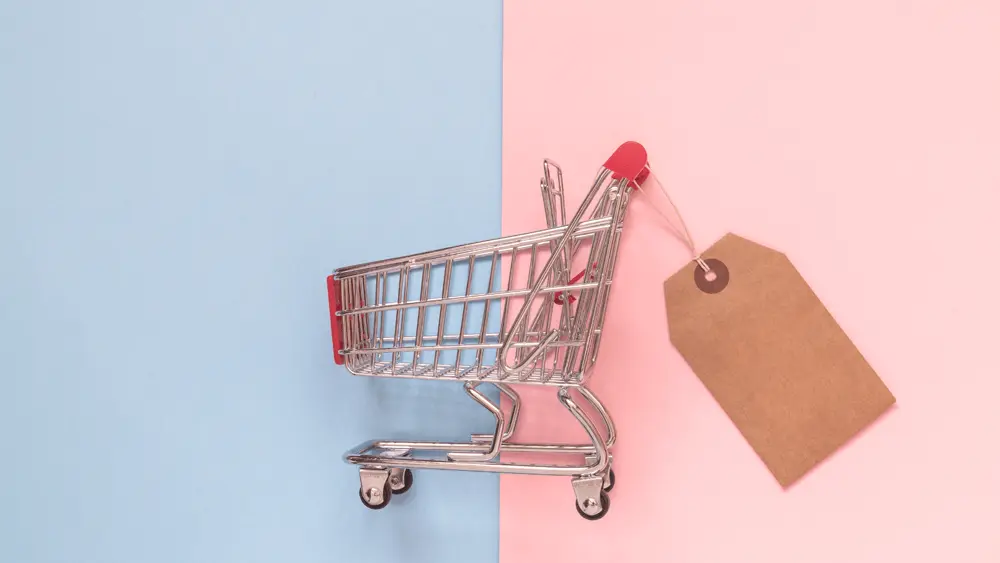 Scalability
Firstly, it's worth noting that both WooCommerce and BigCommerce are designed to be scalable, meaning they can handle large volumes of traffic without experiencing significant performance issues. However, there are some differences to how each platform approaches scalability.
WooCommerce is a plugin for WordPress, meaning it runs on top of the popular CMS. This can be an advantage, as WordPress is a highly scalable platform that powers millions of websites worldwide.
It's important to note that WooCommerce's scalability is mainly dependent on the web hosting environment it's running on. This means that if you're using shared services, you may experience performance issues as your store grows.
On the other hand, BigCommerce is a fully-hosted platform that is designed to handle scalability out of the box. This can be a significant advantage for businesses that expect to experience rapid growth or high traffic levels.
Overall:
For businesses that require a highly customizable solution, WooCommerce may be the better choice. In contrast, companies that require a platform that requires little to no additional work, may be better checking out BigCommerce.
Support and Resources
One of the key considerations when comparing WooCommerce vs. BigCommerce is the level of support each solution offers.
WooCommerce's support options are more limited, primarily focusing on documentation. Still, there are plenty of resources available for users, including forums, tutorials, and video guides. And while users can request help from developers via tickets, personal support is not a common service. This is why WooCommerce users need to be very careful when choosing a hosting provider as this would be their primary means of support.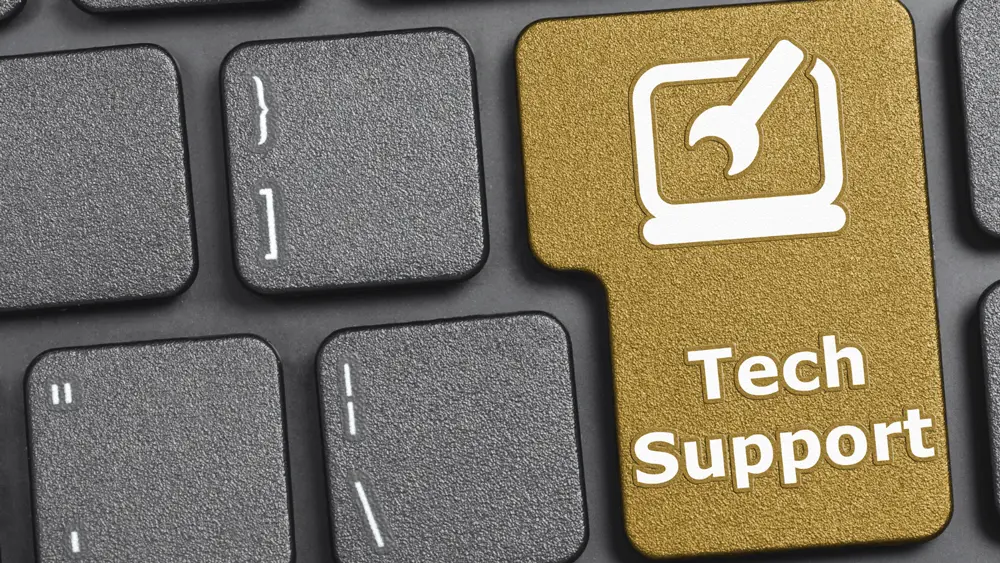 In contrast, BigCommerce offers 24/7 customer support, including phone, email, and live chat. Therefore, businesses can get help with issues or questions straight from the source, without relying on third-party support.
After signing up for a free trial, you can easily access support options from the dashboard. Plus, BigCommerce has an active community where users can engage in discussions and find help for their issues.
BigCommerce also provides a comprehensive Help Center that includes documentation for users of all levels, from beginners to advanced developers.
Overall:
BigCommerce provides more robust support options, including 24/7 customer service and a comprehensive Help Center. In comparison, WooCommerce primarily relies on user-generated resources, with limited personal support options.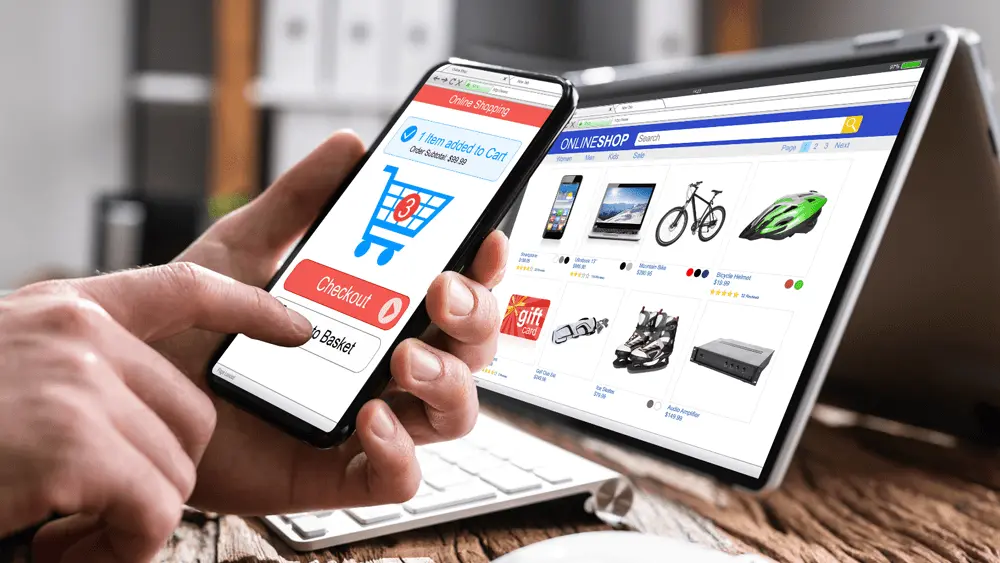 Choosing the Right Web Hosting for Your Ecommerce Store
When choosing a web hosting provider for your ecommerce store, you must consider a few key factors:
Uptime: Your ecommerce store needs to be available to customers 24/7, so uptime should be a top priority. Look for a web hosting provider that guarantees at least 99.9% uptime.
Speed: The speed of your ecommerce shop is crucial, as customers are unlikely to stick around if pages take too long to load. Look for a host with fast servers and content delivery networks (CDNs) to ensure fast load times.
Security: Security is a top concern for ecommerce store owners, as you'll be processing sensitive customer data. A reliable hosting provider should at least offer features like SSL certificates, firewalls, and regular backups to keep your website and customer data safe.
Scalability: Your ecommerce store will likely grow over time, so you need a web hosting provider that can scale with you. Look for a host that offers scalable CPU and RAM and the ability to seamlessly grow as your traffic and sales increase.
Support: When something goes wrong with your website, you need to be able to get help quickly. Choose a provider that offers 24/7 phone, email, and chat support but also has knowledgeable enough operators to help you out.
Cost: Finally, consider the cost of the web hosting provider. While you don't want to skimp on essential features such as security and uptime, you also don't want to overspend on hosting. Look for a provider that offers a balance of features and affordability.
WooCommerce and ScalaHosting
ScalaHosting is a web hosting provider that offers specialized support for WooCommerce in many different ways.
SShield, a core component of our SPanel platform, is a powerful security tool designed by us to protect websites against various malicious attacks. It tracks an impressive 99.998% success rate in detecting and preventing suspicious activity, ensuring customers' peace of mind.
We invite you to explore our managed cloud services tailored to mission-critical websites. Our servers provide users with top-notch security measures, continuous uptime, and maximum protection against cyber threats.
Contact our team today to learn more about our services and how we can help you safeguard your WooCommerce website.
Takeaway: WooCommerce vs BigCommerce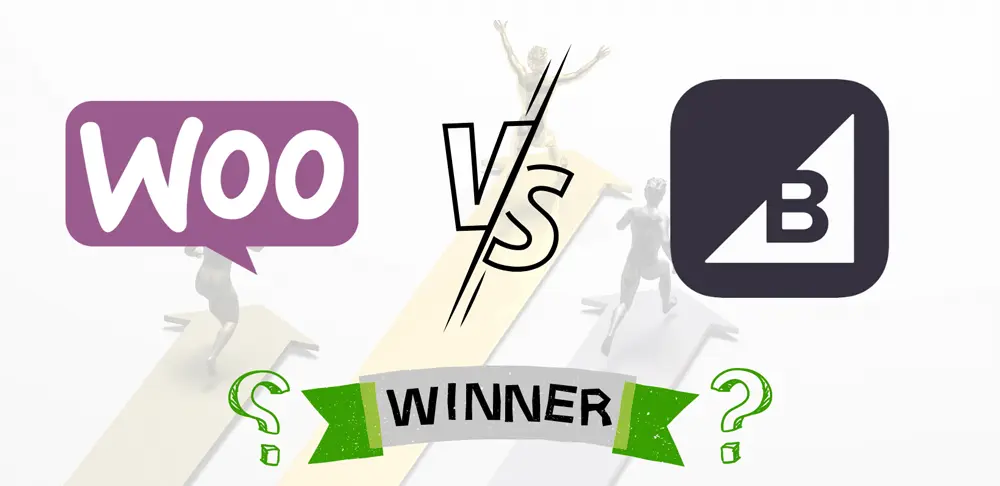 So, which ecommerce titan won the battle, WooCommerce or BigCommerce?
Well, let us tell you this: when choosing between WooCommerce and BigCommerce, there is no one-size-fits-all answer. Both platforms have their strengths and weaknesses, and the best choice for your business will depend on your specific ecommerce goals.
If you're already using WordPress and looking for a highly customizable and flexible solution – WooCommerce is surely a natural progression. On the other hand, if you're looking for an all-in-one platform that provides hosting, security, and a range of built-in features – BigCommerce might be the better option.
Ultimately, it's important to do your research, weigh the pros and cons, and choose the platform that will help you achieve your specific goals.
Frequently Asked Questions
Q: What is WooCommerce?
A: WooCommerce is an open-source WordPress plugin allowing users to build and operate their ecommerce store. With it, users can create and manage products, track inventory, process payments, and more, all within their WordPress dashboard.
WooCommerce is known for its large community of developers, who create plugins and extensions to enhance the platform's functionality even further.
Q: What is BigCommerce?
A: BigCommerce is an all-in-one ecommerce platform allowing businesses of all sizes to create stunning online shops. It comes with many default features, including product catalog management, secure payments, shipping options, and marketing tools.
BigCommerce offers a user-friendly interface, responsive templates, and a variety of integrations to help businesses maximize their online selling potential.
Q: Which platform is better for customization – WooCommerce or BigCommerce?
A: WooCommerce is generally considered the more customizable platform, as it allows users to integrate their online store with their WordPress site fully and offers a wide range of plugins and themes. However, BigCommerce also provides many custom options, but its plus is the more user-friendly interface.
Q: Which platform is better for beginners – WooCommerce or BigCommerce?
A: BigCommerce is considered the more beginner-friendly platform, as it provides web hosting, security, and a range of built-in features in a single package. WooCommerce, on the other hand, requires users to have their own WordPress site and may need more technical knowledge to set up.
Q: Can I switch from one platform to the other?
A: Yes, it's possible to switch from WooCommerce to BigCommerce or vice versa, although it may require some work to transfer your data and rebuild your new store. It's important to carefully consider your options and do your research before making a switch to ensure you choose the most suitable solution.
Was this article helpful?