Although WooCommerce is a WordPress plugin, running a WooCommerce store is not the same as managing a regular WordPress site.
The main differences lie in the way you handle your finances. To turn a WooCommerce site into a reliable source of income, you'll be more willing to spend money on things like a premium theme, a few plugins, and some search engine optimization tools. You may even consider hiring a professional developer to make the online store stand out.
All these put pressure on the profit margins, meaning many site owners prefer to save a few pennies from other required expenses like hosting, for example.
But is this really a good idea? And if it is, how can you find a good host at a fair price?
Let's find out.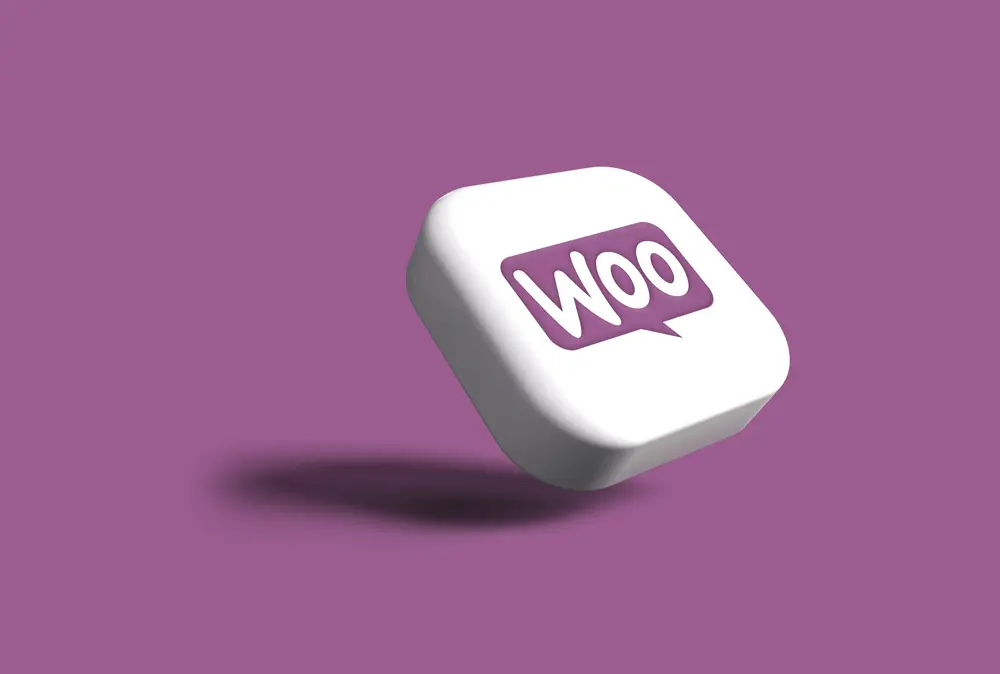 What Sort Of Hosting Can WooCommerce Run On?
To run a WordPress installation, you need the following:
A CPU running at 1GHz
512MB of RAM
1GB of disk space
WooCommerce's minimum system requirements aren't much different. In light of this, some of you may be wondering whether you can host a WooCommerce site for free and at home. So, without further ado, let's get this question out of the way.
Are there any free options for hosting a WooCommerce store?
Yes, there are… but they only work in theory.
You can host a WooCommerce website on an old computer you have lying around the house. What you need to do is install the required software, ensure the device is connected to the internet, and point the domain to the correct IP.
Now that we've explained how the theory works, it's time to show you why hosting at home is not a practical solution.
Setting up a hosting environment isn't exactly a walk in the park. You're basically taking on the job of a professional system administrator, and if you don't get it right, you'll compromise the site's security and performance.
If you do have the technical skills to configure your own server, you probably know that a standard home computer can't reliably process a large number of requests, so it's not really suitable for any sort of significant traffic. Even if the hardware can manage it, your home internet connection isn't quick enough to deliver the data without delays.
In other words, you need to look at commercial web hosting solutions. With them, your website is hosted on enterprise-grade servers situated in data centers – state-of-the-art facilities that employ a range of precautions to ensure your website is online at all times.
Hosts offer quite a few plans that differ wildly in both price and setup. Let's have a look at them.
What paid hosting options are available for my WooCommerce store?
The three main types of hosting suitable for a WooCommerce store are shared hosting, dedicated server hosting, and VPS hosting.
They all have their advantages and disadvantages, which we'll now examine in more detail.
Shared hosting
Shared hosting is by far the cheapest option. Before you get too excited, however, it pays to bear a few things in mind.
In a shared environment, hundreds of websites are situated on the same physical server. Individual accounts are managed separately, but they all use the same hardware resources. If the server comes under heavy load, the performance of everyone on the shared machine will be compromised.
In addition to sharing the hardware, you also use the same IP address as the rest of the people on the server. If any of your "neighbors" starts sending spam, the IP may be marked as a source of unsolicited messages. As a result, all the emails sent from it, including your legitimate communication, will end up in the recipients' Junk folders.
Shared hosting pros:
It's the cheapest form of web hosting.
A control panel usually helps you get started quickly.
Shared hosting cons:
Thanks to the shared environment, the performance isn't as consistent as you'd like it to be.
Because many people are situated on the same server, shared plans aren't suitable for websites with any significant traffic.
You are much more likely to be affected by security incidents or illegal activity on accounts situated on the same machine.

Dedicated server hosting
If you don't want to share a server with other people, you can have an entire machine to yourself. With it, you don't need to worry about anyone using hardware resources or abusing the IP to send unsolicited messages. As long as you pick a suitable configuration, your performance will be consistent and reliable.
Sounds good, but you need to remember that to enjoy all these benefits, your pockets need to be quite deep. We're talking about hardware that is neither cheap nor easy to buy, configure, and run. As a result, your monthly hosting fee for a decent dedicated server solution is almost certainly going to run well into the three-figure range.
You also have to bear in mind that with a dedicated machine, it's usually up to you to set up some of the server's critical components. Most dedicated plans are self-managed, meaning your host gives you root access and leaves you to it.
Things like configuring the server's security systems, installing the required software, applying updates, etc. are your responsibility. How well you manage these tasks affects not only your site's performance but its security as well. Overall, it's fair to say that a dedicated server is far from the most user-friendly setup.
Dedicated server pros:
A powerful solution suitable for large online stores with lots of traffic.
The hardware resources are available all the time.
Dedicated server cons:
It's much more expensive than shared hosting.
Correctly configuring the server requires advanced sysadmin knowledge, and if you pick a self-managed plan, you can't rely on your hosting provider to do that hard work for you.
Migrating from one dedicated server to another could be a challenge.
VPS hosting
For years, VPS hosting was considered the middle ground between a cheap shared plan and an expensive dedicated machine. This isn't an entirely accurate description, especially nowadays when you have powerful cloud VPS solutions.
For the most part, your virtual server acts as a dedicated machine. You have guaranteed hardware resources that are reserved for your website and available all the time. There's a dedicated IP, as well, so there's no risk of anyone hampering your email communication.
However, instead of taking up an entire server, a VPS is deployed on a cluster of physical machines called a cloud. Many VPSs run on the same cloud, but they are completely isolated from each other, so your site's performance isn't affected by anyone else. The cloud cluster can be expanded infinitely, and it can even be spread across multiple locations.
Your virtual server's hardware configuration can be changed in an instant, so if your site outgrows your current plan, you can upgrade it easily without physically moving any data. And because you can tap into a virtually unlimited pool of resources thanks to the cloud, you can make your VPS even more powerful than a dedicated server.
In other words, VPS hosting is not a midway solution between shared hosting and a dedicated server. Instead, it's a flexible, cost-effective service, suitable for both small online stores and large ecommerce businesses with lots of products and consistently high traffic levels.
VPS hosting pros:
The guaranteed hardware resources provide improved performance and more consistent loading speeds.
A fully isolated environment means better security.
Thanks to their unmatched scalability, virtual servers are suitable for websites of all shapes and sizes.
VPS hosting cons:
Virtual private servers are not quite as affordable as shared plans.
Which Is The Best WooCommerce Hosting Option?
If the budget is your only consideration, shared hosting plans are impossible to beat. However, when you're building an online store, the budget should never be your only consideration. Your first priority should be to convince users that your store is better than the competition. Better means faster, more reliable, and more secure.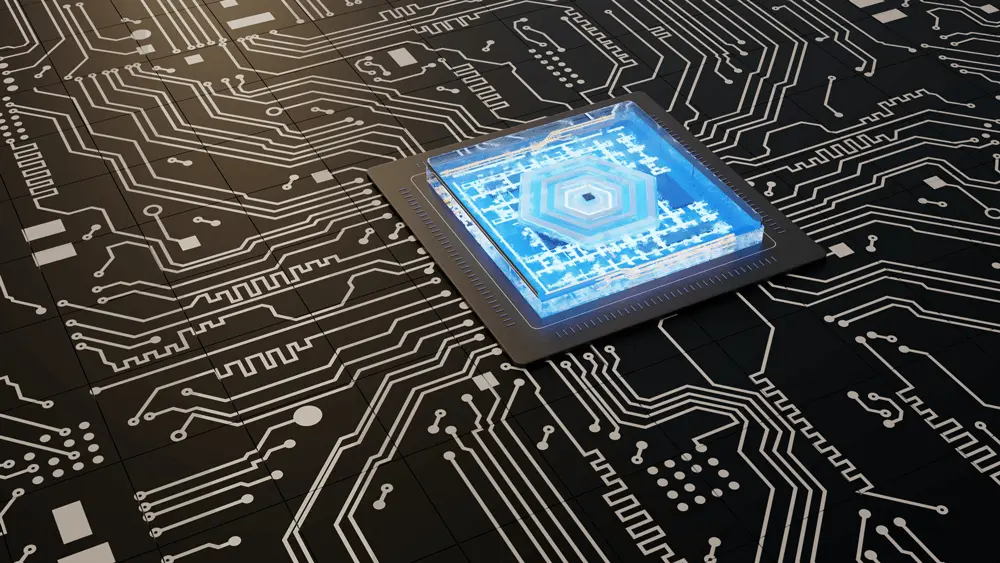 Many studies have explored the correlation between website performance and bounce rates. The exact figures vary from paper to paper, but what is beyond doubt is that the target loading time for a successful ecommerce store is sub-two seconds. Anything above that, and people will abandon your website. Even a tiny delay can impact your user experience and affect your revenues and profits.
In a shared environment, these delays are all but inevitable because your loading speeds depend on other people's actions.
It's not just about the performance, either. Reliable email communication is a sign of a trustworthy business, and as an online store owner, you'll be sending quite a few emails every day. If your messages frequently end up in people's Junk folders, users will be more suspicious of the emails you're sending out and may fail to read them altogether. The net result is that they'll be less likely to spend money at your site.
Last but by no means least, you have to think about your store's security. Even if you don't process payments yourself, your WooCommerce site is bound to be handling a lot of personal information. You must protect it at all costs, which is much trickier in a shared environment where the same machine is used by dozens of people, many of whom haven't done enough to properly secure their accounts.
A shared plan clearly isn't the best option for a WooCommerce store, and neither is a dedicated server. Using an entire physical machine for your website is far too expensive for most projects, and even if you can afford it, it's hardly the most flexible solution out there.
Realistically, your best option is to go for a virtual private server. It gives you the consistent loading speeds and security to keep visitors returning to your shop.
The only issue is it's not the cheapest available form of hosting for WooCommerce. You can find some pretty competitively priced VPS plans out there, but most start at around $15 per month – several times more than the most affordable shared plans.
The investment is worth it, as it will enable your WooCommerce store to thrive in a hosting environment optimized for an online business. That said, you still need to ensure you're getting the best possible deal for your money.
How Can I Compare The Costs and Features of Different WooCommerce Hosting Providers to Find The Best Deal?
The basic setup of every VPS is the same – a virtual machine with a predetermined hardware configuration that works autonomously from its neighboring accounts. However, hosts package their virtual servers differently, and the set of tools and features you get with your plan could affect its price. In some cases, the extra cost is worth it. In others, it's not.
Here's what to look out for and which options you should pick to ensure you get the most cost-effective VPS service for your WooCommerce store.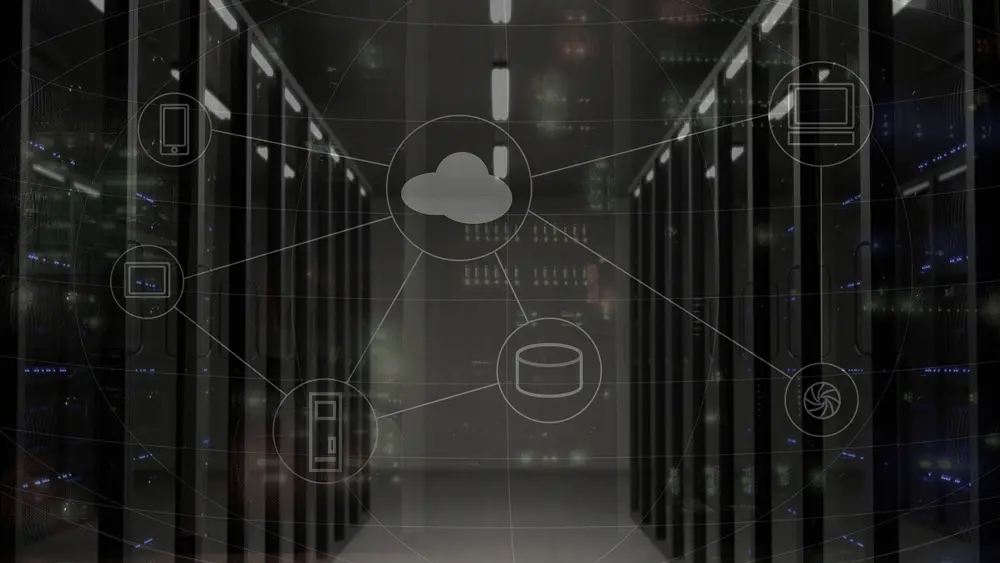 Managed vs. Self-managed
The cheapest VPS solutions are self-managed. With them, you'll need to configure the server, install all the applications required to run your WooCommerce site, and keep them in perfect working order.
This may save you some money but don't forget that these tasks require a certain degree of experience. If you haven't done it before, you'll waste a lot of time trying to set everything up, and if you get it wrong, the repercussions could be pretty devastating.
That's why most users are better off going for a managed solution. You'll have a VPS configured and maintained by people who do this sort of thing for a living, and you'll be able to focus on building and running your WooCommerce store. Because your host is more involved in the maintenance, managed servers are more expensive, but in this particular case, the extra outlay is worth it.
Windows vs. Linux
There's a good chance you're reading this on a Windows computer, and you might think that using Microsoft's operating system for your server is also a good call. That's not the case, at least not when you're building a WooCommcerce website.
While running WordPress and WooCommerce on Windows is possible, the applications are much happier in a Linux environment. The utilities required for running them are available out of the box on most distributions, and there's a broader range of WordPress/WooCommerce management tools developed for Linux.
Crucially, Linux is free and open-source, whereas Windows is a proprietary system, so a Linux VPS will always be cheaper.
Domain name
Your store needs a domain name, and to entice you, some providers offer to give it to you for free, at least for the first year. If you're starting a new project, they pay the registration fee on your behalf and keep it active for twelve months.
If you have an existing site, they can transfer the domain for you. This automatically adds twelve months to the expiration date and means you will manage your hosting account and domain name from the same client area.
In total, you'll save about $15 for the first year, so it won't turn the balance sheet on its head, but it may be something to bear in mind while assessing the available options.
Website migration
If you have an existing online store you want to move to a new provider, you must consider the migration process. The WordPress/WooCommerce ecosystem gives you plenty of tools for backing up and restoring your site, but even with them, there's still a risk something might go wrong, especially if your experience with them is limited.
Ideally, you'll want to leave it to the experts, but if you turn to a professional developer, you may need to set aside a not-inconsiderable budget just for the migration.
Thankfully, some providers offer a free website transfer to new customers as a welcome gift. After you give them the login credentials for your old hosting account, they'll retrieve the files and databases, restore them on the new server, and ensure that everything works. Only then will you point the domain to your new account, meaning the migration can be complete with no downtime whatsoever.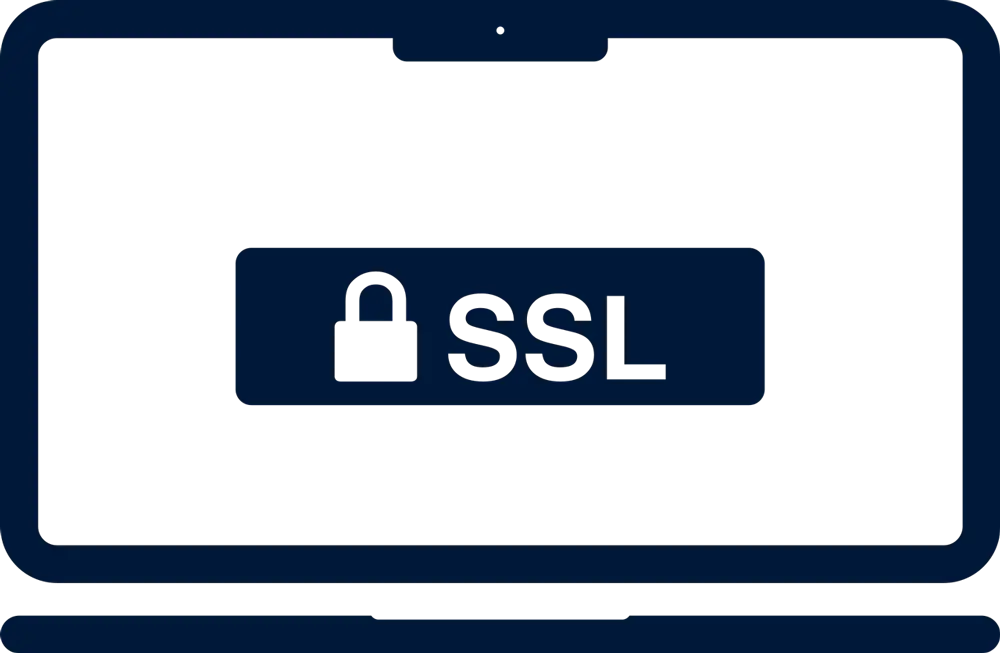 SSL certificate
You can't run a website without an SSL certificate nowadays, especially if you're trying to sell products and services online. Users are savvy enough to know that the lack of a padlock icon in the browser's address bar is a bad sign, and Google even punishes websites that don't encrypt the data flow between client and server. Not to mention that risking your clients' security is hardly the best business strategy.
There are many commercial SSL providers, all offering a range of different options. Quite a few hosting providers resell their solutions and provide free SSL installation and support services. However, if you're on a tight budget, you'll probably prefer the free certificates issued by Let's Encrypt.
They give you the same encryption standards as the commercial solutions and are accepted by all modern browsers. You just need to make sure your hosting provider supports them and, ideally, installs them automatically as soon as your domain is pointed to the server.
Control panel
The control panel is the main interface between you and your hosting account. You must ensure it has all the tools you need to manage your project.
There are quite a few web hosting control panels, but the most popular one is WHM/cPanel. The management platform has been around for ages, and a combination of a comprehensive set of features and an intuitive interface makes it the perfect solution for any project. Until you account for the cost, that is.
A few recent price hikes pushed cPanel's licensing fees through the roof, especially for users who need multiple accounts. If you insist on using cPanel, you must bear these costs in mind when you're browsing through the various hosting options.
However, don't forget that there are a few alternatives. Plenty of server management platforms offer pretty much the same features either at a more competitive price or as part of a provider's default package.
Speaking of which, let's see how ScalaHosting can help you save a few dollars on your WooCommerce hosting fees.
ScalaHosting and WooCommerce
We've been in the hosting business for a while now, and we know just how popular cPanel/WHM is. We also know, however, that website owners don't like price changes, so when cPanel hiked its licensing fees, we sensed that we may be in for an industry-wide shift.
That's why, over the last few years, we've been working on SPanel – a lightweight, high-performance management platform with all the tools you need to control your server and the websites hosted on it.
As a WooCommerce website owner, you'll get the unique WordPress manager. It installs WordPress and WooCommerce in a couple of clicks, and it helps you enable automatic updates for your store, improve its security, and set up a staging environment.
The phpMyAdmin database management tool and the advanced file manager help you take care of the account's contents, and you can set up all the email addresses you need in a couple of minutes.
SPanel also installs a free Let's Encrypt SSL certificate as soon as you point your domain to the new server, and there are unique features like the SShield security system, which automatically blocks most known attacks.
There are a few options for using SPanel. You can purchase a license for your own Rocky Linux server. Prices start at $9.95 per month for up to 5 user accounts. For that, you can install SPanel on your machine and take care of it yourself.
Alternatively, you can opt for a managed service. With it, you still use hardware from a provider of your choice, but you let our experts install SPanel and take care of the complex sysadmin tasks and problems. At $19.95 per month for up to 5 user accounts, this service is more expensive, but it lets you focus on your project without worrying about the technical stuff.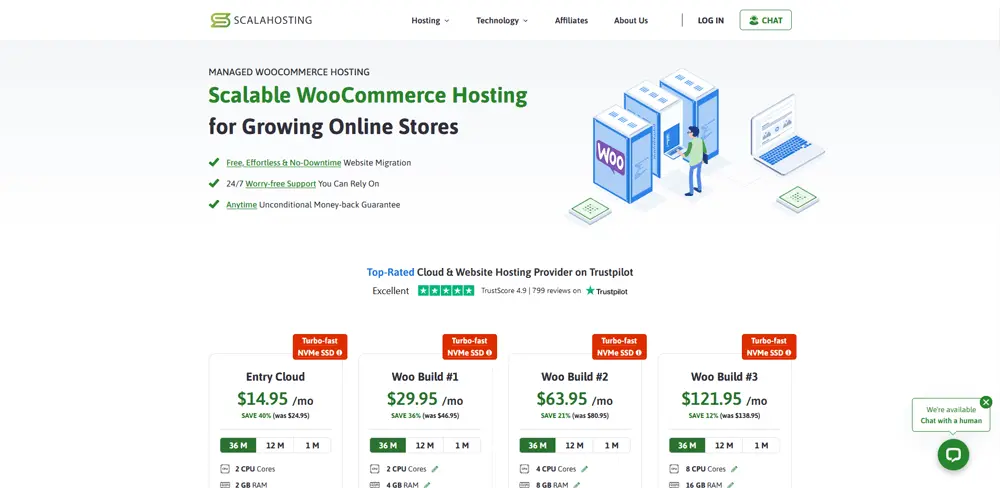 However, if you're after the most cost-effective solution, you're better off just going for one of our fully-managed VPS plans. The WooCommerce-optimized packages start at just under $15 per month, and they give you, among other things, a virtual machine supported and maintained by a team of experienced technical specialists, unlimited SPanel accounts, a free domain name (or domain transfer), free website migration, and many more.
Conclusion
Getting the right hosting account for your WooCommerce site isn't the easiest thing in the world. On the one hand, paying too much for the service will eat into your profit and jeopardize the sustainability of the entire project.
Conversely, a cheap service that doesn't give you the security people expect or the tools you need to build your website can also severely hamper your progress. Finding the balance between the two requires careful consideration of quite a few factors. Make sure you don't miss any of them.
FAQ
Q: What is the cheapest way to host a WooCommerce website?
A: WooCommerce and WordPress can work on a shared hosting plan that costs as little as a few dollars per month. However, this setup is unlikely to give you the performance you're after. Shared packages aren't really suitable for websites with any sort of significant traffic. They also aren't as secure as you'd hope, so you'll probably want to look at a virtual private server – a reasonably-priced solution with better security and more consistent performance.
Q: What is the disadvantage of cheap hosting?
A: The cheapest web hosting options usually offer you a shared environment. This means that you share the same physical machine with hundreds of other users. The hardware resources you can use at any given time depend on the server load, and the server load depends on the collective traffic generated by all the websites on the machine. The result is that your loading speeds won't be as consistent as you want them to be. There are potential reliability issues with sharing the same IP, as well.
Q: Can you host a WooCommerce website without paying?
A: Theoretically, it's possible to install WooCommerce on a home computer instead of purchasing a hosting account. However, you won't get the performance and reliability you need to run a successful ecommerce project, so realistically, you should go for a commercial hosting service.
Was this article helpful?