Joomla is a content management system (CMS) that's been widely underestimated. Its benefits are actually numerous – Joomla is free, easy to host, and allows you to start working on a website in minutes. It comes with default multilingual support, numerous extensions, and a customizable backend interface.
Simply put, Joomla has a lot to offer. And we have a lot to offer to Joomla users.
Joomla Statistics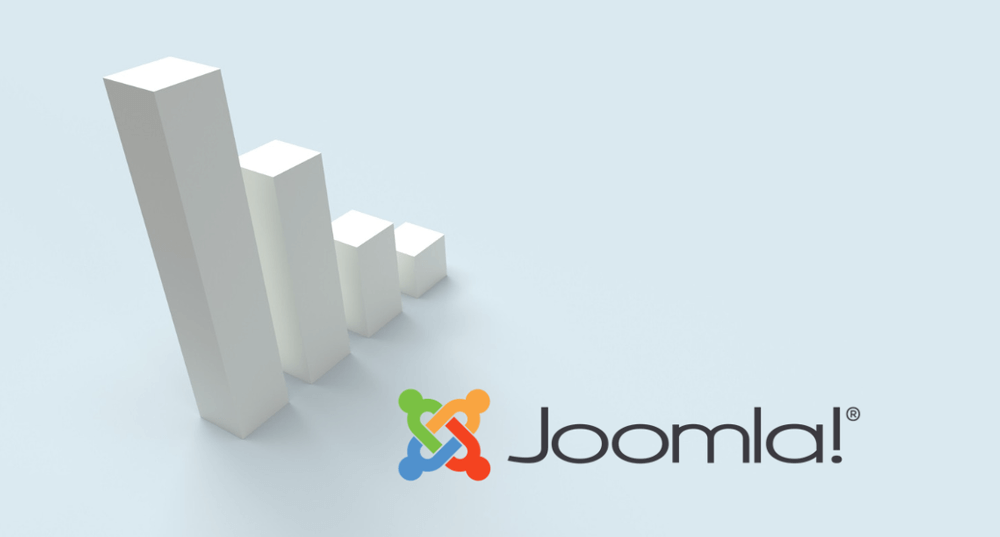 Here are some more reasons to pick Joomla:
Joomla is the second most popular CMS.
2.7% of websites use Joomla.
Joomla holds control over 3.26% of the CMS market.
300+ new websites are built daily using Joomla.
In terms of security, Joomla wins over WordPress.
But a web app is only as good as the environment in which it is used.
How to Pick the Right Joomla Provider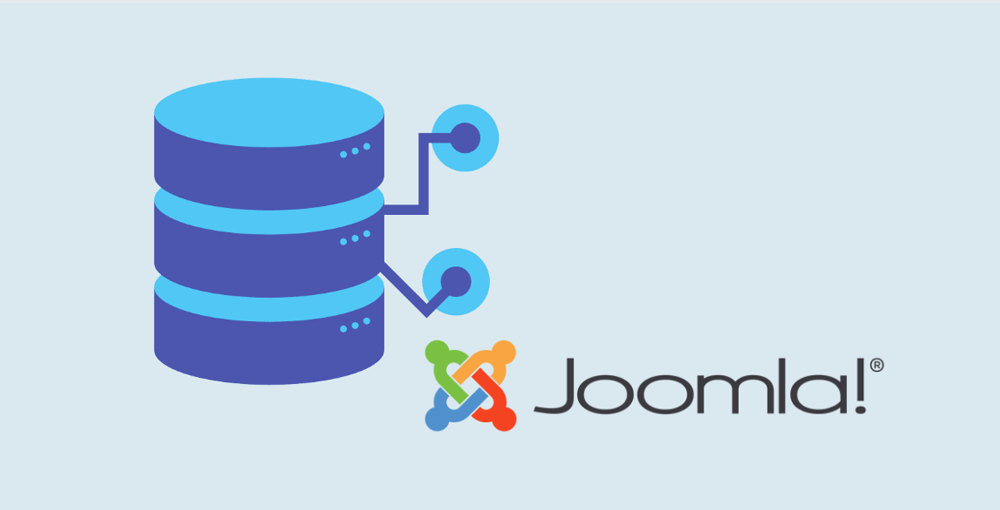 Business websites and web apps are a complicated ordeal. They often require extensive resources, trained support, and advanced security features. That's why you need to choose your Joomla hosting vendor carefully. There are several important factors to consider:
Performance
Joomla is usually used for websites with dynamic content, often featuring different types of media. Because of this, plans with limited or shared resources will probably lead to poor site performance.
A Virtual Private Server is the optimal solution for Joomla websites. While pricier than shared hosting, it's often far more affordable than a dedicated server. But compared to the shared environment, virtual servers bring an unmatched performance and security, making it the most cost-effective platform for Joomla projects.
Security
Security is a non-negotiable factor.
Take notice of the safety layers a vendor provides – starting from the datacenter to each server. Also see if the hosting company provides:
antispam features
antimalware tools
monitoring options
firewalls
Joomla-specific security extras
Also, look for a Secure Sockets Layer (SSL) – it's an industry standard nowadays, but it's still a must if you're after securing your client data and improving your SEO rankings.
Scalability
The ultimate goal is to make your Joomla website grow. So, you need to choose a hosting provider and a suitable plan that will allow you to scale your project easily as it gains more traction.
Shared plans, for example, are pretty limited in that area. Of course, you can always start with this option and then move to a VPS, but the process is not always smooth. Check the migration options with your hosting vendor of choice and learn about your upgrade opportunities in advance.
Support
A reliable support team is always an important factor, regardless of your previous website-building experience.
Make sure to check out the provided channels to connect with the support team.
Common options include:
Live chat
Ticket system
Phone
Email
Having a phone number available is highly recommended, in case there's an emergency. The support team will be the ones to assist you with any hosting-related issues or share some professional advice on possible improvement.
Price
We can't ignore the elephant in the room. Price is always a factor.
If you're just beginning your Joomla journey your best bet is to choose a provider that offers enough upgrade options. That way, you can start on the lowest-tier plan and move on to another, once your Joomla website grows. If you already have a site and know your monthly traffic, you can easily discuss it with your new host and figure out the best option.
Of course, you can't ignore what's included in the price. Make sure to read the fine print, as there are cases where additional charges come to play.
Why ScalaHosting for Joomla?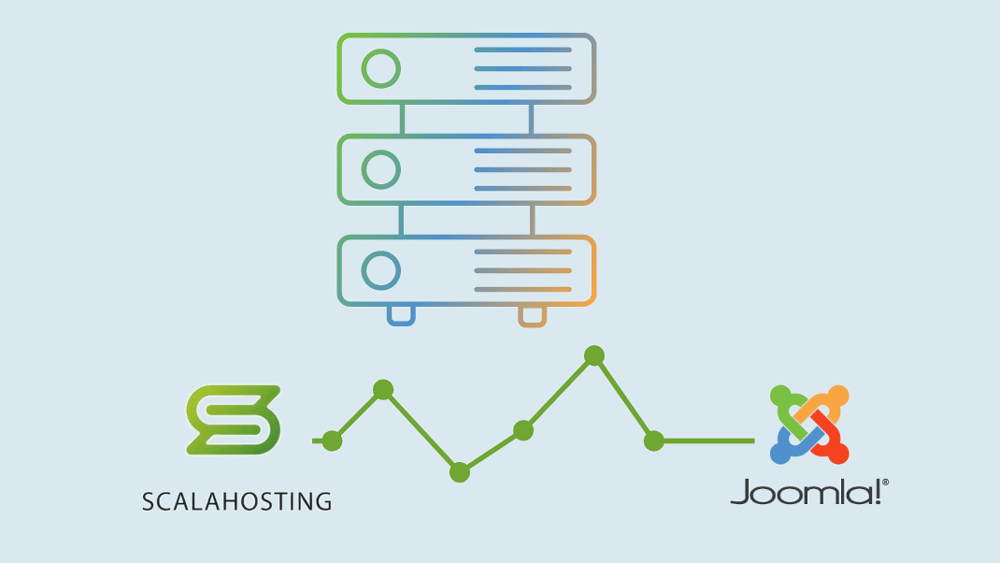 There are a lot of good hosting providers out there, but we pride ourselves on our unique plans that include some neat features. All of them are exclusive, of course.
Take a look:
Official Joomla Partners
ScalaHosting became a Joomla Platinum Partner in 2020. Our team has been committed to Joomla and its community for over 10 years. Partnering in order to offer all-in-one VPS solutions like SPanel to a wider audience was a logical step.
As of last year, we've taken things to the next level by offering:
Webinars about SPanel and Joomla improvements and how the latest updates will affect your SEO score.
Multi Data Center Clustering, a unique solution for busy websites
One-click Joomla installation via the SPanel.
LiteSpeed/OpenLiteSpeed Servers
The LiteSpeed web server provides unmatched performance with minimal hardware resources. The faster loading speeds will also improve your SEO results.
LiteSpeed is also incredibly secure – it has built-in anti-DDoS options, and since it's compatible with Apache, you can use the mod_security module to block the majority of web attacks.
Our experience shows that such a server can accommodate 30% more visitors, without sacrificing performance.
OpenLiteSpeed, as the name suggests, is the open-source version of LiteSpeed Enterprise. It, however, does not have the same support as LiteSpeed.
If you choose an SPanel VPS, you can install both LiteSpeed Enterprise and OpenLiteSpeed.
Easy Hosting Management (SPanel)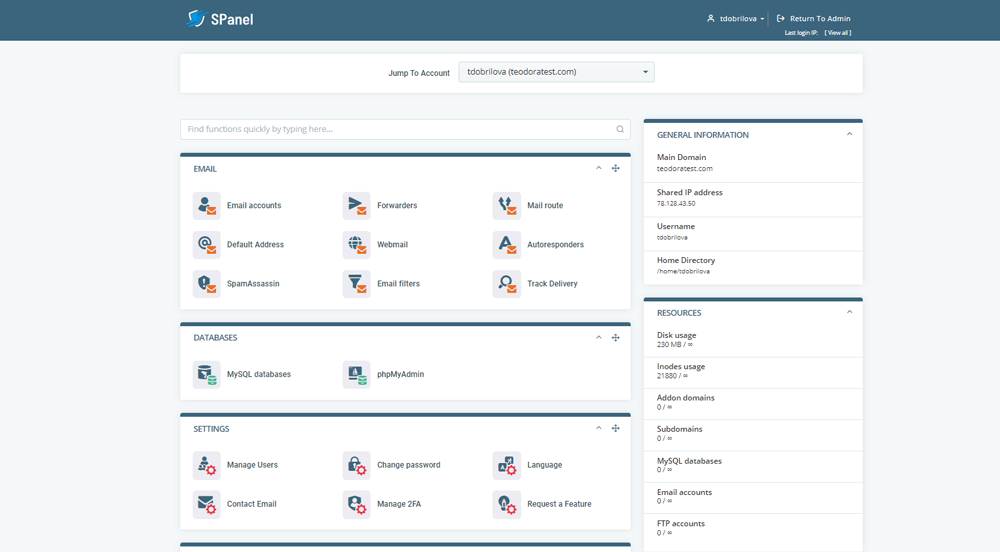 SPanel is ScalaHosting's very own all-in-one solution for web hosting management. It has tools for web, email, database, and DNS handling. It was developed as an alternative to the popular cPanel, with none of the associated costs.
Yes, that's right – SPanel is free! In addition, it offers several unique features:
SShield – a top-notch server security tool.
SPanel Feature Requests – SPanel users can join a separate discussion forum, which enables you to directly contact the R&D team and request whatever features you need.
SPanel is easy to navigate, built with both beginners and experienced users in mind. It is equipped with Softaculous that can automatically set up Joomla on your account with just one click. You don't need any coding experience at all.
To sweeten things up even more, every website hosted on a server managed by SPanel gets a free SSL certificate. Users can add unlimited accounts, without any additional charge.
Advanced Security Monitoring (SShield)
SShield is a vital part of SPanel. It monitors all the traffic to and from a website. That way, it can detect malicious activity immediately. All the data is presented in a detailed report that is later sent to the website owner.
SShield is unique because it's AI-automated and utilizes machine learning techniques to inspect codes and filter out threats. The more issues it encounters, the better it gets at recognizing them.
Once it detects suspicious activity, SShield sends a notification to the owner. That way it gives users adequate time to react without blocking access to the website and disrupting its uptime and performance. It will regularly check the affected pages and will close down the security case, once the issue is resolved.
Joomla Manager
SPanel also features a dedicated Joomla manager.

You can use it to set up Joomla on your account. It's very easy to do so – you just need to fill-in domain path, username, password, and email address in the dedicated fields.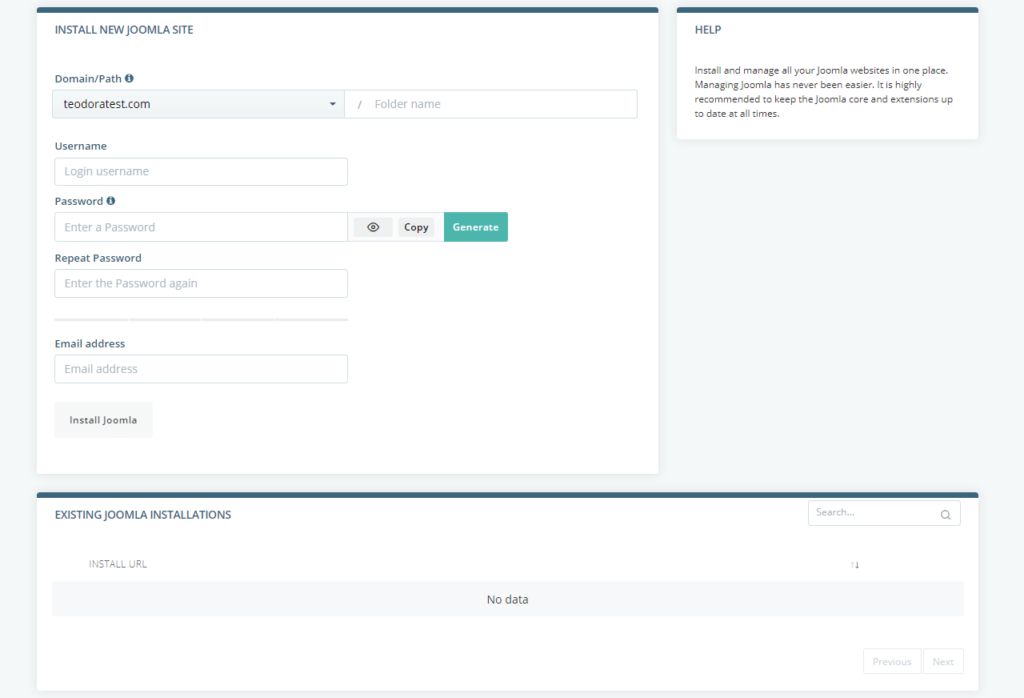 At the bottom of the page, you will see all active Joomla installations featured on your account. You're not limited in the number of projects you can run. You can use the very same menu to delete the ones you no longer need or reset a password.
If you choose to clone an existing Joomla installation, you will get an exact copy of the product, that will feature the same theme, extensions, content, etc.
Automatic Updates
SPanel comes integrated with Softaculous, the most popular app auto installer. Website owners can use it to set automatic updates for Joomla. They are turned off by default, which can be changed in a few simple steps.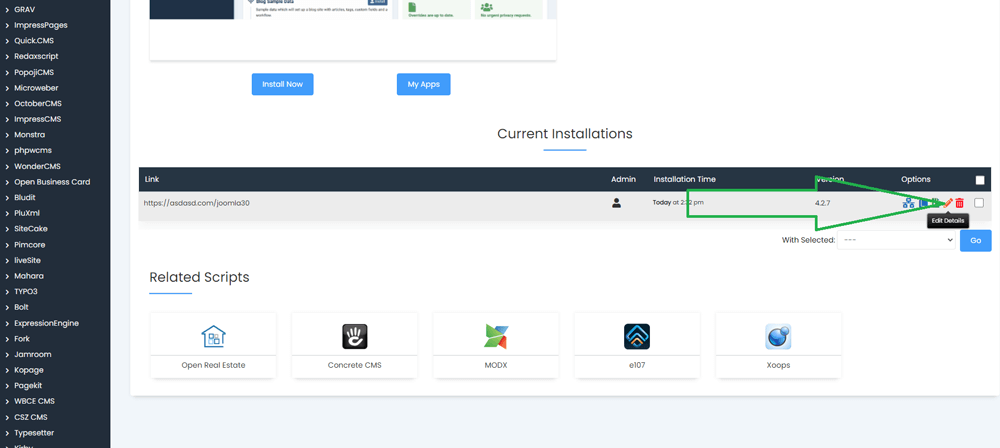 Go to Softaculous and navigate to Current installations. Find your Joomla Website and click on Edit details. This will open a new window: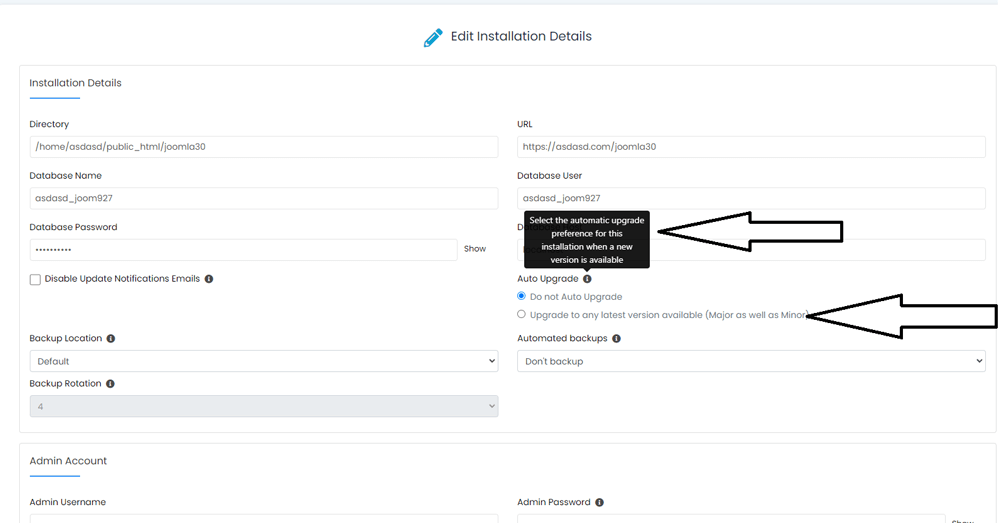 On the right side, you will notice the Auto Upgrade option. Click Upgrade to any latest version available, save your changes, and you're good to go!
As an alternative, Joomla also has a built-in auto update feature. You can access it via the Joomla Update component. Go to the Update Server option and set it to Default – Joomla.
Daily Offsite Backups
ScalaHosting offers free daily offsite backups to a remote server. That way, you can restore your data yourself whenever you want, by visiting the SPanel. All of your information will be archived, so you can restore it all – from files to databases.
Trained Joomla Support
Our support team is available 24/7. We guarantee a 30-second response time on our live chat and a 15-minute initial reply for tickets.
Our technicians will gladly help you with all Joomla-related issues and questions at no extra cost. 98% of clients recommend us, so you can rest assured that you're in good hands.
Free Joomla Site Migrations
ScalaHosting will migrate your ongoing projects for free. It's a smooth process and your website visitors won't notice even a minute of downtime.
It's entirely done by our skilled technicians and all you need to do is provide your login details for the Joomla server with your other host. There will be no changes to your old web hosting configuration and you can always revert back if you don't find our services a perfect fit.
Once the migration is complete, the person handling it will manually check to see if everything is working properly on your account with Scala.
Cost-effective Plans
ScalaHosting offers a number of dedicated Joomla plans. They are customized for the optimal performance of all your projects. With just a few clicks, you will be able to create the perfect Joomla website.
We offer:
Free SSL certificates
Unlimited email accounts and databases
Daily offsite backups
Autoupdates
24/7 support
And more, depending on the plan you choose.
Our prices start from $2.95/month for Joomla Mini or $14.95/month for an Entry Joomla Cloud.
Final Takes
Joomla has a lot to offer – numerous extensions, multilingual support, one-click updates, and all of that for free!
Of course, the web app is just as important as the environment in which you're hosting it. That's why ScalaHosting offers dedicated Joomla plans to ensure the smooth and safe running of your website. The packages include our very own Spanel, free SSL certificates, offsite backups, and more.
A match made in Heaven? We think yes.
FAQ
Q: Is Joomla hosting free?
A: While you can find free Joomla hosting plans, all reliable options are pa. The price will depend on the hosting vendor you choose. ScalaHosting's prices start from $2.95/month for the Joomla Mini package.
Q: Is Joomla a website host?
A: No, Joomla is not a website host. It is a content management system (CMS). You will need to choose a hosting provider separately.
Q: Do people still use Joomla?
A: Yes, people do still use Joomla. In fact, it's the second most-used CMS worldwide. 300+ websites are built daily on it.
Was this article helpful?