Joomla is truly an underestimated open-source Content Management System (CMS) with a lot of benefits. One of the prime examples is the template system, suitable for all websites, no matter their purpose. It's also an excellent option for ecommerce sites.
Let's say you're a store owner running a promotion or advertising a new product. Any good marketer will tell you that you need a landing page that stands out.
But what is a landing page? And can you create one with Joomla?
Here's everything you need to know:
What is a Landing Page
A landing page is a section of your website that visitors open after they've clicked on a link or ad. Its goal is to promote your product, convince users to stay on your website, and convert them into customers. Usually, landing pages feature a call to action (CTA) button, a discount code, or dedicated fields for people to insert personal information. They are created for a specific, most often short-term purpose, unlike homepages.
Landing Page Benefits
As we mentioned, landing pages increase conversions. They either lead to an offer or require personal data to provide information, which is crucial for lead generation.
Landing pages also provide insights into your audience's interest. You can easily track which topics convert most and customize your marketing strategy.
In addition, a well-designed page can:
increase brand value
give additional information
help you grow your email subscriber list
Best of all, creating a Joomla landing page is surprisingly easy. We have a whole guide about that, but the most vital part of the process is the chosen solution. That's exactly what we'll be discussing today.
Best Joomla Landing Page Builder
Okay, so you've probably noticed there are a lot of options when it comes to landing page builder for Joomla. We've got you. Here are the best ones:
Quix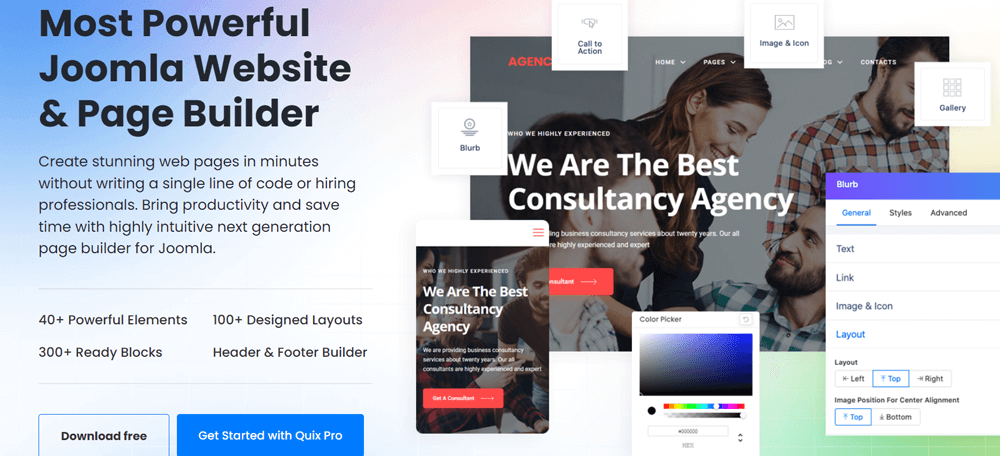 Quix is probably the Joomla page builder that gets mentioned the most and there's a good reason for it – it's great.
First of all, the solution is incredibly easy to use, thanks to the drag-and-drop editor. It offers live editing and enables you to customize every part of your design. You won't need any coding skills or template frameworks – Quix will provide all the necessary elements. In addition, you get advanced SEO tools, 100+ templates and layouts, and on-demand asset loading.
The best thing is that Quix offers a free version. Still, this package is a bit limited, so you're better off getting one of the paid options. Prices start from $59.
Geek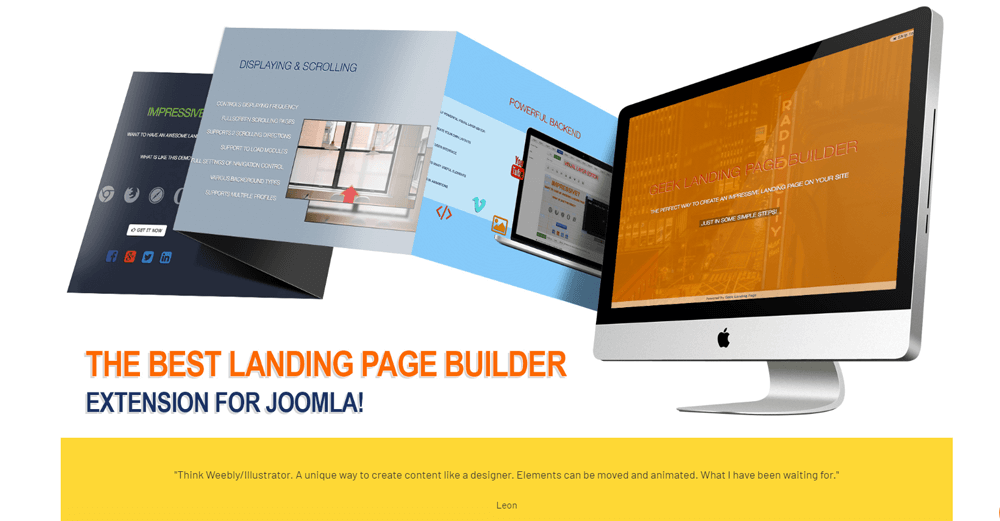 The Geek landing page builder is actually an extension for Joomla, which makes the whole creation process way smoother. You can easily make multipurpose landing pages even if you're a complete beginner, as the plugin features a drag-and-drop visual editor. Geek enables you to set different backgrounds, scrolling speed, various effects, and more.
The landing page you create will have responsive design, meaning it will look good on all types of screens. In order to get a better response rate from your visitors, you can make use of the 30+ built-in animations.
For all that it gives, Geek is pretty affordable – the price is $34.90.
JA Page Builder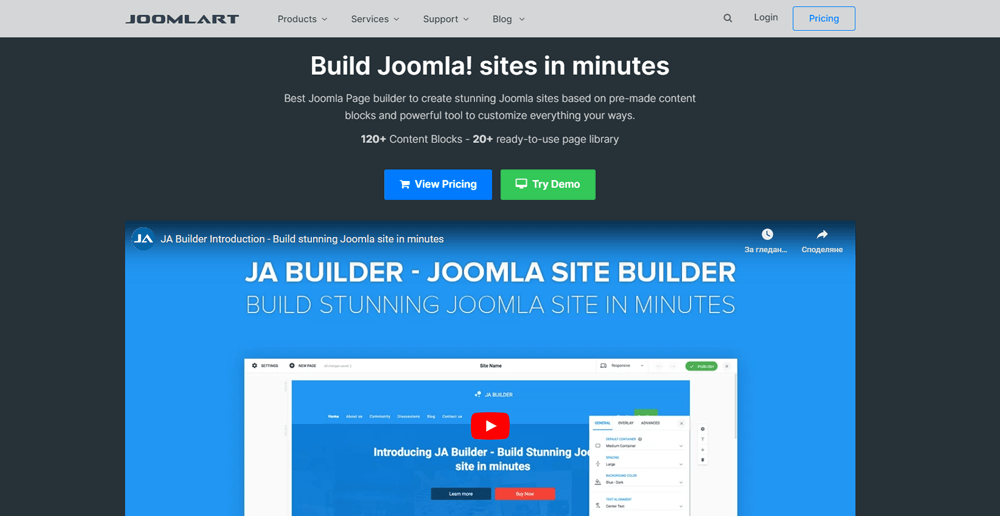 JA, the Joomla page builder, offers 120+ content blocks and 29+ ready-to-use pages. Basically, all there is for you to do is customize them.
Thanks to its origin, the JA Builder supports all types of Joomla pages, including landing ones. It is also compatible with various third-party extensions, including Virtuemart, Easyblog, Easysocial, and more.
You'll be happy to hear that the JA Builder is free. Of course, if you want more goodies like Premium and Helpdesk support – you're better off with one of the paid versions. The Pro plan is $55, the Premium one – $150 (one time fee).
Unbounce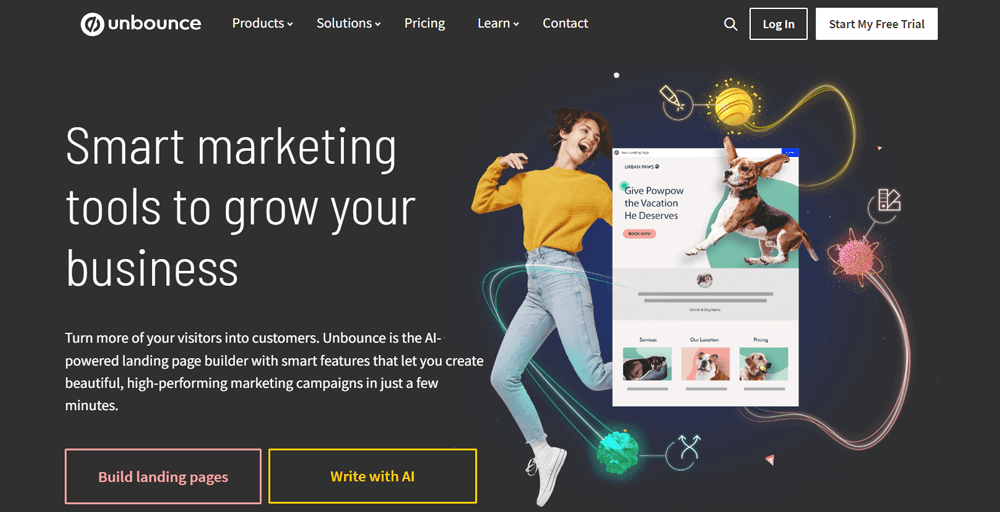 Unbounce is an AI-powered landing page builder for Joomla, which promises to make your life way easier. It doesn't matter what your level is – beginner or a pro coder, there is an option for you. Unbounce offers both a classic and a smart builder. The former has drag-and-drop options, while the latter relies on AI.
The classic option guarantees you more control and has dynamic text replacement, which is great for marketing campaigns. The smart option, however, will save you tons of time – it recommends page improvements and lets you add your favorite apps without any coding.
Unbounce also offers AI copywriting. Good option, if writing is not your favorite thing.
NOTE: Make sure to always edit the AI-generated content, as more often than not, some parts will not make sense.
You can try Unbounce for free for 14 days. Then, you'll be asked to upgrade to one of the paid plans. Prices start from $90/month.
Leadpages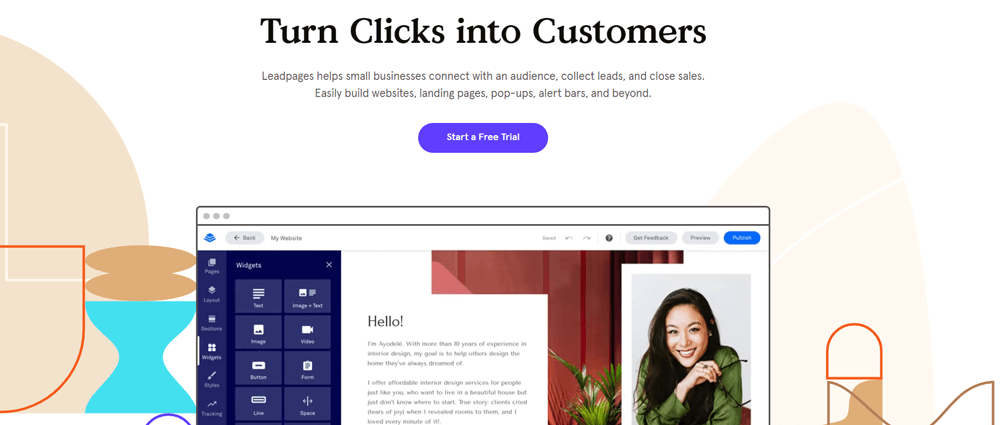 Leadpages makes some bold claims – like promising that its landing pages are high-converting. Although that might seem like the usual marketing talk, this option actually provides you with the tools you need to succeed.
Leadpages offers built-in conversion guidance and unlimited lead collection. The platform also features a user-friendly drag-and-drop editor with 200+ templates ready to spice up your Joomla site design.
In addition, there are quite a few useful widgets you can add, such as:
video player
countdown timer
Calendly schedule
OpenTable reservation
Leadpages comes with a free trial that allows you to test it for 14 days. The prices of the paid plans start from $37/month.
But whichever platform you choose as your next Joomla landing page builder, your efforts will mostly go in vain if you don't find a reliable web hosting provider.
ScalaHosting and Joomla
ScalaHosting is among the certified Managed VPS providers for Joomla. Starting is easy, even for beginners – our SPanel management platform features a one-click installer and a unique Joomla Manager tool. That way, you can start building your website with minimal effort. No need for technical knowledge at all!
In addition, the ScalaHosting Joomla plans include:
unlimited email accounts
unlimited databases
daily offsite backups
one-click installation
auto updates
ScalaHosting became a Joomla Platinum Global Sponsor back in 2020 and renewed the partnership in 2022. You can see what Joomla's co-founder Brian Teema has to say about his experience here:
Brian Teeman for SCALA HOSTING – Extended
Wrap Up
In order to have a successful marketing campaign, you need to start building creative landing pages. Don't have time? Feeling put off by all the technicalities? Then you need a good landing page builder.
Quix is the more popular of the bunch, offering numerous goodies, such as SEO tools and ready-made templates to get you started. It even has a free version! The Geek also has a free version and is a Joomla extension, which means you can integrate it with just a few clicks. If that looks like too much work, Joomla has its own JA builder, which is just as good as the other options.
If you're into AI and find copywriting a drag, take a look at Unbounce, which is also an excellent option for those less tech-savvy. On the other hand, Leadpages has built-in conversion guidance and promises to turn clicks into customers.
FAQ
Q: How do I create a landing page in Joomla?
A: The easiest way to create a landing page in Joomla is with the JA Builder. To activate it, go to your dashboard, click on Components, and choose JA Builder. You can then select the option Create a New Page and start working.
Q: What is a Joomla page builder?
A: A Joomla page builder is a tool that enables you to create pages for your website in minutes. You can select and rearrange elements, change fonts and colors, set different styles. Page builders are the perfect solutions for people that don't have any coding skills.
Q: What is Joomla best used for?
A: Joomla is an open-source Content Management System (CMS). It can be used to create different websites, such as ecommerce, online magazines and newspapers, small business and corporate pages, school and university portals, and more.
Was this article helpful?