People often judge books by their covers and businesses by their websites. That's why you need the best possible Joomla template for your online space.
But what should you look for? Which ones are most suitable for your industry? Are there free Joomla themes?
What Is a Template in Joomla?
Joomla templates are used to change the design of your site. You can customize it all – colors, fonts, layouts. That way you can truly project your style and brand identity.
There are several Joomla theme marketplaces online, which feature both free and paid options. Downloading and installing templates is easy even if you don't know how to code.
The only thing you need to do is check if your layout of choice:
is mobile responsive
offers frequent updates
features support
But do you really need to be bothered with that?
Why Do You Need a Great Joomla Template?
To put it simply, you need a stunning Joomla template to create a good image. Your website needs to include your brand colors and fonts to be easily recognized as the real deal.
And the theme really needs to be carefully picked.
If the Joomla template is not fast enough, for example, it will affect the overall loading speed of your website. This leads to higher bounce rates and a lot of missed sales opportunities.
Another thing to keep in mind – Joomla themes that are heavily packed with features might take longer to load. You often need further modifications to achieve optimal performance, especially on mobile. There are ways to speed up your Joomla website, but you still need to be careful when choosing its skin.
Look for layouts that are in active development. Regular updates and support are crucial when it comes to the continuous smooth running of your theme.
Luckily, you don't have to choose between thousands of Joomla templates around the web – we did some digging and found five pretty neat options for you to consider.
Best Joomla Templates for a Stunning Website
The abundance of Joomla website templates can overwhelm some. To narrow down your choice, you need to check the three factors we just discussed:
responsiveness
updates
support
Another thing to pay attention to is the purpose of the theme. Choosing a blogging template when you need to promote an online store is not gonna get you any clients.
To make things easier for you, we've gathered five of the best Joomla templates according to online ratings.
FLEX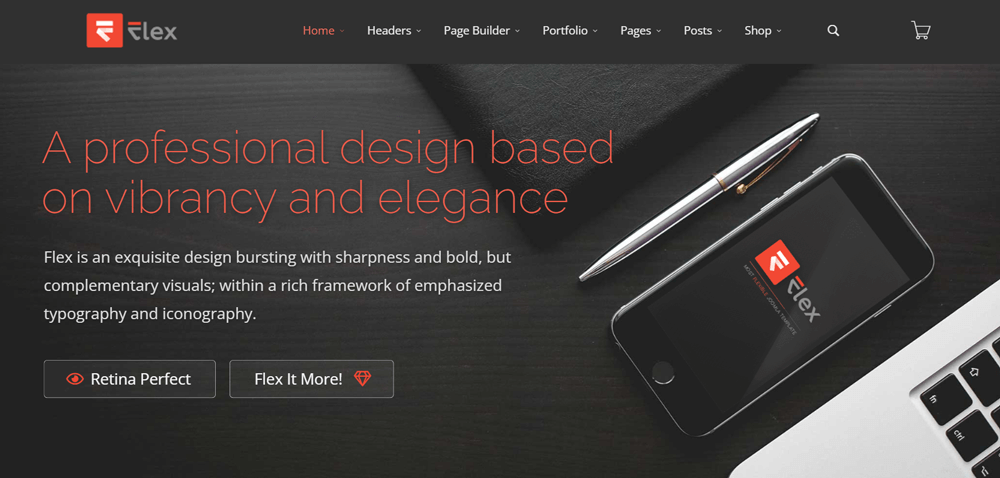 Downloads: 5,885
Rating: 4.9/5 on ThemeForest
Purpose: eCommerce
Features: 6 months of support, future updates, responsive layout
Price: $79 for a Regular license
If you want a flexible Joomla template that's easy to navigate, go for Flex.
It has a drag-and-drop editor, which even newbies will find a breeze to use. The theme can be integrated with interactive and animated elements, presenting a unique opportunity to make your brand stand out. It also has different headers, 72+ addons, and it is mobile-responsive.
While Flex for sure is a multipurpose option, it's one of the top choices for Joomla eCommerce websites. It features:
Auto updating mutlicurrency rates
Payments, shipments, coupons rates
SEF/SEO
Multilingual options
Aplikko, the developer of the template, offers future updates forever and six months support. You can also purchase a 12 month extension for $25.88 on top of the $79 for a Regular license.
You can use Flex on both Joomla 4 and Joomla 3.
JA Ego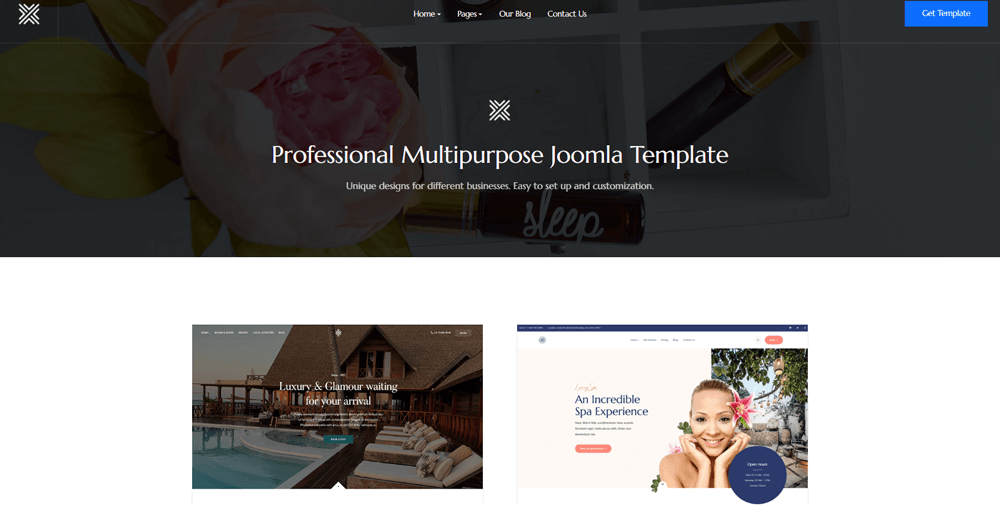 Downloads: 2,714
Rating: 4.5/5 on JoomlArt
Purpose: Services
Features: 1 year of updates and support, responsive design
Price: $89 for the JA Pro package
If you offer a medical service, work with animals, or manage a hotel, this should be your choice.
JA Ego has two main template versions:
SPAs and hotels
Medical and pet
It features numerous tailored designs, with dedicated layouts and elements. The theme has room listings and details, booking options, and in-built custom fields for easier navigation. All layouts are mobile-responsive and SEO-friendly.

The JA template is built with the latest T4 framework and works wonderfully with both Joomla 4 and Joomla 3.
The price is $89 for the JA Pro package, which actually gives you access to all available Joomla templates, not only JA Ego.
Reviver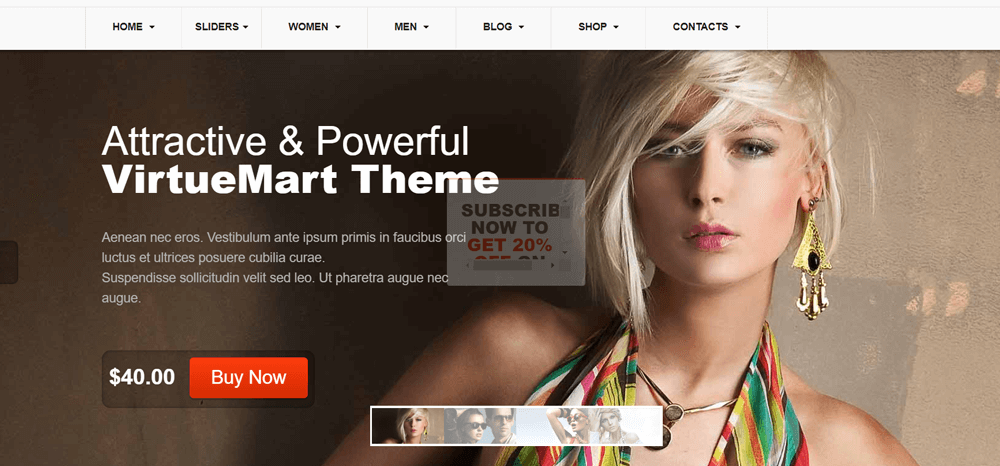 Downloads: 1,947
Rating: 4.7/5 on ThemeForest
Purpose: eCommerce
Features: 6 months of support, future updates, responsive design
Price: $69 for a Regular license
Reviver is the best-selling VirtueMart theme, which means it should be among the top options for your eCommerce shop.

Its main benefit is ease of use. This Joomla template features a drag-and-drop editor, which will help you design your website with just a few simple motions. The layouts are attractive and mobile-responsive, and they have smart search, mega menu, and SEO tools available.
As for the eCommerce features, Reviver offers plenty out of the box:
multilanguages and multicurrency
wishlist
product comparison
ajax drop-down shopping cart
price filter
corporate pages
blog pages
And more!
Reviver is priced at $69 for a Regular license and works on both Joomla 4 and Joomla 3.
Ares Murphy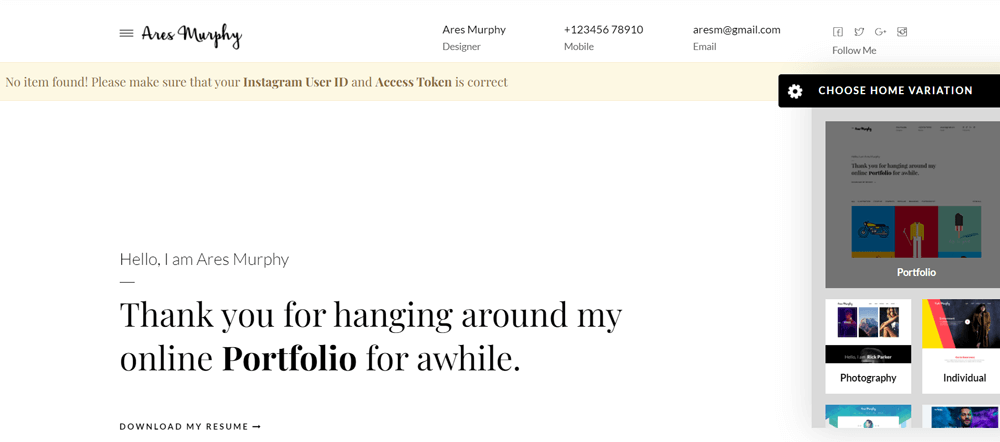 Downloads: 13,518 on Joomshaper
Rating: 4.8/5 on OceanTheme
Purpose: Portfolio, Blog, and Resume Sites
Features: Responsive design, regular updates, dedicated support
Price: Free
If you want a beautiful minimalistic theme to showcase your work, look no further.
Ares Murphy has five template variations to choose from:
Portfolio
Resume
Blog
Photography
Individual
This modern Joomla template comes with a drag-and-drop tool SP Page Builder Pro that will help you create a unique website. It features various options for managing typography-related tasks.
Ares Murphy supports translation and RTL. It also enables users to integrate their Instagram account into their Joomla websites for easy networking.
The template is, unfortunately, currently only available for Joomla 3. However, the good news is that you can get it for free and with dedicated support.
JA Stark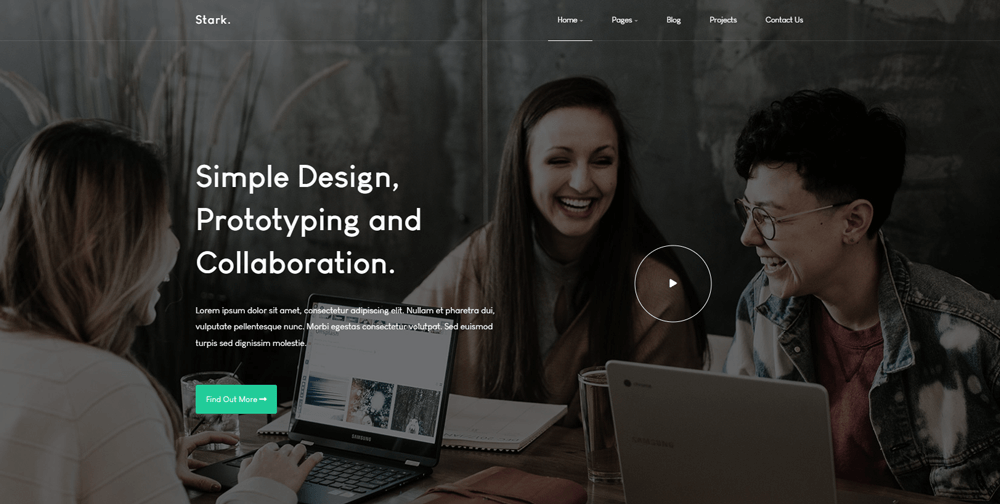 Downloads: 22,008
Rating: 4.3/5
Purpose: Business
Features: Responsive layout, Bootstrap 4 integration, customization options
Price: Free

Small business owners often look for budget options and this free Joomla theme is perfect.
JA Stark is a highly customizable template that will allow you to spruce up your website with your brand colors and fonts. Thanks to the drag-and-drop editor, you'll be done in no time. The theme also supports all of Joomla's default pages, such as Blog, Contact, 404, etc.
JA Stark is based on the T4 Framework and integrates Bootstrap 4. To simplify, you will get access to one of the most popular frontend component libraries. It works on both Joomla 4 and Joomla 3.
Still, as it's a free Joomla theme, there is no guarantee that you will get frequent updates or the best support option.
Now.
Let's discuss something you need to consider before choosing the best Joomla theme for you.
Choosing the Right Joomla Provider
Even the best theme won't be of any use if your website is down, right? That's why you need to invest in a hosting company that focuses on quality support, server optimizations, and unique Joomla services.
ScalaHosting has all that.
We're one of the certified managed VPS providers for Joomla and a Platinum Global Sponsor.
Our virtual server packages are flexible and scalable, feature SShield protection, OpenLiteSpeed for top-of-the-game loading speeds, and 24/7 expert support. In addition, our very own SPanel is included in the offer for free. This advanced web hosting platform offers numerous site management tools, that usually require additional payments.
We'll be glad to be part of your Joomla journey and help your website grow.
Wrap Up
Every business or personal presentation should have its individual visual style.
That's why choosing the right Joomla template is crucial. But don't go for pretty only – look at the frequency of the updates, the available support, and the responsiveness of the design.
And don't forget about a reliable web hosting server – after all, it's the base on which you'll build your entire project.
FAQ
Q: Does Joomla offer free templates?
A: Yes, Joomla does have free templates. There are several marketplaces online that offer options, both premium and no-cost. Just keep in mind that free Joomla themes rarely get the necessary updates and support.
Q: Where to get Joomla templates?
A: You can get Joomla templates from any of the reputable online marketplaces. We recommend JoomlArt, JoomShaper, ThemeForest, and OceanTheme as some of the most popular go-to places for Joomla add-ons.
Q: How do I download a Joomla template?
A: To download a Joomla template, you need to visit a marketplace first. Choose a theme you want, click on it and you will see a CTA (call-to-action) button next to it. Most often, it will say something along the lines of "Get now!" or "Download today"
Was this article helpful?