In the corporate world, every task is accompanied by quite a few questions and, ideally, the same number of answers.
Let's say, for example, that you're starting work on a new company website. Your first job is to determine how much it will cost and who will be in charge of building it.
However, to find that out, you must first decide which tools you'll use. And this means yet more questions like "Is Joomla suitable for the job?" and "If it is, how can I make the most of it?".
Let's find out.
What Are Joomla's Main Rivals?
Often, your company's website is the first point of interaction between your customers and your business, so you want to get it right. In other words, you want to pick the best solution for building it.
The first name that will likely spring to mind is WordPress. It powers over 40% of the world's websites, and business enterprises of all shapes and sizes use it.
Many would also consider platforms like Wix. They work under the Software-as-a-Service (SaaS) model and are usually characterized by an easy-to-use page builder with drag-and-drop functionality.
Though often ignored, Joomla is a pretty good alternative to both SaaS-based apps and open-source CMS solutions. Let's see how well it stacks up exactly.
Joomla vs. SaaS-Based Website Builders
Website builders offered under the SaaS model are arguably the most novice-friendly solution for creating a website. Most of these platforms have a What-You-See-Is-What-You-Get (WYSIWYG) interface in its purest form. You drag and drop elements on the page and see the results in real-time.
Joomla also has a visual editor, and getting used to it shouldn't be a problem, even for a complete novice. However, customizing it to your exact specifications isn't quite as easy. The website's appearance, for example, is dictated by the template, and although every template has its set of options, tailoring the design to your needs usually takes more time and effort.
Joomla may be on the back foot in terms of user-friendliness, but it's miles ahead of most SaaS builders in pretty much all other aspects.
First, you can host it wherever you want. If you're not happy with one provider, you can easily move your site to another host.
SaaS builders don't give you this option. You either stick with them, or you start building your site from scratch. With these platforms, you don't need to buy a separate hosting service, but the SaaS packages often have some pretty restrictive limits on the hardware resources.
So, if your site grows, you may need to set aside a considerable monthly budget just to keep it going. Overall, the price is bound to be higher because you're paying for both the application and the hosting service.
By contrast, Joomla is free and open-source. You can download, redistribute, and even modify it as much as you want without paying a penny. You can also install it on any server you wish to, and it will happily run on a cheap shared hosting plan, at least while the traffic is still low.
Many providers even throw in a free domain name for the first year. In other words, during the early stages of development, the costs associated with running your website could be as little as a few dollars per month.
However, Joomla has a much more significant advantage over the SaaS website builders – it's much more flexible.
Over the years, Joomla has grown a worldwide community of users and developers who expand the project by creating extensions and templates designed to help site owners build their projects to their exact specifications.
Whatever features you need, someone has probably already created the plugins that implement them. Even if that's not the case, developers are familiar with the platform and can easily code a custom extension for you.
In other words, with the right resources, you have complete freedom over what your Joomla website looks like, how it behaves, and how it scales up. SaaS builders have come a long way over the last few years, but they have yet to give you this sort of flexibility.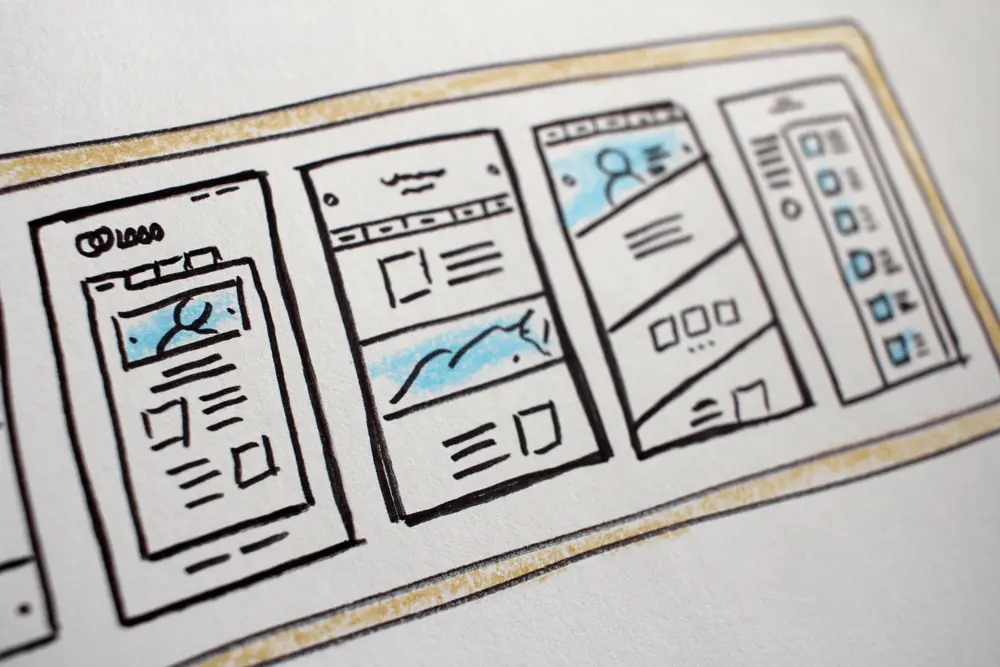 Joomla vs. Other Open-Source CMS Applications
Things aren't quite as clear-cut when you compare Joomla to its open-source counterparts. There are many solutions on the market, but we'll take two of the most popular ones, WordPress and Drupal, and see how Joomla stacks up against them.
In some aspects, they offer a similar setup. All three are free to use, and all three of them have a massive following, so you're never more than a few clicks away from a ton of online guides, tutorials, and helpful resources.
With all of them, you can rely on a worldwide community of developers and companies working on plugins, themes, and other add-ons that make your projects better-looking, faster, and more interactive.
Starting new websites with WordPress, Joomla, and Drupal usually involves pretty much the same steps, as well. Even the cheapest shared hosting plans are typically equipped with automatic installers that can set up your CMS of choice in seconds. Most hosting providers support the applications, and plans specifically optimized for them are commonplace.
That said, WordPress, Joomla, and Drupal are unique applications, each with its own advantages and disadvantages.
When you're looking for a platform for a new business website, you'll want to see how they compare in several aspects. Let's have a look at them.
Ease of Use
WordPress has been hailed as the world's most user-friendly CMS for quite a while, and it's not difficult to see why. The dashboard's intuitive layout allows even complete beginners to quickly start work on their websites and build them without too much hassle.
You won't hear that about Drupal – a platform historically linked to more complex projects and generally favored by website administrators with more experienced. The Drupal admin area isn't exactly impossible to wrap your head around, but you will need some more time to get used to it.
But where does Joomla stand?
Up until recently, it wasn't exactly praised for its usability. If you use Joomla 3, you may find the administrator area quite outdated and complicated to navigate. It's not like you need a computer degree to use it, but it has received very few updates over the years, and its age is definitely showing.
That's why, when Joomla's developers started work on Joomla 4, they decided that instead of implementing minor tweaks to the admin area, they would overhaul it completely. The CMS's latest stable version now sports a much more modern-looking dashboard with menus and features that are a joy to work with.
Novices can now start work on their projects with a lot less wondering where everything is, and Joomla veterans will have no problems getting used to the new interface.
Versatility
Of course, the intuitively laid out back end would mean nothing if the platform isn't suitable for your project. You need an application that is versatile and customizable, and in that respect, Joomla, WordPress, and Drupal are pretty evenly matched.
All three CMSs have been used to create websites of all shapes and sizes. Regardless of what your business needs, you can set up your site with them. However, there are a few differences.
WordPress was initially developed as a blogging platform. This is evident even today, with content being created and managed as posts and pages. You can set up other types of websites with WordPress, but you'll likely need a few plugins in order to introduce the required features.
By contrast, Drupal and Joomla were developed as content management systems from the very start. They're built from the ground up to be suitable for a broader range of projects, so if you're building your business website with Joomla, you'll need fewer additional tools than you would if you're using WordPress.
That being said, you'll still need plugins to expand its functionality, and fortunately, you're unlikely to have any issues finding whatever you need. The Joomla community is exceptionally productive, and because the platform has been around for nearly two decades, there's an add-on for pretty much anything you can think of.
You're also spoiled for choice when it comes to the website's appearance. You have plenty of templates, many of which are built specifically for business websites. Most of the designs available on the market are responsive and work well on all devices. Unlike other platforms, Joomla offers quickstart packages, helping you get a better idea of what your site will look like when you launch it.
And because you're working with an open-source application, you can build a custom template yourself if you can't find an off-the-shelf design that fits your needs.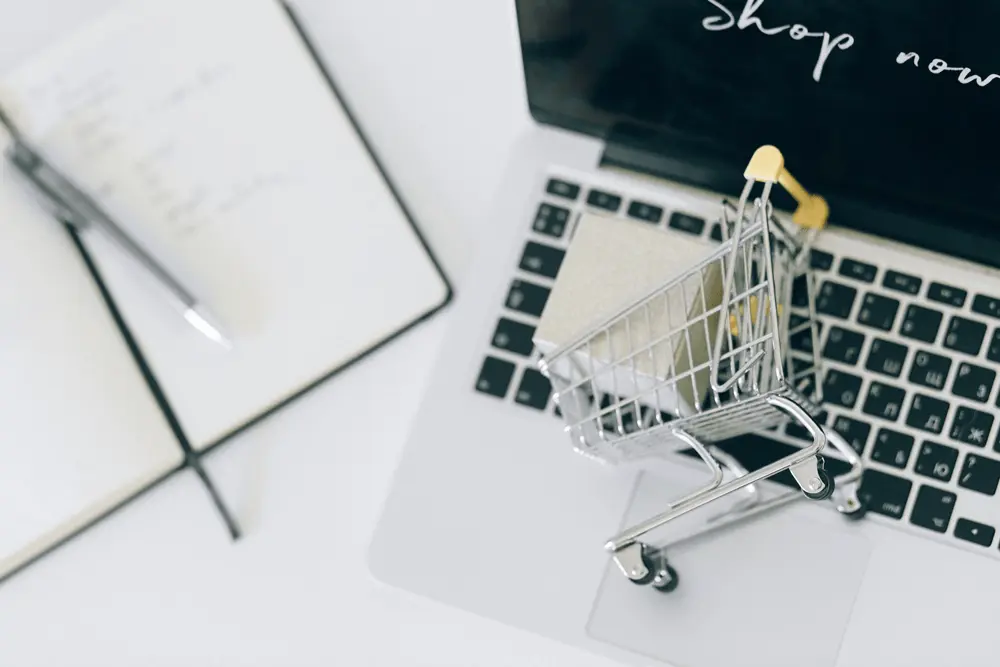 Ecommerce capabilities
In the past, a business website was all about spreading the word around. There was some content dedicated to the company and its products, the logo in a prominent position, and a contact form and/or a Contact Us page.
Nowadays, companies also use their websites to do business, i.e., selling products and services.
Like WordPress and Drupal, Joomla wasn't originally built with this in mind. However, its modular architecture means that it can easily be adapted to support the ecommerce side of your business. All you need is an extension.
VirtueMart, one of the most popular ecommerce add-ons for Joomla, was launched mere months after the CMS came out. It's free and open-source, and it's available for Joomla 4, so you can build your online store on a modern, stable, and quick platform.
For years, VirtueMart used to be the only ecommerce solution for Joomla. Nowadays, however, there are other plugins like J2Store and HikaShop, all offering multiple features and helpful tools that you can use to set up an online store with excellent user experience.
Although you came out a few years after VirtueMart, they've already been used to power thousands of projects worldwide. You can choose from a range of plans and options, so whatever your project's requirements, there is a solution that meets them.
You just need to find it.
Search Engine Optimization
Many argue that getting the website up and running is the easy part. The trickier bit is getting the website in front of people's eyes. As you well know, search engine optimization is a big part of this, so it's naturally something you probably want to look into while researching the available website-building platforms.
First, you need to know that no CMS is guaranteed to secure you the top Google spot. Whichever platform you choose, you'll need a strategy for optimizing your pages and content for the best possible ranking. Often, this involves tools, some of which are built into the CMS core and some of which are provided by third-party plugins.
People have been criticizing Joomla for not including enough SEO-related utilities out of the box, but when you take a closer look, it's difficult to see why. On-page SEO is easy thanks to the intuitive editor, and the meta description fields are never more than a click away.
Joomla has supported search engine-friendly URLs for years, and there are even features like the built-in GZIP compression that boost the website's speed, improve its user experience, and help it climb Google's results pages.
Joomla 4 came with yet more SEO-centric features, and you can rely on a range of extensions that can significantly impact your rankings.
All in all, when it comes to SEO, the strategy you employ to reach the top of the search engine results pages is more important than the CMS itself. Joomla has more than enough built-in features that help you climb up the rankings, especially if you use the latest version, and plugins can also lend a helping hand.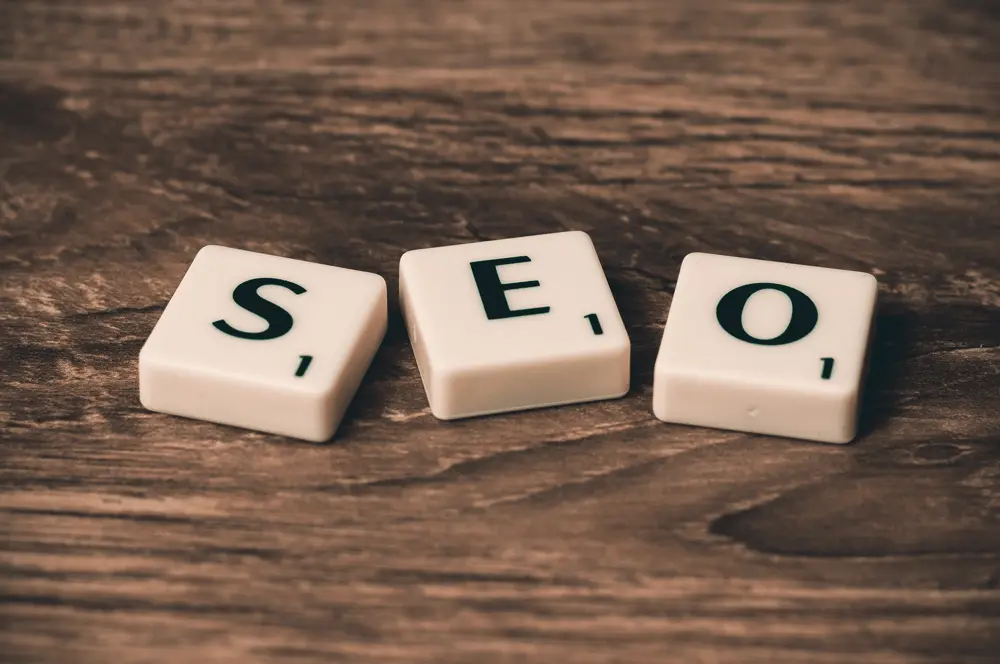 Speed
Even the fastest CMS can't help if your site is overloaded with resource-intensive plugins, heavy scripts, and media files.
That being said, when building your business site, you'll want a platform that helps you implement known performance-enhancing tricks as easily as possible. And Joomla certainly has a few things to offer in that respect.
We mentioned in the previous section that GZIP compression can be enabled from the admin area. The file size reduction can reach 70%, resulting in faster speeds without needing a plugin.
Furthermore, unlike WordPress, Joomla has a powerful caching engine built into the core. Through the Joomla admin area, you can enable both server- and client-side caching, and you get a few settings that help you squeeze the best possible performance out of your website.
As always, there are numerous performance plugins that can optimize your images, clean up your code, and do a range of other things to shave off a few vital seconds from your loading times. Couple this with the right hosting environment, and you're pretty much guaranteed to get the performance you're after.
Security
You can't talk about web development without touching on the question of security. And if you're considering Joomla for your new business website, you'll be happy to hear that your CMS of choice has a few handy features in that area.
Unlike WordPress, for example, it has a two-factor authentication system that minimizes the risk of unauthorized access to your site's admin area. With it, in addition to the login credentials, you need a token or code generated by a smartphone app in order to log in to the back end.
Speaking of which, Joomla is renowned for its robust access control system, which allows multiple people to safely work on different parts of the website. This is especially useful in a business organization, where everybody has a specific job.
One of these people should be responsible for installing the latest updates as soon as they come out, and they need to be doing a good job. Both Joomla 3 and Joomla 4 are actively supported at the time of writing, meaning security patches are released as soon as any vulnerabilities in the two platforms are identified.
However, to apply the patches, you must ensure every update is installed.
Other aspects of your site's security can be handled by plugins and extensions that automate some of the maintenance tasks. Your host can help in that respect, as well.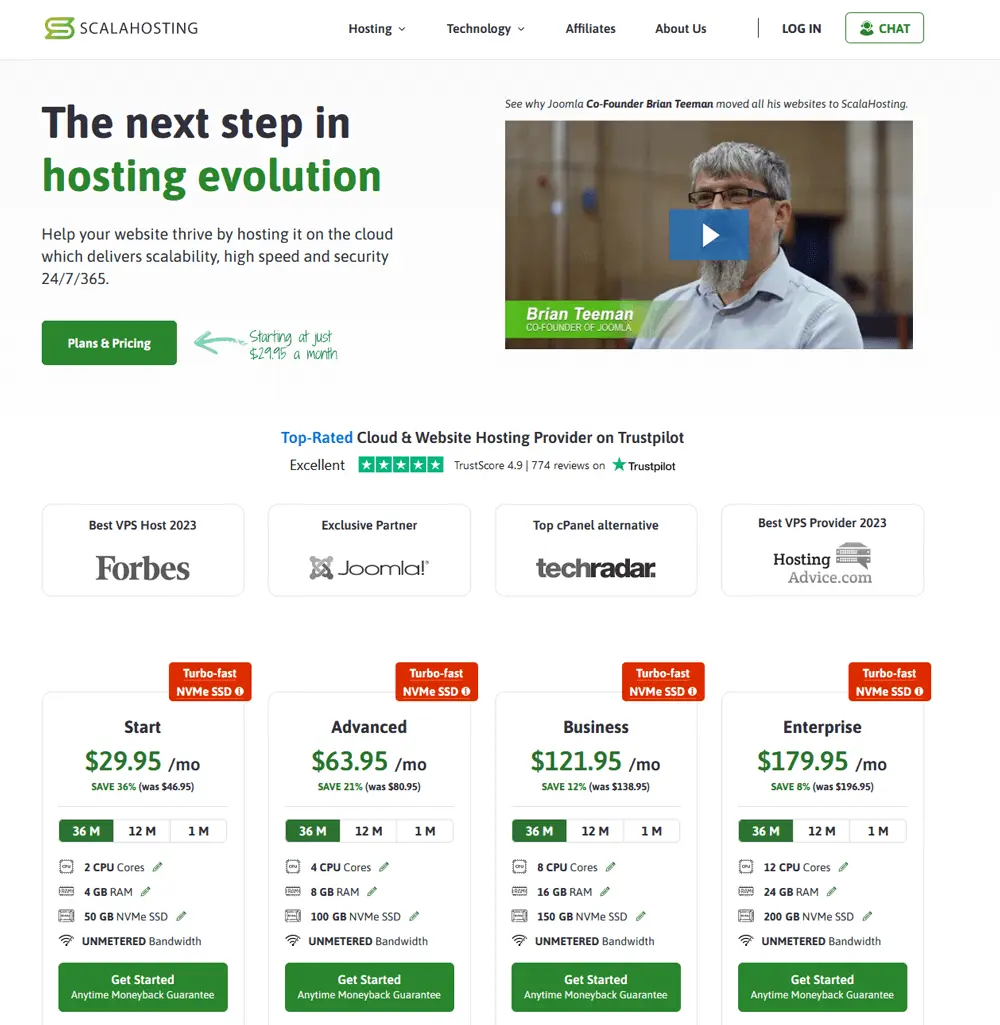 ScalaHosting and Joomla
ScalaHosting started in 2007 – less than two years after Joomla's initial release. Over the last 15+ years, we've helped thousands of Joomla websites of all shapes and sizes get off the ground, and we've witnessed closely how one of the world's top CMS applications has evolved.
We know what a Joomla website needs, and we know what Joomla users want, which is crucial when you're trying to build a hosting service that works well with the platform. None other than Brian Teeman, one of Joomla's Co-Founders, reckons we've done a good job.
In the video below, you'll see why he likes our hosting services so much.
Brian Teeman for SCALA HOSTING – Extended
Our extensive experience has enabled us to create hosting plans specifically optimized for Joomla websites. You can pick between multiple packages, ranging from affordable shared solutions to advanced cloud virtual private servers.
The former can be an excellent launchpad if you have a smaller project with a limited budget, and when you outgrow it, you can move to a powerful, easily scalable VPS.
Our virtual servers are cloud-based and come with SPanel – a proprietary management platform built in-house and specifically tailored to VPS environments. With SPanel, you'll get numerous tools for managing your website, including the built-in Joomla Manager that installs the CMS and helps you maintain multiple projects at once.
Conclusion
The Joomla CMS has grown quite a lot since it was first launched in 2005. It may not be the first choice for some users, but this doesn't mean it lacks the features essential for building your project.
It's undoubtedly advanced and powerful enough to host a business website. You can even build the site yourself or with minimal outside help. All you need is to familiarize yourself with the CMS and its features.
FAQ
Is Joomla or WordPress better for an ecommerce website?
Neither WordPress nor Joomla were built with online stores in mind. However, in both cases, you can create a fully-functioning ecommerce business with the help of plugins. In the case of WordPress, most users stick to the WooCommerce extension. If you use Joomla, your choice is broader, with solutions like VirtueMart, HikaShop, J2Store, and others offering different tools and features.
How long does it take to learn Joomla?
As with any software application, you can expect a certain learning curve when you first start using Joomla. How steep it will be ultimately depends on your previous experience with CMS and web development applications. That said, the recently overhauled design of Joomla's admin area means that even complete beginners should have no problems finding their bearings.
What percentage of websites use Joomla?
According to W3Techs, Joomla powers just under 3% of all CMS-based websites at the time of writing. While this doesn't sound terribly impressive, it makes Joomla the world's second most popular self-hosted content management system after WordPress. Given the usability and performance enhancements implemented in Joomla 4, its market share is expected to grow in the future.
Was this article helpful?