Are you looking for a fresh website design or an upgrade to your current one?
Joomla is one of the most popular content management systems, offering a wide range of templates to choose from. In this article, we will highlight the seven best free responsive Joomla themes available.
These templates are not only responsive, but also customizable and easy to use. Whether you're building a business website, a personal blog, or an online store – the right design will help you create a professional and modern website that looks great on any device.
So, let's dive in!
What is a Responsive Web Template?
A responsive template is a solution that automatically adjusts its layout and design to fit the screen size of the device used to view it. This means your pages will look and function smoothly on many devices, including desktops, laptops, tablets, and smartphones.
Responsive templates use a combination of flexible grids, images, and CSS media queries to ensure your website content is easily readable and operable on any device.
It also helps your pages to be more SEO-friendly.
The Benefits of Using Responsive Templates
Responsive web design is becoming increasingly important as more and more users access the internet from their mobile devices. These templates offer a range of benefits for website owners, some of which we have compiled for you below:
Improved User Experience
Responsive templates provide a consistent and optimal viewing experience across all devices, which leads to better engagement and conversion rates.
Increased Accessibility
They allow users to access your website from any device, which can help increase traffic and customer reach.
Improved SEO Rates
Responsive templates are more search engine friendly, making it easier for web crawlers to find, index, and rank your website content higher on the results page.
Cost-Effectiveness
Using a responsive template eliminates the need for separate mobile and desktop versions of the website, which can save on development and maintenance costs.
Easy Maintenance
Maintaining and updating the website is manageable, as the same code can be used across all devices, making it easier to fix bugs and implement new features.
Better Branding
Consistent design across all devices will assist in retaining the brand's identity and create a favorable impression in the eyes of the consumer.
How to Choose the Right Template for Your Joomla Website
Choosing a suitable responsive template for your Joomla website is crucial for creating a professional and user-friendly online presence. It should not only look great, but be compatible with your Joomla version, fully responsive, and packed with all the features you need.
Keep in mind the following tips, so you can find the perfect template to suit your requirements:
Compatibility – Make sure the template is compatible with the version of Joomla you are using.
Responsiveness – Ensure that the template is fully responsive and can adapt to different screen sizes and devices.
Design – Choose a Joomla template that complements your brand and the look you want to achieve. It's best to look for themes with a simple and contemporary style.
Features – Consider the features you need for your project, such as social media integration, contact forms, and ecommerce functionality. Make sure the template includes these or is compatible with the necessary extensions.
Flexibility – Look for a customizable and user-friendly template. It should allow you to modify the design and layout without requiring coding experience.
Support – Ensure the template is well-documented and the developer offers support. This will make it easier to troubleshoot any future issues.
SEO Optimization – Make sure to choose an SEO-optimized template to increase your website visibility in search engines.
Plugin Compatibility – Check if the template is compatible with commonly used extensions like K2, VirtueMart, and more.
Speed Optimization – Choose a lightweight template that is optimized for performance and speed. This will improve the user experience and your page loading time.
Reviews and Demo – Check out the reviews from other users and the template demo. This will give you a sense of its appearance and functionality.
What Are the Best Free Responsive Joomla Templates?
And here we are at the heart of this article! This section will showcase the top seven free responsive Joomla templates that offer an outstanding balance of design and functionality. Whether you are building a personal blog or a business website, these templates will provide a solid foundation for your online presence.
Helix Ultimate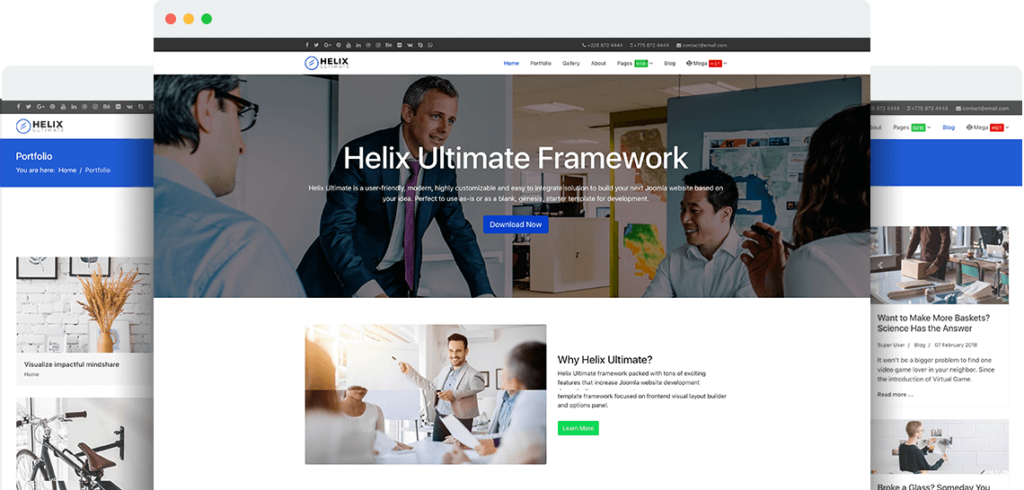 Helix Ultimate is a powerful and flexible Joomla template framework. It is built with the latest web technologies and design trends in mind, making it an excellent choice for creating professional-looking websites.
Helix can be used to create many projects for different purposes, like personal blogs, corporate/business sites, ecommerce stores, portfolios, travel blogs, and many more. It ensures that your website is sleek and runs efficiently. Helix's contemporary and fully responsive design provides a user-friendly experience, inspiring users to stay more on your pages and keep coming back.
The template offers many features and options for creating a stunning website design. It includes an optimized homepage design, a fantastic portfolio section and blog sections, a visually pleasing gallery section, and much more.
Key Features
Responsive design – The template is fully responsive and looks great on all devices, from desktops to smartphones.
Built with Bootstrap 4 – Helix Ultimate is built using Bootstrap 4, the most popular frontend framework for developing responsive and mobile-first websites.
Multiple pre-designed layouts – Helix comes with multiple pre-designed layouts for different types of websites, including blogs, portfolios, and business sites.
Customizable – The template is highly customizable, allowing you to easily change the colors, fonts, and other design elements to match your brand.
Drag and drop layout builder – Helix comes with an intuitive drag-and-drop layout builder that allows you to create and customize any design you want. It also offers a row-column building option and a real-time preview while you are making changes.
Fast loading – It is optimized for short loading times, which can help improve your site's user experience and search engine rankings.
Easy to use – Helix Ultimate is intuitive and easy to use, even for those with little technical experience.
Marketplaces
You can download Helix Ultimate from the official website of Joomshaper, which develops and maintains the template.
You can also find the template on the Joomla Extension Directory (JED) and other third-party template providers. Still, we recommend downloading it from the official website to ensure you get the latest version and access to the support and updates.
Morph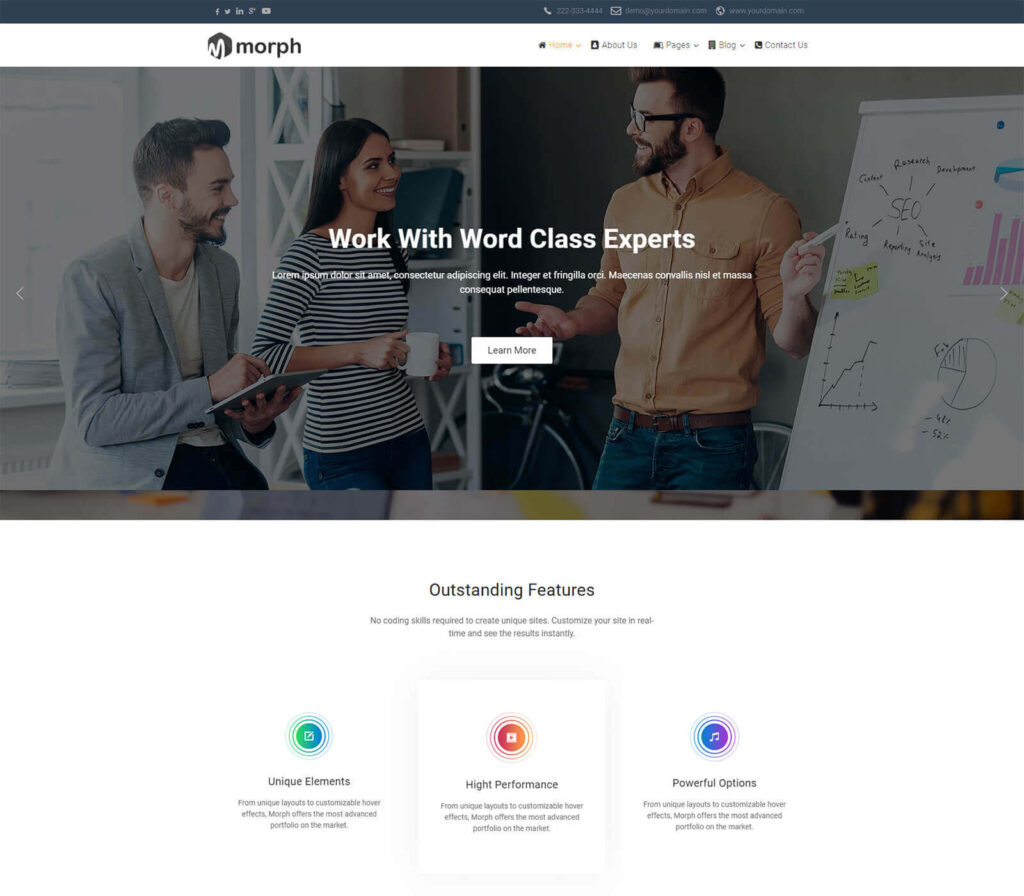 Morph is a polished template that offers a variety of optimized homepage options for specific niche websites. It includes Quix, a powerful drag-and-drop website builder which allows for easy and intuitive customizations. The template also contains over 50 premium modules, providing limitless design options.
Morph is designed to be compatible with the most popular Joomla extensions, helping you add extra functionality to your website. This includes community building with EasySocial, editorial work with EasyArticle, and ecommerce capabilities with J2Store.
Additionally, external applications such as Google Maps, Soundcloud, or Flickr can be seamlessly integrated into your website, even without extensive knowledge of HTML or CSS.
Key Features
Responsive design – The template is designed to be fully responsive, providing an optimal viewing experience for users on different devices.
Page-building tools – Morph offers a selection of pre-designed homepage options tailored for specific niche websites. It also allows for easy customization of design elements, such as colors, fonts, and more, enabling businesses to create a unique and personalized experience.
Premium modules – The template comes with over 50 premium modules that offer a vast array of design and functionality options.
SEO optimized – Morph is optimized for search engines, helping you rise among the Google ranks.
Unlimited Undo and Redo options – Allows you to undo and redo your actions as many times as you want, giving you more flexibility and control over your website design.
Advanced column structure – Provides advanced column layout options, allowing you to create complex grid-based designs and layouts with ease.
Marketplaces
You can download Morph from the official website of ThemeXpert, which develops and maintains the template.
AfterBurner2
Are you looking to build a Joomla website that prioritizes speed without compromising on design and functionality? AfterBurner2 may be the solution for you.
Designed with the latest web technologies, such as HTML5 and CSS3, it is fully responsive and built on the Bootstrap framework.
AfterBurner2 offers a range of customizable layout options, including 34 different positions for website elements and the ability to tweak the typography with three preset design options. Additionally, it supports languages that are read from right to left.
AfterBurner2's built-in Google Analytics support and CSS and JavaScript compression ensure that your website will be efficient and professional.
Key Features
Gantry framework – The template is built on the Gantry Framework, a powerful set of tools that allows for easy customization and layout options.
LESS – The template uses LESS, a CSS pre-processor, which allows for more efficient and organized stylesheet management.
Exceptional speed – The developers of AfterBurner2 have placed a strong emphasis on speed, making it a fast-loading and efficient template.
RTL support – It also offers support for languages read from right to left, making it a suitable option for multilingual websites.
Built-in Google Analytics support – AfterBurner2 has built-in support for Google Analytics that helps you track and analyze your website traffic and performance.
Built-in CSS and JavaScript compression – The template comes with built-in CSS and JavaScript compression, which helps you minimize the size of those files and speed up the loading time of your pages.
Off-canvas menu – AB2 features an off-canvas menu with a clean and uncluttered interface, absolutely effortless to navigate.
Built on Bootstrap framework – AfterBurner2 is built with the Bootstrap framework, a popular and widely used framework for building responsive and mobile-first websites. The template is easy to use and customize, compatible with all the latest web technologies.
Marketplaces
You can download AfterBurner2 from the official website of ThemeXpert, the creators of the template.
JD Chicago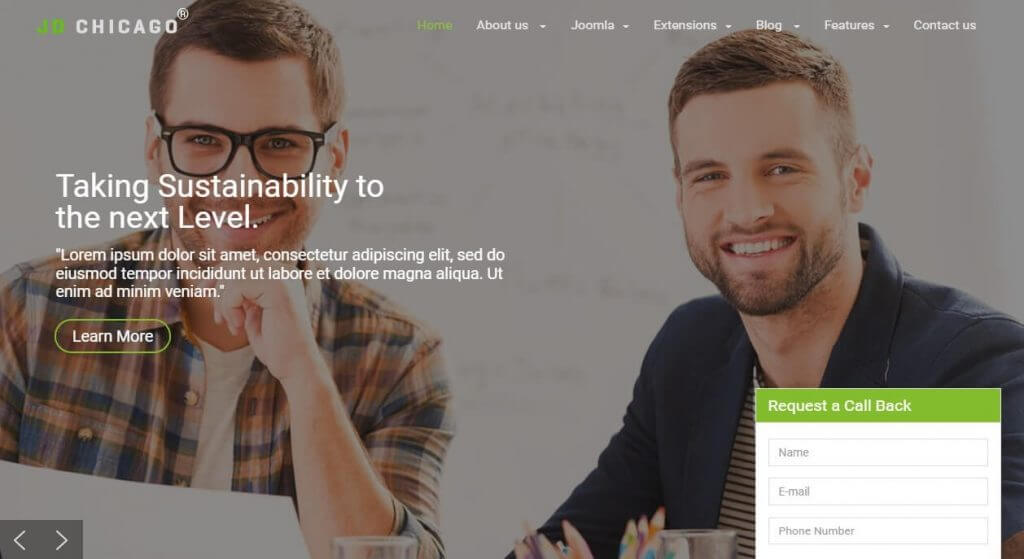 JD Chicago is a template with a modern and elegant design. It is developed with responsiveness and SEO in mind
It can be integrated with VirtueMartn, covering all the features necessary to establish a fully-functional ecommerce website. JD Chicago is also compatible with the most widely used browsers and supports the default Joomla layout pages, such as content, category, contacts, and 404 pages.
Furthermore, it is a fully responsive template, adapting to the screen size of any device to provide an optimal viewing experience for users. This features large images, parallax effects, and refined typography.
Key Features
Clean and lightweight – JD Chicago is designed to be clean and lightweight, helping you increase the speed of your website.
Robust admin panel and layout builder – Comes with a powerful admin panel and layout builder that allow you to make in-depth customizations.
Translation and multilingual capabilities – The template is suitable for creating websites in different languages.
Cross-browser compatibility – JD Chicago is compatible with all commonly used browsers, ensuring that your website will look great on Chrome, Firefox, Safari, or any other solution.
MegaMenu and drop-down menu – Features MegaMenu and drop-down menu options. This makes it easy for users to navigate your website.
CSS3 animation effects – Includes CSS3 animation effects which can enhance the visual appeal of your site.
Drag and drop builder integration – JD Chicago has a drag-and-drop builder integration, allowing you to create and manage your website layout without any previous experience.
Marketplaces
You can download JD Chicago from the official AS Templates website.
JA Stark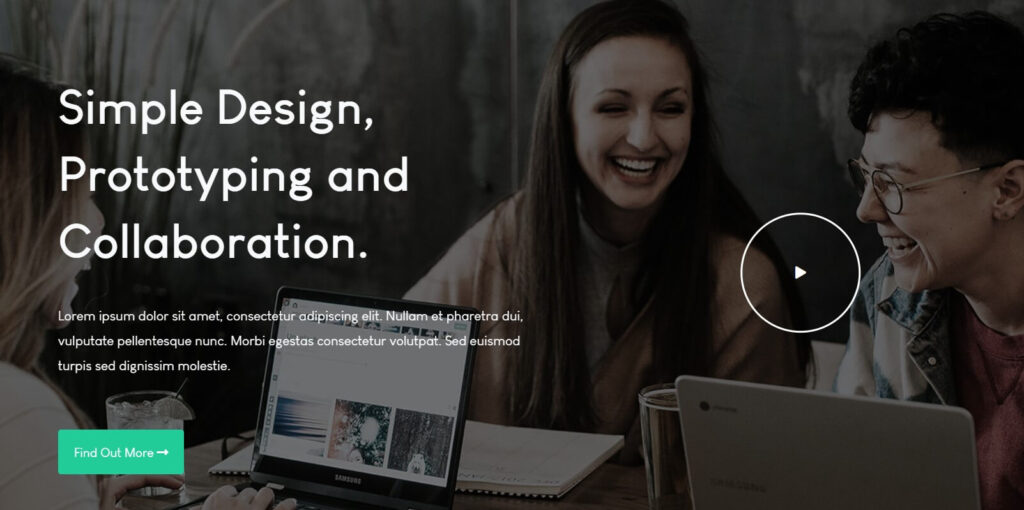 JA Stark is a versatile and flexible Joomla template that perfectly complements various businesses, companies, and creative agencies. It features a sleek and contemporary style, and you can choose from various theme colors to create a website consistent with your company's aesthetic.
JA Stark includes additional pages and impressive features such as a slideshow, feature introduction, portfolio, and projects. This way, you can showcase your services visually appealingly.
JA Stark employs the new T4 Joomla template framework, a powerful tool with diverse built-in functionalities. This technology simplifies your site customization and provides you with a range of options for controlling the layout and style of your pages. Additionally, it offers responsive design, SEO optimization, and social media integration.
Overall, JA Stark is an excellent choice for businesses looking for a free, professional-grade Joomla template.
Key Features
Joomla 3 and Joomla 4 compatibility – JA Stark template is compatible with both Joomla 3 and the latest Joomla 4, making it a versatile option for all users of the CMS.
Layout builder – The template comes with a powerful layout builder that allows you to create unique and professional-looking websites. There is a wide variety of customization options, including multiple color variations and image/video overlay background.
New friendly admin panel – Features a new user-friendly admin panel that makes browsing through the template a breeze.
Advanced theme customization tool – Comes with an advanced theme customization tool that allows you to easily change the color scheme, fonts, and other design elements to match your brand.
New Megamenu Builder – Offers a new Megamenu Builder that allows you to create dynamic and visually appealing menu layouts, add images, videos, and other multimedia elements.
Custom CSS and SCSS tools – The template also includes custom CSS and SCSS tools that allow you to add advanced styling options.
Marketplaces
You can download JA Stark from the official Joomlart website.
Astroid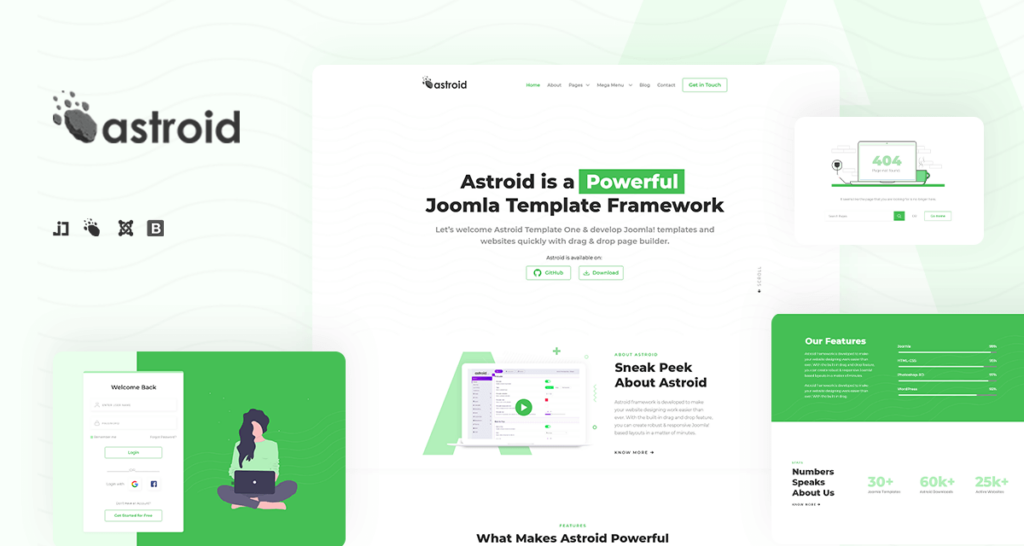 Using Astroid, you can create a website with a drag-and-drop builder, and the best part is – no knowledge of HTML or CSS is required. It's adaptable enough to create pages with various functionalities. The design is completely responsive and has been optimized for speed.
Better yet, row and column configuration on any responsive layout is a breeze with Astroid. It offers advanced customization options, such as adding backgrounds or overlay images, adjusting colors, or even displaying a video every time someone visits your page.
Key Features
Beautiful parallax effect – You can use the faux-3D effect to create a mind-blowing optical illusion when visitors scroll down your website. It's possible to set the scrolling pace of each layer independently, giving your site a unique aesthetic.
Joomla 4 compatibility – Thanks to its compatibility with the most recent release of Joomla 4, the Astroid template is a flexible choice for any Joomla site owner.
Unlimited custom code – Thanks to the unlimited custom code option, you have greater room for creative freedom to make endless customizations.
SaaS optimization – Astroid is outfitted with everything necessary to meet the requirements of SaaS companies or apps.
Bootstrap 5 framework – Astroid uses the most recent version of Bootstrap, which means you get all of the benefits of this framework without any delays. It is user-friendly, adaptable, and compliant with the latest web technologies.
Drag and drop menu & layout builder – Using the frontend drag & drop builder, you can rearrange the order of any given section and column, as well as control the appearance and functionality of menus.
Marketplaces
You can download Astroid from the official website of Astroid Framework.
JA PURITY III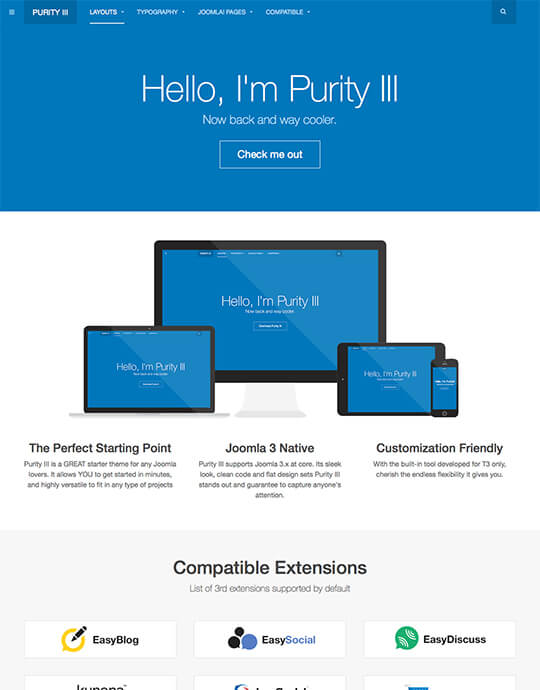 When it comes to responsive Joomla free templates, Purity III is among the greatest options out there. It's a flexible framework for building any kind of Joomla site, from a personal blog to a corporate portfolio.
Developed using the T3 framework, this theme is fully responsive and adaptable to a wide range of screen sizes.
With layout setting and ThemeMagic, you can make Purity look exactly as you want it to, as it's compatible with the vast majority of community-contributed extensions.
Thanks to the modifying layouts option, various color schemes/fonts, and the different pre-designed templates, you can create a truly unique website with this template.
Key Features
Eight different homepage layouts – Purity offers various stunning homepage appearances – Corporate, Portfolio, Magazine, Blog, Glossary, Features intro 1, Features intro 2, and Classic.
Compatibility – The template works with different third-party extensions like JomSocial, EasySocial, EasyDiscuss, EasyBlog, Mijoshop, Kunena, etc.
Typography pages – Purity III includes additional "bonus" typographic pages, such as Pricing Table and Support Policy.
Powerful T3 framework – It provides a wide variety of in-built features and simplifies site customization by letting you change color schemes and fonts easily.
Bootstrap 3 Support – Purity III incorporates Bootstrap 3 at its core due to the T3 Framework. Additionally, the template supports Font Awesome 4, along with all the amazing features of Bootstrap 3.
Marketplaces
You can download JA Purity III from the official website of Joomlart.
Maximizing Joomla Performance with ScalaHosting
ScalaHosting has extensive experience in the highly competitive web hosting sector, having been in the business for well over a decade.
We are honored to have earned official partnership status with Joomla, which allows us to provide our customers with exclusive support for all aspects of Joomla maintenance and beyond. This partnership is a testament to our service' quality and reliability, making us a trusted choice for all kinds of Joomla projects.
Through our comprehensive knowledge and experience, we understand the specific requirements and optimizations necessary for a Joomla website to operate seamlessly. Our servers have been fine-tuned to offer the optimal hosting environment for Joomla CMS.
Our team of experts offers tailored assistance regarding website security, uptime, and optimal performance. We understand that cost-effectiveness is essential, so we strive to provide hosting solutions that don't compromise the quality of your Joomla experience.
Explore our managed cloud server that is great for high-traffic and mission-critical websites, ensuring constant uptime even in very extreme cases. Or contact us today to learn more about our Joomla services.
Wrap Up
There are many great free Joomla templates available to help you create a professional and user-friendly website. Take your time to evaluate each and go for one that is fully responsive, has the necessary features to meet your needs, and is compatible with your Joomla version.
Also, keep in mind that free templates may have a limited set of features, but purchasing a premium one can give you more flexibility, security, and support.
FAQ
Q: How to use Joomla templates?
A: To use a Joomla template, you first need to install it on your website. You can do this by uploading the files to your server through the Extension Manager in the Joomla backend, then selecting the theme and setting it as the default for your site.
You can customize the template's layout and design by editing its CSS files or utilizing the help of extra plugins.
Q: How can I troubleshoot issues with my Joomla templates?
A: You can troubleshoot issues with your Joomla template by checking for compatibility with core application version you are using, monitoring for any error messages in the browser console, and disabling any recently added extensions to see if any of them are causing the problem.
Q: Where can I find Joomla templates for free?
A: You can find free Joomla templates on Joomla.org's official template directory, JoomlaShine, Joomla-Templates.com, GavickPro, and Joomla24. Still, such solutions may have limited features and functionality and get updates less frequently. It's recommended to check the template's reviews and ratings before downloading it to ensure it's of good quality.
Was this article helpful?