Joomla is one of the world's leading open-source Content Management System (CMS) solutions for building websites and mobile applications on the LAMP framework. Joomla is a PHP-based CMS running on a MySQL database with a modular extension system for features and custom design templates.
As online shops are one of the most lucrative types of business today, this article will discuss the best shopping cart to use with the Joomla CMS.
ScalaHosting is a Platinum Global Sponsor of the Joomla CMS project and offers Joomla hosting plans with SPanel that include Joomla installation, easy management, and platform security in one package.
What is Joomla?
Joomla is an open-source CMS that has been in parallel development with WordPress and Drupal since forking from the Mambo project in 2005. Its development is fueled by thousands of open-source programmers worldwide who work on core functionality with PHP, as well as extensions and templates for add-on features. The Joomla add-on ecosystem includes free, licensed, and subscription-based options for your website.
Joomla gives developers the ability to build websites and mobile applications for a wide variety of use cases. Anything from blog, ecommerce, forum, wiki, or CRM is absolutely possible using the right extensions.
With Joomla, developers can adopt a modular approach to building websites by only installing the features required for the project. The use of licensed or subscription-based extensions for Joomla provides complete solutions for ecommerce that usually far outmatch the free software options on the market. The same options are available for templates, where developers can save time by purchasing a licensed pro theme or design the site with custom CSS.
The ability to write new extensions in PHP using open-source code or Agile programming teams makes Joomla a great starting point for larger-scale projects. The CMS can also be deployed with different APIs and JavaScript frameworks for custom website and mobile application design.
After using the SPanel Joomla Manager to install a new site, navigate to /administrator and enter your login details. You can then install Joomla shopping cart extensions and templates.
Is Joomla Good for Ecommerce?
Joomla works excellent with ecommerce projects because of its ease of use, extensible functionality, and platform security, allowing developers to jump-start sites in mere hours. There are currently two versions of the Joomla CMS that are used in website and mobile development – 3.x & 4.x.
Brand new sites can start with the 4.x version, while legacy 3.x applications have until 2023 to upgrade. Both versions support multiple ecommerce solutions for developers with a wide range of features and options.
Let's take a closer look to a few of them
What are the best shopping cart plugins for Joomla?
There are currently 226 extensions registered in the Joomla Extensions Directory that are labeled Ecommerce.
Which one would best fit your online shop depends on the budget, scale, and feature set that are required by your project. Still, a reliable Joomla ecommerce plugin should be able to provide:
Payment Gateway
Ecommerce Integrations
Shopping Cart
Donations
Paid Downloads
Membership & Subscriptions
Auction system
Billing & Invoices
Payment systems
Many small business users need an ecommerce solution with a store, product management, dynamic content filtering, automated shipping calculations, inventory management, and tax features. Joomla can offer all of that.
The ScalaHosting reviews below are designed to introduce some of the most popular Joomla shopping cart plugins, their characteristics, and how they can benefit your online business..
VirtueMart is a Joomla ecommerce solution with over 500 features under its belt. Using this plugin, you can create complex product catalogs with nested categories for navigation and search. Shoppers are categorized into groups based on their registration status so you can better analyze their behavior and target your promotions..
The platform is SEO-ready, includes inventory management, and offers shipping calculations, discounts, coupons, etc. Customers shopping with VirtueMart can also enjoy multi-language support for product catalogs, digital downloads, choice of currency for payments, and the ability to check out products as a guest.
VirtueMart integrates well with other Joomla CMS extensions and offers developers the ability to extend the platform with custom code.
J2Store
J2Store is the most popular Joomla shopping cart extension with 350,000+ downloads. The plugin supports over 75 different payment gateways, making it one of the most versatile solutions on the market..
You can sell subscriptions, memberships, tickets, appointments, rentals, event reservations, and digital downloads with automated shipping calculations. There are Professional and Developer subscription plans if you want access to more advanced features..
The Professional package includes the core ecommerce features plus coupons, vouchers, email templates, invoices, and a free PayPal plugin. It costs $79 per six months on a renewal basis.
The Developer plan is $129 per year with added features like access to Joomla training resources and priority customer support. There are shipping plugins available for US, UK, Canada, and Australia mail services as well as for FedEx and UPS.
There are many free and premium extensions available for J2Store that will further complement your online shop project..
Sellacious is an innovative alternative to the main leaders of ecommerce solutions for Joomla and is rapidly increasing in popularity.
The extension allows you to list products in a catalog with inventory management, coupons, automated shipping calculation, and tax settings. There are options for a multi-user and B2B marketplace, including the ability to add reviews, ratings, product attributes, and advanced marketing tools for platform analytics.
Sellacious sells its platform with a Starter plan of $29 per month that supports one website with PayPal as the payment gateway. The yearly plan includes all of the premium features, video documentation, and priority support like the Starter plan but at a discount rate.
A Lifetime 2.0 plan for Sellacious costs $1499 with a bundle of commerce extensions designed for startups. The Lifetime Ultimate plan comes at a $3499 one-time fee with the ability to manage over 200,000 products in a catalog.
For enterprise brands, Sellacious also supports Kubernetes, Elastic Search, Redis, BI tools, and Tableau analytics.
Phoca Cart is a shopping cart and ecommerce framework built with the modern Bootstrap library, Grid, and Flexbox CSS. The framework can be used for a product catalog or а gallery and supports both physical products or digital downloads.
Admins can add an unlimited number of product attributes that can be used as search filters for easier site navigation. You can also benefit from automatic shipping calculations and multiple tax rates applied on customer orders.
One of the main advantages of Phoca Cart is its responsive design for mobile devices, tablets, and desktop displays. Users can create wish lists of saved products. Coupons, rewards, and discounts are also possible to add as features according to project requirements.
Phoca Cart is free and compatible with both Joomla 3.x & 4.x versions.
EasyShop
EasyShop is another responsive ecommerce framework for Joomla. it implements Ajax on the checkout page for easy integration with most payment gateway providers.
You can offer different shipping methods to customers for cost savings or expedited delivery. The EasyShop product catalog supports unlimited categories, brands, attributes, tags, and custom fields. You can also build sites with multiple currencies and languages for international brands or services.
Core add-ons for EasyShop include product carousels for promotions, sales, and custom design. You can also take advantage of various add-ons like a wish list, feature comparisons,, and Recaptcha integration on forms.
The primary GUI used for display with EasyShop is jQuery. Because the extension is built on the standard Joomla MVC structure, it is easier for programmers to customize than similar frameworks.
HikaShop is an e commerce extension for Joomla that offers three different subscription tiers. The Starter pack is free, the Essential version costs €49.95 for a single website license, while the Business plan price is €99.00.
The HikaShop framework includes a dashboard, advanced product configuration options, shopping cart, checkout, design templates, and multi-lingual support. While all versions support inventory management, there are more options for custom fields, invoicing, and product attributes on the higher-level plans.
Business owners also get advanced platform analytics for sales and marketing. Given its fair price, HikaShop is a complete Joomla ecommerce solution with an extensive suite of professional features.
EShop is one of the best Joomla shopping cart and commerce extension frameworks available on the market, but it is a paid download only. It only costs $39.99 for a single site license, which is a bargain for most ecommerce publishers.
EShop delivers a responsive ecommerce store built on the standard Joomla MVC structure which allows for complete integration with other extensions through the CMS. With EShop, your product catalog will support unlimited SKUs with reviews, ratings, and wishlist options. You can also batch export data to CSV/XML files for analytics.
EShop delivers an ecommerce framework built on HTML 5, CSS 3, jQuery, Ajax, and Bootstrap for responsive views across devices. The shopping cart includes auto-calculation of shipping rates, taxes, coupons, discounts, etc. with extensive customization options.
Instant Pro Shop is released and maintained by the J!Extensions Store, a popular marketplace that offers an extensive suite of add-ons for the Joomla CMS. The plugin is offered as a paid download only, with the cost of €49.90 for a single site license.
Instant Pro Shop is the easiest way to set up an ecommerce store with a PayPal gateway using Joomla. Additionally, business publishers get access to the Stripe gateway.
The basic features here are pretty standard with catalog, product pages, recurring subscriptions, multiple shipping options, tax by region, and fine-grained filtering of content in search. All pages are designed for the best SEO performance.
Using the Instant Pro Shop framework, business owners can get a responsive template, with the auto-sizing of images preconfigured. This makes it extremely easy to add products and build catalogs for online publication.
Instant Pro Shop supports over 140 currencies and has extensive multilingual capabilities for content translation. Instant Pro Shop makes building an ecommerce website cheap and easy.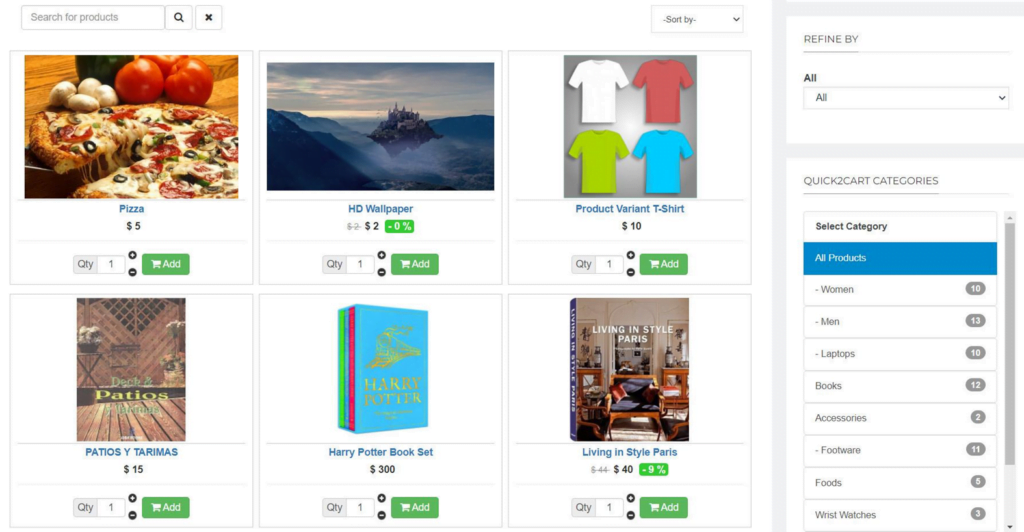 Quick2Cart is a Joomla shopping cart with a suite of ecommerce modules that deliver a world class experience for online stores. What makes this plugin unique is its multi-vendor and multi-store support.
Quick2Cart supports multiple payment gateways and search engine optimization (SEO) options on all product pages. This includes both physical and virtual products that are available for download.
Still. Quick2Cart is a bit limited as it doesn't support Joomla 4.x instances. Given the cost of $54.99 per year, it's better to first ensure your ecommerce project will have everything needed on Joomla 3.x before committing for such a long time.
Breezing Commerce is a suite of Joomla shopping cart extensions released by Crosstec. It offers a Free and Pro versions, and a Subscription plan that includes a set of advanced tools for website optimization.
The Breezing Commerce package is similar to other Joomla ecommerce extensions when it comes to features and functionalities. A nice addition here are BreezingForms Pro, Icon packs, and the AnalyticsAnyway pack.
The Crosstec Joomla ecommerce extension package adds everything needed to operate a store online with a product catalog, shopping cart, payment gateway integration, and analytics. The inclusion of theme and template designs is a major benefit for web publishers.
ScalaHosting and Joomla
ScalaHosting is one of the certified Managed VPS providers for Joomla. Our SPanel management platform includes easy CMS management and a one-click installer to immediately start building your shop.
Joomla Co-Founder Brian Teeman recently moved all his websites to ScalaHosting, stating:
"The reasons were quite simple – performance, price, features, and quality of support. The thing about running any website business is that you need skills. So I want to make sure I have a host I can rely on, offering me a fully managed service, so I can carry on doing my job of building websites without having to worry about the job of hosting them."
You can build a beautiful online store with Joomla shopping cart extensions and rely on ScalaHosting for its uninterrupted uptime. Our managed VPS solutions remove the technical burdens for Joomla publishers while they concentrate on popularizing their ecommerce project.
Partnership
ScalaHosting became a Platinum Global Sponsor of the Joomla project in 2020.
In 2022, Scala renewed the partnership, with Robert Deutz, President of Open Source Matters Inc. describing it as:
"…an enormous opportunity for both teams together to come up with incredible new cloud technologies and integrations where the ultimate benefit will go to the Joomla users. ScalaHosting develops some exciting and innovative solutions like Multi-Datacenter Clustering. The powerful bundle between SPanel and our CMS is something else I'm eager to see in action."
In addition to a reliable VPS service, ScalaHosting is one of the first hosting companies to introduce multi datacenter clustering. This innovative technology allows you to host your Joomla project on different cluster nodes and in different locations, guaranteeing an optimized performance and uptime.
Conclusion
If you are looking to build an online shop with a free, open-source software, VirtueMart is probably the best solution from the above, with Phoca Shop and EasyShop as excellent alternatives.
J2Store, Sellacious, and EShop are the most feature-packed of them all, but when it comes to a simple shop integration – Instant Pro Shop might be your best bet.
Whichever solution you choose, make sure to check its compatibility to avoid problems with version migration.
Was this article helpful?