Managing one Joomla website can be hard sometimes. Managing several sounds like mission impossible.
But it's not.
All you need is some organizational tips and good tools – which is exactly what we have prepared for you today.
Take a look:
What is Joomla
Joomla is an open-source content management system (CMS). It enables you to create a functional and eye-catching website without any coding skills. You can basically create any kind of online project with the right tools – online shops, blogs, portfolios, and more.
While Joomla might not be as popular as WordPress, but it still comes with numerous benefits:
free
easy to install
numerous extensions
multilingual support
SEO-friendly
And that's just the tip of the iceberg.
All of the above greatly contribute as to why many people find themselves at the helm of multiple Joomla projects. That, however, can be an extremely time-consuming process.
At ScalaHosting, we've created an easy-to-follow guide that will help you streamline your workflow.
Check it out:
Managing Multiple Joomla Websites
Managing multiple Joomla websites (or any type of projects, really) involves careful planning and establishing a set of procedures that will help you keep up with all of them.
So, where is it best to start?
Measure Site Speed and Performance
The golden rule is simple – if a site takes longer than three seconds to load, users will bounce.
In order to avoid that, you need to be in the loop about how your Joomla websites are performing. Google Analytics can help with that – there's a view, called Site Speed Page Timings. It will show you a detailed report with invaluable data collected over time. You can use such information to test improvements and how they affect performance.
Another good idea is to measure performance by geographical region. The Site Speed Page Timings report features a map that will show you if there are users from a particular country that have difficulties with your Joomla website.
Google Analytics is not the only useful option here, however:
Use Site Management Tools
While there are some things you could do manually, that's not exactly the easiest task when managing multiple Joomla projects. Thankfully, there are some pretty good tools on the market to help with that.
JMS Multi Sites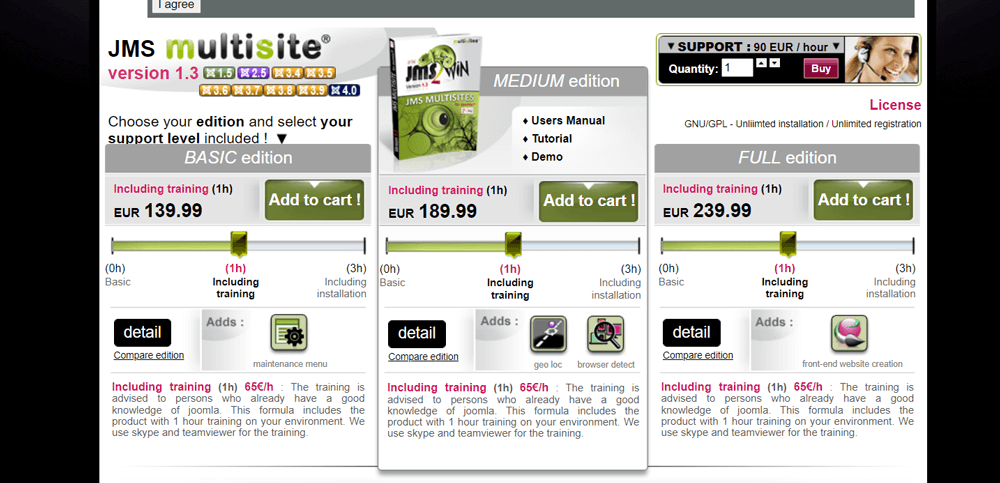 JML Multi Sites is one of the best tools to manage multiple sites using your own Joomla configuration files. It allows you to share files, folders, users, and extensions between various independent sites. It's also pretty flexible when it comes to databases – you can have one for all of your creations, get two, or match the number of sites.
Fair warning, though – it does take quite some time to get the hang of using JMS Multi Sites. Thankfully, the app support team is incredibly helpful and there's documentation available on the official website.
The latest edition of JMS Multi Sites is compatible with the following Joomla versions:
1.5
2.5
3.4
3.5
3.5
3.7
3.8
3.9
4.0
Prices start from €139.99.
Watchful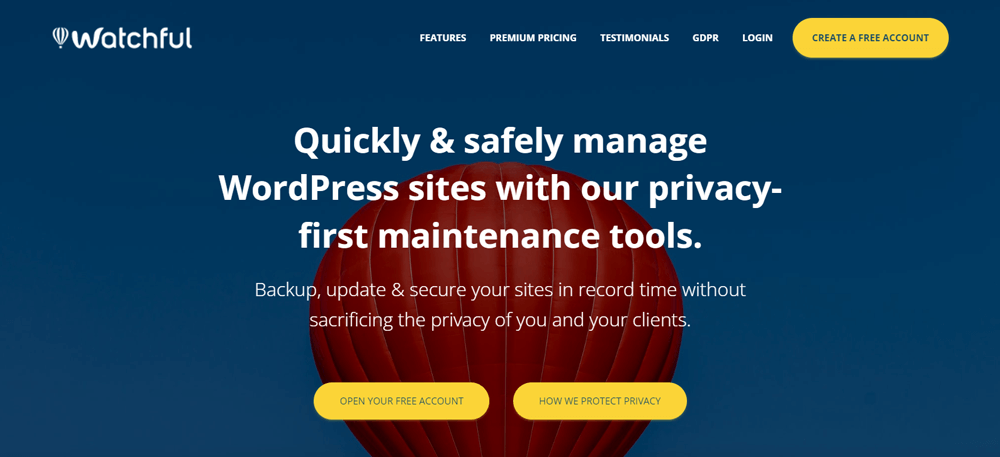 Watchful has a lot up its sleeve.
Its website organizer offers a 1000-foot view, which allows you to prioritize maintenance. It tracks your activity and saves documentation on it, even including custom notes.
In addition, Watchful offers a bulk software installer and updater that saves a ton of time. Updates can be scheduled.
The tool also features:
White-label report builder
SEO analyzer
Vulnerability scanner
Productivity dashboard
Visitor activity
And more!
Watchful is available on the Joomla Extensions Directory and offers its tools for free.
mySites.guru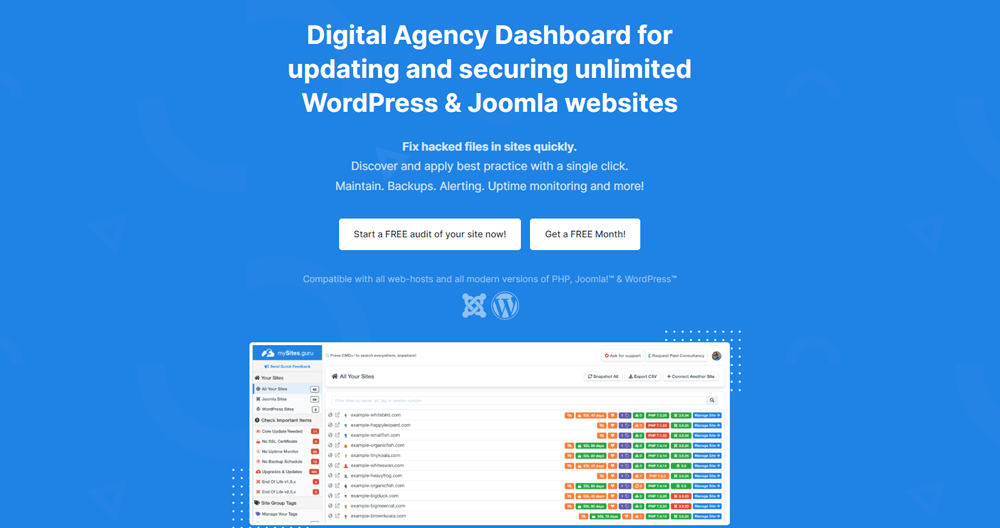 mySites.guru lets users connect unlimited Joomla sites and deal with all of them from one place. You can manage users, PHP applications, and tasks easily, thanks to the intuitive dashboard.
In addition, you can monitor the uptime of all connected websites for free, thanks to the integration with UptimeRobot. mySites.guru also offers:
One-click backup for all sites
Unlimited backup schedules
Mass package installer
Reports
And more.
The pricing starts from £19.99/month, with no limits on the number of Joomla websites you can add.
Keep Track of SEO Performance
If you want your websites to get many views, you'll need to keep track of your SEO performance.
But first things first. Joomla has a default setting for search-friendly URLS, which you can configure from your dashboard.
You can then check out the best Joomla extensions for SEO and choose one that fits your needs and budget best. Ideally, look for a tool that:
shows how search engine-friendly your content is
suggest new keywords
checks page rankings
generates titles
features a sitemap
Now.
Let's talk about maintenance.
Establish a Maintenance Process
That's probably the part that people dread the most. Luckily, we have some tips that will simplify the process:
schedule time for weekly updates for the themes and extensions
scan regularly for malware and issues
monitor broken links
To be fair, most of the site management tools will do those things for you. Still, it's good to have a system in place.
For some issues, however, you'll need to trust your hosting company.
Trust a Reliable Hosting Company
You can't achieve great results if your Joomla site is constantly down or running below-par speeds. But even the most experienced developers and site owners can run into unexpected issues. Having access to a team of experts that can assist at any time of the day is crucial for any project that wants to make it in the big league.
That's why you need to thoroughly research the pool of hosting companies before investing.
Here's how we can help:
ScalaHosting is among the certified managed VPS providers for Joomla. We have been a Platinum Global Sponsor for some time now and host thousands of happy clients of the CMS.
Our packages come with the state-of-the-art SPanel, a unique product we developed for simplifying hosting and website management. The platform packs a ton of useful features related to your domain names, files, databases, emails, SSL certificates, and many more. SPanel is fully adaptable for beginners and comes absolutely free of charge with a VPS package of your choice.
The ScalaHosting support is available 24/7. We've got your back if anything goes wrong and will be glad to have your Joomla project grow with us.
Wrap Up
Managing multiple Joomla websites can be tough, but it sure isn't impossible.
Let's go over the main points again:
measure your site's speed and performance
choose suitable management tools
keep track of SEO performance
create a maintenance schedule
choose your hosting company wisely
And off you go!
FAQ
Is Joomla CMS free?
Joomla is an open-source content management system (CMS). As such, the application's code is publicly available and absolutely free to use. The only costs related to having a Joomla website are for web hosting and any premium themes/plugins you might decide to add.
How many plugins does Joomla have?
At the time of writing, Joomla has more than 5,000 plugins available in the official repository. Additionally, there are thousands more in third-party marketplaces like Envato, JoomShaper, JoomlArt, and more.
How do I host multiple Joomla websites with addon domains?
If you want to host multiple Joomla websites, you'll need to invest in a good hosting provider and plan. If it's a shared server account, make sure it includes addon domains or domain aliases.
Pick a top-level domain as your primary and connect the others as addons. Then, choose a good site management tool to help you with the maintenance process.
Was this article helpful?