Joomla is a versatile content management system favored by many businesses for creating an online presence. With its user-friendly interface and extensive library of add-ons, Joomla provides companies with various functionalities to suit their needs.
In this article, we will highlight the top 5 Joomla B2B extensions that can help boost your online presence and streamline operations. Whether it's ecommerce or project management, these add-ons will take your website to the next level.
Table of Contents
What is a B2B Website?
A B2B (business-to-business) website is an online platform that facilitates business transactions and communication. These sites often provide a marketplace for companies to buy and sell products or services. They are also a great platform for businesses to collaborate on projects and exchange information.
B2B websites are designed to meet the specific needs of business owners, which is evident by features such as supply chain management, procurement, and financial management tools.
The Most Important Features of a B2B Website
Many B2B ecommerce websites embody key elements that contribute to their success. When evaluating this progress, it's essential to consider the following core features:
Ecommerce functions: A B2B ecommerce platform should allow for smooth online business transactions, including secure checkout, real-time shipping, tax calculations, and order management.
Customer Relationship Management (CRM): The platform should provide businesses with effective tools to manage and organize customer information, such as contact details, purchase history, and communication records.
Supply Chain Management: Offer features to streamline and manage the supply chain process, like inventory management and order fulfillment.
Project Management: It's best to have tools to manage projects, assign tasks, and track progress, enabling efficient collaboration on projects.
Personalized User Experience: For a successful B2B website, you should offer each user a tailored and personalized experience. This includes creating user roles and permissions and providing targeted content and products.
Data Analytics: The platform should give businesses valuable insights into their performance, such as website traffic, sales data, and customer behavior analysis.
Secure Data Management: A B2B website should prioritize the security of sensitive customer and business data with features such as SSL encryption and secure data storage.
Now that you may have a clear understanding of the key features essential for a successful B2B website, let us dive into the main focus of this article:
Top 5 Joomla B2B Extensions
With so many plugins available, it can be challenging to determine which ones are the most suitable for your specific needs. To assist in this process, we will tell you more about the top five Joomla B2B extensions below:
J2Store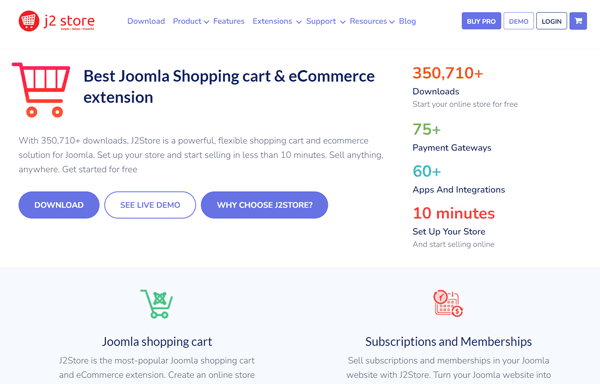 J2Store is a robust, fully integrated Joomla solution. Its easy-to-use interface lets you quickly and efficiently establish an online store and start selling your products. The extension transforms regular Joomla articles into full-fledged products, making it a versatile and flexible tool for ecommerce.
Rating on the Joomla extension directory
⭐5 out of 5 stars
Key Features
You can manage your products, including adding new ones, editing existing ones, and managing the variants and options.
Multiple payment gateways, including PayPal, Stripe, and Аuthorize.net.
A comprehensive order management system that allows you to manage and track orders, update their status, and generate invoices & packing slips.
Multiple shipping methods, including flat rate, weight-based, and location-based shipping.
Flexible tax management system that allows you to set up and manage taxes for your products and shipping methods.
A range of reports and analytics that allow you to track your sales and customer behavior.
A customer management system that allows you to manage customer accounts and view orders.
User-friendly and intuitive interface, making it easy for users of all technical levels to set up and manage their online store.
Joomla Version Compatibility
Pricing
Free plan – $0 – Includes Core features; Unlimited downloads; Community support; Access to video tutorials.
Professional – $79 – Everything in Free + PRO features (coupons, vouchers, order notification email templates, invoice templates, additional field types for product options); Free Paypal plugin; 6 months priority ticket support & updates; Support for 1 website.
Developer – $129 – Everything in Professional + One year priority ticket support & updates; Free installation and store configuration.
Marketplaces
You can download J2Store from the Joomla Extensions Directory & J2Store.org – the official website of the product developer.
You can also find the plugin on other third-party providers. Still, we recommend downloading it from the official website to ensure you get the latest version and access to the support and updates.
HikaShop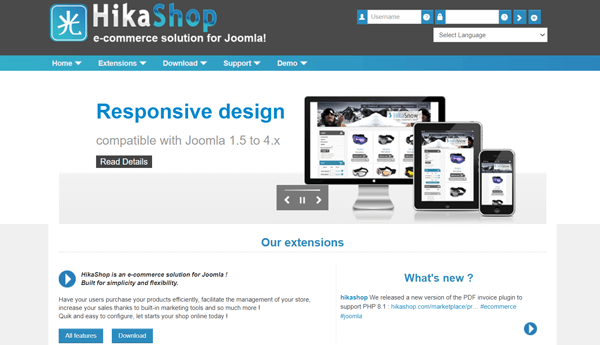 HikaShop is a comprehensive ecommerce extension specifically designed for Joomla. Its simplicity and versatility make it a popular choice among users. The extension also offers a wide range of marketing tools and robust statistics on the dashboard.
Rating on the Joomla extension directory
⭐5 out of 5 stars
Key Features
A user-friendly interface for managing various language, currency, and geographic region settings, as well as advanced tax options, making it possible to sell products globally.
Easy store management through a built-in dashboard.
Affiliate program support, coupons, discounts, and email marketing integration.
Advanced store customization.
Joomla Version Compatibility
Pricing
Starter – €0 – Includes Product management; Order management; Payment gateway integration; Customer management; Tax and shipping management; Basic reporting and analytics; Mobile-responsive design; Limited access to add-ons and support.
Essential – €49.95 – Everything in Starter + Advanced reporting and analytics; Multiple languages support; Invoicing and PDF packing slip generation; Access to additional payment gateways; Access to selected add-ons and support; Multicart; Guest checkout.
Business – €99.90 – Everything in Essential + Advanced management of products, orders, customers, tax and shipping, invoice customization; Access to all add-ons and priority support; You can also join an affiliate program at this level.
Marketplaces
HikaShop is available for download from both the Joomla Extensions Directory and the official website of the product developer, HikaShop.com.
VirtueMart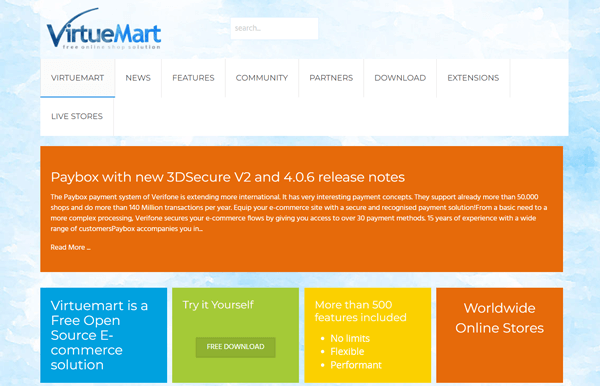 Virtuemart is a popular choice for Joomla users looking to add ecommerce capabilities to their websites. It was actually the top plugin in its niche for a long time, so many users and developers contribute to its continued improvement.
Rating on the Joomla extension directory
⭐3.5 out of 5 stars
Key Features
Ability to manage products, categories, and manufacturers.
Includes order tracking, invoicing, and shipping management.
Supports multiple payment gateways, including PayPal, Authorize.net, and others.
Ability to configure tax rules and shipping methods.
Includes customer account management and order history.
Optimized for use on mobile devices.
Provides detailed sales reports and analytics.
Ability to manage a store in multiple languages.
Joomla Version Compatibility
Joomla 3.10.x
Joomla 4.2.x.
Pricing
Free for downloading. No PRO plans.
Marketplaces
You can obtain VirtueMart by downloading it from the Joomla Extensions Directory or the developer's official website, VirtueMart.net.
redSHOP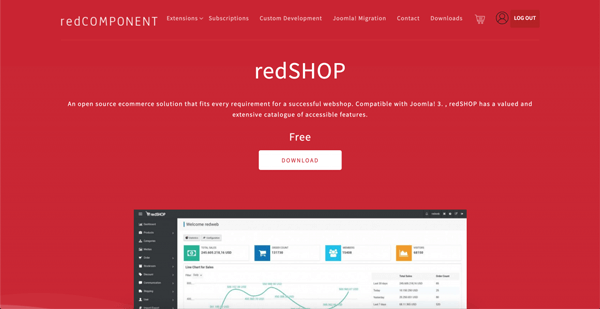 RedShop is an open-source Joomla B2B solution that offers an extensive list of features for businesses of all sizes. It is a webshop tool designed as a Content Creation Kit that provides users extensive customization options to create and modify their online store. Everyone can personalize the appearance and design of their shop with a high degree of control, even if they only have basic knowledge of HTML and CSS.
Rating on the Joomla extension directory
N/A
Key Features
Built-in SEO/SEF control.
Unlimited products and categories.
Virtual attribute system with visual navigation.
Shopper groups for B2B portals.
Action emails for automated order processing.
Vouchers and coupons for discounts.
Joomla Version Compatibility
Pricing
Free for downloading. No PRO plans.
Marketplaces
You can download redSHOP from the Joomla Extensions Directory.
Quick2Cart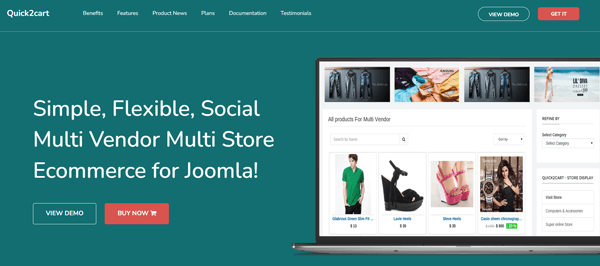 Quick2Cart is a highly flexible B2B solution for Joomla with many useful options, such as multi-vendor and multi-store support and integration with social media. The add-on also allows you to either use its native product manager or integrate with content construction kits like Zoo, K2, or Joomla Content.
Rating on the Joomla extension directory
⭐5 out of 5 stars
Key Features
Social Commerce integrations with EasySocial/JomSocial.
Extensive features for site admins for configuration, control, and compliance.
Flexible Product Listing Pages.
Multivendor and multistore support.
Built-in SEO and marketing tools.
Customizable templates and themes.
Joomla Version Compatibility
Pricing
6 Months – $33.99
12 Months – $54.99
Marketplaces
Quick2Cart can be downloaded from various reliable third-party providers, including JomSocial, TechJoomla, BlackJoomla, OceanTheme, and the official Joomla Extensions Directory.
Wrap Up
This article lists the five best Joomla B2B extensions, each offering a unique set of features to enhance your business website, including functionality, ease of use, and scalability.
So whether you're a small business just starting out or a large enterprise looking to improve your online presence, these addons have everything you need to grow digitally.
Frequently Asked Questions
Q: Are Joomla B2B extensions easy to use?
A: Joomla B2B extensions are designed to be user-friendly, with intuitive interfaces and easy-to-follow instructions. However, the ease of use may vary between different plugins, so it is essential to test a few options and choose an extension that meets your requirements and skill level.
Q: How much do Joomla B2B extensions cost?
A: The cost of Joomla B2B extensions can vary, with some being free and others requiring a paid subscription. It depends mainly on the specific addon, its features, and the vendor that offers it. It is important to carefully consider your demands and budget before choosing an extension to ensure you get the best value for your money.
Q: How can Joomla B2B extensions help my business?
A: Joomla B2B extensions can help businesses improve their online presence, communicate more effectively with customers, streamline sales processes, and enhance their website user experience. They provide a range of functionalities that can assist companies in achieving their goals and succeeding in the online marketplace.
Was this article helpful?