With thousands of website building applications out there, creating the foundation of our first online project is literally a few clicks away. Many of the apps cover particular niches – ecommerce, community forums, social media – but you also have a wide choice of multipurpose tools.
Apart from WordPress, one other content management system (CMS) is rocking the online world and responsible for the well-being of over 2.5 million websites – Joomla.
In this guide, we will take a closer look under Joomla's hood – how it looks, how it works, and how to quickly get used to its specifics.
Why Should I Choose Joomla?
Joomla is undoubtedly one of the best choices for starting a new website. The application lets you turn a basic page into any kind of multifaceted project – an ecommerce shop, a public message board, or a stylish business site, just to name a few. This is thanks to the rich environment of plugins and themes, your go-to place when you want to change the look or feel of your website.
To date, there are around 6,000 extensions and over 600 templates in the Joomla official repository. You can find thousands more in reputable marketplaces like Themeforest, Templatemonster, Joomlart, and Joomshaper.
Complete beginners will enjoy Joomla just as much as seasoned developers, thanks to the low learning curve and intuitive interface of the popular CMS. And if you wish to further improve your skills with the app – there are plenty of tutorials, video guides, and online communities that can always help you with a pressing question or issue.
Joomla 4 – A Step Forward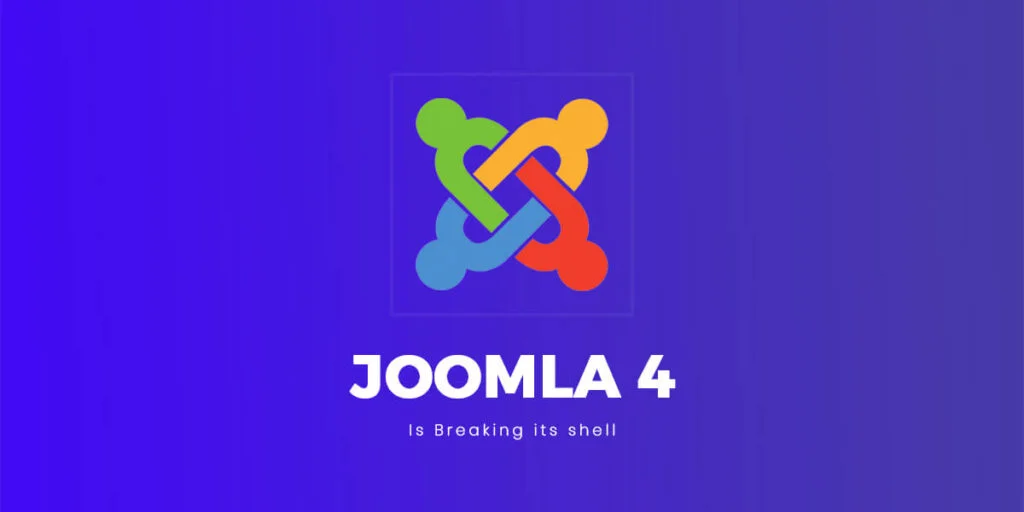 Just last year, there was a major commotion in the Joomla society – a completely new version rolled out, promising to supercharge the experience for all users of the app. Joomla 4.0 is to gradually replace all 3.x versions, with end of support scheduled around August 2023.
But what makes the new version so superior, and why should current users consider upgrading their CMS? Here are some reasons that quickly come to mind:
Bootstrap Version – Bootstrap is a free and open-source framework that aid the development of mobile-first websites. The platform helps web admins simplify the site-building process and make it even faster. As it originally started many years ago, Joomla 3.x still utilizes Bootstrap 2 for its user interface. In comparison, Joomla 4.x employs the much slicker Bootstrap 4.
PHP Version – Just as with the web building framework, Joomla 4.x also uses one of the latest versions for its scripting language – PHP 7.x. This gives users a ton more features and grants access to the PHP-NG engine that supercharges your site performance and loading speeds.
Mobile Responsiveness – Since Joomla 3.x websites can easily be accommodated to all kinds of devices and screens, the newer versions really take mobile responsiveness to the next level. Users find the advanced CSS grid much easier to work with, which makes their design implementation faster and more effortless.
Templates & Design – Once you start working with Joomla, you get a range of free frontend and backend templates for the default visual outlook of your site and admin area. Because of the more advanced technologies it utilizes, Joomla 4.x design layouts stand out with a stylish look and great feel out-of-the-box. Editing those templates is also a breeze, allowing for more creative freedom and better functionality.
Multimedia – Before its latest release, image and video editing was not possible within Joomla itself, you could only do it before uploading. The smart innovations in 4.x broke that boundary and now allow viewing multimedia properties with a simple mouse click.
Security – One of the most pressing topics for today's webmasters, cybersecurity has been a focus for Joomla's developers as well. By utilizing the latest technologies in recent versions, devs have significantly minimized the risks of backdoors and malicious attacks. Joomla 3.x still uses outdated technologies and has to frequently release security updates in order to keep up.
When you consider all of the above, it's not a question of whether you should move to Joomla 4.x but WHEN to make the switch.
Behind the Curtains – The Joomla Dashboard
We will now take a stroll around one of Joomla's most integral parts – the admin dashboard. After you install the CMS, this is your go-to place for all site modifications. The more comprehensive and intuitive your dashboard is – the easier you will get the hang of it and start working your magic.
Home Screen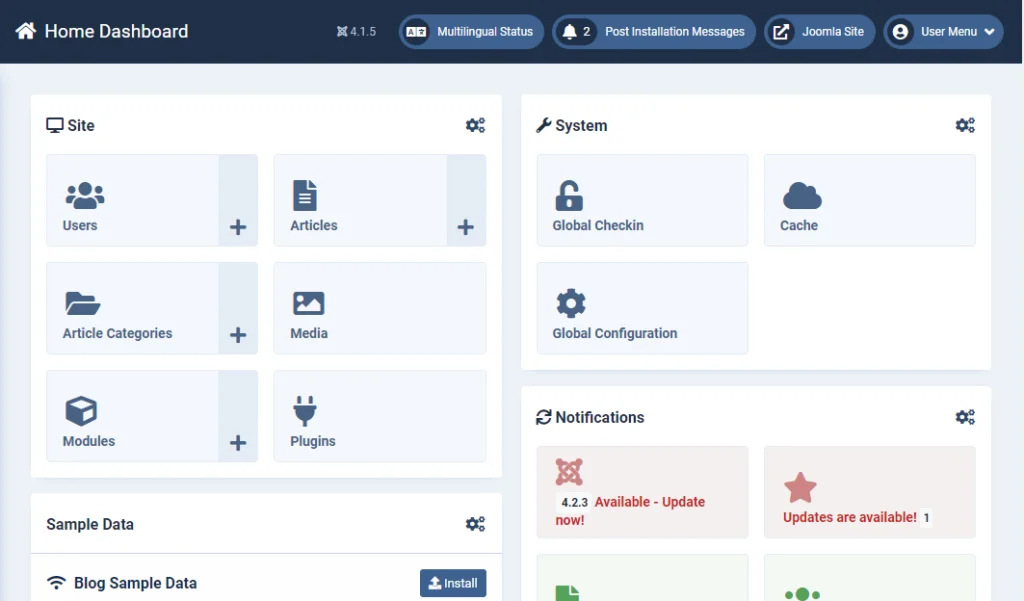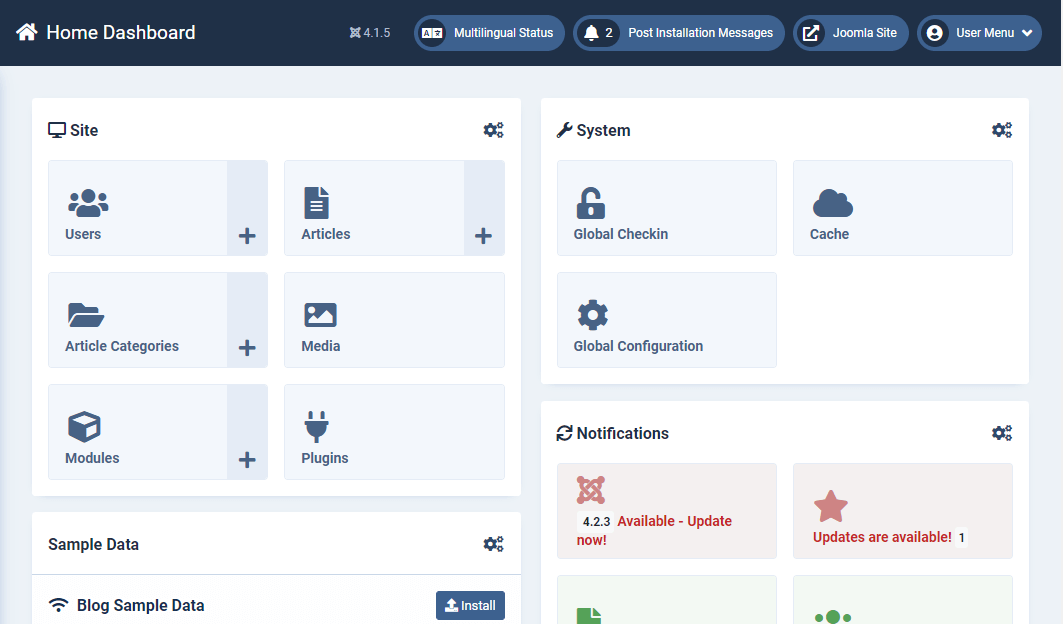 This is the first page you see when you log in your Joomla installation. The main screen consists of a few shortcuts to some of the most used functionalities, like key options, system notifications, sample data, recently added articles, and more. Additionally, you can view the most recent actions, who logs in/out, and what they do in the meantime.
The Joomla dashboard is fully customizable, so you can add/remove blocks with options to tailor your experience with the CMS.
On the left of the main screen, you will find the main menu categories.
Content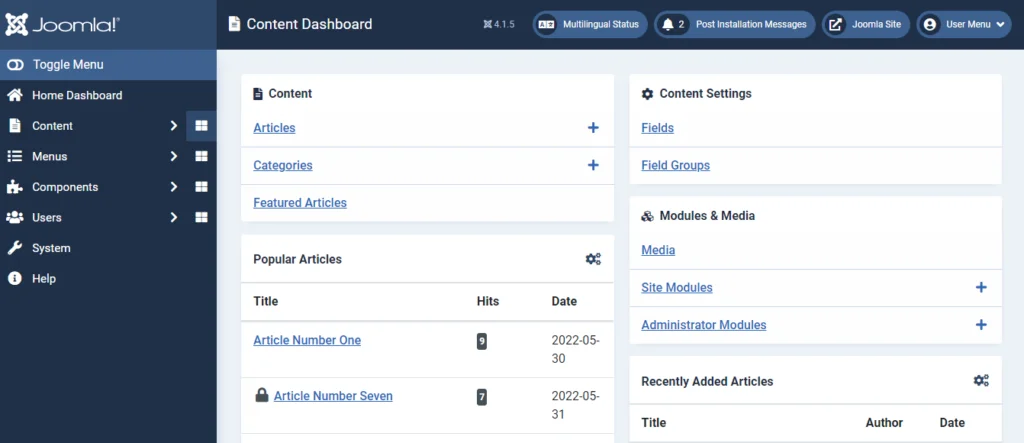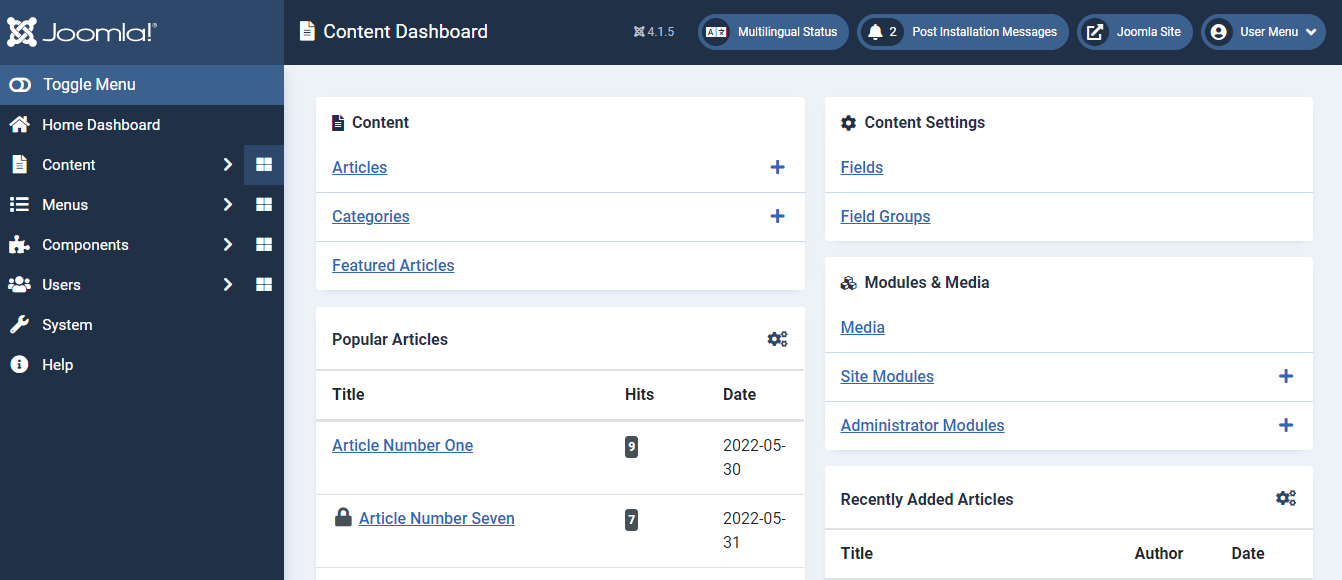 This category contains everything regarding your pages, articles, and plugins.
Articles
You can see all your created articles, their status, author, language, and other important info. Clicking on an article will reveal its content and allow you to edit it as per your needs. You can also keep drafts that you can further modify before publishing. Once your content grows, various filters will help you find the article you need.
Categories
This is the place where you create, edit, and delete your categories. The categorization brings order to your content, allowing your Joomla site visitors to navigate easily to articles with a common theme. As with the previous menu, you can take advantage of filtering to quickly find the category you are looking for.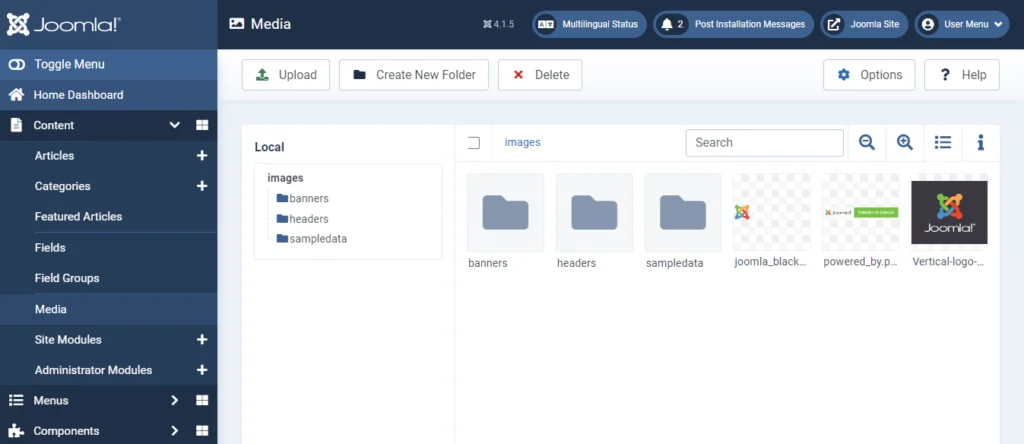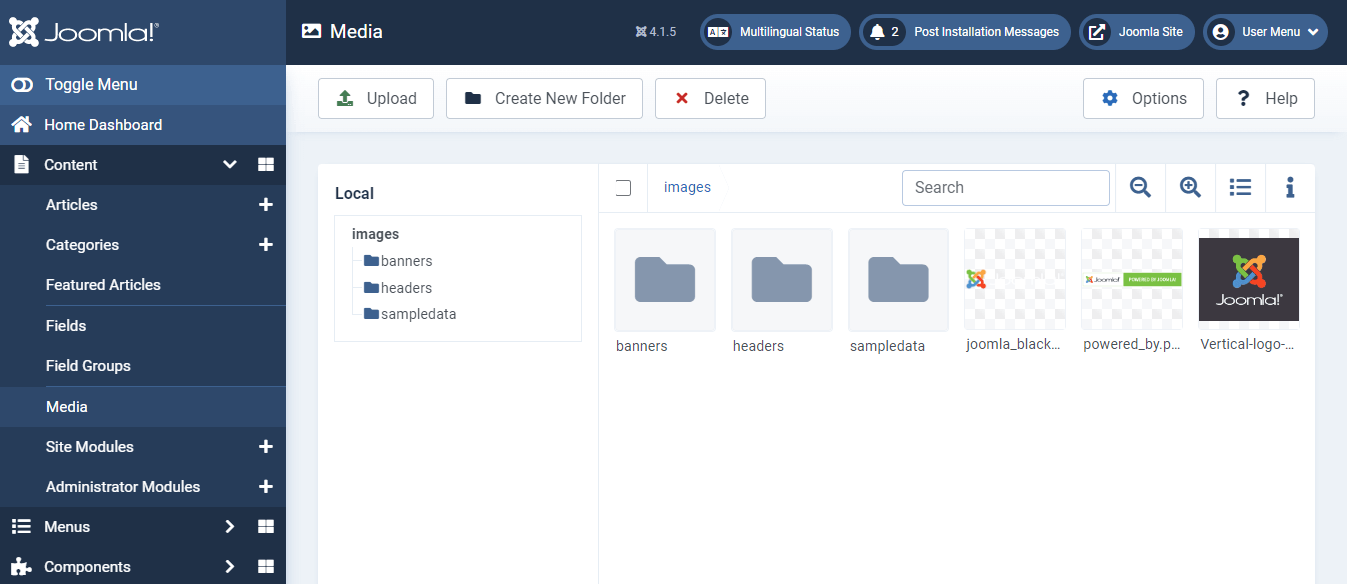 Joomla 4.x excels with some fantastic multimedia options. You can now organize your images and videos in neatly stacked folders, and the CMS helps you upload files with a click of the mouse button. There is an info option as well, allowing you to check the properties of each folder.
Modules
Modules work exactly like widgets – they are lightweight extensions that let you quickly add some basic functionalities to your Joomla site. Since 4.0, Joomla offers a set of 24 different modules. Each module comes with a comprehensive description and is effortless to configure.
Menus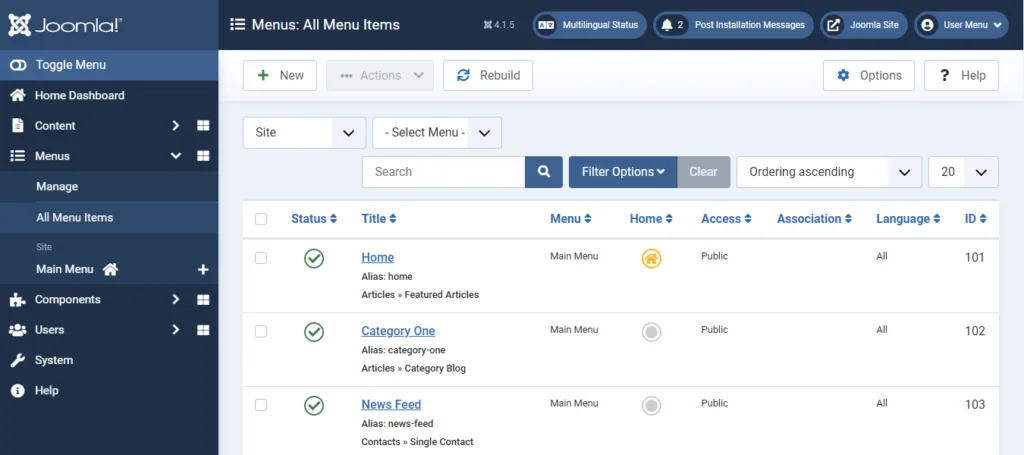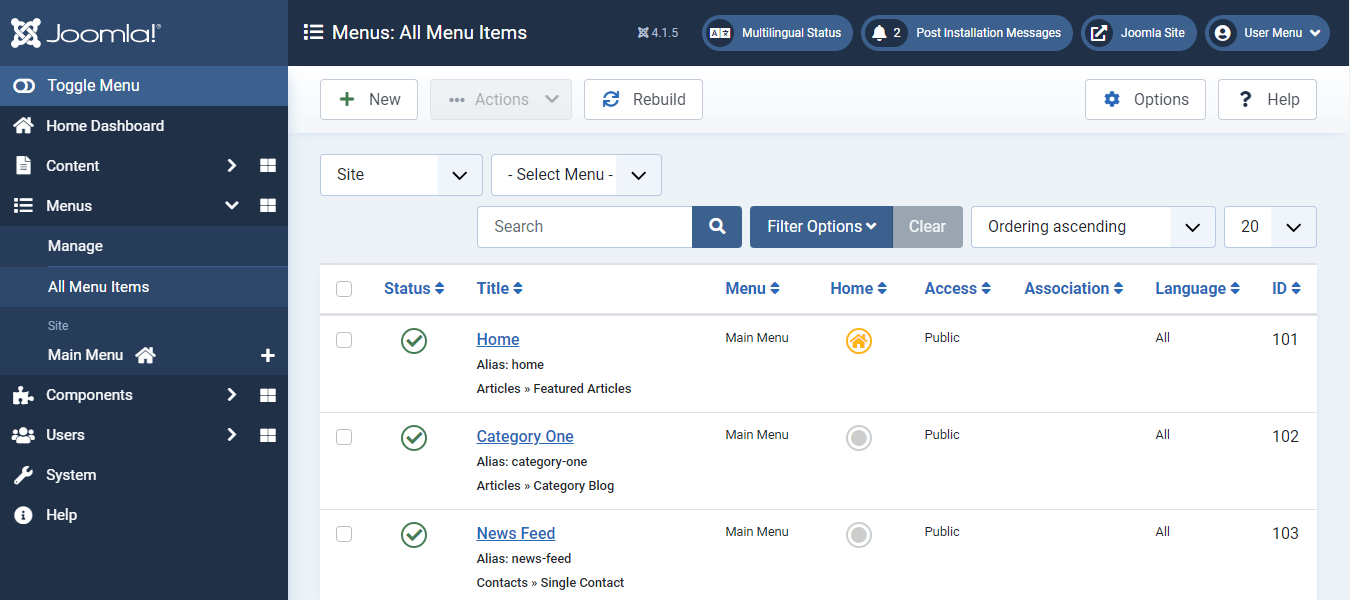 The category that helps you manage your menu items. Regardless of your online project and goals, menus are an inseparable part of any website and one of the best ways to optimize your navigation.
With this option, you will be able to create/edit/manage your menu items, assign them to different categories, and determine the access permissions for your collaborators.
Components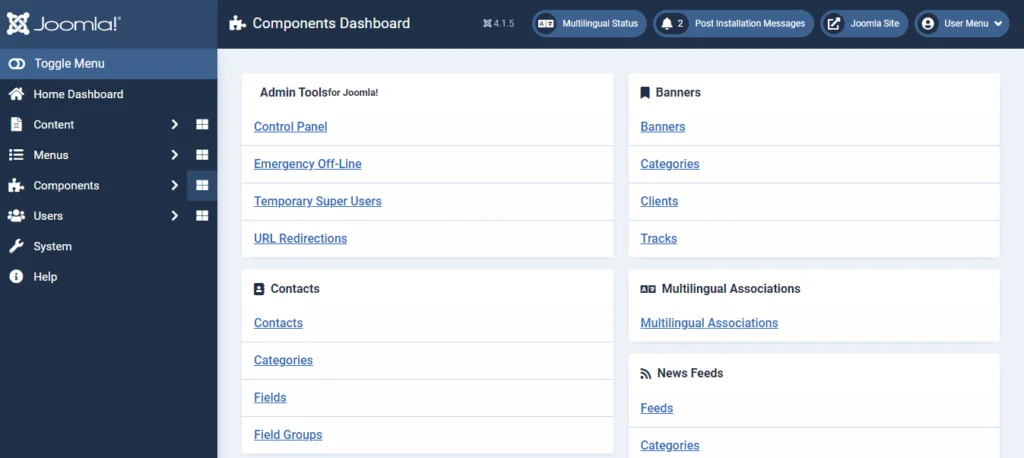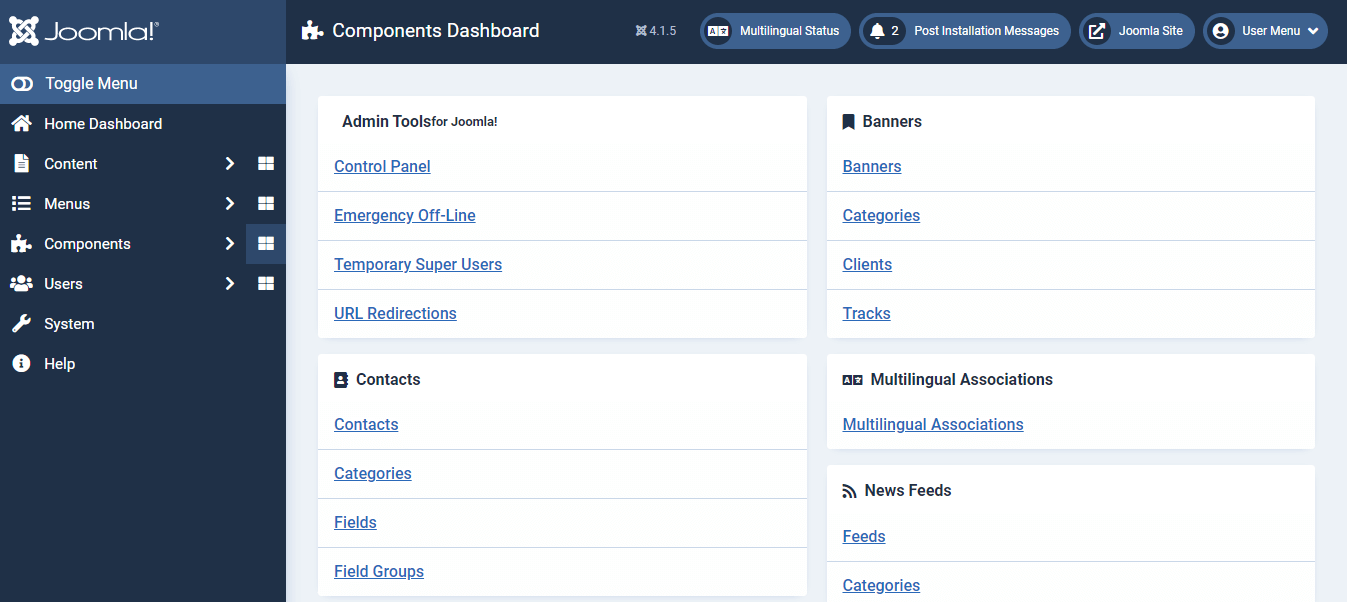 Similar to modules, components in Joomla work as ways to extend the CMS functionality, something like mini-apps within the app. You can take advantage of a number of pre-built components, as well as third-party solutions.
Admin Tools
An essential category that you should look to configure right from the get-go. The menu is filled with wonderful options that cover key areas like site security, URL redirection, search engine optimization, and many more. You can easily password-protect your directories, modify user permissions, and even turn off your entire website in case of an emergency.
Banners
Banners are an excellent way to reach out to a broader audience and create beautiful ads that will bring targeted web traffic and potential sales. The Joomla dashboard has a separate section dedicated to your banners, where you can save your designs, categorize them, and quickly bring out a suitable visual for your next PPC or social media campaign.
Contacts
We all keep various bits of information about important contacts we frequently communicate with. So why not store this information directly in our Joomla admin area? The Contacts menu allows you to input addresses, emails, phone/fax numbers, job positions, and many more. Finding the correct information about your partners and clients has never been easier.
News Feeds
If you want to include some of your favorite RSS feeds on your Joomla site – this is the right place for the job. Again, you can add various categories to your feeds to find them more easily. You can also include a description for each feed.
Tags
The easiest way to organize your content in Joomla (and most other CMS solutions). Create as many tags as you deem necessary and assign them to each piece of content. Site visitors can then navigate to the right articles and find relevant suggestions for similar content.
Users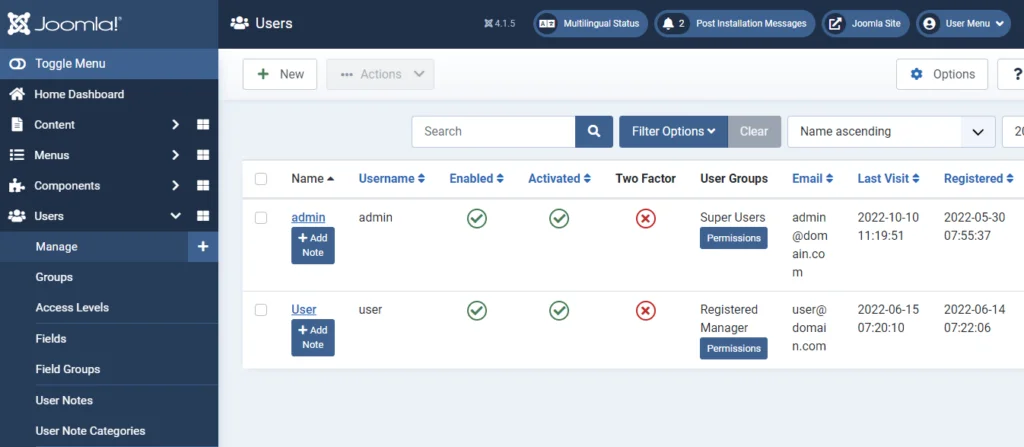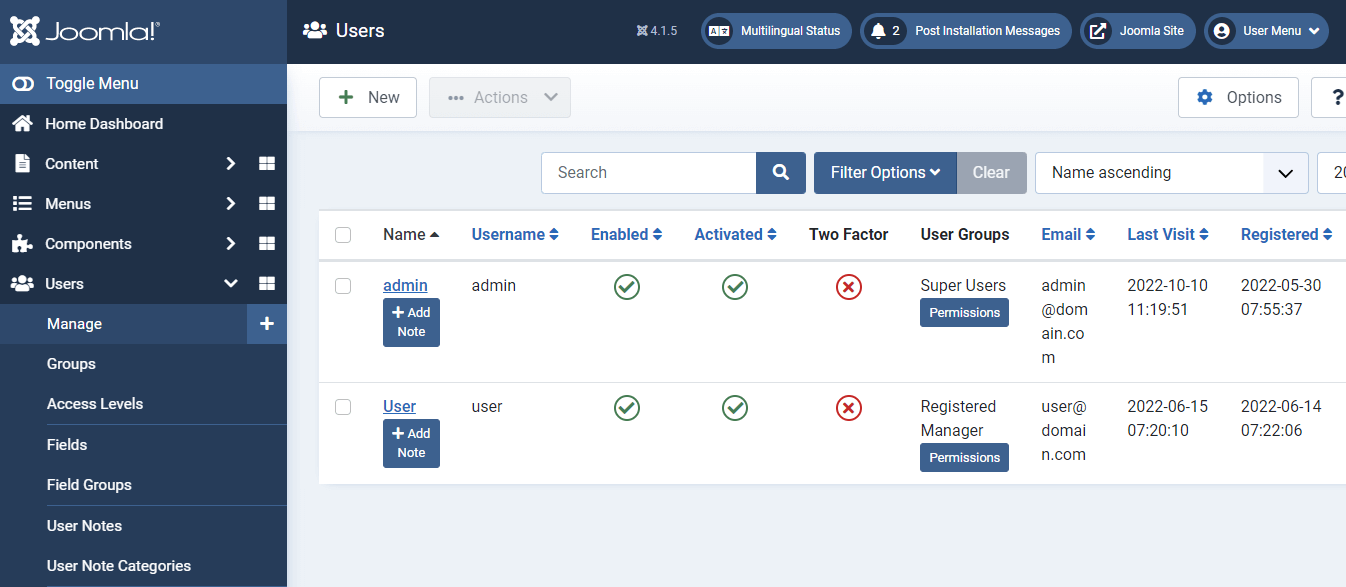 Keeping a close eye on your users and site contributors is highly valuable, especially if you are running a money-making website, like an ecommerce store. Joomla 4.x offers numerous options that can assist with the job.
Groups
Users on your website carry different roles, so grouping them by some common factor is more than logical. This creates something of a tree-like structure, which will let you easily determine user permissions later.
Access Levels
The default Joomla dashboard contains five access levels that determine what type of visitor views what content – Public, Guest, Registered, Special, and Super Users. Naturally, you can edit the defaults or create as many additional ones as needed.
IMPORTANT: Access levels are different from user permissions. This section only gives you access to configure the different user levels, what they can actually do can be set from the System -> User Permissions menu.
Users Action Log
When it comes to monitoring your backend, this will be a frequent go-to option. You can find out detailed information about when someone logs into your admin area – who they are, what they did, and if they updated anything. This is quite the game-changer for large teams with multiple contributors working on a single Joomla project.
System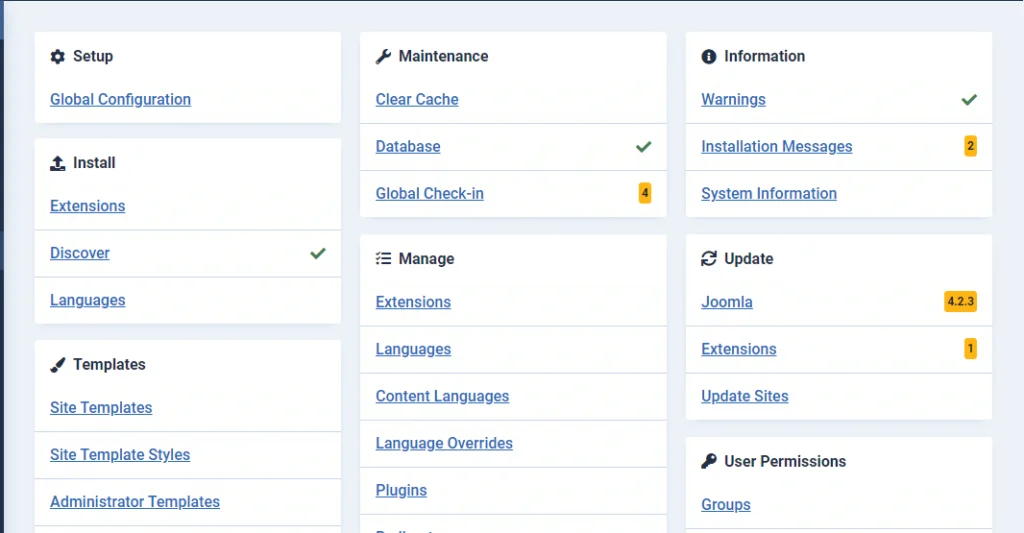 The system menu might be "pushed" down the menu tree, but it is one of the most essential administrative areas. It contains a ton of additional options that are directly connected to your Joomla site installation, operation, maintenance, and updates.
Setup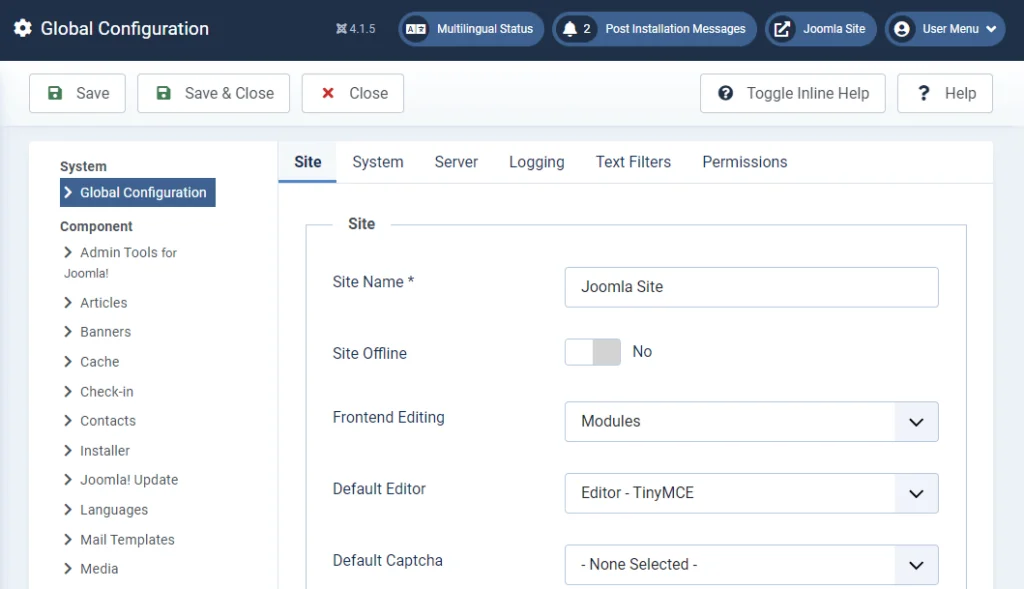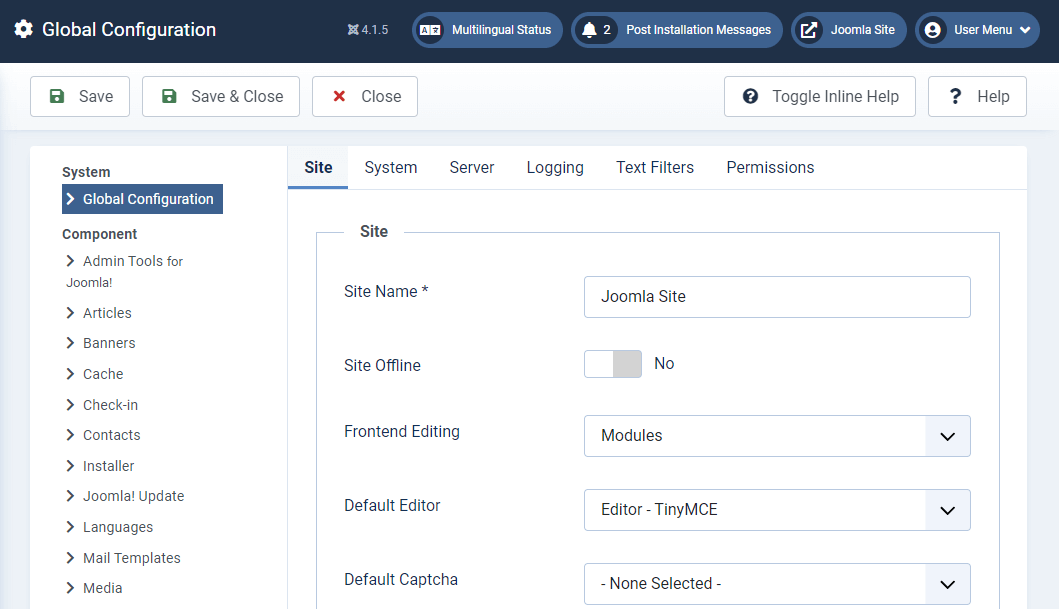 This section contains a single key option – Global Configuration. Once inside, you will find a bunch of options that are directly related to your website – site name, default editor, default access level, and many more.
Scrolling down, you will find numerous useful options for your metadata and SEO. All successful websites nowadays rely on search engine optimization to some extent, so your configuration here can greatly improve your efforts for more exposure.
Install
This is your go-to place for installing extensions and languages for your Joomla project. You can upload the needed add-on from your computer, a URL, or straight from the Joomla Extensions repository. As for the languages, there are a whopping 48 options to choose from, so you can ensure your target audience will have no trouble understanding you.
Templates
Here's where the design addicts can let all their creativity run loose. You will be able to upload and view templates for your website (frontend), admin area (backend), and emails. Each theme can be manually edited, so if you know a bit about HTML/CSS – you can create a truly unique outlook for your Joomla pages.
Maintenance
This section helps you clear your cached data. You can do so per folder and only cover things like templates, plugins, or languages. Additionally, you have the Global Check-In option. This component unlocks all previously locked or pending files, allowing the administrator to analyze or edit them.
Manage
Many of the subcategories you will frequently use are neatly organized in the Manage menu. You can enjoy quick access to your extensions, modules, templates, languages, redirects, and more. You can also schedule tasks from here, ensuring all of them get your due attention. Ideal for the site administrator in terms of organization.
Information
Once you install Joomla, you automatically get "subscribed" to a number of important notifications. In this section, you'll be able to see post-installation messages and detailed system information like web server, database types, PHP version, and the likes. In case Joomla detects a threat to your website, you will also receive a prompt warning here.
Update
This one is pretty self-explanatory – whenever there is a new version of the Joomla core or one of its extensions, you can update your system from here. Updates are essential for every webmaster as old and un-updated apps may pose a severe security and performance threat in the long run.
User Permissions
Here, you can see the combined information from your user Groups and Access Levels. There is a variety of settings that will determine who will be able to view certain content, who will edit it, and which group has control over the others. In the Text Filters menu, you will be able to fine-tune your HTML content by creating forbidden lists and applying filters over your user groups.
Help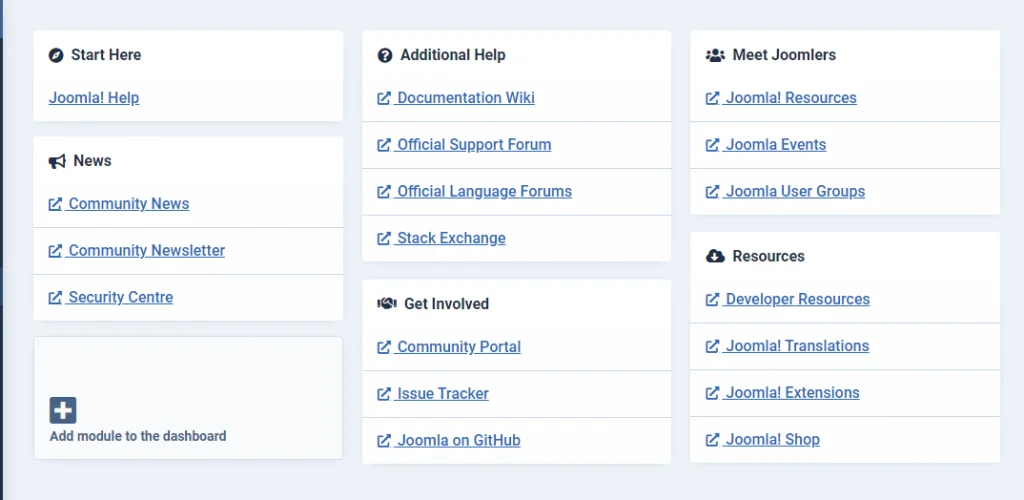 Last, but certainly not least, the Help section is like a world of its own. Think of it like a Joomla academy where you can find all kinds of helpful resources. Self-learners can enjoy hundreds of insightful tutorials and developer resources to help them become wizards with the CMS. For those who prefer more human assistance, there are quick access links to the Joomla Forums, documentation Wiki, and community portal.
…and that concludes our tour of the Joomla 4 Dashboard!
We hope that you find this guide useful and build more confidence in using one of the most popular CMS solutions out there. You can check the ScalaHosting blog or contact us directly with any Joomla questions or issues.
Was this article helpful?