Joomla is a robust content management system, enabling users to develop and maintain websites with all kinds of purposes.
The capacity to connect and engage with people is a crucial component of any website. Social network plugins are an excellent method to add social media features to your Joomla website, helping users to connect, share, and communicate.
That's the beauty of it – the CMS offers add-ons for all your needs, whether you want to develop a blog, an online shop, a discussion forum, or simply link your website to a famous social media network.
In this article, we will evaluate the features, capabilities, and user experience of five of the best social network plugins for Joomla.
What are Joomla Plugins?
Joomla plugins are small software extensions used to expand a website's functionality. You can utilize them to deliver additional features or capabilities to a website, such as adding social networks, creating forms, or integrating specific software.
Add-ons are usually created by third-party developers and then installed and customized through the Joomla dashboard.
There is a vast selection of Joomla plugins, including those for SEO, security, and analytics. They are a great weapon if you want to tailor and improve your Joomla website to your particular requirements.
What Are the Benefits of Using Joomla Plugins?
Joomla come with plenty of useful features out of the box. Simple websites and hobby projects can utilize the default functionalities of the CMS and still look great. But if you are looking to establish a business and offer your visitors a unique online experience, you have to up your game.
Here's where Joomla Plugins come into play:
Great Customization – You can use Joomla extensions to modify your website's design and functionality, enabling you to customize it to the exact requirements of your business.
Cost-effectiveness – There are numerous plugins for Joomla that are available for free or at a low price, making it an inexpensive option to add functionality to your website.
Technical Support – The Joomla community and its developers are always active, as they constantly provide updates, fixes, and support for the extensions they create.
Scalability – Joomla is a scalable platform that allows you to add or remove features as your site grows.
Wide Variety – Given the breadth and depth of functionality and use cases covered by the various Joomla plugins, you can select the perfect extension for your site from thousands of different options.
Easy Installation – You don't need any particular technical expertise to master Joomla and its components. Everyone can integrate additional features to their website by installing a plugin and configuring it through the intuitive Joomla administration panel.
Efficient Use of Time – All it takes is an add button to employ functionality to your website. You don't need to write code or hire a developer to do it for you.
What is the Best Social Network Plugin for Joomla?
There are many social network plugins available for Joomla, and it's best to evaluate the requirements of your website first, to choose the one that best suits your goals.
Below, we will look into the features and capabilities of five of the most popular add-ons for the Joomla CMS :
JomSocial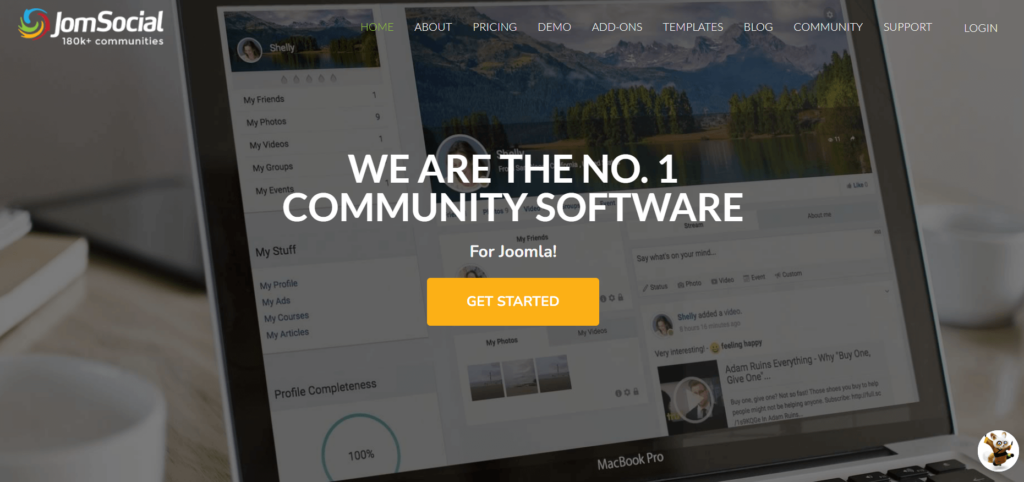 JomSocial is an extension that allows users to create their own social networks on their Joomla-powered websites. It is utilized by website owners to build community engagement and foster social interactions among their audience.
Number of Downloads
Downloaded over 8 million times.
Rating on the Joomla extension directory
⭐4.5 out of 5 stars
Features
Some of the most popular JomSocial features include:
User Activity – With JomSocial, users can create events, polls, and pages, as well as share status updates, images, and videos. Webmasters can also maintain close relationships with others in the community by "liking," "sharing," and "commenting" on posts.
Post Creation – This feature is called a "share box" and allows members to share different content on the platform, including text, files, videos, photos, polls, embedded content from other sites, and their current mood and location. It provides flexibility and variety in the types of posts members can share.
Page & Group Creation – Users can build pages in JomSocial to expand a business by providing a platform for interacting with members, sharing videos, photos, files, and inviting friends. They can be a valuable tool for businesses looking to engage with their audience and build a long-lasting community.
Profile Creation – JomSocial allows you to create custom questions for user profiles, allowing you to tailor the information you collect from members. Additionally, they can upload cover photos and avatars to personalize their profiles.
Messaging and Chatbar – The feature allows members to interact and share information privately. They can share media files, reply to messages, and even delete them in their inbox or chatbar.
Receiving Alerts – Members can receive real-time notifications for new comments, likes, friend requests, and messages.
Creating Events – Members can plan, organize and keep track of different events, and send invitations to others.
Profile Apps Support – JomSocial supports multiple community apps allowing users to add various apps to their profiles, such as a Twitter feed, RSS feed, and more.
Pricing
JomSocial has 3 pricing plans:
Standard – $99 – Includes 6 months support and upgrades; unlimited domains; tech support; $79 renewal; default theme.
Professional – $149 – Everything in Standard + $119 renewal; 4 pro themes; 3 pro Joomla templates; 17 premium addons; JA page builder pro; free installation & migration.
Ultimate – $299 – Everything in Professional plan + 1 year unlimited support and upgrades; all JoomlArt, Gavick, JoomlaBamboo, DTH Development, iJoomla, Shape5 products.
EasySocial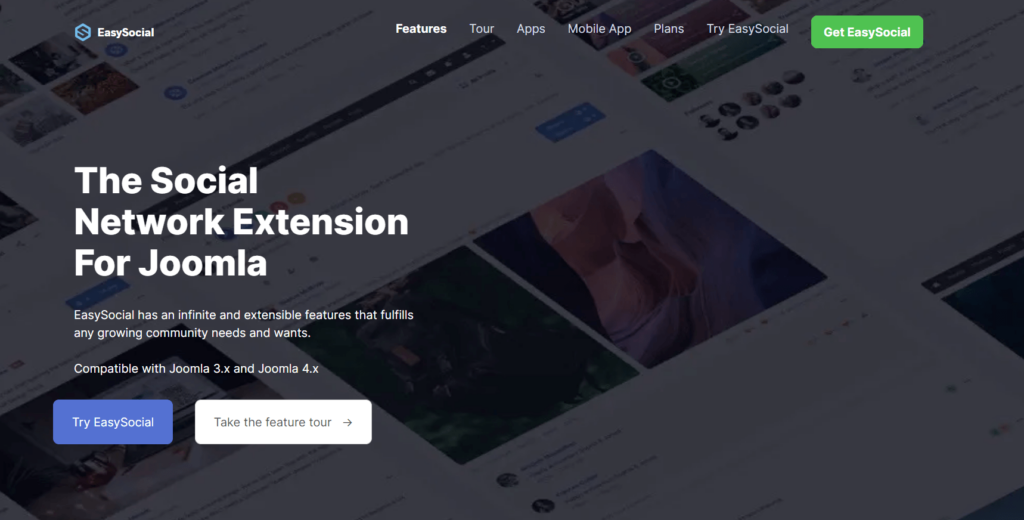 EasySocial allows users to create and manage their communities within a Joomla website and to control access to different parts of the site based on user roles and permissions.
Number of Downloads
Downloaded over 1 million times.
Rating on the Joomla extension directory
⭐5 out of 5 stars
Features
Some of the key features of EasySocial include:
User Profiles – EasySocial allows users to create and manage their profiles to include personal information such as name, location, and interests.
User Roles and Permissions – This feature allows you to assign users access to certain site areas by customizing their roles and granting them access only to specific parts.
Badges and Points – Allows you to award users with badges and points for certain actions or milestones on the website.
Friend Connections – Members can connect with other users on the site, creating a vast network of friends to share content and interact with.
Private Messaging – EasySocial enables private messaging between users, allowing for individual or group communication.
Groups – This feature can serve several group functions, from discussion and collaboration to event planning and promotion.
Events – Allows users to create/manage events and to invite others to attend.
Photo and Video Sharing – Allows users to upload and share photos and videos. Additionally, they can view and comment on each others' content.
Responsive Design – EasySocial's front-end is fully responsive, meaning the design changes depending on the screen size. This makes it effortless to use on desktop computers, tablets, and smartphones.
Pricing
EasySocial offers 2 pricing plans:
Pro Edition – $149 – Includes 6 months support and upgrades; unlimited installations; 7 themes; priority support for 1 domain; free installation service; 48 hours response time.
Developer Edition – $299 – Everything in Pro Edition + priority support for 5 domains; 24 hours response time.
Community Builder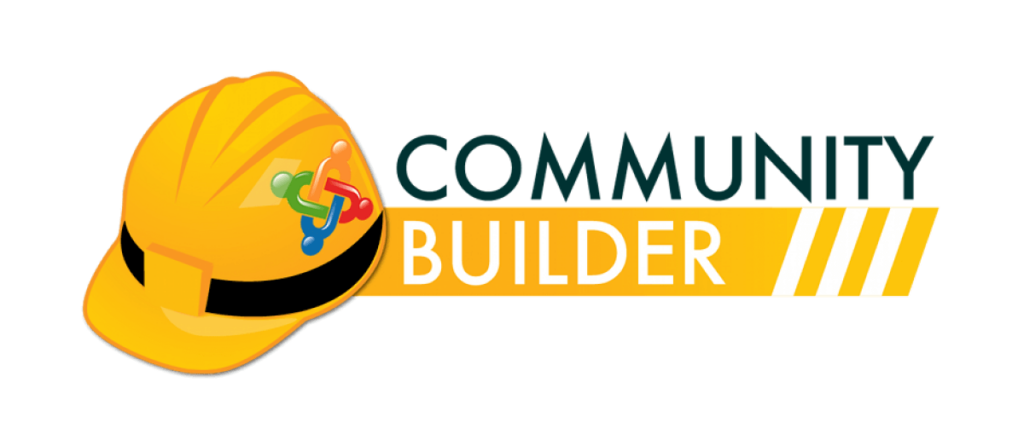 Community Builder adds social networking features to any Joomla website. These include creating a community of registered members, user profiles, private messaging, and many others. Community Builder offers a wide range of customization options, making it one of the most versatile add-ons out there.
Number of Downloads
Downloaded over 2 million times.
Rating on the Joomla extension directory
⭐5 out of 5 stars
Features
Some of Community Builder's key features include:
User Profiles – Аllows users to create detailed profiles with custom fields, avatars, and privacy settings.
Connections – Users can connect with others, view their profiles, and send messages.
Groups – Users can create and join groups to organize communities and discussions.
Events – Users can create and RSVP to events, which can be displayed on a calendar.
Forum – Community Builder offers an in-built forum system that allows people to discuss topics and share information.
Photo and Video Galleries – Allows users to upload and share multimedia files and organize them in albums.
Searching and Filtering – Community Builder includes advanced search and filtering capabilities, making other users and content more accessible.
Customizable Templates – The extension includes many customizable Joomla templates.
Access Control – Enables you to configure multiple access levels for different user groups.
User Management – Includes a built-in user management system, which helps you manage members, groups, and access levels.
Integration with Other Components – You can integrate Community Builder with other Joomla components, such as JomSocial, Kunena, and K2.
Pricing
Community Builder has 4 pricing plans:
Free – $0 – Includes everything you need to get started.
Professional – Starts at $99 – Includes activity streams and full social networking + fast expert support.
Developer – $428 for 12 months – Includes all add-ons, beta releases, and priority support.
Business – Starts from $199 – Includes all add-ons, releases, and private support for your business.
JFBConnect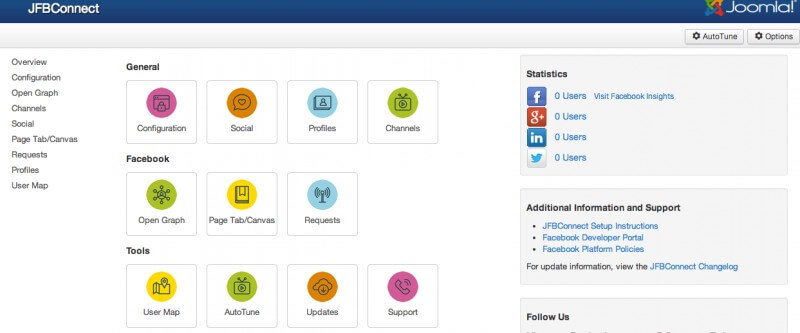 JFBConnect simplifies the user registration and login process by providing one-click access via four of most popular social networks (Facebook, Twitter, LinkedIn and Google) and ten other major social networks, allowing for a seamless user experience without the need of forms, passwords, or usernames.
Number of Downloads
N/A
Rating on the Joomla extension directory
⭐5 out of 5 stars
Features
Among the most significant features of JFBConnect, you can find:
Registration and Login – JFBC allows registration and login with a single click using Facebook and other major social networks. Also offers retrieval of basic user information, such as name and email address.
Social Integrations – Allows integration with all major social networks and the ability to retrieve and display users' profile information and pictures from other platforms.
User Management – Allows automatic creation and management of Joomla user accounts.
Social Sharing – Ability to share website content on all social networks. Automatic generation of Open Graph and Twitter Cards tags for website content.
Customization – Includes customizable registration and login forms. Comes with the ability to assign different user groups based on registration source.
Pricing
JFBConnect has 1 pricing plan:
$49.99 – renews every 6 months for $39.99 – Offers Social authentication; Third party integration; Open graph tags; Social sharing; Social auto-posting; Page tab support; Social widgets; Automatic configuration; Extensive documentation; Technical support.
In addition, JFBConnect also offers integration with other social networks such as Microsoft, Yahoo, Vk, Github, Instagram, Pinterest, Twitch, Discord, and Blizzard, which are available as separate add-ons for $10 per social network.
Kunena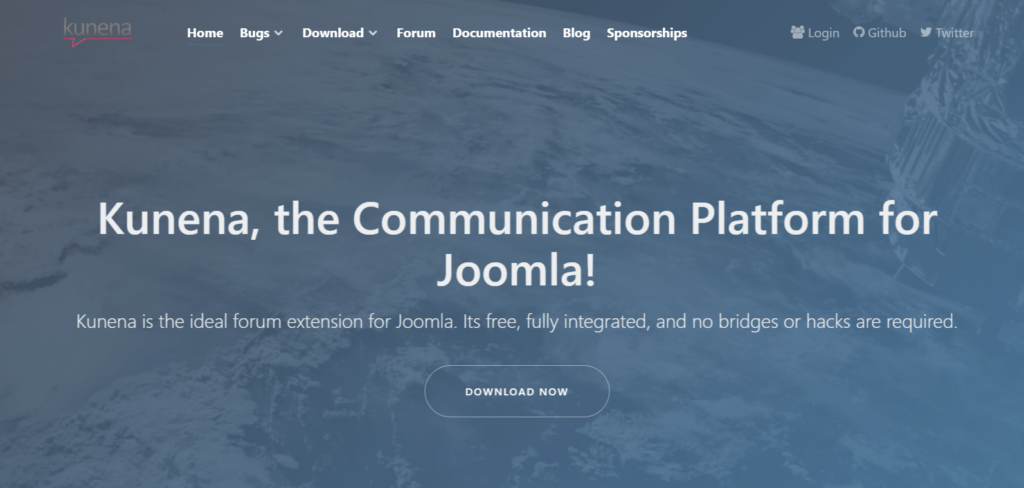 Kunena is a community-driven, open-source forum extension for Joomla that helps website administrators create and manage discussion forums easily. It offers public self-help forums, GitHub, and documentation Wiki, making it the only solution of its kind for Joomla.
Number of Downloads
Downloaded over 8 million times.
Rating on the Joomla extension directory
⭐4.5 out of 5 stars
Features
Kunena is a feature-rich extension that includes:
Multi-language Support – Allows the creation of multiple-language forums.
User Management Integrations – Allows simplified integration with Joomla's existing user management system.
Moderation Tools – Includes built-in tools to help administrators moderate and manage the forums.
Customization – Kunena offers templates and CSS styling options to customize the look and feel of the forum.
User Profiles – Users can create and manage their own profiles.
Search Section – Allows users to search for specific content within the forum.
Private Messaging – Enables users to communicate privately with one another.
Social Media Integration – Allows users to share content on social media platforms.
Responsive Design – The forum is optimized for use on mobile devices.
Advanced Features – Includes polls, subscriptions, attachments, emoticons, badges, and many more.
Pricing
Kunena is an open-source extension for Joomla, meaning it can be downloaded and used without any cost. However, some paid add-ons or premium templates are available for purchase to enhance its functionality. Kunena also offers paid support services, such as technical assistance and troubleshooting.
Finding the Best Joomla Hosting Provider
When looking for the best Joomla provider, consider factors such as reputation, support, security, features, pricing, uptime, scalability, and backups.
Check customer reviews, testimonials, the provider's documentation, tutorials, customer service, and portfolio to get a sense of their experience and capabilities. This will help you find a provider that fits your specific needs.
At ScalaHosting, we have a long history with Joomla, currently being one of the official partners of the CMS project. We host thousands of websites built with the app, and most of our clients find the cloud VPS plans a best fit. This is due to numerous reasons:

– Optimized environment – scalable resources with a focus on performance;
– Full control – endless possibilities for server and site customization;
– Unique tools – a multifunctional management platform (SPanel), security monitor (SShield), and a Joomla Manager are just some of the top perks.
To validate our commitment to excellence, you can hear more about our esteemed partnership with Joomla from its co-Founder Brian Teeman.
These resources serve as a testament to the quality of our services and our dedication to meeting and exceeding the expectations of our valued clients.
Wrap Up
It's essential to consider your website's specifics before settling on a Joomla plugin. To help you achieve that, we analyzed seven of the best extensions for integrating your website with various social media networks and building online communities.
It's safe to say, using plugins that integrate social media is a great way to enhance the social aspect of your website. With the help of these add-ons, your users can efficiently communicate, share, and interact with one another on your Joomla site.
FAQ
Q: What does a Joomla plugin do?
A: A Joomla plugin is a small software program that enhances the functionality of your existing application by adding a new feature or set of features to it. Plug-ins are commonly employed in digital audio, video, and web browsing and allow developers to enhance a host program without requiring the user to leave the program's interface.
An add-on can extend a website's functionality in various ways, such as linking to an external service, or displaying data in a different format.
Q: Where can I find Joomla plugins?
A: You can find Joomla plugins in various marketplaces, such as the Joomla Extension Directory, GitHub, and different developer's resources. Some popular third-party sites include Joomla-Monster, JoomShaper, and JoomlArt.
IMPORTANT: It is crucial to ensure that you download and install Joomla plugins only from reputable sources, as untested ones can pose a serious security threat to your website.
Q: How many plugins does Joomla have?
A: Joomla has thousands of plugins available in the market. The exact number constantly changes as new extensions are developed every day, while older ones are retired or left without updates. As of 2023, there are around 8,000 add-ons listed at the official Joomla Extensions Directory.
Was this article helpful?