In this article, we are going to learn how to change the PHP settings and versions on managed hosting accounts with ScalaHosting. The process is very easy, regardless if you are using SPanel or cPanel as a control panel.
Changing your site's PHP version through cPanel
To change the PHP version for your web hosting account on servers running EasyApache 3, follow the steps below:
1. Log into your cPanel account.
2. Scroll down and find Software/Services and the PHP Version menu below.

3. You can change the PHP settings for the entire public_html or for any other directory in public_html.

4. You can choose between PHP 5.3, 5.4, 5.5, 5.6, and 7.

If you are on a server using EasyApache4, you would need to edit your PHP version following the instructions below.
Under the Software section, look for the icon MultiPHP Manager.
Once you click on it, a new page will load, which will allow you to change the PHP version for your entire account. That will be the default PHP configuration used by all your domain names and subdomains, except you didn't choose a separate PHP version to be used for the specific website.
Check out the screenshot below:

The System PHP Version is the default version for your web hosting account. You can change that by choosing one of the available PHP versions and clicking on the Apply button.
Alternatively, you can have a different PHP version for each of your websites. To do that, you need to select the chosen site from the list and choose a PHP version for it from the drop-down menu.
Click on the Apply button afterward.
Changing your website's PHP version with SPanel
The process for SPanel users is not much different. Here are the steps.
1. Log into SPanel's User Interface.
2. Open the PHP Manager available under the Tools section.

3. Click the Change button next to the website you want to edit, and select the PHP version you need.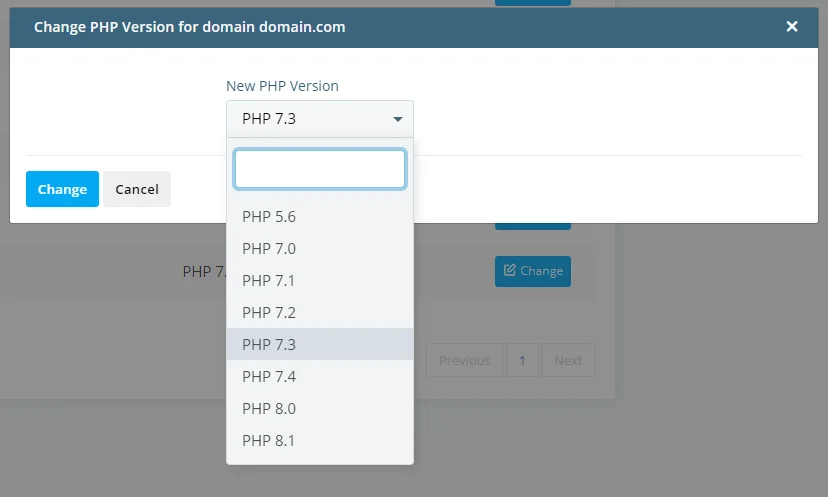 You can also control the settings of each PHP version. That is done by creating a custom php.ini file.
You can create a global php.ini file or separate custom php.ini files for each of your websites. That allows you to configure PHP per website to fit your software requirements.
The procedure works the same for shared hosting, VPS, or Dedicated Server solutions.
To learn more about creating and managing your custom php.ini files, please read this helpful article.
Feel free to contact our support team if you have additional questions.