Microsoft 365 plans provide a range of business-class email plans for small to medium-sized businesses and enterprises.
Here's what ScalaHosting offers in each of the Microsoft 365 email plans.
Exchange Online 
Microsoft's Exchange Online is a server as a cloud-based email solution. It provides the same services as on-premises Microsoft Exchange Server but is hosted in the cloud. 
Exchange Online is included in Microsoft 365 but also available as a stand-alone service. This gives you access to the online processes necessary to power your business without the infringing costs of managing an on-premise server.
The Exchange Online has three plans. We'll discuss them below.
Plan 1
This plan provides a reliable platform for small to medium-sized businesses for $4.00 per user every month, billed annually.
With the Exchange Online Plan 1, you:
Get

50 GB

of mailbox storage and can send bulk messages of up to

150 MB.

Can connect to

Outlook

and integrate supported applications.

Can run multiple in-Place delivery applications across

SharePoint, Skype,

and

Exchange

from a single interface.

Have a focused inbox that lets you keep tabs on essential matters and keep the inbox clean by automatically sorting through old messages to an in-Place archive.

Stay synced across all devices on both web and mobile to get more work done.
Asides from this, Plan 1 provides advanced security with anti-spam and anti-malware to protect your mailbox. With an efficient admin center, you can manage your organization and assign business emails to your users to stay productive.
Microsoft Exchange Online Plan 1 also controls data loss. With built-in regulatory standards that identify, monitor, and manage sensitive data, your users are protected against sending out sensitive information mistakenly.
Shared calendars and contacts ensure that you schedule meetings without conflicting dates by comparing the itineraries of co-workers. You also get to access collaboration features, address lists, and external communications across board which helps in delegating tasks.
As part of a solution, the Exchange Online Plan 1 provides high-end productivity tools like FastTrack for smooth transitioning to Microsoft 365 at your own pace. Plus, Multi-Geo Capabilities to access user data in a unified Microsoft 365 data center.
Plan 2
Plan 2 offers all the Exchange Online Plan 1, but with extra features like hosted voicemail and unlimited storage, $8.00 per user, every month—billed annually.
With the Exchange Online Plan 2, you:
Get unlimited In-Place Archive storage,

100 GB

of mailbox storage, and send bulk messages of up to

150 MB.

Have access to a hosted dial-in interface and automated service attendant.
Like Plan 1, the Exchange Online Plan 2 manages sensitive data with built-in data loss prevention policies. These policies are based on regulatory standards such as Personally Identifiable Information (PII) and Payment Card Industry (PCI) which protect users against sending out sensitive data.
Microsoft 365 Business Standard Plan
This Exchange Online package is an all-inclusive jumbo plan with all the features of Plan 1 and pre-installed Office applications and services. The Microsoft 365 Business Standard plan is $12.50 per user every month, billed annually.
This plan offers desktop and mobile versions of Microsoft Office applications, such as – Outlook, Excel, Word, PowerPoint, Publisher, and Access. You'll also gain access to services like SharePoint and Microsoft Teams.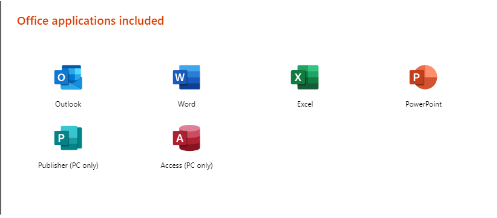 Other features of the Microsoft 365 Business Standard plan are:
Custom business email domain and address

Hosts up to

300

maximum users

Multiple device access via one

Microsoft Exchange Server license

(

This license will cover five phones and tablets, plus five PCs and five MACs per user in your organization.)

Robust file storage with

1 TB

of OneDrive storage

In-house intranet using SharePoint

Unlimited video conferences for up to

250 people

, and chat-based interface via Microsoft Teams

Customer access to online bookings via Microsoft Bookings
You can seamlessly transition to a Microsoft 365 business solution with the FastTrack, with the purchase of 50 or more seats at zero costs.
Your users can also collaborate across departments using Yammer and manage teamwork using Microsoft Planner, making it perfect for enterprises with enhanced storage needs and a large work team.
All Exchange Online business-class email plans are compatible with PC and Mac devices, and you can get it as a standalone plan or as part of a Microsoft 365 business solution.
Need Help?
We understand that setting up your email can be tough. So we have a technical team to help you get answers and solve any email-related issues you might have. Please, if you need any help you can contact our support at any time. We are available, around the clock.