Whether you're running a business or simply maintaining a personal blog, you'll have a hard time convincing people to work with you if you use a generic Gmail account for your formal communication.
A branded email address is a must these days, and truth be told, getting it isn't that much of a challenge. But what if you need multiple mailboxes associated with multiple domains?
Today, we'll see whether that's possible.
What Is Email Hosting for Multiple Domains?
Most web hosting accounts are suitable for hosting your website and all your emails simultaneously.
However, some users and businesses prefer to keep their mailboxes on a separate account. That's why providers have developed email hosting plans.
From a user's perspective, the differences between an email hosting plan and a regular package lie primarily in the range of available tools. With the former, you usually get fewer utilities, all revolving around email account management.
When it comes to setup, however, things are pretty similar. Just like regular hosting accounts, email-specific services can be situated either in a shared or dedicated environment.
Similarly to regular hosting plans, the price depends on the hardware resources and the usage limits your provider sets. When it comes to email hosting, these limits concern mainly the storage space and the number of mailboxes and domains you can host.
Usually, the cheapest mail hosting plans are limited to one domain only, while the more expensive packages can host the email accounts of several websites.
So, how do things stand at ScalaHosting?
Email Hosting for Multiple Domains at ScalaHosting
We have a total of four email hosting solutions:
StartUp – Starting at just under $3/month, this is the perfect starting point for any small business in the early stages of its development. With it, you get 50GB of storage and the ability to create up to 10 inboxes associated with a single domain.
SmallBiz – After you establish your brand, you may need to develop it further or maybe create offshoots to expand your reach. The SmallBiz plan, with 100GB of storage and up to 50 mailboxes associated with up to 5 domains, could be the service you need. Prices start at $3.95 per month.
Medium – As your business continues to grow, you're going to need more resources. With the Medium plan, you can get them without breaking the bank. It gives you 150GB of storage with up to 100 mailboxes associated with up to 10 domains. Prices start at $5.95 per month.
Business – Unlike the solution we discussed so far, the Business plan provides you with an entire virtual private server (VPS) reserved especially for you. It comes with a dedicated IP, which minimizes the chances of getting blacklisted, and you don't have any limits on the number of email accounts and domains you can use.
How Does It Work?
If you use a regular web hosting service, you need to ensure your domain's nameservers are correctly set. However, things are more complicated if you want to host your website on one account and your emails on another.
You'll most likely need to change the domain's nameservers to make the website work. This creates a DNS zone on the site-hosting server. The DNS zone must be edited in order to direct your messages to the mail server.
More specifically, you need to update the domain's MX records per your email hosting provider's instructions. If you use SPanel, you can find the DNS editor under the Domains section on the User Interface's homepage.

When you open the editor, you'll see that the interface is quite user-friendly. You need to select the domain from the first drop-down menu. Enter it again into the Name field and choose MX from the Type menu. Finally, enter the MX record your email hosting provider has given you in the Value field.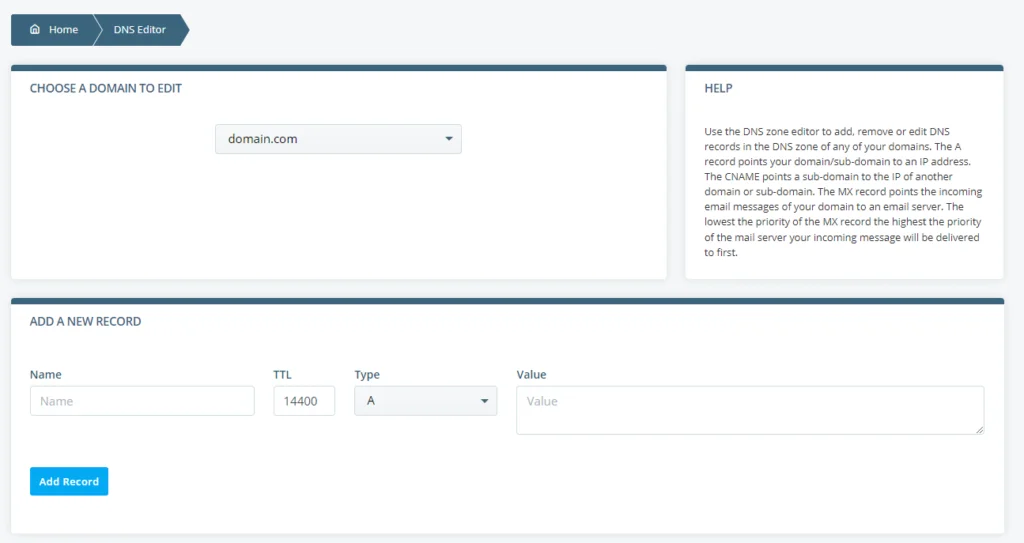 If you have multiple domains on your email hosting account, you'll need to reconfigure the DNS settings of all of them.
Who Would Need Email Hosting for Multiple Domains?
Keeping the website and the mailboxes on separate servers may seem odd, but the truth is, many people prefer that setup. Some do it for technical reasons, while others pick it to avoid service disruptions in case something happens to the website's server.
There are quite a few cases when multiple domains are required, as well. For example, if you have branches abroad, you likely have several country-specific domains, and your staff probably want to use them for their emails.
Email hosting with multiple domains is also the perfect solution if you're in charge of several projects and want to consolidate all mailboxes under a single account.
Setting Up Email Accounts Under Multiple Domains
Before creating any new mailboxes, you must ensure your domains are added to your account. While activating your new hosting service, you usually pick a primary domain. You can add additional ones later via your control panel. If you use SPanel, you need to log in to the User Interface and pick Domains from the homepage.

SPanel asks you to enter your new domain and pick a document root folder for it. If you don't assign a document root yourself, SPanel will create one for you.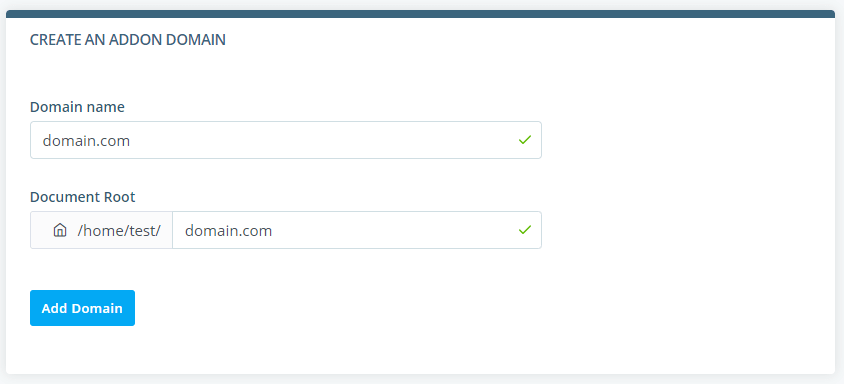 The Add Domain button saves the domain on your account, and you can move on to the next step.
Go back to the User Interface homepage and click Email Accounts.

You need to enter the account name and pick the domain from the drop-down. The menu contains all the domains and subdomains added to your account, and the search field can help you find the right one if the list is long and you don't feel like scrolling through all the entries.
After you choose the address, you'll need to pick a password and set the limit on the storage space the mailbox can use.
The Create Email button concludes the process.
How To Point a Domain Name To a Web Hosting Provider